Home Management Binder Printables
A home management binder or notebook is a great way to keep track of everything you need to keep home and family life running smoothly. Fill it with the information that you and your family need to keep your home running smoothly.
Even if you don't need or want a home management binder, you might find a few of these printables helpful in other ways.
Think of a home management binder as your home's user manual.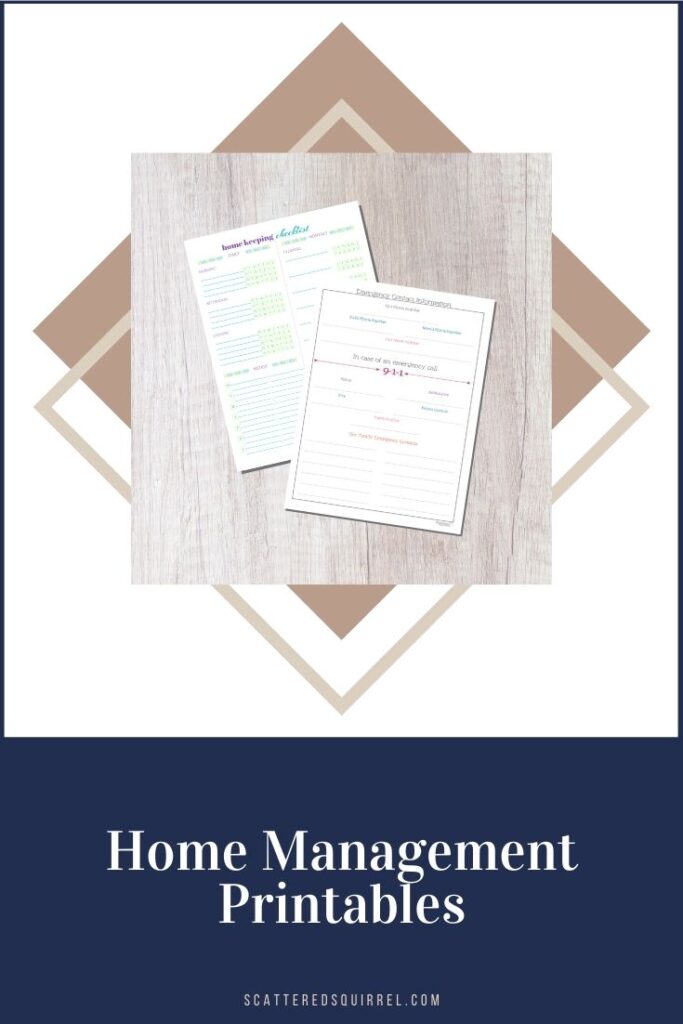 Table of Contents
This post contains affiliate links. We may earn a commission for purchases made through these links. See our disclosure policy for more details.
I like to think of my home management binder as my home's user manual. It's part how- to and part reference. Though it is not a planner I use and look at all the time, it's still an important part of my planning system.
If you'd like to know more about what a home management binder is and what purpose it serves in the home, I have a great post you'll want to check out.
The printables below can easily be used on their own. You don't have to create a home management binder to be able to get a lot of use out of them.
Making a Home Management Binder
When it comes to managing our homes there are a lot of things we need to plan and keep track of. Things like:
home cleaning routines
important information
important contacts
budgeting and finances
bills
accounts that are home related
school information for kids
address and contact information for friends and family
seasonal home maintenance
Really, this list could go on and on. Every home and every family have different needs. The best way to make a system that works for you and your family is to start with the sections you know you need.
Creating a home management binder is really easy. All you need to do is decide what information you want to store in it and figure out how to organize it.
One of the easiest ways to get started is to use a three ring binder and a pack of dividers to create sections. You can add and take away things as your needs change.
Then it's just a matter of finding the printables or printing out the information you want to store in it. And I've got a whole bunch of home management printables below to help you get started.
Home Management Binder Printables
I've organized the galleries into sections to make viewing the printables easier. If you come to a section you know you don't need you can just scroll on down to the next one.

Important Information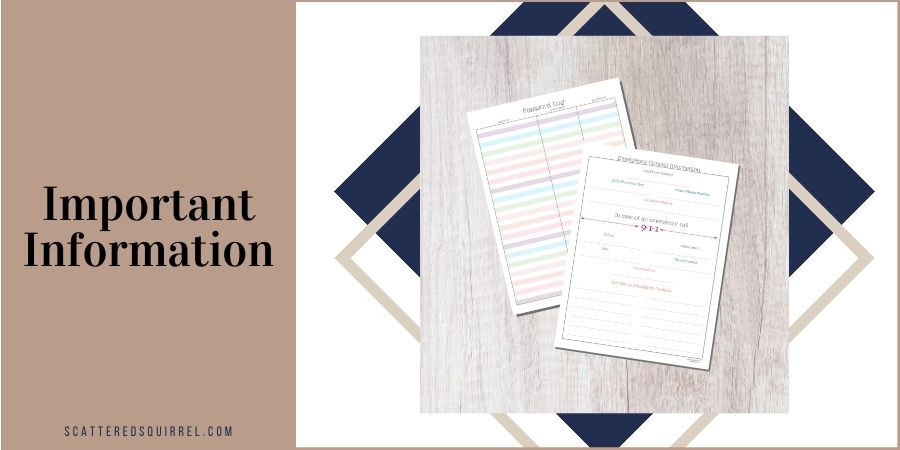 Whether you own your home or rent, it can be really helpful to have certain information contained in a central location. This makes it easy for you or your spouse to find it when it might be needed.
Things like:
Emergency contact phone numbers
Mortgage Broker phone number
Landlord's phone number
Plumber, electrician, and other service phone numbers
Doctor, dentist, and other medical phone numbers
Important accounts you might need to keep information for
Address lists
Passwords keeper
I know most people store their address books and passwords on their devices now, but sometimes it's nice to have a hard copy. This is especially true if you're setting up your home management binder to act as a reference for emergency situations.
Having this information in one, easy to access, place can come in really handy.
Home Cleaning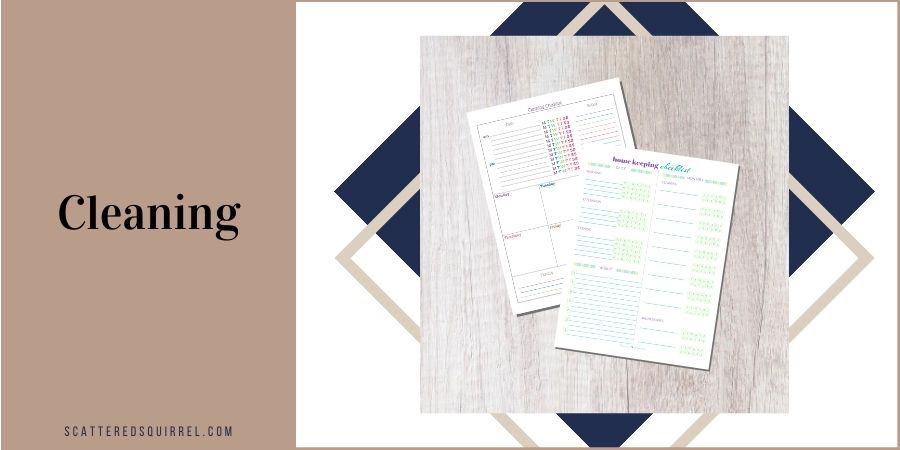 Cleaning can often feel like it takes up the lion's share of our home management. Unlike seasonal maintenance, cleaning isn't a do it once and not again until next year.
Creating a good cleaning routine that works for you and your family can go a long way to helping make this feel less overwhelming and more like it's just part of your daily flow.
There are a few different cleaning checklists and other printables that you might find helpful in the galleries below.
Home Maintenance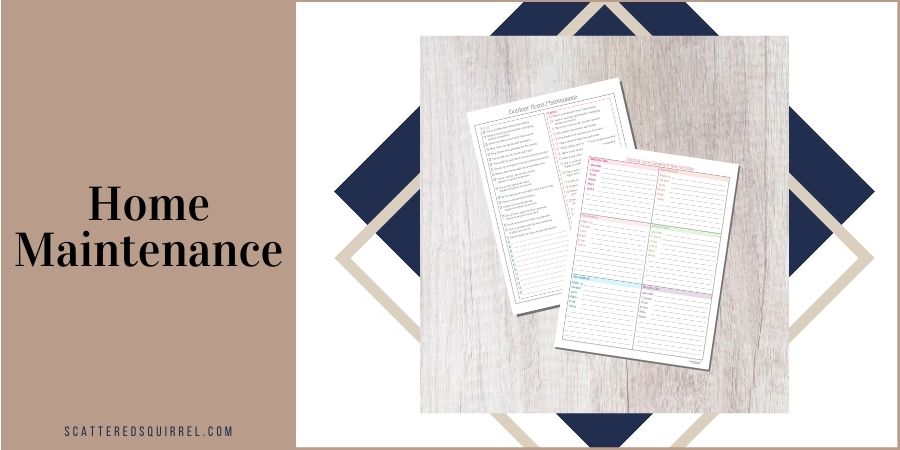 I keep all my home maintenance lists in my home management binder. When I sit down to do my monthly planning, I flip to this section to see if there are maintenance tasks I should plan to tackle that month.
I keep home maintenance and home cleaning items in separate sections. I do this because maintenance tasks aren't the same as cleaning. These are the things we need to do to keep our homes in good shape or prepare for new seasons.
Some examples of maintenance tasks are:
checking and changing smoke alarms
changing furnace filters
cleaning gutters
prepping hoses and outdoor faucets for winter
I categorized all the tasks I could think of into Indoor and Outdoor tasks. Some of these may not apply to your home, but you can use these printables to help you create your own list if that works better for you.
Finances
I know many people like to keep track of most of their financial information online, whether through an app or through their bank. For those who prefer pen and paper, or who would like a hard copy of their information, the printables in this section will help.
Spring Cleaning and Other Seasonal Cleaning Tasks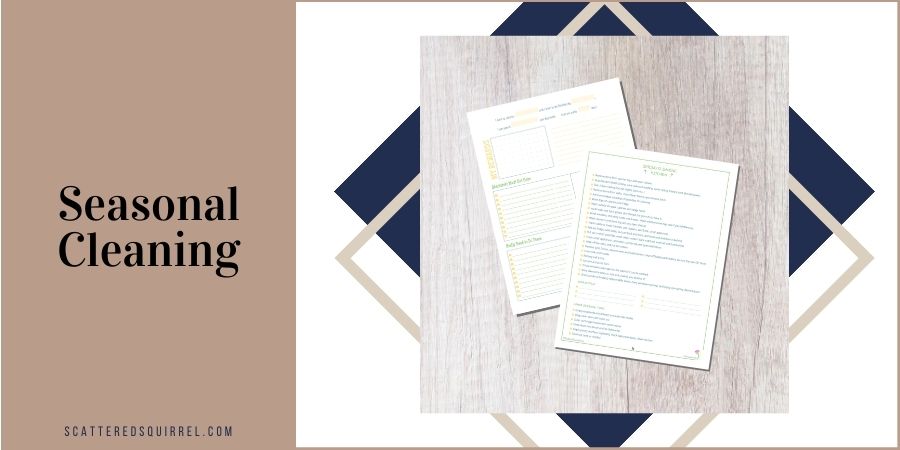 Some people spring clean and others don't. There is no right or wrong approach to seasonal cleaning. At it's core, seasonal cleaning is about tackling those tasks that might not make it onto your normal cleaning schedule.
Things like:
cleaning your light fixtures
washing your walls
getting your carpets cleaned (which should be done at least once a year)
cleaning behind your appliances
clearing out your dryer vent
washing vent covers
cleaning the tops of your kitchen cabinets
Whether you dive deep for spring cleaning or just tackle a few tasks, I think you'll find a printable below that will fit your needs.
Family Stuff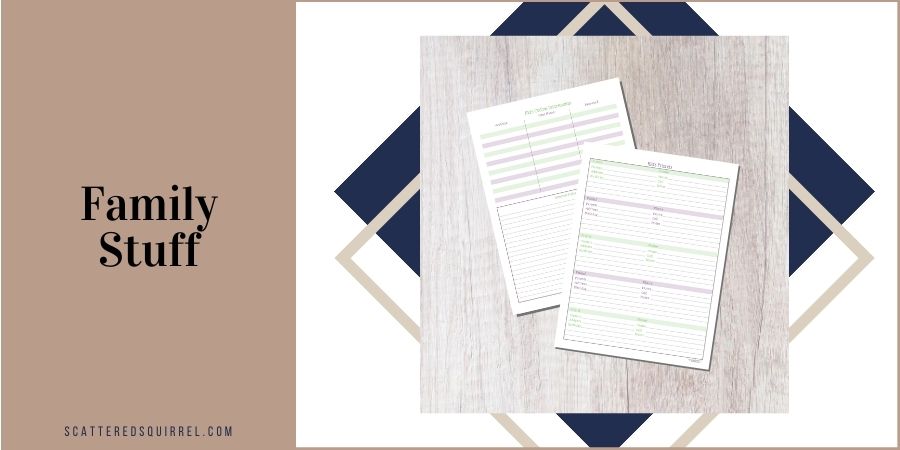 This is one of my favourite sections. It's where I collect ideas for family time. Whether it's planning movie night, figuring out what activity we might want to do on a weekend, or planning a day trip somewhere, this section has me covered.
The family activities printable has been extremely helpful both time we've moved. It's allowed me to check out what attractions and events are in our new area so we could plan what we wanted to check out.
Family Fun
Kid's Stuff
If you have kids it can be really helpful to a central place to store information like friends' names and phone numbers, school information, and other things you might want to have easily accessible.
Creating a section in your home management binder to house this information is a great way to keep it organized. It also makes it easier for your spouse and your kids to find the information if they need it.
Meal Planning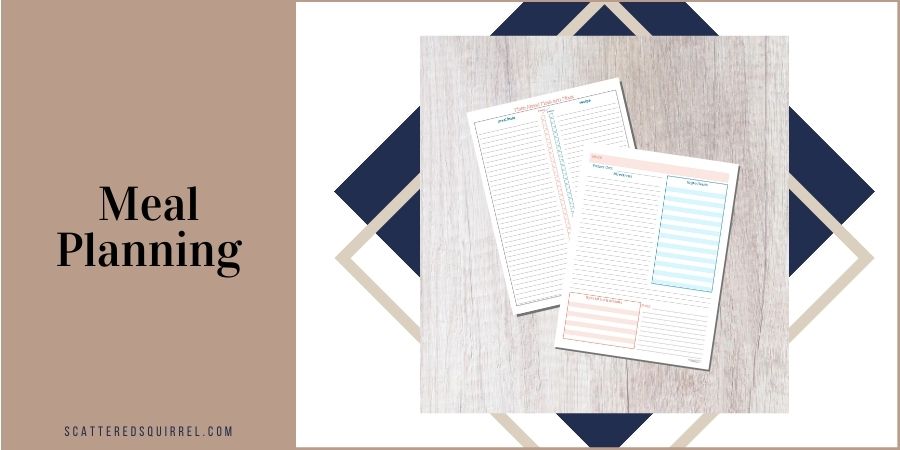 I have a whole page dedicated to meal planning and the meal planner printables. If you'd like to add a meal planning section to your home management binder click the links below to check out the meal planning and other kitchen related printables that are available here.
A few years ago I stopped planning our meals in the traditional sense, so I don't keep my meal planning in my home management binder. Instead, I keep it in a binder that I keep in my kitchen.
Before You Leave
Come join us in the Facebook Group where we talk all things planning, organizing, and life in general. We'd love to have you join us.
Thanks so much for stopping by.
Happy Printing!