Pretty In Pastel Planner Printables
The Pretty in Pastel Planner started its life as the 2015 dated calendars.  Because the colours and design were so popular I created a number of other planner printables to match.  With all the printables here on Scattered Squirrel, it can be hard to find the ones you're looking for.  I'm always searching for ways to make it easier for you to find the ones you like.  So I've gathered up all the ones that match the 2015 calendars and put them all in one, easy to find, place.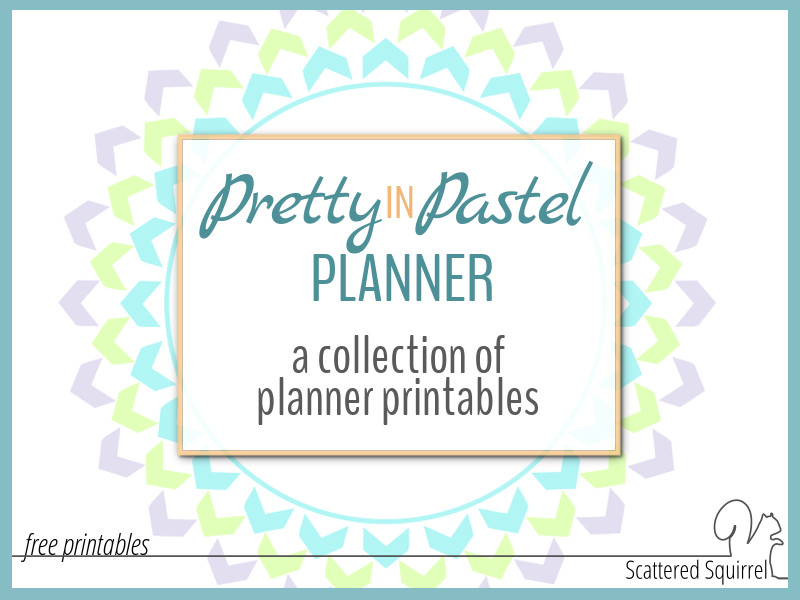 The Pretty in Pastel Planner is a collection of the basic staples of most planners.  Monthly calendars, weekly planner, daily planner, and a couple of extra pages for a little fun. I've divided this page up into sections to make it easier for you to find the printables you're looking for.  In each section, you will find links to all the posts where the printables appear, as well as a gallery of all the planner printables for your convenience.  As always, to snag a copy of them for yourself simply click the pictures of the ones you want.
Pretty in Pastel Planner
The majority of the printables you will find below were created as part of the 31 Days 31 Printables series that I ran back in October of 2014.  I received so many requests for printables in the same colour and design scheme as the 2015 calendars that I decided to create a variety of other planner printables to match.  I hope you enjoy them!
Monthly Planner Printables
The monthly calendar is a vital building block of any planner. It is the foundation that makes both long-term and short-term planning a breeze.  If you'd like to find out more about how I build my planners you can check out this post – Where Does Your Planner Start – for more insight into why I think all planner should include a monthly calendar of some sort.
Just like there are different layouts for weekly and daily planners, you can find a few variations of the monthly calendar as well.  Below I have 3 different layouts in 2 different size so you're sure to find at least one that you like.
It's good to note that one of the layouts – the portrait layout – is not available in half-size.  Try as I might I just couldn't get that layout to work in such a small space.
Sunday Start
Monthly calendars that start on a Sunday are fairly traditional in North America and many other countries around the world.  It's what I grew up with and I tend to follow that tradition.
Monday Start
For those who would like something a little different, or who grew up with monthly calendars that started on a Monday I've got you your covered too.
Weekly Planner Printables
Weekly planner layouts are one of the most popular layouts out there.  Whether your typical week is usually busy or on the lighter side you can't go wrong with a weekly planner.  If you're new to the world of planners, I suggest starting with a weekly planner to see how well it works for you.  If you find that you are running out of room, you can always try a day planner next.
Daily Planner Printables
Daily planners are fantastic for helping stay on track during busy days.  They offer you the ability to really plan out and schedule your day.  One of my favourite parts of creating my own planner is that I can keep a few of these daily planner printables on hand to use on those super busy days.
Other Planner Printables
What planner is complete without a few extras?  A cover page, a place to keep track of those special dates and some matching divider tabs and page markers round out the Pretty in Pastel planner printable collection.
Though it might look complete The Pretty in Pastel planner collection is still growing.  I have a few ideas for new layouts and additional pages that I plan to add as time goes on, and as I do I'll be updating this page so they are easy to find.  I hope you enjoy them as much as I do.