The Scatter-Brain's Guide to a Stress-Free Holiday Season
The holidays can be the most magical, joyful time of the year. They can also be full of hectic schedules and, to be honest, their own brand of stress.
This year, I'm determined to have a stress-free holiday season and I'm inviting you to join me as I share the steps and tools I'm using.
Have yourself a stress free holiday season!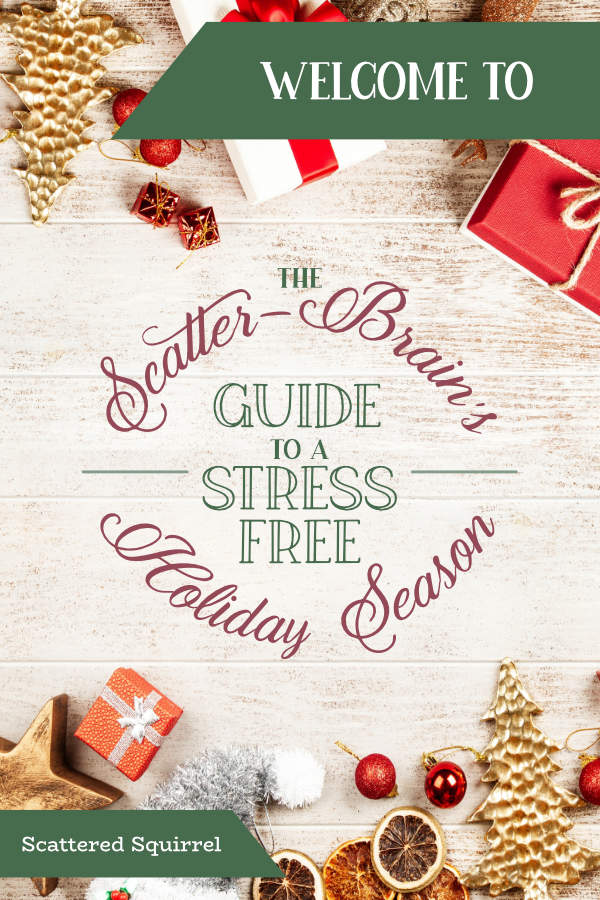 Life can be busy and chaotic at any time of year, but it seems to explode with activity around the holidays. There are always so many things we want or need to do and when we add those to our normal daily life it can turn a joyous time into a stressful time.
We don't have to let it become stressful. With a little bit of dreaming, a dollop of goal setting, and a dash of planning, we can be ready to embrace the joy of the season and let go of the stress.
The Scatter-Brain's Guide to a Stress-Free Holiday Season
In this series, we're going to cover a lot of ground. I'll be sharing my tips and tricks for how I embrace the chaos of the holidays while minimizing the stress that comes along with them.
I'll be honest, it's taken me a few years to figure out what works best for me at this time of year. There are always so many things I want to do, feel I should do, and other bright, shiny things that come along and pull my attention in a new direction. That's life as a scatter-brain on any given normal day. During the holiday season, it can be so much more overwhelming.
Throughout this series we'll be:
thinking ahead to what we want to do this holiday season
determining what needs to be done to make it happen
setting priorities so that we can zero in on the things that really matter to us
ditching the should's and focusing on the needs and wants
creating goals for how we will approach the holidays
setting some boundaries so we don't over schedule or overstress ourselves
putting together a holiday planner to help keep us on track
figuring out what we can do ahead of time to free up time during the holidays
and having some fun along the way!
Come Join the FaceBook Group
We'd love to have you come join us in the Scatter-Brain's Guide Facebook group. Each day I share the post and challenge assignment for the day in the group and invite everyone to chat, ask questions, and share what works best for them.
Sometimes, it's nice to know we're not alone, even when we're just planning. Being able to chat and share ideas is a great way to create a stress-free holiday planning session. Just click the button below to join.
Come and Join The Scatter-Brain's Guide Facebook Group
And no worries if Facebook groups aren't your thing, you can find all the information for each day's challenge in the posts linked below.
I'm a big believer in finding what works for you, so I hope you take what you need from this series and leave the rest.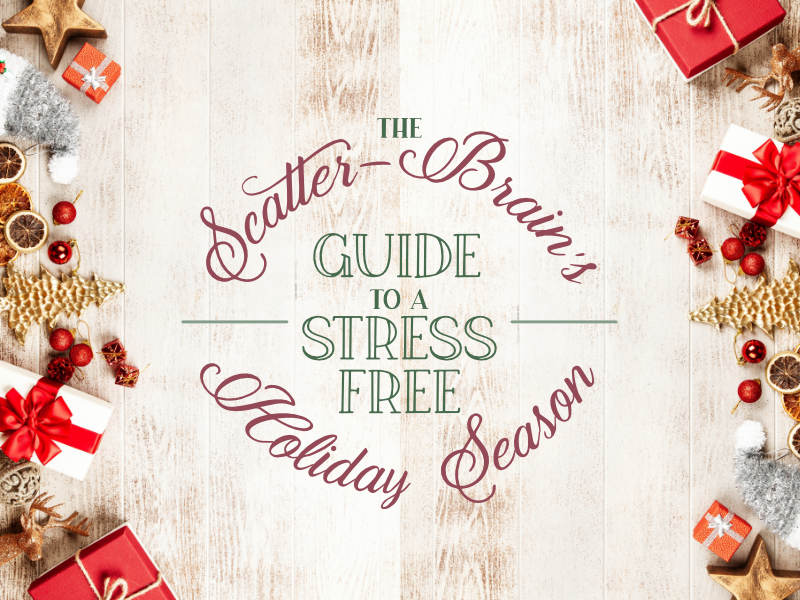 Welcome to The Stress-Free Holiday Series
You could say that this challenge is sort of set up in two parts. First we start by diving into preparing for the holiday season. Thinking about all the things we need and want to do. The second part is when we start laying out our plans for the holidays.
Most of the posts in this series have printables to help make each step a little bit easier. You don't have to use the printables if you don't need or want them, but they're there if you do.
Preparing for the Holidays
This first set of posts is all about the preparations we need to make. Lists we need to create, things to think about heading into the holidays, and so much more. It's all about creating a foundation. Hopefully, one that can be reused year after year.
Planning the Holidays
This next set of posts is all about planning our holiday season. Everything from what we need to do to get ready for the season, to all the little things that make the season bright.
Having a plan is great way to help stop feeling overwhelmed and beat back the stress the holidays sometimes bring.
And don't forget to check out the very last post, which has a set of printable dividers and tabs that you can use to create your holiday planner.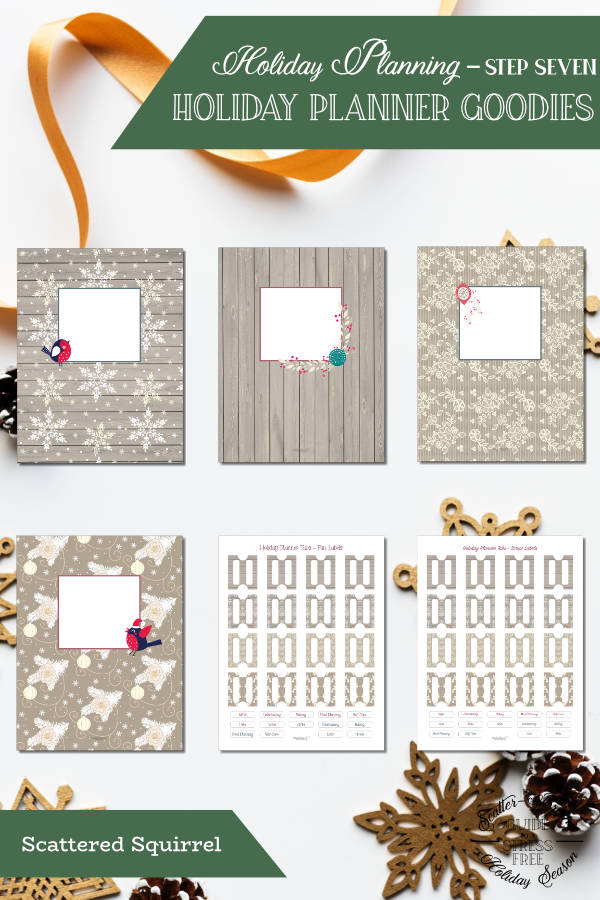 Check out the post – Printable Holiday Planner Dividers and Tabs
Invite Your Friends to Join in the Fun!
Challenges like these are always more fun with friends! If you know someone who you think would like to participate feel free to send them the link. Or if social media is more your style, pin the image below!