Kitchen Binder Printables
A kitchen binder is a great way to organize all your essential kitchen information in one easy to access place.  Keep everything from recipes to meal planning sheets in your binder so that you know exactly where to find what you need when it comes time to start making your meals.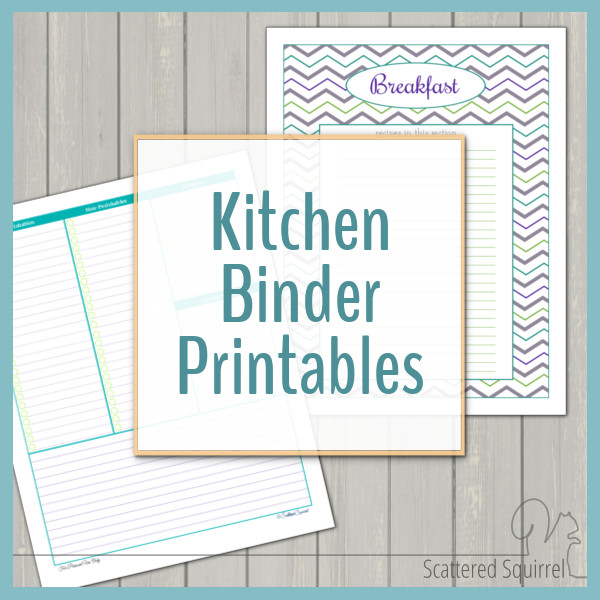 Kitchen Binder Printables
Pick and choose the printables that will help you organize your recipes and kitchen management needs in a way that will work best for you.  Having on place to store all this information is an efficient way to make sure meal planning and meal prep run smoothly, so you can focus on other things.  Just like all the pintables here on Scattered Squirrel, simply the pictures of the ones that you would like and you'll be taken to their PDF file.
Divider Pages
Dividers make it easier to organize your binder into the sections that work for you.  Whether you are organizing your recipes, or simply creating sections to house your meal planners and other pages, these divider pages will come in handy.
---
Full Size
Meal Planners
Meal planning a fantastic way to stop the "what are we having for dinner tonight?" connumdrum.  Planning your meals out ahead of time allows you to make sure you have all the ingredients on hand; helps you to not over spend at the grocery store; and takes the guess work out what to make for dinner.
---
Full-Size
Half-Size
Lists
---
Kitchen Cleaning and Organizing
---
---
Please remember that all printables shared here on Scattered Squirrel are for personal use only. If you would like to use them for something else, drop me and line at alli@scatteredsquirrel.com and I'm sure we can work something out. Thanks so much for stopping by!