Looking for something to help you manage your time? You've come to the right place.
Personal planners are a great way to keep yourself and your family organized. Whether you're super busy, or just looking for something to keep track of special dates and appointments, there is a planner out there for you.
Below is a collection of my personal planner printables. My hope is that you can find a few that will help you put together the planner that will work best for you!
Creating your own personal planner offers your versatility and freedom to change things to fit your needs.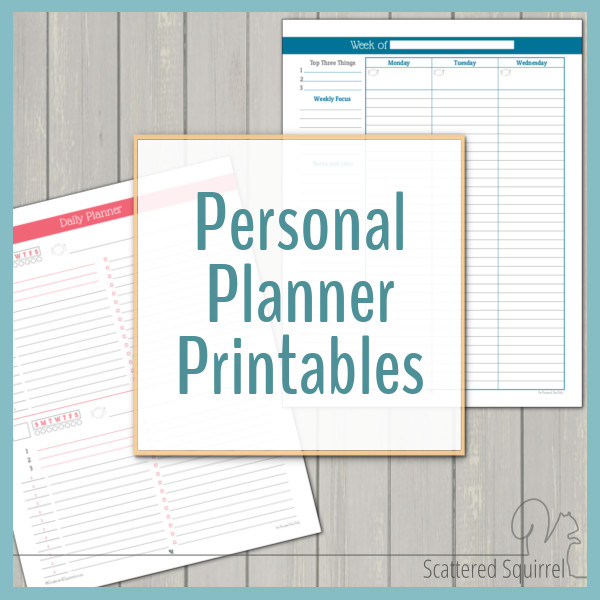 The beautiful part about creating your own planner is that you can print out a few sheets and take them for a test drive and move on to something else if they don't work for you as well as you hoped.
Finding the system that will work for you takes some trial and error, but once you find the right one it will be an invaluable tool that will help you in so many areas of your life.
I have a ton of printables for you to choose from to help you set up your own planner.
Planner Printables
Over the years I've made many printables, most of them are planner printables of one kind or another. Too many to fit on one page, so to make it easier to browse the printables I have pages dedicated just to daily and weekly pages. To make it easy to check those out I've linked them below.
Weekly and daily pages are important parts of creating a planner that works for you, but there are other planning tools that might come in handy too.
As always, to download the printables you would like just click on their images. If you'd like to open the printable in a new browser window so you can keep scrolling through the rest on this page, hold the control key before clicking.
Monthly Planner Pages
I always think of monthly planning pages as the foundation for my planner. I use calendars for forward planning and monthly planning pages to help me stay on track with my goals and to create a snapshot of how I want my month to go.
You can find a variety of monthly planning pages in the gallery below.
Undated Monthly Calendars
Having a few undated calendars on hand can be really helpful. You can use them for so many different things. Some of the ways I use them are:
meal planning
project planning
holiday planning
planning seasonal cleaning
extra monthly planning pages
memory keeping
There are many ways that an undated calendar can come in handy. There are a variety of them in the gallery below.
Yearly
Yearly planners are fantastic for tracking special dates, days off, vacation planning and just getting a general feel for what your year has in store. I have a couple of different options for you to choose from.
Additional Pages
One of my favourite things about making my own planners is that I can add pages that I need and take them out when I'm done. The flexibility and versatility is endless. Below is a collection of extra planning pages I thought you might like. They include pages such as:
goal setting
self-care
tabs
special dates
address book
password log
Cover Pages
While planners are hard working tools there is always room for a little fun. The printables in the gallery below were designed as cover pages, though they could easily be used as dividers as well. Whether you want to create different sections, or just add a cover
I hope you liked the Personal Planner Printables. Please remember that all printables shared here on Scattered Squirrel are for personal use only. If you would like to use them for something else, drop me a line at alli@scatteredsquirrel.com and I'm sure we can work something out. Thanks so much for stopping by!
If you'd like to check out more printables, click the Blog or Printables tab on the top menu bar.
If you didn't find what you were looking for, check out the resources below for more helpful ideas.
Free Planner Printables – a collection of other free planner printables from around the web.
DIY Planner – a collection of helpful links to help you create the perfect planner for you.