Welcome to Day 24 of the 31 Days 31 Printables series. If you are just joining us, I'm ending the month by updating and refreshing some of my personal planner printables.  These are the printables that I currently use, or have used in the past, to help me stay on track when it comes to managing my and my family's schedules.  Yesterday I shared eight different blank monthly calendars, and I talked about different ideas for how I would use a blank calendar.  Today I'm back with eight, well ok seven more, blank monthly calendar printables.  The difference between yesterday's collection and today's is today's printable calendars all start on a Monday.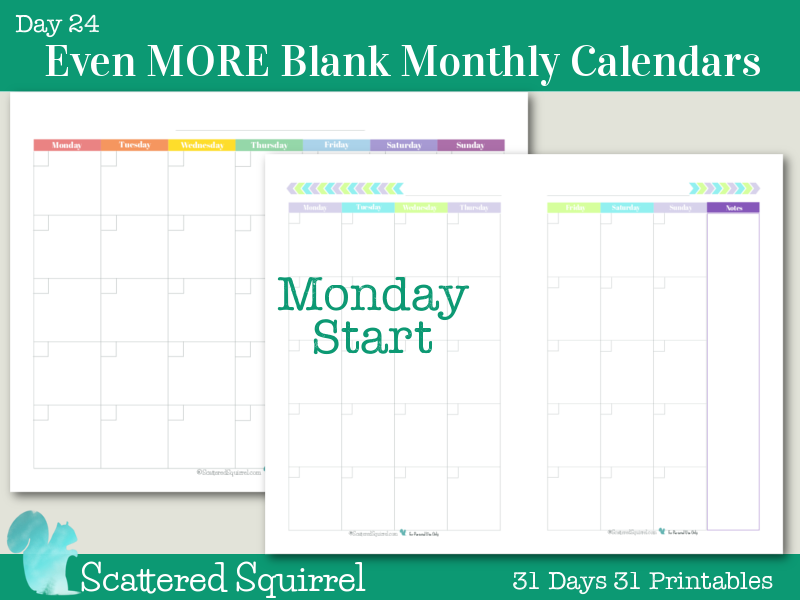 Earlier this month, I shared a blank monthly calendar that started on Monday.  It was one of the printable requests that have come in over the past few months, and it made a lot of sense to me to make one up.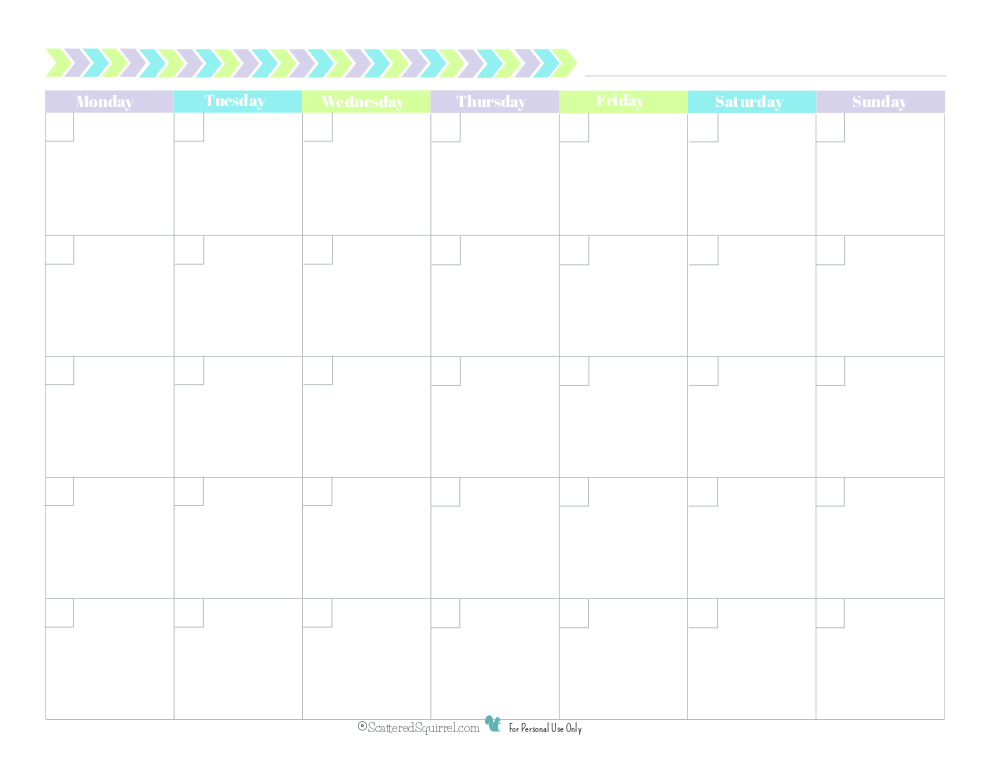 Our family calendar starts on a Sunday, so I tend to use the same format for my printed calendars.  However, as I mentioned on Day 3, I plan my weeks starting on Monday.  I prefer to plan my weeks for starting on Monday, simply because Sunday is my planning day.  That's just what works for me, and so I make my weekly planners to reflect that.  Also, I try really hard not to schedule anything on the weekends, that way if Travis is off for the weekend we can head out and do something and not worry about rushing to be somewhere at a certain time.  It also means weekends are free for those inevitable birthday parties that happen during the school year.  So, I totally understand wanting a calendar that starts on Monday.
Blank Monthly Calendar Printables Starting on a Monday
In my post on day three, I mentioned that I made the full size monthly calendar because I wasn't sure which other ones people would want.  Well, you spoke; I listened and decided to play it safe and make a Monday Start version of all the calendars, just like I did yesterday for the more traditional Sunday Start calendars.  Here's what you need to know about today's collection:
 each one begins on Monday
choose your size – full or half
choose your layout – one month per page or two pages per month
choose your favourite colour scheme – Fun and Fresh from 2015 or Minimal Rainbow from 2014
Check out the galleries below to select the one you want.  (please note, each of the full size two page per month printables is represented by a picture of the first page, however both pages are included in the downloadable pdf.)
2015 Calendar Colours
2014 Calendar Colours
And now that we have sixteen different blank calendar printables to choose from, I think I need to make them their own page in the printable collection.  At the end of the month I will begin adding all of this month's printables to the printable collection that they belong to, so that you can find them easily on the printable pages.  Speaking of the end of the month, end of October is coming up fast and I have a few more printables to share before the surprise I have planned for the 31st, so I better get to work!
Don't forget, if you have a suggestion for changes you would like to see to old printables, or even new printables you would like to see offered here, let me know in the comments, send me an email, or reach out on social media. You never know, I might choose your idea next!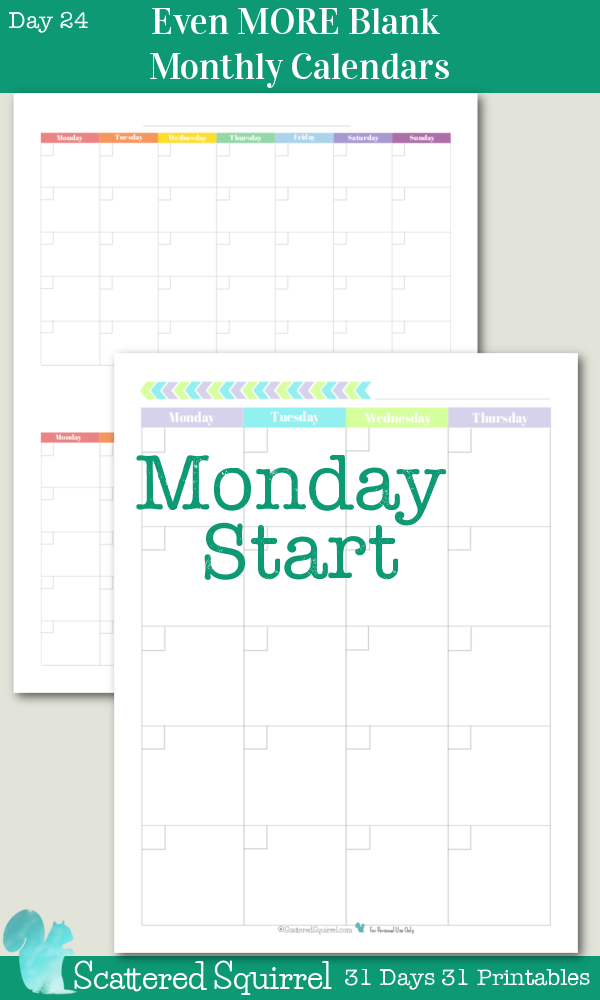 Which do you prefer, a monthly calendar that starts on Monday or Sunday?
~Happy Printing!~
---

Don't miss out on the fun!  To get posts delivered right to inbox head on over to the side bar and subscribe by email.  Check out more 31 Days series over on the 31 Days site.
---