The holidays are a magical time full of traditions old and new and the joys of the season.  The holidays are also one of the busiest times of year for many people.  Between family get-togethers, parties hosted by friends, the baking, cooking and shopping…. well there is just so much to keep track of.  A holiday planner is a great place to store all the information you need to keep your holidays running smoothly so you can just worry about enjoying the festivities. 
Holiday Planner Printables
The printables found below were created to give you a place to keep track of all the things you might need during the holidays.  We've got everything from preparations checklists and hostess cheat sheets to baking plans and gift giving guides.  Print what you need, and let your holiday planner do the remembering for you so that you can focus on making memories and enjoying this beautiful season.
To get a copy of the printables seen below, simply click the pictures of the ones you would like.
 Checklists
---
Greeting Cards and Mailing Lists
---
Gift Giving
---
Decorations
---
Baking and Menu Planning
---
---
Other Holidays
Though the winter holiday season is generally the one that needs the most planning and prepping, I do have some other planning printables for some of the other popular holidays that fall throughout the year.
Thanksgiving
Halloween
Canada Day and the Fourth of July
Easter
Valentine's Day
St. Patrick's Day
Talk Like a Pirate Day
---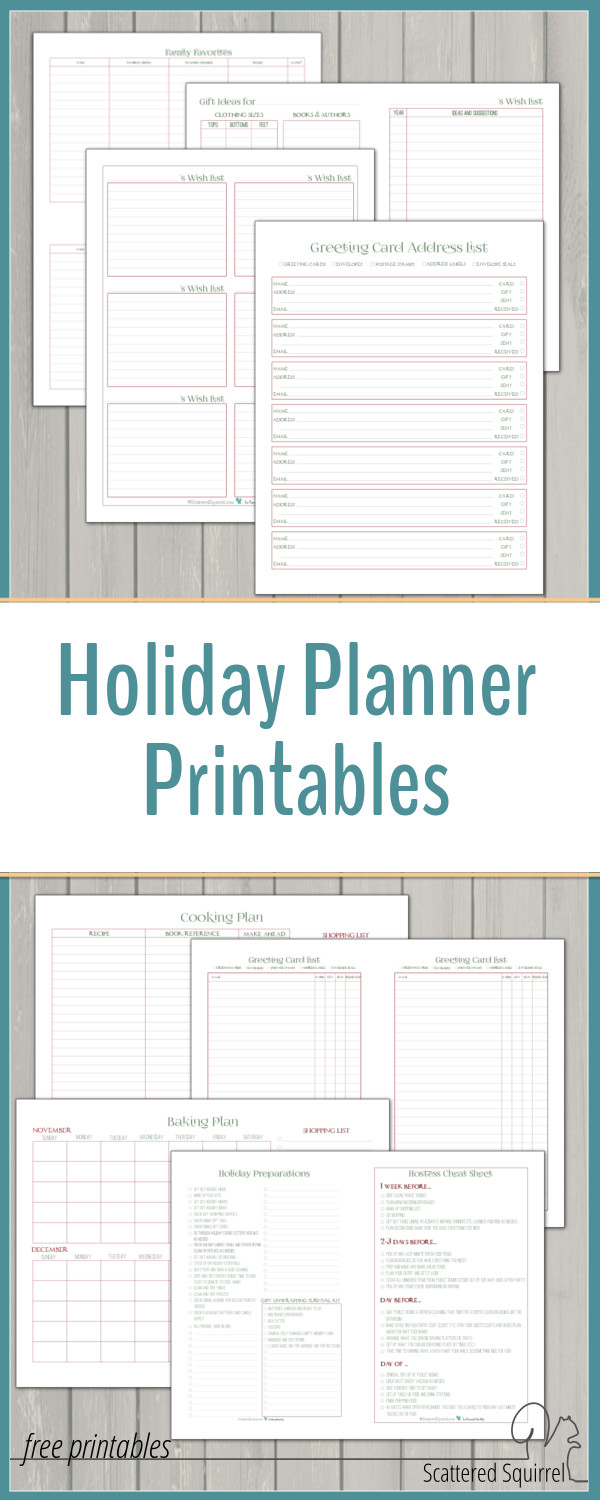 Please remember that all printables shared here on Scattered Squirrel are for personal use only. If you would like to use them for something else, drop me and line at alli@scatteredsquirrel.com and I'm sure we can work something out. Thanks so much for stopping by!