I believe that printables can be a very valuable tool when we are trying to manage our homes, families, work, and personal life.
Let's face it, life can be hard and it can get really busy and chaotic, but with the right tools to help keep us on track, we can navigate those crazy time with a little bit of ease.
Printables, printables, and more printables! That's what you'll find in the printable libraries linked below.
Table of Contents
The right system, whether it is a personal planner, home management binder, home keeping schedule, or any other system you use to keep your life running smoothly, should work for you, not the other way around.
If you have to work to maintain and are struggling to stay on top of it, then it's time to think about changing your system.
That's one of the many reasons why I create and share so many printables here on Scattered Squirrel because I want you to find what works for you.
Truth be told, I'm still looking for what works for me.  It never fails, just when I think I've got it all figured out, life changes on me and I need to make more changes.  Which is kind of a good thing for you because it means new and improved printables are coming out on a regular basis.
Check Out the Libraries Below
Take a wander through printables libraries by clicking the pictures below. I hope you find something to help you! I've included a brief description of each library so you can get a feel for what you find in it.
Planner Printables
I called this library Personal Planner Printables back before I knew that personal planner also referred to the size of a planner. When I was naming it I was thinking that the printables I included in it were for personal planning rather than home management or something else.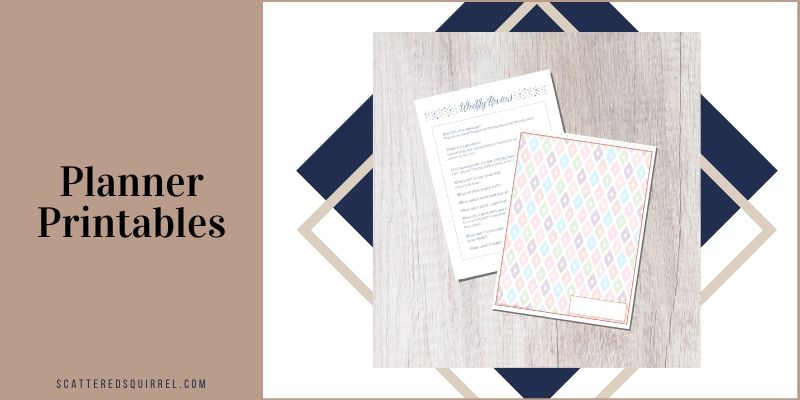 In this library you will find all the printables you need to create a planning system that will help you structure your time and help you stay on track. Pages like:
monthly planners
yearly planners
weekly planners
daily planners
additional planner pages that might be helpful
Click here to check out the Planner Printables library.
Weekly Planning
In the Weekly Planning library you'll find a variety of different layouts and designs to choose from. Weekly planners are wonderful for being able to see your whole week at a glance. I always find this helps me make sure I don't over commit to anything.
Some of the different layouts offered include:
week on two pages
week on one page
horizontal orientation
vertical orientation
weekly overviews
weekly to-do lists
Click here to check out the Weekly Planning library.
Daily Planning
The Daily Planning library is full of different planner pages you can use to plan your day. There are some with scheduled time slots and some that are set up to be just a to-do list. You can use them on their own, or pair with a weekly when you need more detailed plans for each day.
Some of the different options you'll find in this library include:
day on a page
two pages per day
time slots
daily to-do lists
Click here to check out the Daily Planning library.
Dated Calendars
In the Dated Calendars Library you'll find the current dated calendars available. Designing new calendars each year is something I always look forward too. It's my change to offer something new and different for you.
In this library you'll find:
the dated calendar for the current year
the dated calendar for next year
a dated academic calendar for the current school year
a dated academic calendar for the next school year
Click here to check out the Dated Calendars Library.
Time Management
The Time Management library is a great place to check out if you're looking for a little help figuring out how to make the most of your days. You'll find a variety of tools in this library to help you prioritize, evaluate, and track your progress.
Some of the tools you'll find in this library include:
work sheets to figure out what you need to do each day
routine building tools
to-do lists
trackers
Click here to check out the Time Management library.
Home Management
Homes have a lot of moving pieces and evolving situations. In the Home Management library, you'll find a variety of printables to help you manage all the little details of home life. Whether you're wanting to build a home management binder or just looking for a cleaning list, there's sure to be something here that will help.
Some of the printables in this library include:
important information
cleaning and home maintenance
seasonal cleaning
meal planning
family information
budget and finance
Click here to check out the Home Management library.
Kitchen Binder
A kitchen binder can be a really handy resource to create for your home. In the Kitchen Binder library you'll find some printables to help you set up a recipe binder, inventories, and so much more.
A few of the printables included in this library are:
divider pages
meal planners
kitchen cleaning
labels
Click here to check out the Kitchen Binder library.
Holiday Planning
As a kid holidays magically happened; as adults, we now know how much planning went into making the most wonderful time of the year – well – wonderful. In the Holiday Planning library you'll find planning pages to not only help plan the winter holidays but some for other holidays throughout the year as well.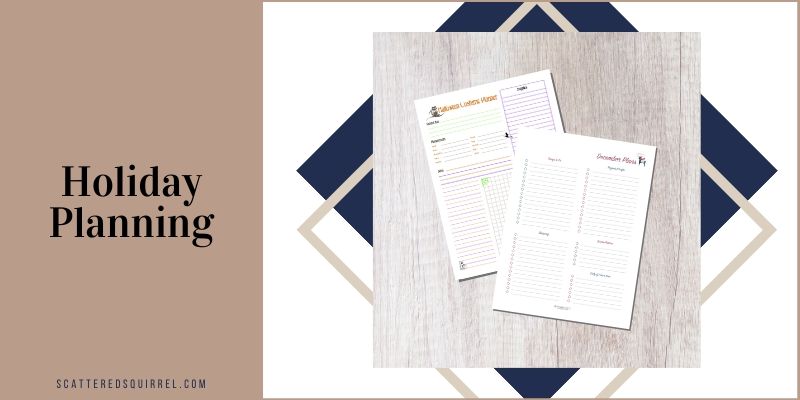 Some of the holiday printables include:
Christmas/Winter holiday planning pages
Halloween costume planner
Easter Egg hunt planner
Thanksgiving Planner
BBQ Planners
Special holiday themed notes pages
Click here to check out the Holiday Planning Library.
Move Management
Moving can be a lot of work. Aside from the packing and actual moving part, there are so many little details to keep track. The Move Management Library is full of tools and trackers that I use to help make our moves run more smoothly.
In this library you'll find:
packing list
house hunting helper
account cancellation and hook up tracker
cleaning list
to-do lists
Click here to check out the Move Management library.
I hope you enjoyed looking through the libraries and I hope you were able to find a few printables to fit your needs. New additions get to added to the libraries fairly regularly, so please come back and visit again.
Until next time I hope you enjoy using the printables!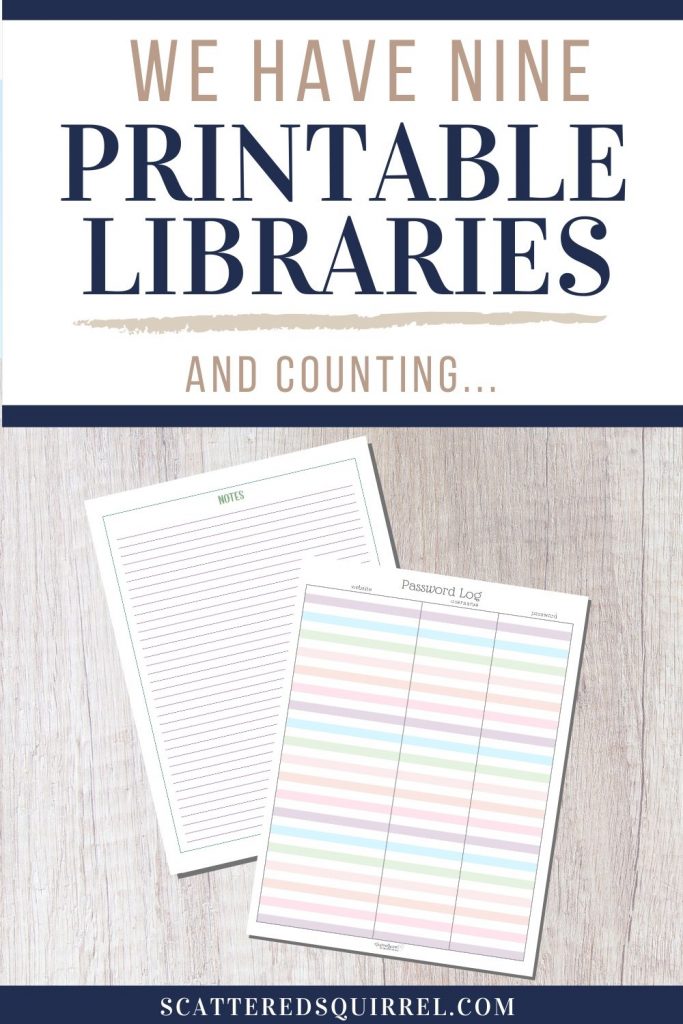 Please remember that all printables shared here on Scattered Squirrel are for personal use only. If you would like to use them for something else, send me an email and I'm sure we can work something out.
Thanks so much for stopping by!