Throw a Patriotic Bash with these Summer Holiday Planner Printables!
Can you believe that we're in the last week of May already?  I am eagerly counting down the days until school is over and summer vacation is here!  (Please tell me I'm not the only one?)  One of our favourite ways to kick off summer vacation is with a BBQ.  With Canada Day falling so close to the end of school year, it's a great time to combine the two celebrations and welcome summer with a bang!  Though Travis doesn't ever need a reason to fire up the grill, and he certainly doesn't limit his grilling to summer months, kicking off summer vacation with a BBQ is almost tradition now.  Some years we have family and friends over, other years it is just the four of us, either way it takes a little planning and I thought it would be fun to expand my holiday planner printables to include some, fun summer time planning printables.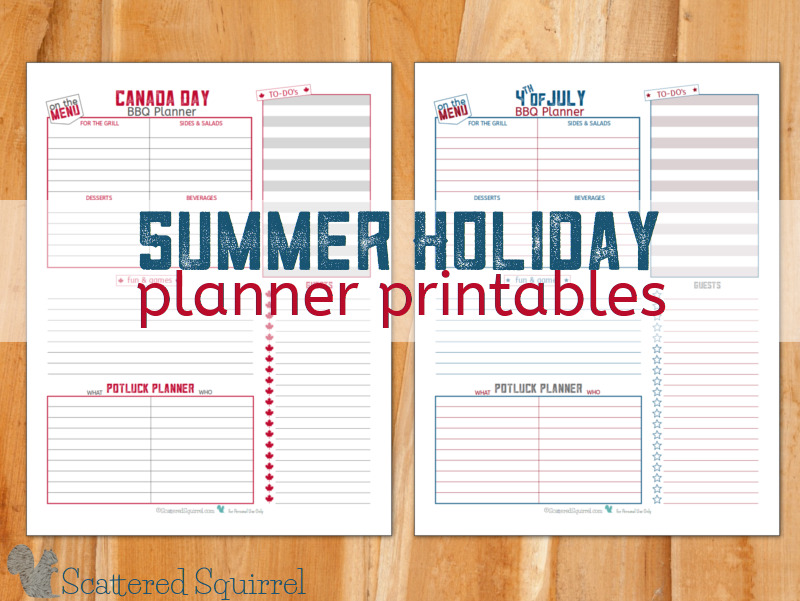 When it comes to summer holidays the two that seem to stand out the most (if my Pinterest feed is anything to go by) are Independence Day and Canada Day, so I thought I would start with those two.  It seems like many people, across both countries, choose to celebrate the national birthday with a BBQ or picnic of some kind.  And why not?  The great thing about BBQs and picnics is that they are a ton of fun and take a relatively small amount of planning.  Good food, plenty to drink (need to stay hydrated) and some games or activities to keep the kids busy having fun and you've got a great celebration!  So with that in mind, and because of my own personal preference (hey, there are some perks to making the printables right? 🙂 ) I created two different summer holiday planner printables for you to use to plan your holiday get together.
Summer Holiday Planner Printables
The newest additions to my holiday planner printables collection are in honor of our Nation's Birthdays!   As with all my printables, I tried my best to keep them simple, relatively light in the ink department, and easy to use.  Nothing worse than a printable that is confusing and hard to use.  I did take the liberty to have a little fun with each of them, but the focus was most definitely on function ad making summer holiday meal planning a breeze!  Because summer get-togethers tend to be more relaxed and laid back than winter holiday ones, I tried to reflect that in the printables.  Ready to check out them out?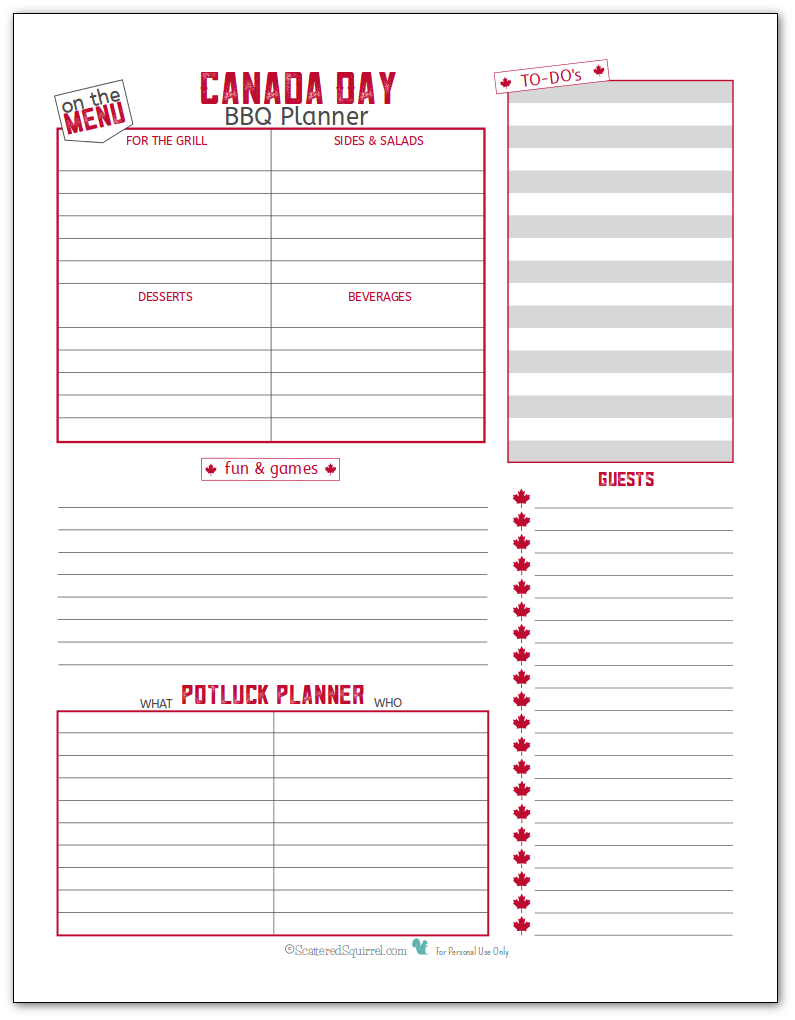 First up the Canada Day Holiday Planner.  Like I said I kept it really simple.  A space to plan your menu, some activities and a potluck planner section on the left.  The potluck planner is a great way to keep track of who is bringing what.  I opted to put it on the bottom so that it could be used to keep track of other things if need be, such as who is bringing the picnic blanket or the sand toys or the bocci set.  On the right hand side is just a space for a to-do list and of course the guest list.  Simple and easy to use.  And I did not forget my friend's to the south.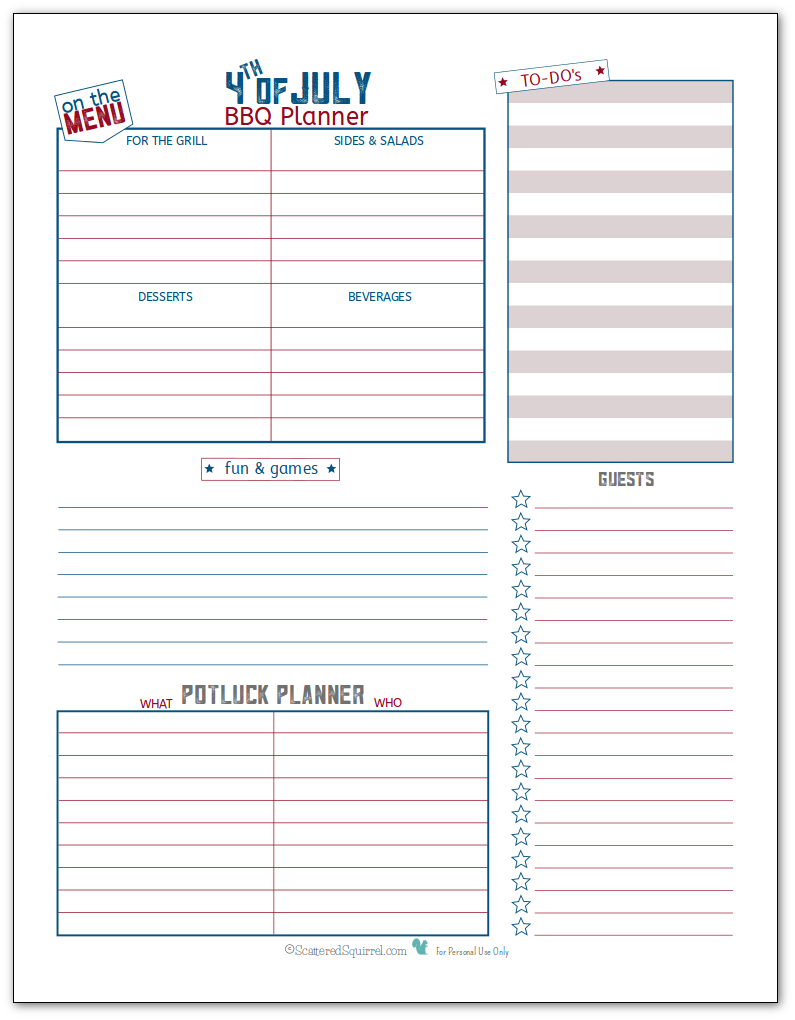 Layout wise, it is identical to its Canadian cousin, so there's no need to explain.  All I did was change the title and some of the colours in honour of your flag.  I hope I did ok, I'd love to hear your thoughts.
If you're new to Scattered Squirrel, to snag a copy of any of the printables for yourself, just simply click the pictures of the ones you want and the PDF version will open for you to save. All of the printables are for personal use only.
More Summer Fun
I hope you find the new summer holiday planner printables helpful.  If you're looking for more summer fun checkout these post from a few of my fellow blogging friends.
I'm always on the hunt for activites for boys that my own will find fun, and these Super Fun Rocket Flyers not only look easy to make, but I foresee hours of fun with them!
Don't leave the little ones out of the fun, these Fun and Crafty activities for toddlers are sure to keep the giggles and smiles coming.
Head outside and have some fun with these wonderful Montessori outdoor exploration ideas.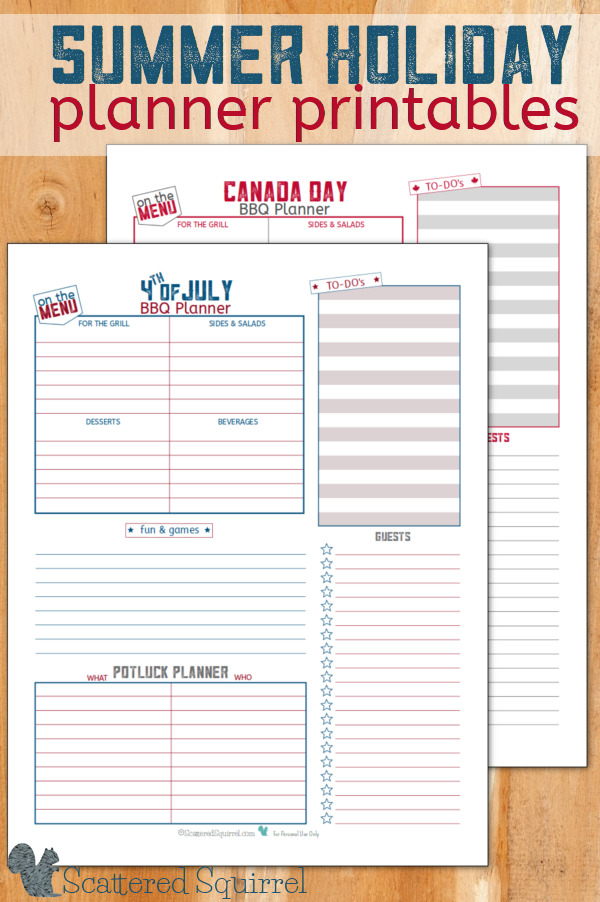 I am linking up at these great place around the web! (click here to see)