Seasonal Home Maintenance Checklists
Yesterday I shared the emergency contacts and important information printables.  Those are always the first ones I put in my home management binders.  First and foremost, my binder functions as a reference for our family.  It's the central point where all home and family information is collected.  The next section I set up is always my home maintenance or cleaning section.  With so many things filling our days it's easy to forget certain household tasks, having them written down for me to check is a huge help.  First up are my seasonal home maintenance checklists.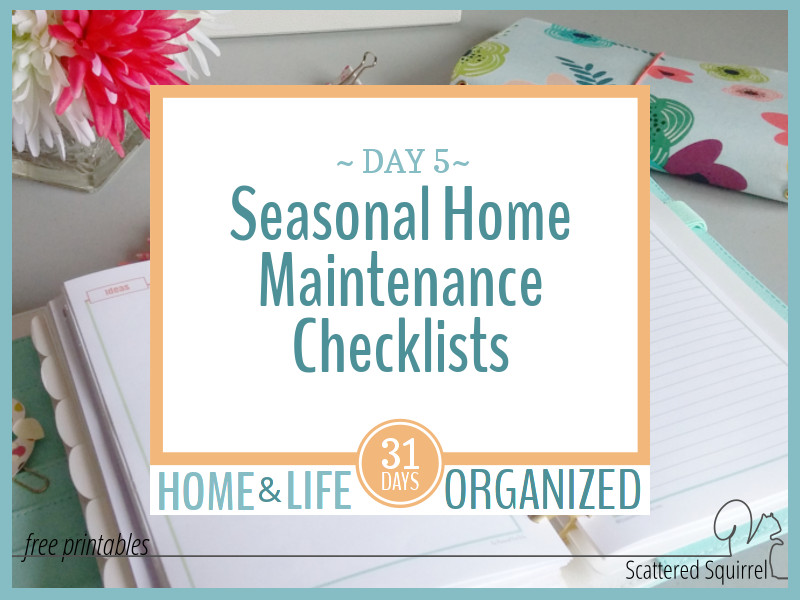 I find it really hard to try to remember all the home maintenance tasks that should be done each season.  If I'm being super honest, I can barely remember what home maintenance tasks I'm supposed to be doing on a weekly basis.  That's why I love checklists!  They are a great way to keep reminders handy about what you need to do, without having to really think about.
Check the list.
Do the task.
Check the box.
It's as simple as that.  Simple is always a good thing in my book.
Seasonal Home Maintenance Checklists
My seasonal checklists fall into two categories – indoor and outdoor.  I created the first ones a number of years ago, and aside from adding a few tasks and changing the fonts – they're still pretty much the same.
My indoor home maintenance checklist is divided into months.  Each month has a few tasks on it that need to be done.  This is where I keep track of when I last cleaned behind the appliances when to flip or rotate my mattresses and other tasks like those.  At the beginning of each month, I check this list and schedule the task into my month where I have time.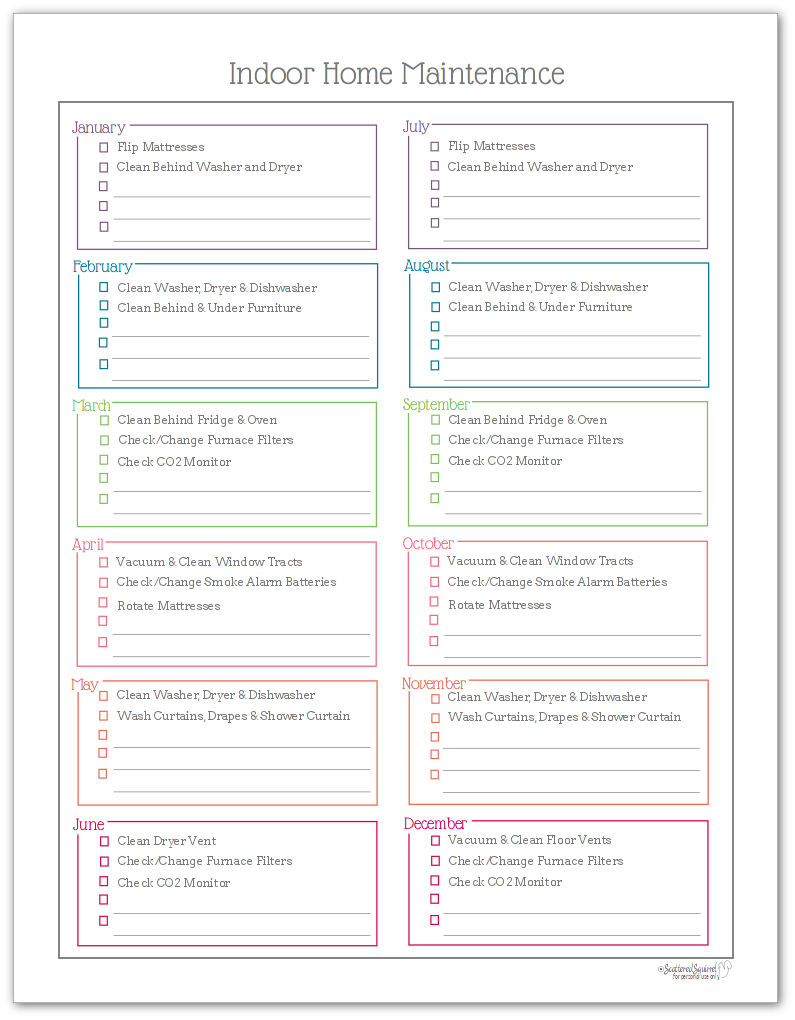 The second half of my seasonal home maintenance checklists deals with the outdoors.  This one I divided by season.  It seems like most outdoor tasks are all about cleaning up from winter and getting ready for summer, or cleaning up from summer and getting ready for winter.   Picking spring and autumn seemed like a good way to do it.'
Our family tends to tackle these tasks on the weekends.  We do a few here and there until the list is done.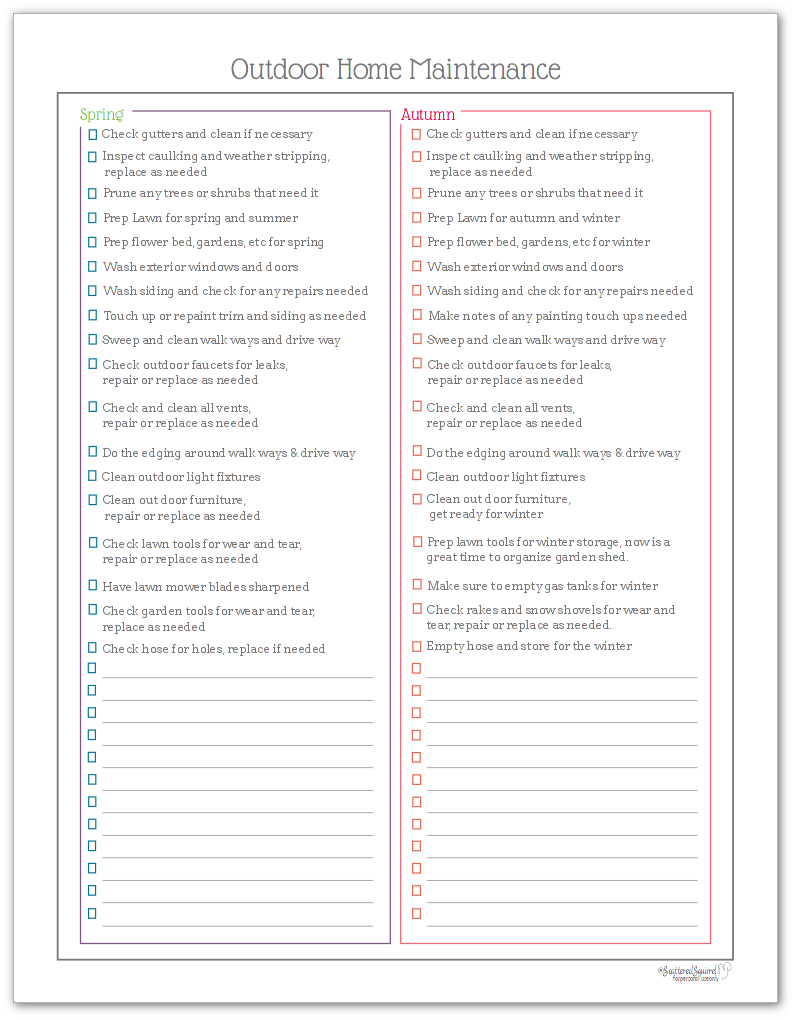 For the half-size versions, I put the two checklists on the same page to save paper.  It made sense to keep them together.  You really only need to reprint them once a year.  If you have a laminator, then you only need to print them once.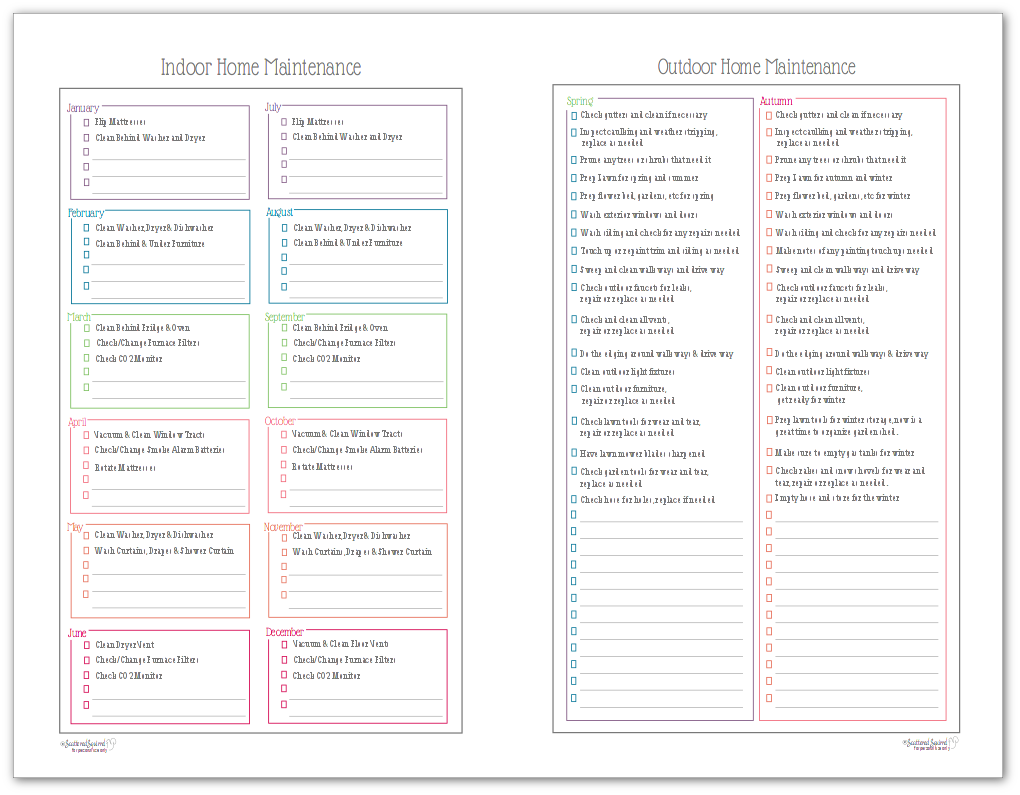 While the seasonal home maintenance checklists can't do the work for me, they sure do make it easy for me to make sure things are being taken care in a timely manner.  I hope that the help you as much as they've helped me.
Live Q & A
This weekend is a holiday weekend here in Canada.  Monday is our Thanksgiving.  This year my family is doubling the celebrations, as Monday is also my wedding anniversary.  This weekend I'm also hosting the first Live Q and session over on my Facebook page.  When I know which day and time I'll let you know.  In the meantime, if you have any questions, please feel free to share them in the Facebook posts linked below.
What do you think of the seasonal home maintenance checklists?  Do you think you'll find them useful or are they just not your thing?  Drop me a line in the comments below and tell me what you think.