Welcome to Day 17 of the 31 Days 31 Printables series.  If you're just joining us, I'm spending the whole month of October sharing at least one free printable each day.  Right now I'm working on updating my holiday planner printables, and I'm happy to say I'm finally on the last two.  I don't know about you, but I'm ready to close the book on the holiday planner and move on to updating some of my other printables.  Before I call this planner update finished though, I have two more printables to share:  The Holiday Meal Planner Printables.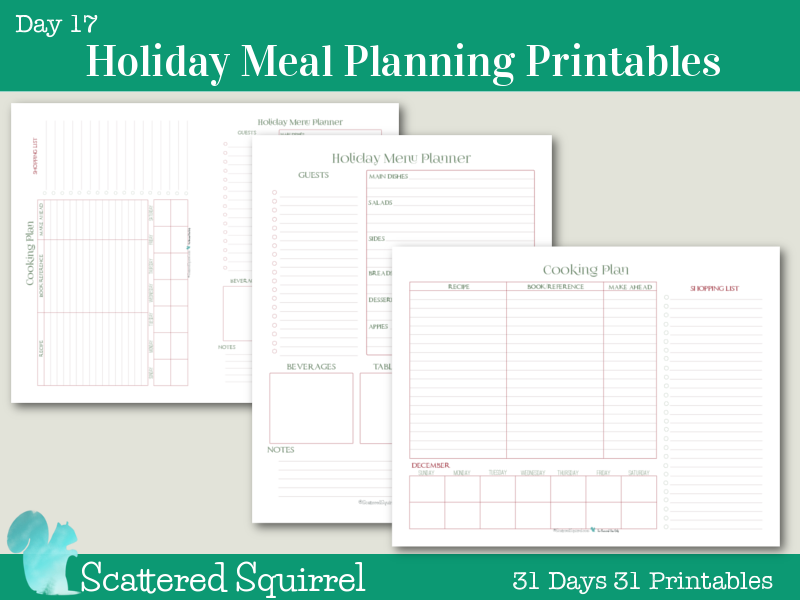 I swear I spend all year looking forward to Christmas dinner.  Some years I dread the cooking involved, and other years I look forward to it.  It seems like each year Travis and I add something new to our holiday meal, and each time we do it means we have to adjust our plan of attack for cooking the meal without having to slave all day in the kitchen.  To help with that I created the Cooking Plan printable, and I have to say, year after year, it has been a big help.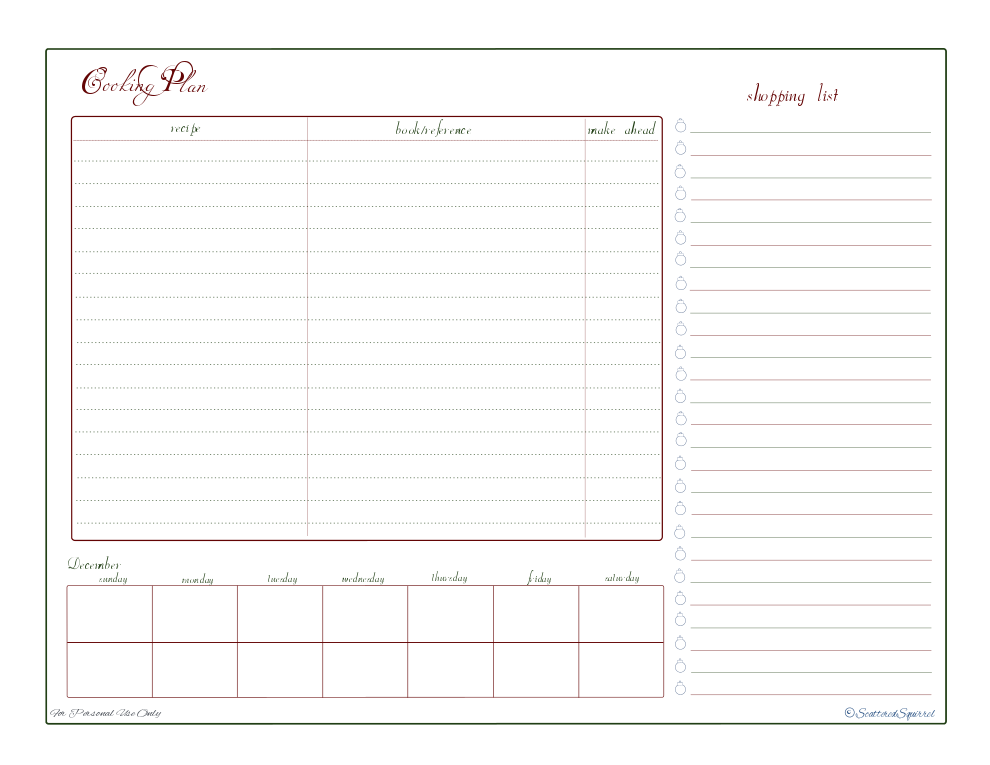 Holiday Meal Planner Printables
I still remember the first time I cooked a holiday meal for just our little family.  It was the first time, in my entire life, that I was not spending Christmas with my parents.  We had just moved up north and it was only Travis, our Teen (then 8) and me.  I was six months pregnant with Liam and wasn't feeling up to cooking a massive spread and Travis was on shift so he had to be ready to go if a call came in.  That Christmas dinner was the simplest Christmas dinner I had ever had.  Turkey, mashed potatoes, some veggies, stuffing, gravy and biscuits with apple crumble for dessert.  Aside from the stuffing, and how long the turkey took to cook in the oven, it was no different from making a roast dinner.  No appies or deli plates, no cheese and crackers, just a simple little meal, and you know what I LOVED it.  As the years have gone by we've slowly added to our simple meal.  With careful planning we've managed to still keep the making of the meal simple.  That's where my cooking plan printable comes in.
Because this one has been working so well for us, I've left it as is.  Like all the other holiday printables it has gotten a face lift but that's it.  This little planner page keeps track of everything I need for our holiday meal:
Recipe:  what recipe or dish we want to make
Book/Reference:  Where I can find the recipe if we have one
Make Ahead:  I use this part to jot down how far ahead of time I can make it.
The Calendar: We usually start cooking some of our dishes two weeks ahead of time, and I jot down when I'm making what, so I know to have the ingredients I need on hand.
Shopping List:  I use this to jot down ingredients we need that we may not always have on hand, or that I know we're out of.  Once I have the list of recipes, it's just a matter of checking the pantry and freezer to see what we need.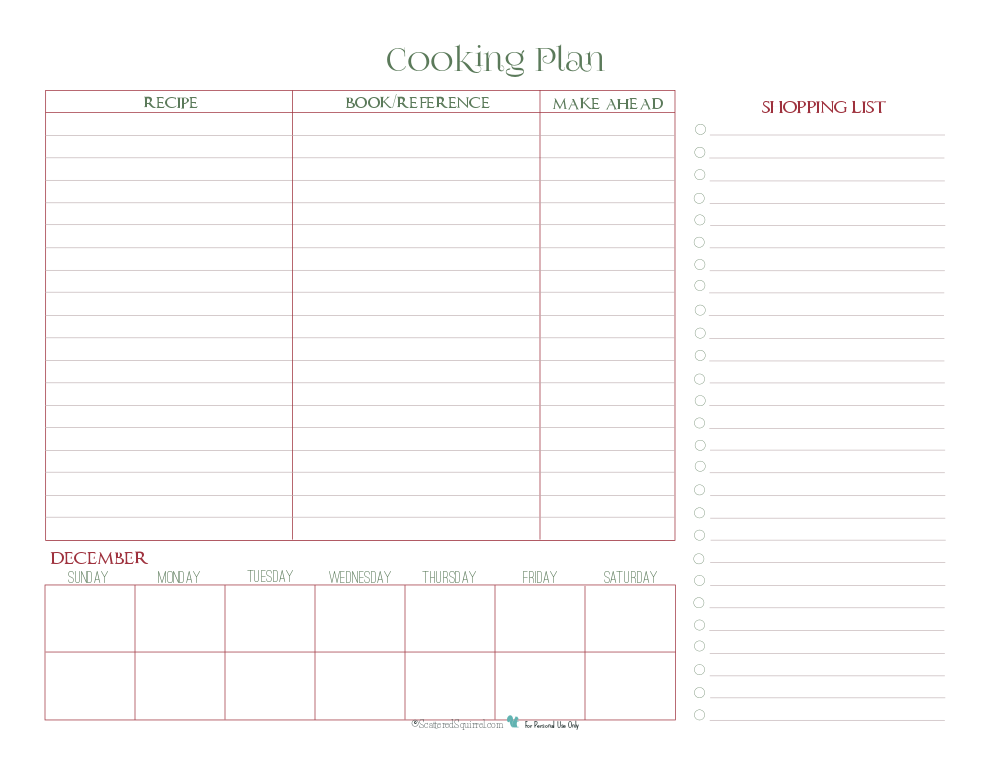 This next one needs no introduction from me, I've already talked about it in the Thanksgiving Planner post.  I just wanted to make a copy to match the rest of the holiday planner printables, and I thought this one would make a great partner to the cooking planner.
And of course, you know I couldn't resist making up a half-size version right!  I'm really happy that I held off on updating the holiday menu plan so that I could pair it with the cooking plan for the half-size version.  They make a great team, at least in my humble opinion.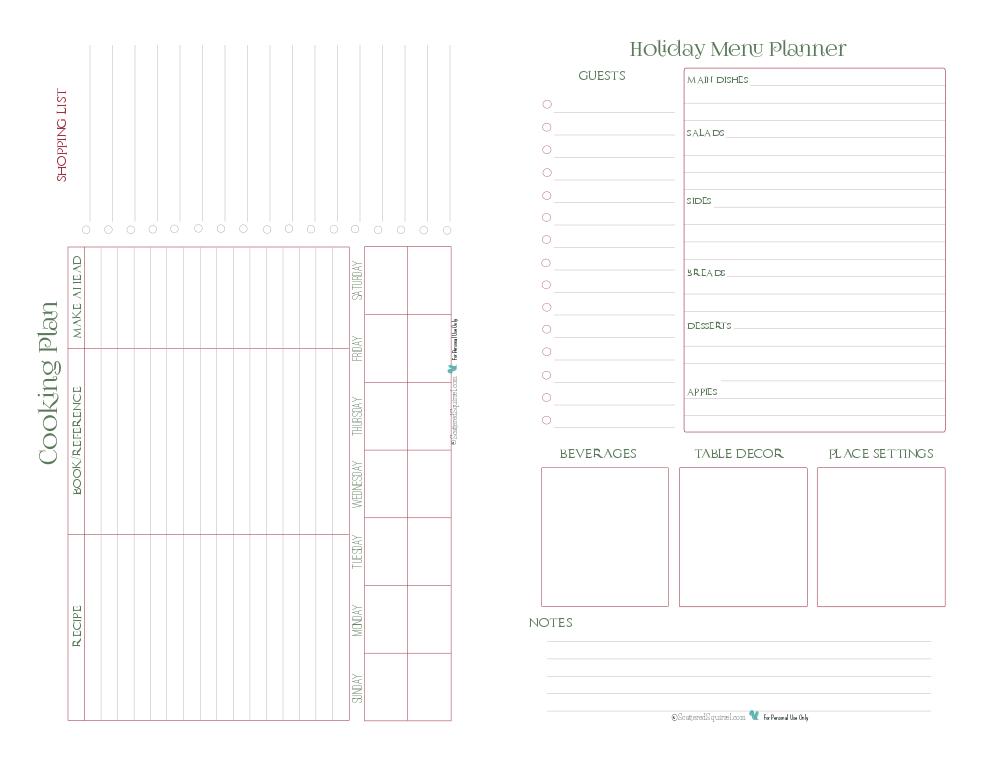 Now that the holiday meal planning printables are done, I believe it is time to concluded to the holiday planner segment of our October programming.  Thanks so much for bearing with me while I updated them all.  Not only do I think the new colours and fonts look better, but I'm really happy to now have a half-size version of the planner for all of you have requested one.  It warms my heart when I'm able to honor
Don't forget, if you have a suggestion for changes you would like to see to old printables, or even new printables you would like to see offered here, let me know in the comments, send me an email, or reach out on social media. You never know, I might choose your idea next!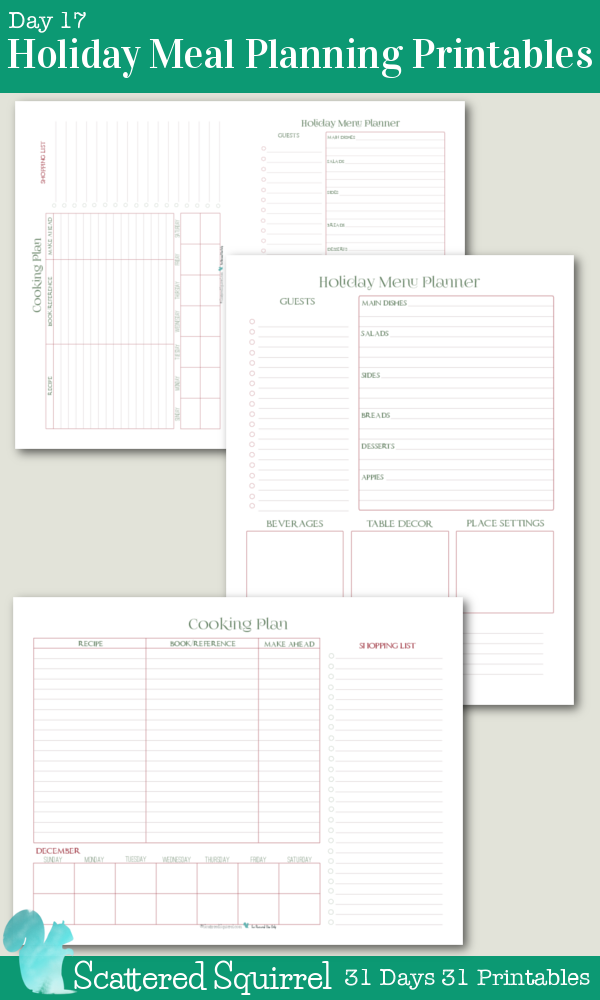 ---

Don't miss out on the fun!  To get posts delivered right to inbox head on over to the side bar and subscribe by email.  Check out more 31 Days series over on the 31 Days site.
---