Welcome to Day 18 of the 31 Days 31 Printables series.  If you're just joining us, I'm spending the whole month of October sharing at least one free printable each day.  Right now I'm working on updating my home management binder printables, and I'm kicking it all off with a requested update to one of the cleaning checklist printables.  It's kind of funny, this one is a requested update to a requested printable. (try saying that ten time fast) The Room by Room cleaning checklist first came about thanks to s a request from one of you, and I'm thrilled that it was like enough to have you wanting some changes and tweaks made to it.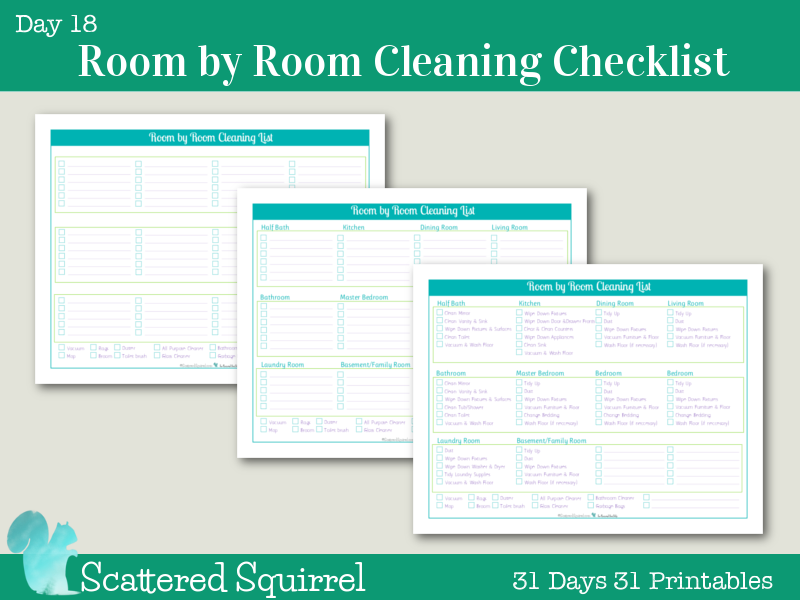 The Room by Room cleaning checklist is a pretty special printable in my book.  This printable was the very first reader request that I featured here.  The request came from someone very near and dear to my heart.  She's read almost every word I've ever written.  When I say that she's been with me since the beginning, I mean that in the most honest way possible, because, you see, she's my Mom.  I was so thrilled to have my first request be from my Mom.  When it comes to organizing and maintaining a home she's my inspiration, and no matter what point I've been at, or will end up at, on this crazy journey to organized living, my Mom has always been there for me.  Congratulating me on each and every tiny victory and encouraging me to reach just a little further.  She's the first person I turn to when I'm in need of advice, and to be able to return that favour, even in this small way, meant the world to me.  It was a little bitter-sweet working on updating this printable, I love it just the way it was, but I really wanted to make it fit in more with the other printables.  Just like all the other printables I've updated, the original version will remain here on the blog along with the new, so it's not like I'm saying good-bye to this one.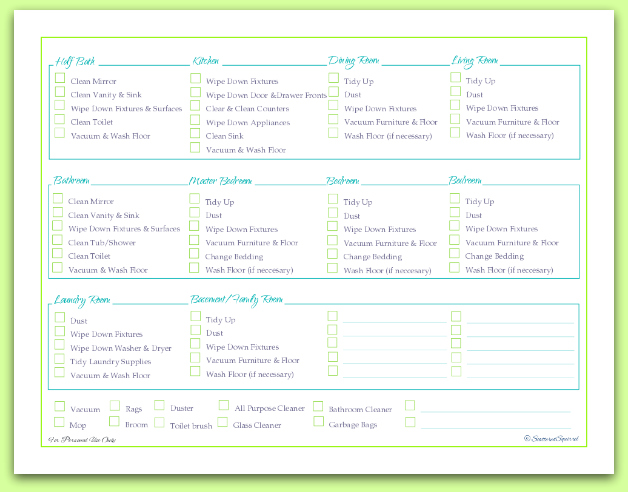 Room by Room Cleaning Checklists
When it came time to update this printable, I felt a little nostalgic and so I opted to keep it as it was, for the most part.  I could not bring myself to change up the layout so I just updated the colours and the fonts, and created a header to match the other cleaning and home maintenance section printables that I'll be sharing over the next few days.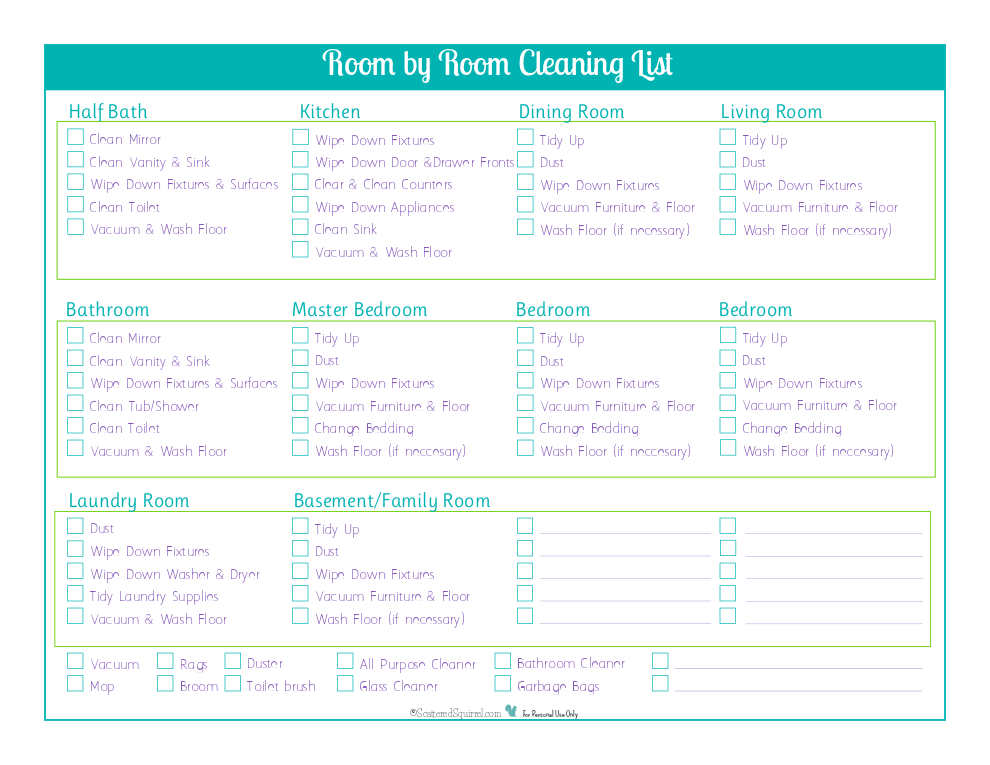 I love that this printable started as a reader request and that I'm making changes to it because of another request.   Homes comes in all shapes and sizes.  And each one of us has our own way of caring for and maintaining our homes.  When I received the following in a comment, I knew this would be the perfect month to share.
Do you have blank "Inside Management" and "Room by Room" printables? I live in an apartment, and about half of the pre-entered items don't apply.
I made two different versions of this printable in 'blank' form.  For the first one, I simply removed all the pre-written tasks and replaced them with lines, so you can add your own tasks to each room.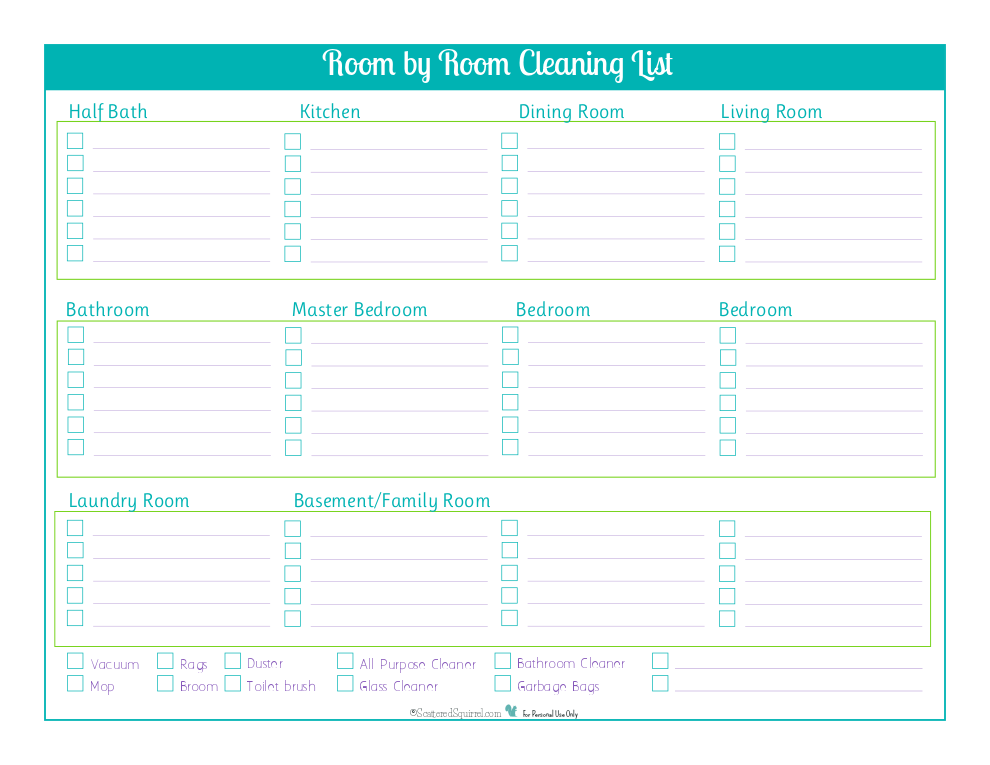 And then I took it one step further and made a version that was totally blank.  You can fill in the rooms you need to, and add the tasks you need to do for each room and customize it so that it works for you.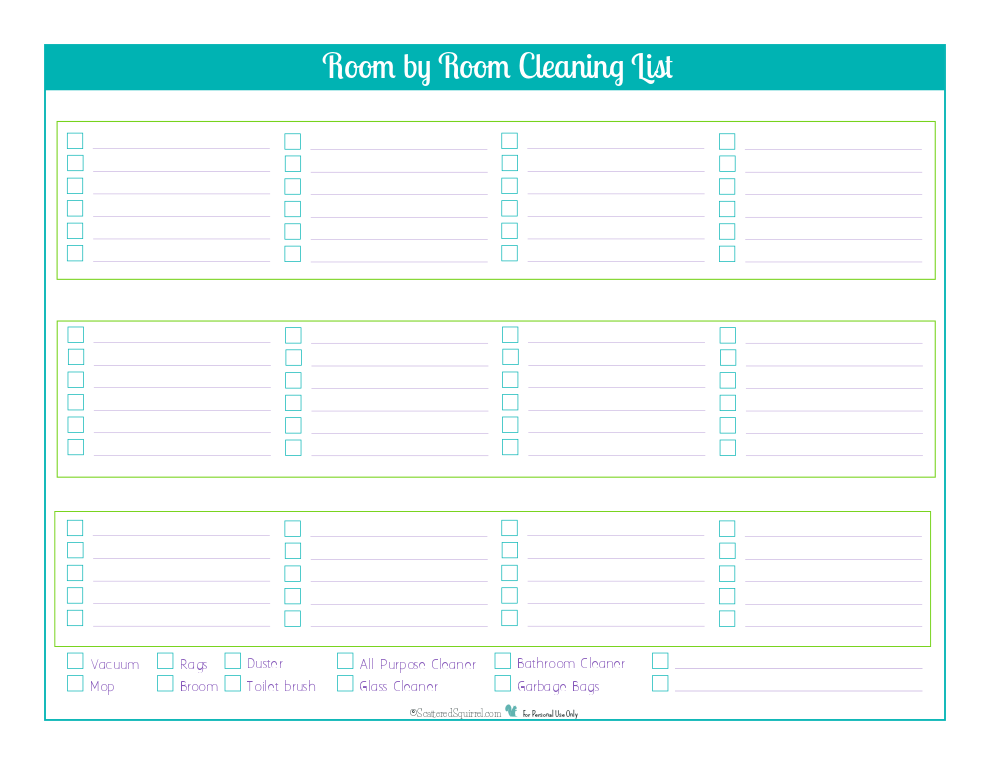 So there you have it; three versions of the same printable so that you can choose that one that works best for you.  I love that this printable is still seeing some love from you guys.  Not only was it my very first reader requested printable, but I had the honor and privilege of working with my Mom on this one.  Every time I use my copy, I think of her and smile.  🙂  Thank your for suggesting this Mom, and thank you to the reader who wrote in to ask for a blank one.  I think having one you can customize is a brilliant addition to this handy little printable collection.
Don't forget, if you have a suggestion for changes you would like to see to old printables, or even new printables you would like to see offered here, let me know in the comments, send me an email, or reach out on social media. You never know, I might choose your idea next!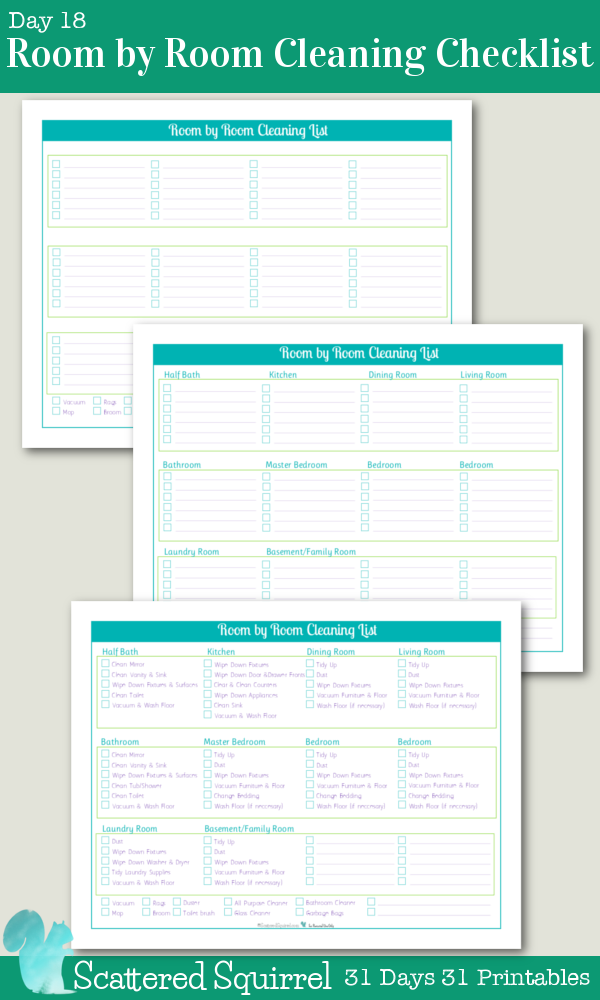 Do you like to use a cleaning checklist to help you stay on track?
~Happy Printing!~
---

Don't miss out on the fun!  To get posts delivered right to inbox head on over to the side bar and subscribe by email.  Check out more 31 Days series over on the 31 Days site.
---