Welcome to Day 23 of the 31 Days 31 Printables series.  We are back to our regularly scheduled post … well ok, not quite.  After an unplanned break yesterday, I had to make a decision.  While I still have more home managment printables to share, I've had this last part of the month planned, since the very beginning.  You could say that I created the whole series as a lead up to this part of the month.  I've been wanting to update and refresh some of my personal planner printables for a long time now, and so, I'm going to switch printable gears and start this part off by sharing the new blank monthly calendars.  Don't worry, I've got plans to share some more of the updated HMB printables next month.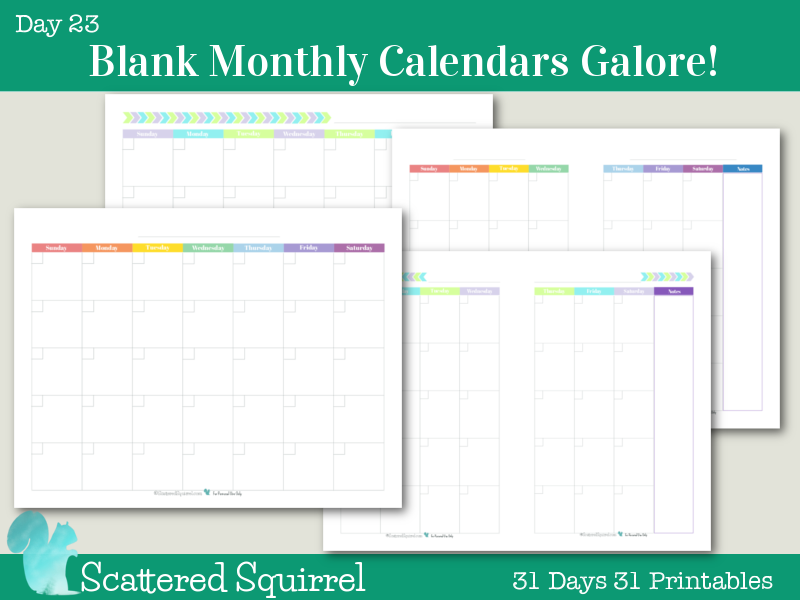 I was chatting with a friend about these calendars, and she was wondering why I would make blank calendars when I've already shared dated ones.  Now I don't know about you, but I can think of many, many, many things I could use a blank monthly calendar for.  They include but are not limited to:
Menu Planning
Event Planning
Activity Planning
Cleaning Schedule
Monthly Chore list
Reading Log
Extra space for those super busy months
Project planning
Or just as a regular, old calendar that I fill the dates in on.  Seriously, the creative juices are flowing so much over all the ways I could use a blank monthly calendar, don't be surprised if you see some of those ideas shared in more detail here later on.  Regardless of what I would or wouldn't use a blank calendar, many of you have inquired about them, and I'm always happy to be able to answer your requests with a printable.
Blank Monthly Calendar Printables
I bet you're wondering how I chose which layouts and which colours to use for these calendars?  Well, the truth is, I sat down and went through the comments and emails I've received asking about blank monthly calendars, and I used those to guide me.  In the end I decided that the best course of action to take was to make a blank version of each layout and size from the 2015 colours…. AND from the 2014 colours.  Yep!  There are EIGHT blank monthly calendars for you to choose from:
 each one begins on Sunday
choose your size – full or half
choose your layout – one month per page or two pages per month
choose your favourite colour shceme – Fun and Fresh from 2015 or Minimal Rainbow from 2014
Check out the galleries below to select the one you want.  (please note, each of the full size two page per month printables is represented by a picture of the first page, however both pages are included in the downloadable pdf.)
2015 Calendar Colours
2014 Calendar Colours
So there you have it; eight different blank monthly calendar printables to choose from.  And don't think I forgot about all of you have written in asking for monthly calendars that start on a Monday, because I haven't forgotten, I'll be back tomorrow to share those ones with all of you.
Don't forget, if you have a suggestion for changes you would like to see to old printables, or even new printables you would like to see offered here, let me know in the comments, send me an email, or reach out on social media. You never know, I might choose your idea next!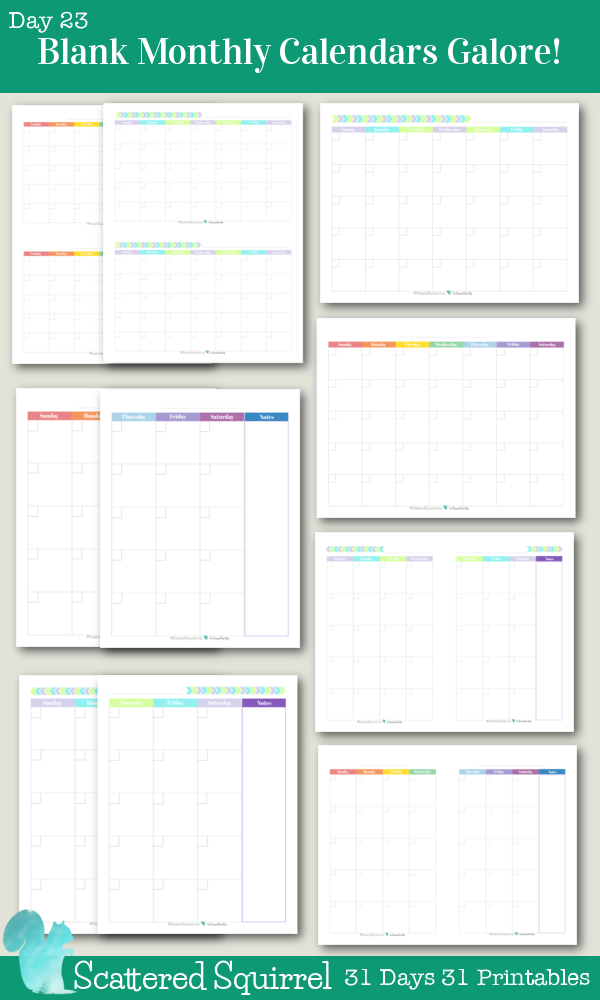 Ok, tell me true, how many of you are going to be using these blank monthly calendars?
~Happy Printing!~
---

Don't miss out on the fun!  To get posts delivered right to inbox head on over to the side bar and subscribe by email.  Check out more 31 Days series over on the 31 Days site.
---