Five Daily Planner Printables for 2023
Daily planners are one of those planning tools that are often overlooked in favour of weekly spreads. What also is often overlooked is that a daily planner can offer versatility and flexibility to your planning system.
Keeping a few on hand for those busier than typical days is a great way to help beat overwhelm and reduce stress. That's why I'm sharing five different day planner printables that you might find useful in 2023.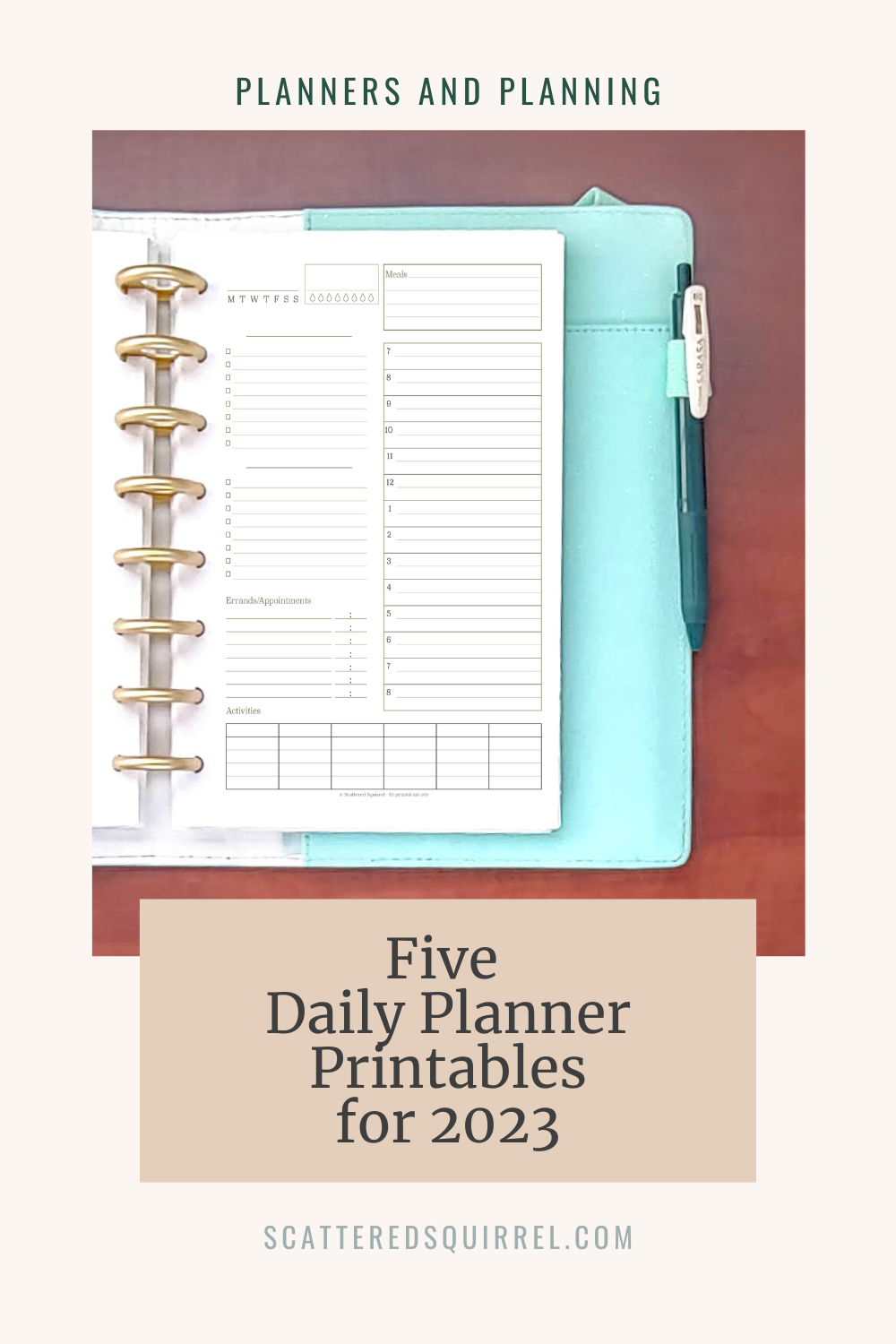 While I know that the majority of people using a planner prefer a weekly format, there are still many who like or need a daily option. That's why this year I put together this collection of various daily options. I wanted to make sure that everyone had a chance to create a planner that will work best for them in the new year.
Five Daily Planner Printables
In this mini collection I have five different options for you to choose from. Some are update versions of ones I've shared in the past, along with a couple of new additions based on requests I have received over the last year.
I'm really excited to share these with you today, so how about we jump straight to them?
Daily Task List Planner
This daily task list planner is a wonderful option if you are in need of a structured daily planner. Across the top of the page there's room for the date, tracking water and health stuff, and a spot for noting your meals for the day.

Down the left hand side there is a segmented to-do list that allows you to organize your tasks for the day into three categories. The first two are unlabelled so you can use them however works best for you. The third is formatted for errands and appointments.

The right hand side is a schedule section. It runs 7 – 8 with no am or pm designated. Each hour block has two lines so you could segment by 30 minute increments if you need too.

Finally, across the bottom is a space for activities. There are six boxes where you can jot down things that are going on that day. You can categorize these boxes however you need too. Originally, it was designed for families to keep track of what each person has going on that day. But the possible uses are open to however you need it to function for you.
This planner would be a great fit families with a variety of activities happening each day. It would also be a useful tool for individuals who need to track different things each day.
For example the activities section could be used for:
Health – track symptoms, blood pressure, meds, supplements, vitamins, exercise etc…
Multiple Jobs/Careers – put your top priority or schedule for each here
Project Planning – especially large scale project with lots of moving pieces
Goal Planning – if you're working on multiple goals with daily tasks, you could organize them by goal
Daily Planner – Page per Day
The day per page is a staple daily layout. It offers room for a task list, meal planning and notes on the left and a schedule and things to do another day on the right, Like the daily task list, across the top is room for the date, then there is a box for reminders for the day, followed by space for your top three.
This layout is a wonderful option for those who like working from a task list but still need to schedule or time block their day.
Daily Planner – 2 Days per PAge
The two days per page daily printable is very simple. It's offers the ability to schedule a few things but still work from a task list.
Each day has the same top section as the day per page version. Then it is broken up into a task list and a small hourly schedule section. Simple, but very effective.
This layout option would be a fantastic fit for someone who relies more on following a task list, but still wants the structure of being able to time block or schedule things out in there day.
Daily Schedule Only – 2 Days per PAge
This day planner is a new addition this year. It was one of the most highly requested daily layouts. As the name implies, it is simply a daily schedule.
Each page is broken up into two daily columns. At the top you'll find space for the date, followed by a water tracker, and then the rest is a scheduled section. The hours start at 6 and end at 10 giving you seventeen hourly blocks. Each block is divided in half, giving you the ability to schedule half hour increments.
The schedule only planner can also be cut in half down the middle so that you can tuck it into your weekly planner if needed.
This style of planner is a great fit for anyone who needs to schedule a lot of appointments, enjoys time blocking, or who just needs to schedule their day once in a while.

Daily Checklist Only – 2 Days per PAge
Like the schedule only version, the checklist only planner is a new addition this year. They are identical, except in place of the schedule this one features a checklist.
Each daily column starts with a space for the date followed by a water tracker. Then there is a checklist with room for 34 tasks. There's plenty of room to create segments so you can organize your tasks by category or priority.
This planner would be a wonderful fit for anyone who likes to work from a task list or who needs some extra list room. It is also a great option for someone who is tracking all they do in a day. Instead of planning ahead, just write down everything you did that day.
This concludes the collection of daily planners that match the Forest Simplicity Collection. Be sure to click the box below to check out the rest of the planner printables in this collection and to get your copy of the 2023 dated monthly calendars.
I'd Love Your Feedback
I'm always curious about which planners people prefer using. Do you prefer a daily planner? Do any of the ones I've shared fit your planning needs?
Drop me a line in the comments below or hop on over the Facebook group and share your thoughts there.
You can join the Facebook group by clicking this link –> The Scatter-Brain's Guide Facebook Group
If you didn't see a daily layout you like, also feel free to share what you are looking for. I'm always up for making printables, especially if they'll help someone else in some way.

Until Next Time,
Happy Printing!