Help Me Celebrate 11 Years of Printables
Can you believe that it's been 11 years since I hit publish on my first blog post? I know I can't. If you told past me that I would still be here doing this today, she wouldn't have believed you.
I didn't want to let this year pass by without celebrating the milestone. As I was trying to figure out how to do that, I had a thought…
What better to celebrate eleven years of printables than with more printables? How about a whole year of printables requested by you?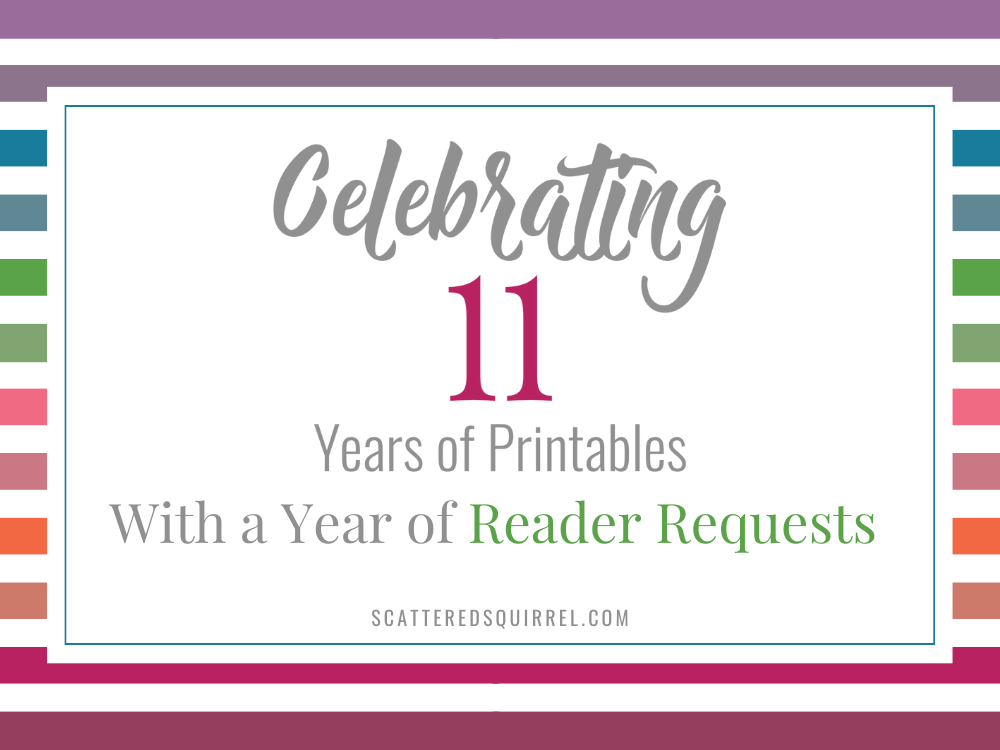 Before I jump into talking about the year long celebration series, I wanted to take a moment to say thank you!
Thank you for being here. Thank you for downloading and using the printables. Thank you for your requests, your encouragement, and for coming back for more. This wouldn't be possible without you and I am so grateful that you're here! Without you, Scattered Squirrel would have fizzled out a long time ago.
How it All Began
Eleven years ago today (March 8) I published my very first post on this blog. When I started blogging, my husband and I had just decided that we wanted to start working towards moving closer to family. It was our three – five year plan.
Part of the plan was to make some updates to our home before we put it on the market and a blog seemed like a great way to keep family and friends updated about what we were doing. Not even a month after that first post, my husband was given an opportunity to transfer within the company he worked for. Within six months we'd moved – closer to family just like we planned.
I could have just stopped there, but I found that I enjoyed blogging. I enjoyed creating and sharing printables with you. (though some of my earlier ones are very cringe worthy) So I kept at it. Now, eleven years and three moves later, I'm so glad I didn't stop.
How Are We Celebrating?
Back in the day, when I first started blogging, home management binders were all the rage. Everyone was making them and sharing them. Most of my first printables were designed to be tools to help me manage our home and lives as effectively as I could.
Over the years, my home management system has shifted and changed until it's become almost non-existent. Honestly, my HMB has been sitting on a shelf in a closet since our wonderful moving adventure five years ago.
Lately I've found myself wishing I had one or something like it to house all our home and family information. That's when I found myself wondering if others might be needing a system to help them do the same.
So to celebrate this milestone, I'm doing a year long series that will feature printables requested by you! Together we're going to build Home and Life Companions tailored to fit our individual needs.
How Will It Work?
It's super simple to participate in the celebration. The Home and Life Companion series is divided into twelve broad categories. Each month from now through February 2024 will be dedicated to a different category. Every Wednesday I'll be publishing a new post with new printables in that month's category.
How to Submit a Printable Request
First, think about the things you need to manage when it comes to home and life. Is there a printable that you would like to have that will help you with any or all of those? That's where this series comes in.
All you have to do is click the button below and fill out the form to let me know what you need. Come back and fill it in as many times as you need to, there's no limit as to how many requests you can make.
Then I'll do my best to make as many of the printable requests as I can.
How the Printables Will be Shared
There are twelve broad categories in the Home and Life Companion series. Each month will be dedicated to a different category.
The categories include:
Important Information – such as emergency numbers, or information that doesn't fit other categories, etc…
Cleaning – cleaning schedules, season cleaning checklists, homemade cleaner recipes, etc…
Garden/Yard – garden planning, plant list, lawn care instructions, landscaping plans, etc…
Organizing – room planner, space planner, project list, measurements list, etc…
Maintenance – home maintenance task lists, appliance care instructions, all things around the home that require maintenance
Future Projects – home renos, moves, landscape plans, etc…
Health – appointment visits logs, physical health trackers, mental health trackers, medication logs, etc…
Family – anything you might need to keep hand for family members, school information for each kiddo, friend contact info, etc…
Finances – budgets, expense trackers, savings trackers, list of accounts, debt repayment, etc…
Auto/Vehicle – maintenance tracker, repair logs, list of vehicles, insurance information, etc….
Meal Planning/Kitchen – meal planners, food inventories, recipe cards, special washing instructions for kitchen stuff, etc…
Life Events – moving, back to school, vacations, holidays, etc…
The category for each month is chosen by a poll in the The Scatter-Brain's Guide Facebook group. If you're not part of the group and would like to join, just click the button below.
Every Wednesday I'll be publishing a post with new printables in it. When I can, I'll also include some updated versions of older printables and a few new ones I've been meaning to make. But YOUR requests come first. This series is for you.
What if I Have a Request for a Category You've Already Shared?
I know this question will come up and the answer is really simple – send in your request. I'll be adding printables to the published blog posts as requests come in. And I'll be letting people know in two different ways.
If you follow me on social media I'll be sharing when posts get updated there.
If you include your email with your printable requests I will send you a copy of your printable when/if it's made.
I want to keep this as simple as I possibly can.
Let's Get This Party Started!
You didn't really think I'd kick off a celebration like this without some new printables did you?
For the Home and Life Companion printables I decided to give my most popular colour palette a refresh. The Understated Rainbow collection has been a long standing favourite with a lot of people. Rather than copy it, I opted to blend two alternate versions of the colours into one collection. (If you're in the Facebook group you've already seen them)
While the colours and fonts are a little different, I'm sticking true to the design. Each category will get its own colour and the printables for it will be designed pairing that colour with grey.
Ready to check them out? To kick things off I created two versions of dividers and a massive collection of tabs to help you start setting up your Home and Life Companion.
Divider Sets
First up we have our standard divider cover pages. As always they come in both letter and half-letter size. In addition, I'm also including a choice between two different fonts – a script font and a serif font.
Each set has twelve pages, one for each category. Print them all or just the ones you need.
Index Divider Sets
Since the Home and Life Companion is more of a reference book than an active planner, I wanted to offer a way for you to create a table of contents or an index for each section if you wanted. These dividers offer you a place to do just that.
Just like the ones above these ones come in letter and half letter with the option of a script font or a serif font.
Printable Tabs
Printable tabs are so much fun, and you don't have to use this set only for the Home and Life Companion. In fact, there are enough tabs in this set to set up two Home and Life Companions and twelve monthly planners. Allow me to explain.
I started off by making tabs labeled with the categories of the Home and Life Companion. Just like the dividers I made one set with the script font and one with the serif. Then I started thinking that maybe you might like some without labels to use how you want. So I made two more sets, one with a white label box on the tabs and one solid.
I could have left it there, but I started wondering if anyone would want tabs to create subsections or to mark important/often used pages. So I made twenty-four more sets. Two for each colour. (white label and solid)
I bundled them all together in one file for easy downloading. Now, you do NOT have to print them all. Pick and choose which ones will work best for you.
If you've never used a printable tab before, they're super easy. Print the page you want, cut out the tabs you want, fold in half and glue or tape the bottom (long edge) of each half to opposite sides of the paper.
I like to print mine on card stock or mailing label paper. The card stock holds up well while the mailing label paper makes it super easy to stick them on.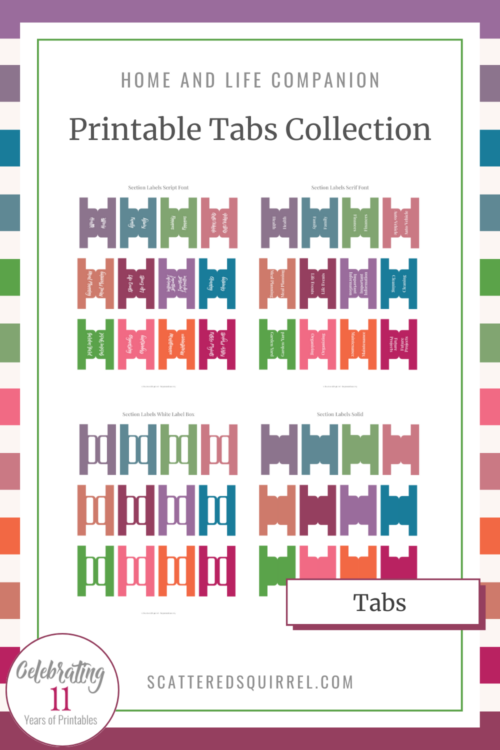 Download the Tabs Collection Here
A Few Things Before You Go
Before you go, just a quick reminder to click the button below to submit your printable request. I can't wait to start making as many of these requests as I possibly can.
If you haven't yet joined the Facebook Group and you would like to, please use the button just under this to come on over.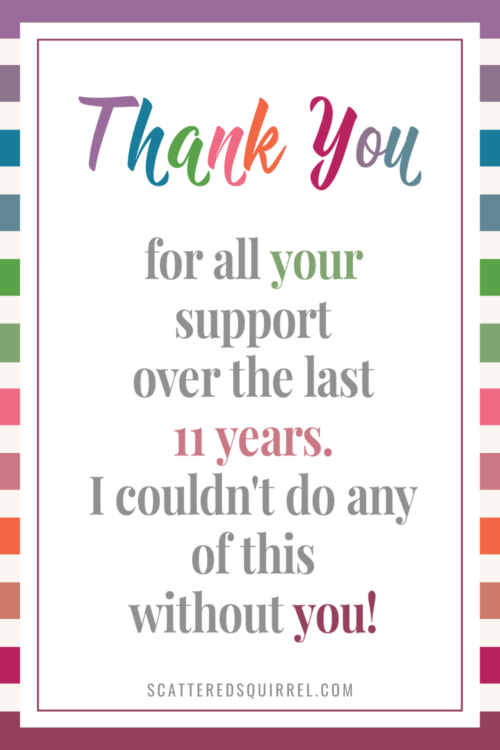 I can't wait to see how everyone uses the printables in this series. If you happen to share on social media and want to tag me, you can use #scatteredsquirrelprintables or #hlc11. I'll be checking in on both of those.
Until next time,
Happy Printing!!