Move Planner Printables to Help Make Your Move a Little Easier
There is an announcement I so desperately want to make here, but until we nail down a date and finalize the time line… well I just can't, because it wouldn't be true.  My heart longs to get this whole moving process started for real.  I am actually longing for boxes filled, sealed, and stacked in the family room waiting to be loaded on to the truck.  I'm eager to empty rooms and start scrubbing them from top to bottom.  I just want to move!  But since I can't actually do any of that yet, I'm taking some time to fuel that desire into updating my move planner printables so that I can start creating our Move Planner.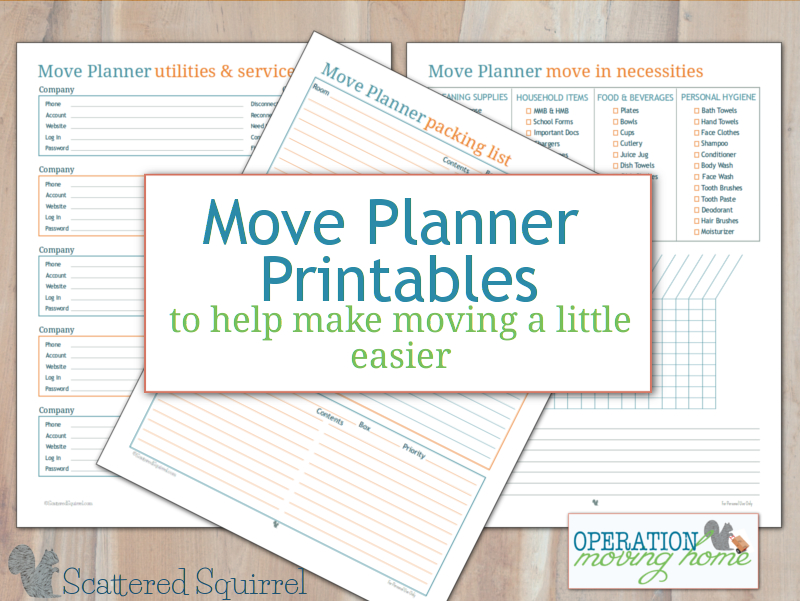 At first I was just going to use the ones I made last time, but after taking a peek at them and comparing them to the house hunting printables I shared last month I realized they needed some updating first.  It's not that the old ones were bad, but back then I was still learning the program I use for making printables and so the colours are a little wonky and the layout needs some tweaking.  Before creating anymore new move planner printables, I felt it would be good to give the old ones a much need update.
Move Planner Printables
You can still find the old ones on the Move Management Printables page, if you want to check those out.  If you do, you'll see I didn't make too many changes to general purpose of the printables.  For the most part all I did was change the colours, fonts and tweak the layouts a little bit so they should print better.  These three printables are my must have ones for planning a move.  I would have been lost without them the last time around, and they're the first ones I went to print out this time around.  Now that they've all gotten a little facelift I can't wait to get them printed and set up my Move Planner.  I'll be sharing that little project later on this month.  But for now, let's check out the moving printables.
Packing List
This printable was the star of the show during our last move.  Knowing where everything (or almost everything) was during the move made it so much easier.  Especially since we packed half the house, went to stay with my parents for a couple of months, and then went back up to pack the rest and move.  I really can't say enough about how this printable made our last move so much smoother for me.  The funny part was, when I first made it I liked the idea of it, but I honestly didn't think I would use it.  Knowing myself I thought I would start using it with the best of intentions and then forget about in the chaos of packing, but that didn't happen.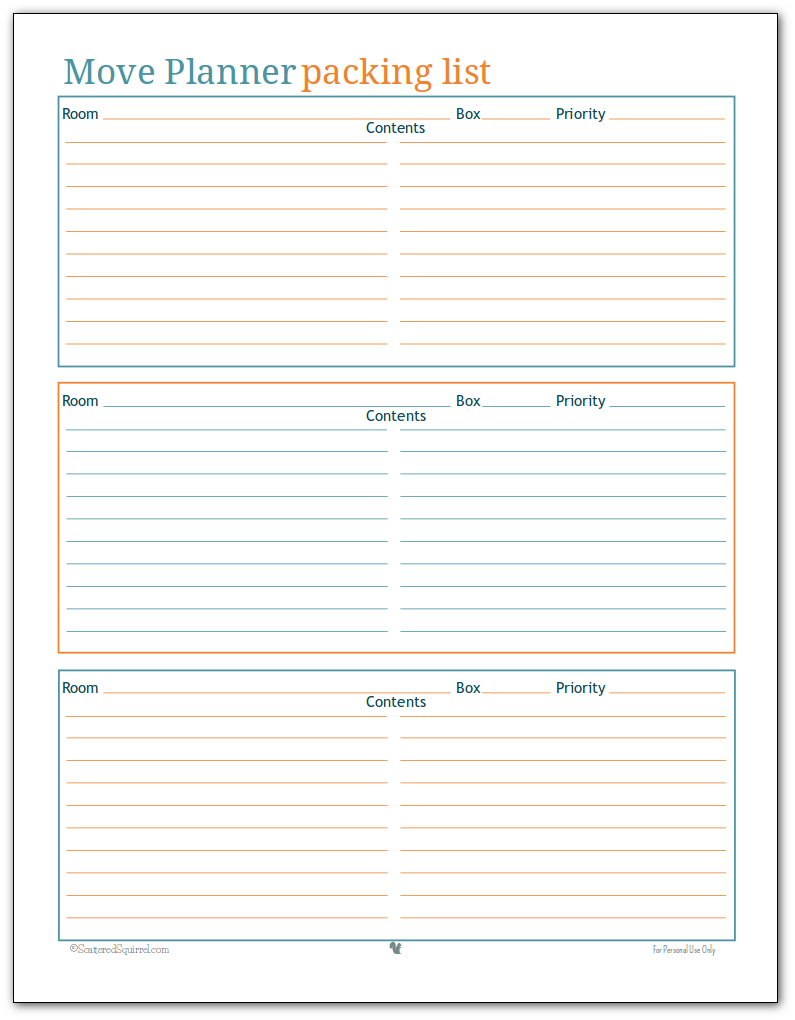 It is a really simple printable, but if you've been reading the blog for a little while now you know I like simple.  There is enough stuff going on when moving that making a complicated packing list just wasn't practical.  Here's how I used this printable:
Room – jot down what room the contents of the box are from or what room you want them unpacked in.
Box – I numbered all our boxes as well as labeled them.  The higher number on the box the higher the priority for unpacking.  Also, having them numbered made it really easy to find what I was looking for without having to open a bunch of boxes.
Priority – I used this to just make note to myself over which boxes were most important to unpack first and which ones could wait a little while.  It came in really handy when other people were helping unpack.  I didn't end up with Christmas decorations unpacked in August while school supplies were still packed away.
Contents – keeping a list of what is in each box was a life saver.  It helped not only find what we needed, but when it came to unpacking each box I could form an organizing plan before I even opened the box.
If you follow me on Instagram or Facebook you probably saw that I've already printed out a few copies to use for packing up some our seasonal stuff this year.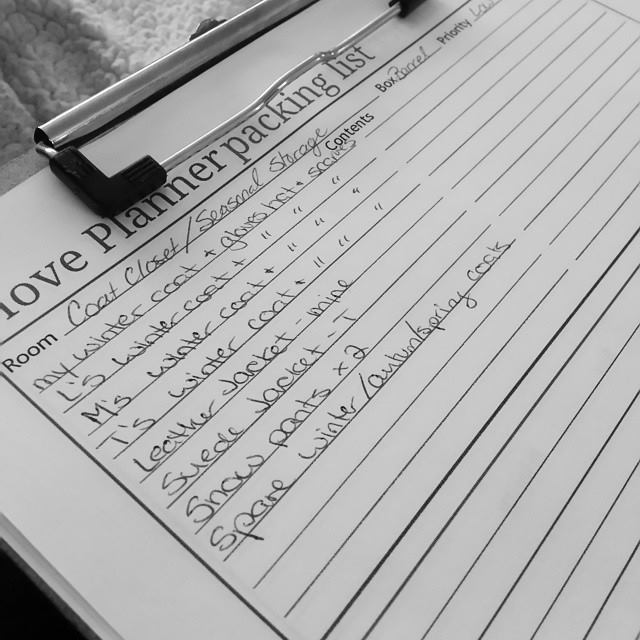 Utilities and Services
This move planner printable is great for keeping track of all the utility and services companies you might be using and any you might need in your new home.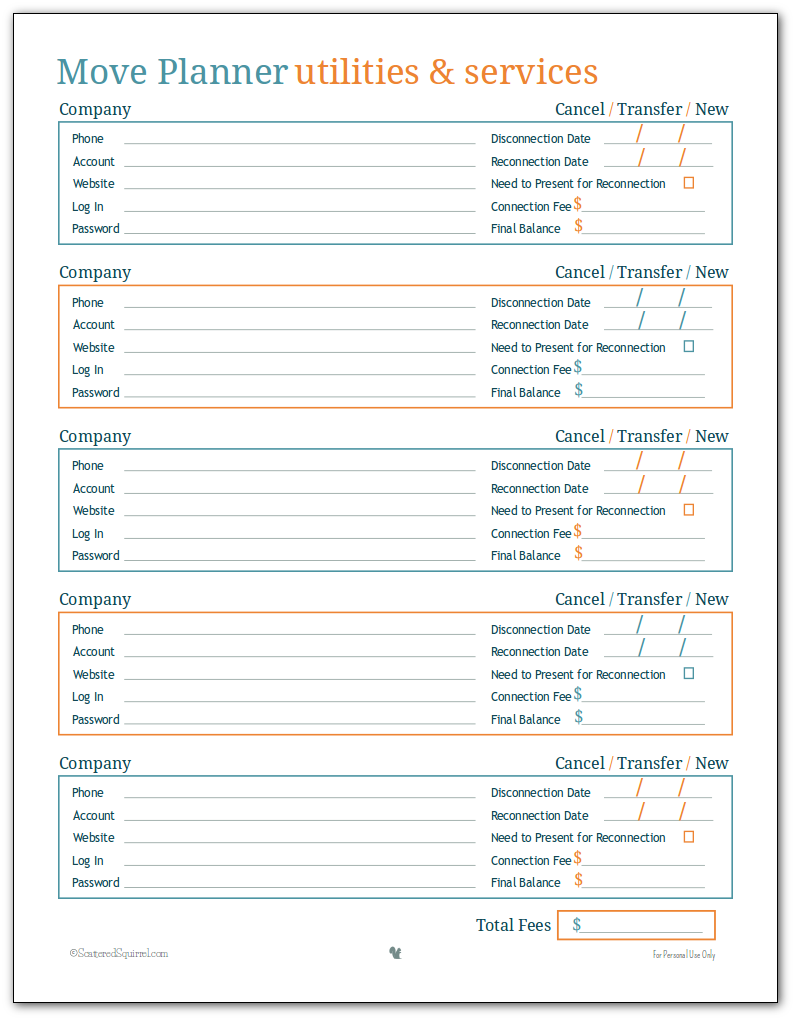 At a glance you can quickly see what companies you need to contact for your move, and whether or not you're cancelling your service, transferring your service, or setting up a new account with them.  The left side of each box is general information you might want to have on hand when moving and the right side allows you to keep track of important information like disconnection dates, reconnection dates, and fees associated with all of those.  At the bottom of the page is a spot to keep track of the total fees you need to pay or plan for.  Moving can be full of lots of expenses, it pays to keep track of them.
When it comes to cancelling any services, double-check with the company to see what their policy is on cancellations.  Some companies require a certain amount of notice.
Move In Necessities Check List
When it comes time to move into your new home, there are a few things you might want to have on hand to get you started.  Or make sure get packed together and are some of the first boxes to be unloaded from the truck.  Sometimes they're things that are easy to overlook during the packing and moving process, but having them on hand can make that first day or two in your new home a little easier.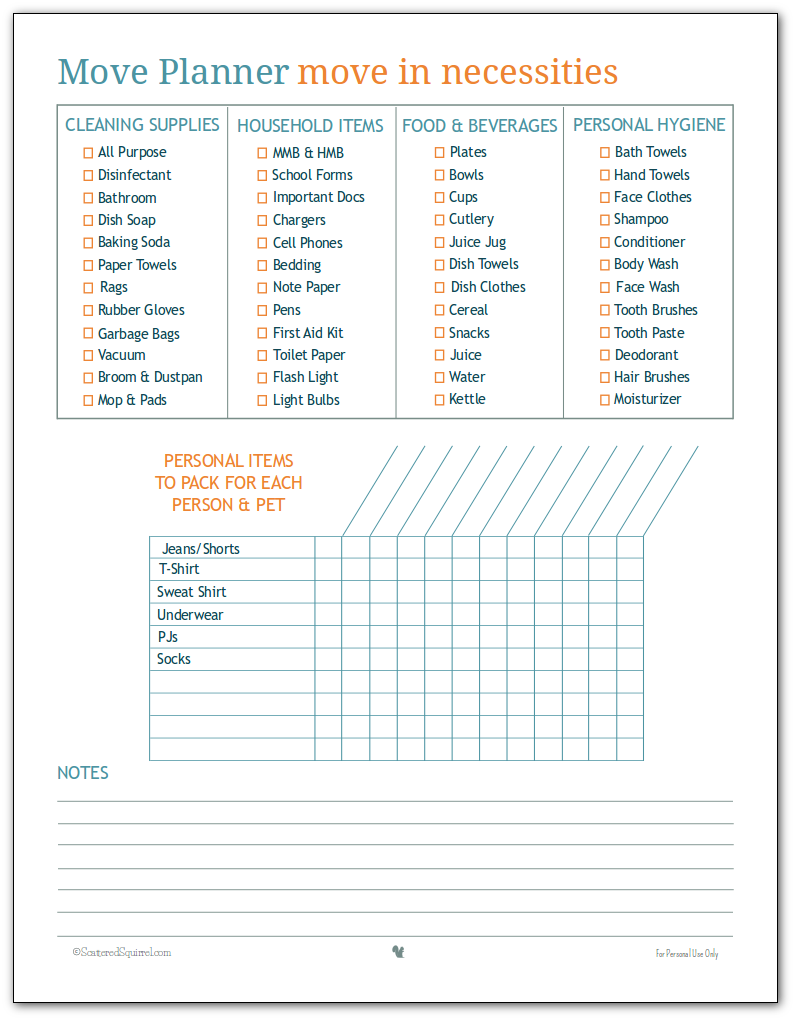 In the last nine years, we've moved a lot and one thing I wanted to do differently during our last move, was make sure I remembered to keep certain items easily accessible.  When you've spent all day moving boxes and furniture into your new home, the last thing you want to do is have to make a trip to the store because you need lightbulbs or start unpacking random boxes looking for a band-aid.  So I made up a checklist of all those things.  Broken down into sections or boxes – these are the last items to be packed and loaded on the truck and the first ones to come off and be unpacked.
Cleaning Supplies – perhaps I'm weird but I like to give bathrooms and cupboards a good cleaning before unpacking them, and you never know what state the home might be in on moving day.  Also, it's nice to have them on hand for last-minute cleaning at the home you're leaving.
Household Items – random items that might be good to have on hand or easily accessible on moving day or in the first few days in your new home.
Food and Beverage – having a few items on hand to handle your first few meals in your new home is a blessing
Personal Hygiene – this is probably a no brainer, but  having these items packed in a suitcase or something else that is easy to access means having a shower or bath after a day of unloading and lugging stuff around is a breeze.  Also, bath time for kids is easy and if it's part of their normal routine gives them a piece of normal during the upheaval that moving can be.
The checklist grid is the biggest update to this printable.  I like to have a bag (or two if needed) packed with some enough clothes to see us through at least one day, preferably two.  This way, I don't have to start unpacking immediately so we can find our PJs or a clean pair of socks.  I made sure to leave lots or room to add a few items for your pets.  Jot down the name of each family member across the top and check items off as you pack.
And of course, a place for notes, because no matter how carefully we plan for things, sometimes other things come up.  Or there is something we need to remember that has no designated space on the check lists.
Whether you choose to use them all, or only need one or two, I hope these move planner printables come in handy for you.  And don't forget, if you'd like them customized to suit your tastes or needs better you can hop on over to the Customized Printables page and send in an order.
Now that I've updated my older move planner printables I'm eager to get started working on a couple of new ones.  Even if it's not packing and arranging moving trucks and stuff, it's one small thing I can do to help our move move forward.  And now I'm off to start taking stock of what we have that I can get away with packing now – even if we don't move until next summer.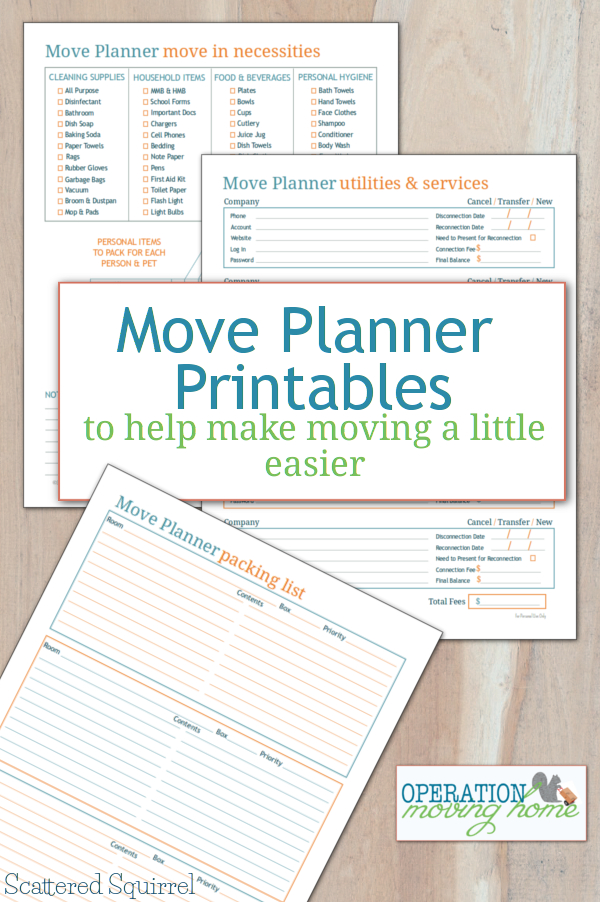 What sort of things do you like to have on hand when you move?  Anything you know you need to plan for when moving?
~Happy Printing~
I'm linking up at these great places – Click Here to See