Vacation Planner Printables – Plan the Details, Focus on the Fun
Summer and vacation go together like peanut butter and jelly. Whether you're hopping a plane for destinations far away, hitting the road for family fun, or just sticking close to home for a stay-cation – no other time of year is better.
One thing all vacations have in common is that they all need some sort of planning before they happen. Even a simple car trip to visit family needs a few things to be considered.
Since printables are always my go-to tool for all my planning needs, I whipped up some vacation planner printables. I can't wait to share them with you, so let's jump right in and take a closer look shall we?
Vacation planner printables help keep track of all the little details so you can focus on the fun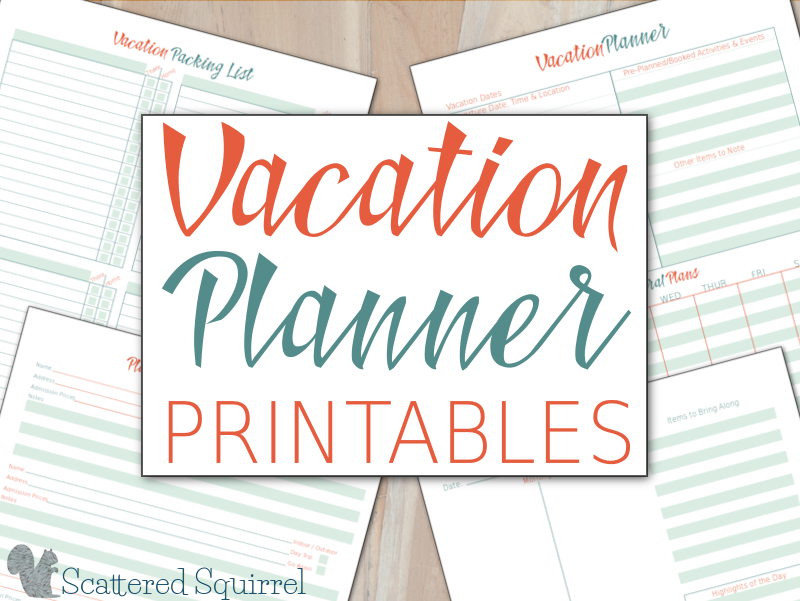 Vacation Planner Printables
Vacations are supposed to be fun and relaxing, and I firmly believe that planning them should not be stressful. Depending on where you're going and what you plan to do – the planning process might be more involved.
For the most part, I think these vacation planner printables will come in handy, no matter what kind of vacation you are planning.
There are new Vacation Planning Printable Sets, including a half-size version, available by clicking here.
Vacation Planner
When are you leaving?
Where are you staying?
Did you pre-book a tour or pre-pay for an activity?
There is a lot to consider and keep track of when planning a vacation, and this printable is the place to keep all those details together.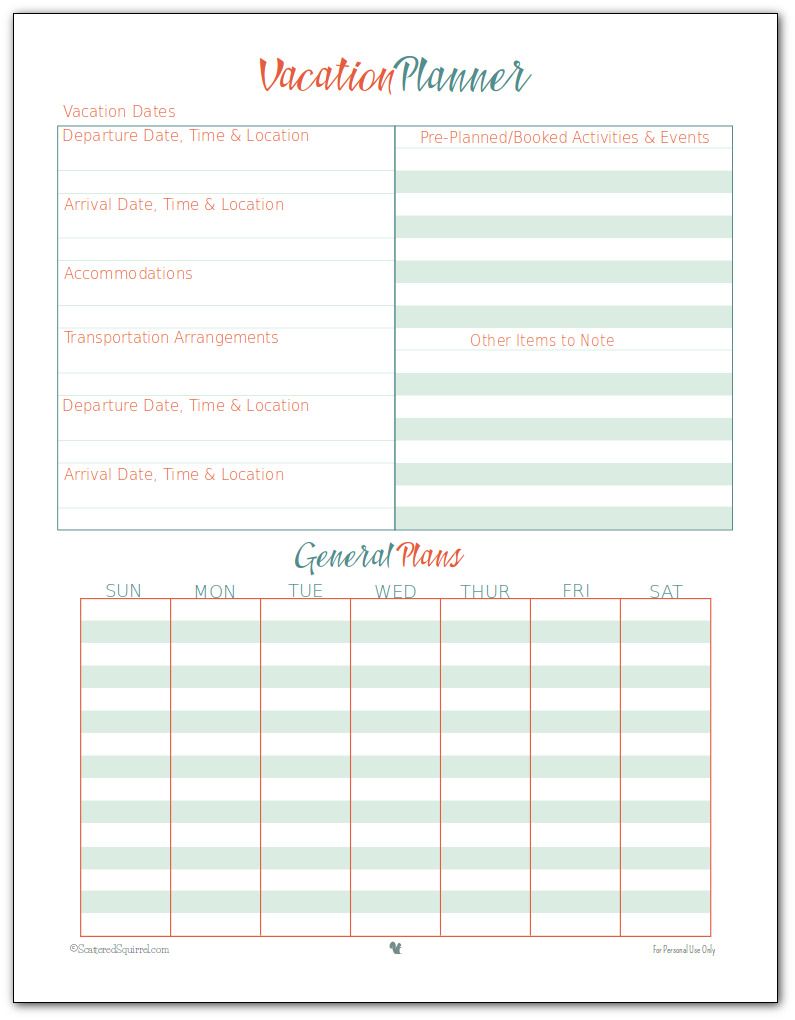 There's room to keep track of when you're leaving and arriving, where you're staying, transportation if you need it, plus space to keep track of what you've already booked and what else you want to do.
Use the calendar at the bottom there to jot down your general plans so you can see at a glance what's happening. I left it open so you can section it off into multiple weeks if you choose.
Vacation Packing List
Whenever we travel I'm mindful of the amount of space luggage takes up, so I like to plan out what I'm packing.
Sometimes I plan by person and sometimes I plan by the bag so I can keep things better organized, but I always – ALWAYS – make a list.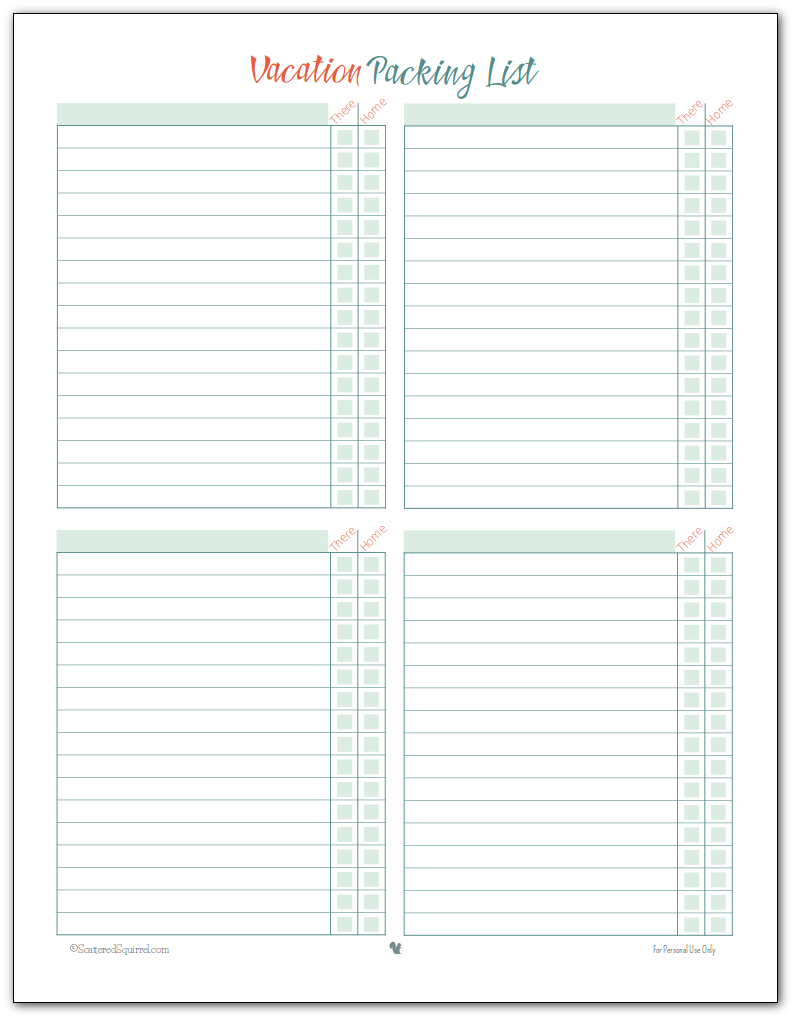 I use the light green boxes on top of the lists to designate who or which bag the list is for. Then I write down what we need to bring and check it off as I pack it.
I can't count the number of times we've gone to visit my parents and forgotten something there, so I started bringing our packing list with me so I could make sure that what we bring with us comes home with us.
Places to Go and Things to See
Part of the fun of going on vacation is being able to experience new things and visit new places. Even if your vacation is a staycation I'm sure there are plenty of attractions and activities near you that would be new and fun for you and your family.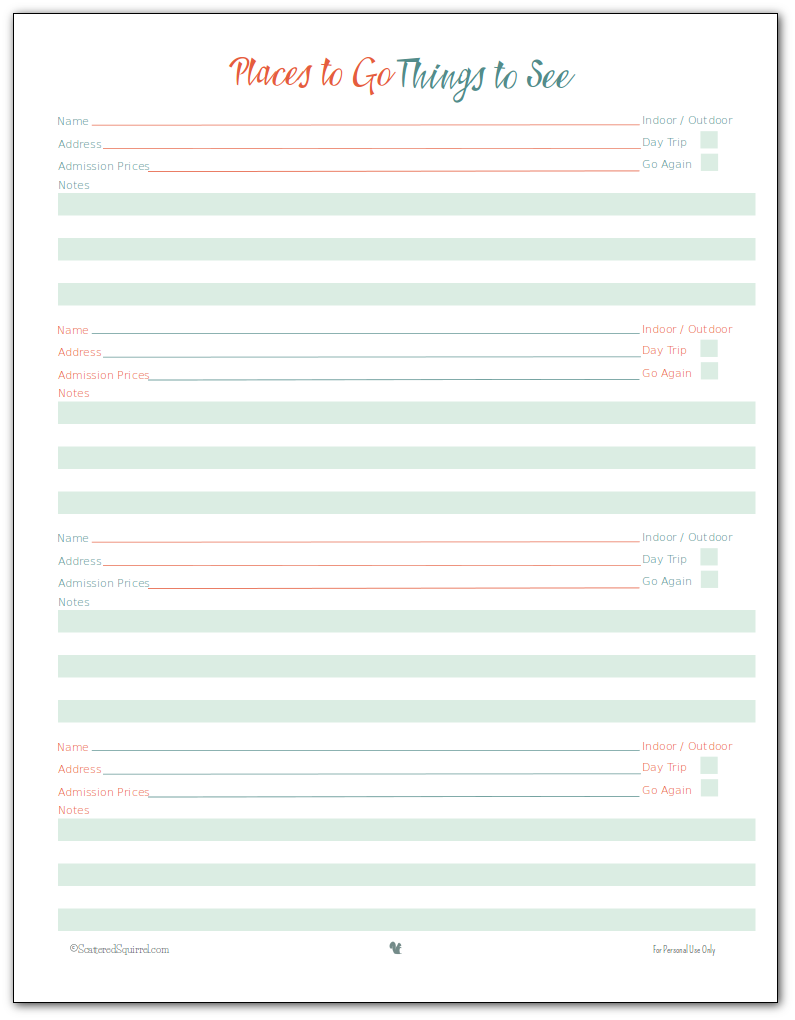 This vacation planner printable is a spin off my family fun activities planner. Each section gives you room to jot down the name of a place you want to go or thing you want to see, the address and the admission prices if applicable.
On the right-hand side, you can circle indoor or outdoor (this is super helpful for those rainy days) as well as check off if it needs to be a day trip and if you want to go again.
I included a notes section in case there is anything you want to remember about them for next time.
Vacation Day Planner
I don't like to follow a strict schedule when I'm on vacation, but sometimes you need something to help make sure you're not overloading your day with too much stuff.
Rather than create a typical planner, I thought it would be fun to combine the idea of a day planner with a journal.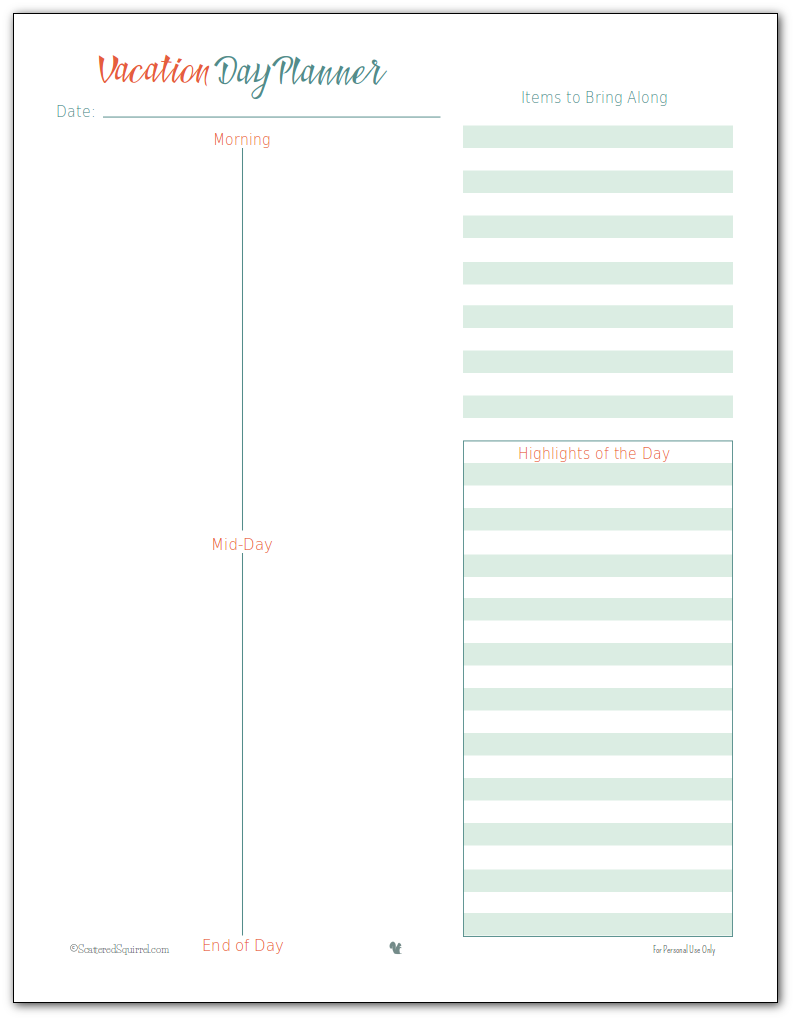 With this day planner, I wanted something that would let a person sort of loosely schedule (for lack of a better word) their day without being too confining or rigid.
I wanted to make sure there was a place to note down anything that was needed for the day, just in case you're off on an adventure and need to remember to bring a lunch or something.
Then I thought about how our family likes to recaps our days in the evening, and I thought it would be really fun to include a space to jot down the highlights of our vacation days. Things we loved and don't want to forget.
Now, let's get back to that day planner side.
I realize it looks kind of weird, but here's a picture of how I use it. I think the visual will be better than me attempting to explain it.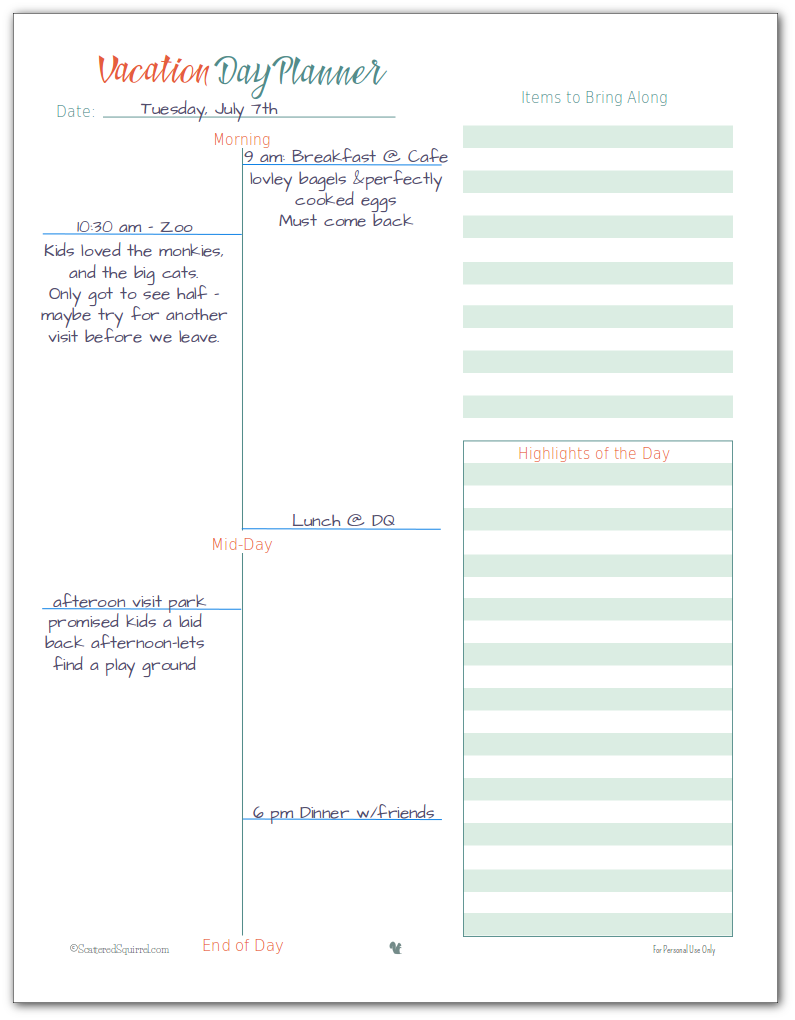 The way I pictured this planner in my head was as more of a timeline than a planner.
As you might have noticed, I also included little notes, because I think the planner side could also be a fun place to keep notes of your thoughts, and as a total bonus, it will be something nice to look back on when you get home.
Whether you choose to use them all, or only need one or two, I hope these vacation planner printables help meet your vacation planning needs all year round, not just in the summer.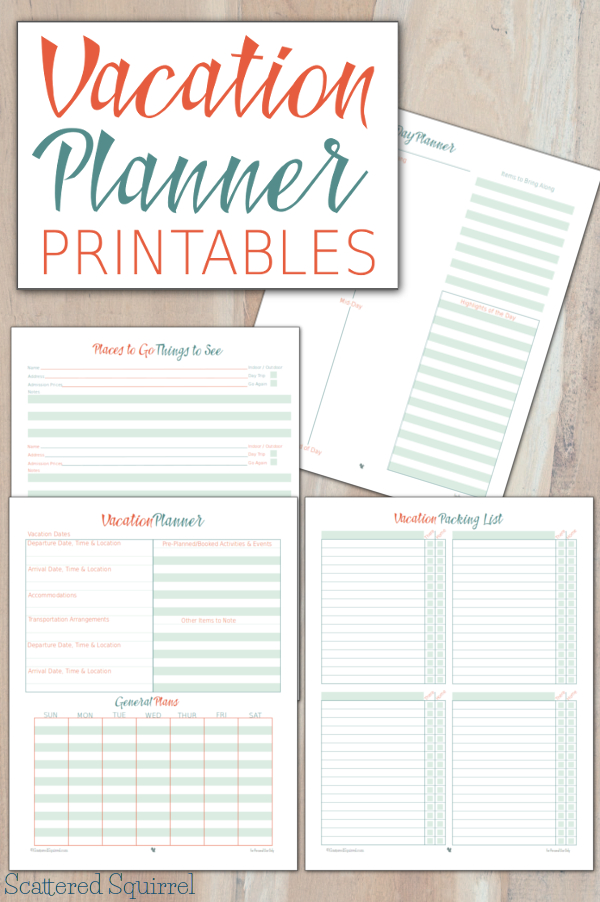 Are you heading out on vacation this summer? Camping? Staying home? I'd love to hear about your plans.
~Happy Planning!~