Stay on Track in 2016 With These Daily To-Do List Planner Printables
I don't know about you, but there are times when I somehow end up with a crazy busy and need a little help keeping everything straight. That's why to-do list planner printables are such a great resource to have on hand, either to use as a daily planner or just to pull out for those crazy busy days. They are a great way to keep track of all you need to do on those busier days. Which is great for peace of mind, knowing everything is there and you don't have to worry about forgetting something.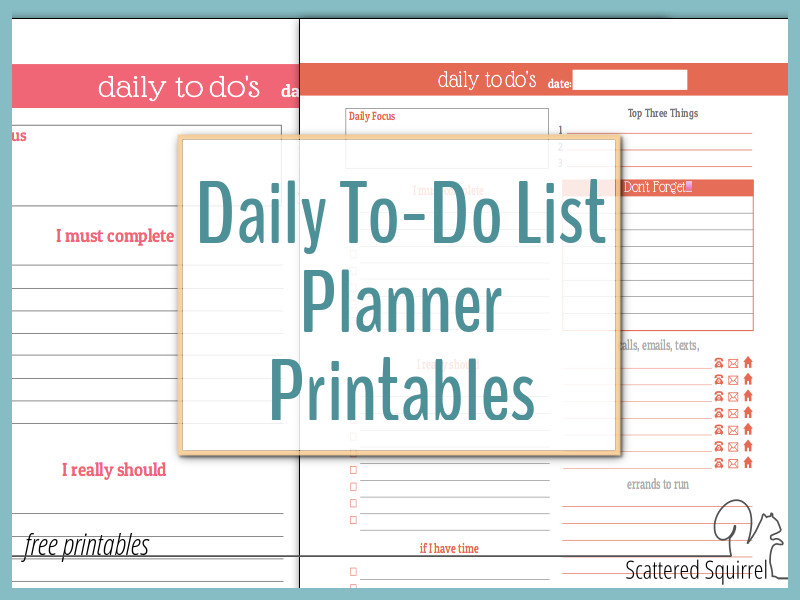 I originally shared the daily to-do list printables as part of the 31 Days 31 Printables series. They were designed to help plan those busy, hectic days we all have from time to time. I really wanted them to be a useful tool for staying on track. For me, that means they need to help prioritize and compartmentalize, and while they can absolutely be used all on our their own, they work really well in conjunction with a planner too, especially if you need to schedule things into a specific time.
Daily To-Do List Planner Printables
Today I wanted to share the new, updated versions of them. I know that many of you (myself included) like to have their planners match so I just couldn't resist giving these ones a freshening up and a few little tweaks to the layout. They're still a daily to-do list planner, that didn't change, but I added a new section to the top. Ready to see?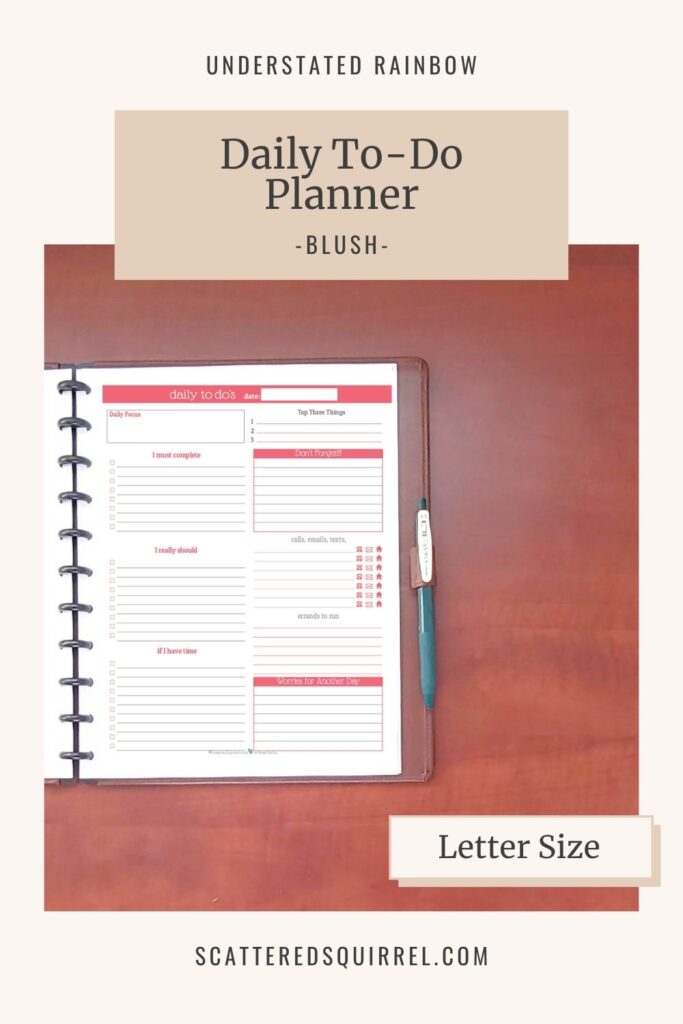 Aside from the colour and the fonts, the only real changes happened at the top of the page.  I added in a spot for a daily focus.  This is something new I've been experimenting with, and I'm finding it really helpful in making sure my day is set up in a way that is going to really work for me.  Some days my focus might be something like housework catch up, other times I might use that spot to write something encouraging like "it doesn't have to be perfect, it just has to be done".  I'm finding that my daily focus really helps me structure my to-do list in a way that works with that goal in mind, rather than against it.
I still have the top three daily tasks. Sometimes though are my three things for a specific area of my life, and other times they are the three most important items on my to-do list.
Down the left side, you see that the priority lists are still there.
I must complete
I really should
If I have time
I like being able to split my tasks up by priority. It forces me to think about what is most important and it also helps to remind me that I cannot do it all, or maybe more accurately, I shouldn't feel like I have to do it all.
Down the right side are helpful sections for planning things out by type of tasks.
Don't Forget – a place to jot down reminders like sign permission slip, or pick up milk.
Calls, Emails, Texts – is a place to keep track of who you need to email or call that day
Errands to Run – is pretty self-explanatory
Worries for Another Day – this is by far my favourite part of this to-do list planner. Having somewhere to acknowledge that sometimes we need to put things off is a great tool. I tend to feel really guilty when I don't get everything done, but I've found that having this section allows me to plan for what can be put off until tomorrow. At the end of the day, I cut that section out and tape it into my planner so I know to schedule those other items in.
Full-Size Daily To-Do List Planners
Now that we've had a quick run-through of the printable, here are the full-size versions.  Each one is a different colour to match the 2016 dated calendars, use them all or just your favourite colours.
As always, to snag a copy of the printable or printables you'd like, just click the pic (or pics) to get a copy of your own.
Half-Size Daily To-Do List Planners
And of course, I couldn't not make a half-version to go along with them.  These ones have two days per page, and print on regular letter-size paper, in landscape orientation.  After printing just cut in half down the middle and away you go.
Just like I said above, click the pic (or pics) of the one/s you would like.
I hope you enjoy the new daily to-do list planner printables and that you find them a useful tool for staying sane on those busy days.
I'm working on the weekly version right now and hope to be sharing those next week, so if you're waiting for those ones, know that they are coming.
Do you use a daily to-do list planner? If so, do you find it helpful?