2017 Full-Size Monthly Calendar Printables are Here!!!!!
They're here!  They're here!  They're heeeere!!!  The 2017 full-size monthly calendar printables are ready!  Whether you're a teacher planning next year's lessons, someone looking to plan next year's vacation time, have some long term planning needs,  or just like to be prepared for the coming year, the 2017 calendars are ready for you.  And even if you don't need them now, you know where to come when you do need them, I promise, they aren't going anywhere.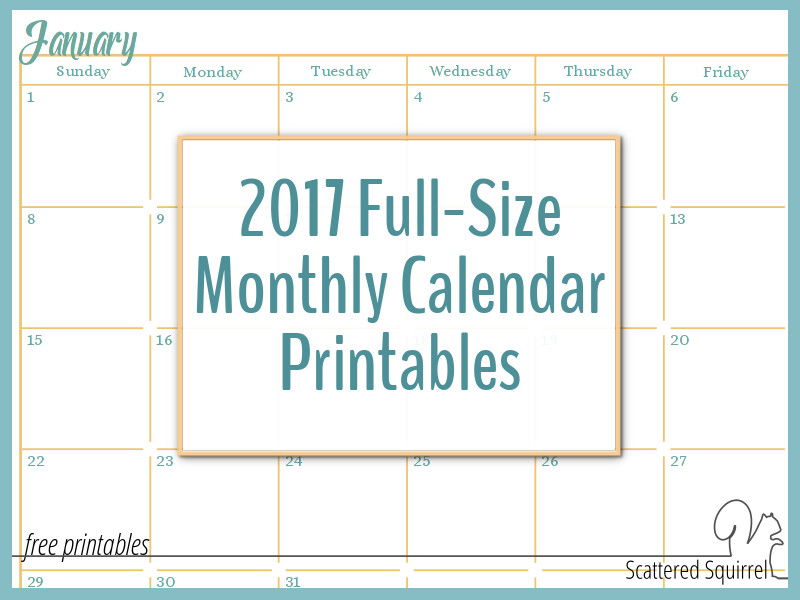 Whew – these calendars seemed to fight me every step of the way.  First, I spent way too long fighting with a new design program before I finally threw in the towel and went to the program I know and love best.  Then I ran into a problem with the layout for the two page per month ones.  It meant going in and redoing all 24 files, which was not so much fun.  And when I finally get everything all figured out, my computer decided to lose the program I use to put all the single files together into one, easy to download, file.  It's been an adventure, to say the least, but now all the kinks are worked out and the calendars are ready for you to download, print, and start using.  Or just save for when you need them.
The 2017 Full-Size Monthly Calendar Printables
In typical Scattered Squirrel fashion, I kept the calendars super simple.  I did experiment with making them more decorative, but I just couldn't justify taking away much need planning space for pretty things.   I figure between washi tape and stickers, there are plenty of options for adding in decorative elements after they're printed.   Who's ready to see the 2017 calendars?
Single Page Per Month Calendar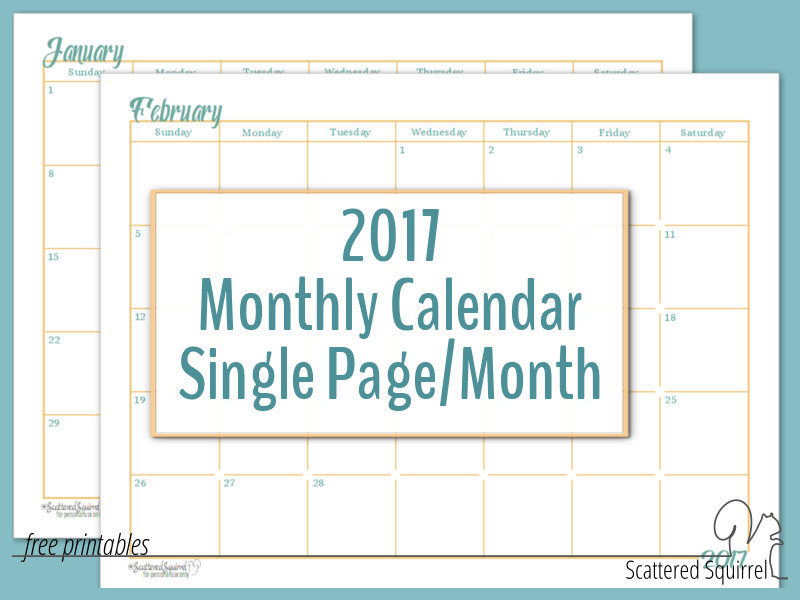 You can click the pic above to go right to the download if you want too.
There really isn't much to explain about these calendars.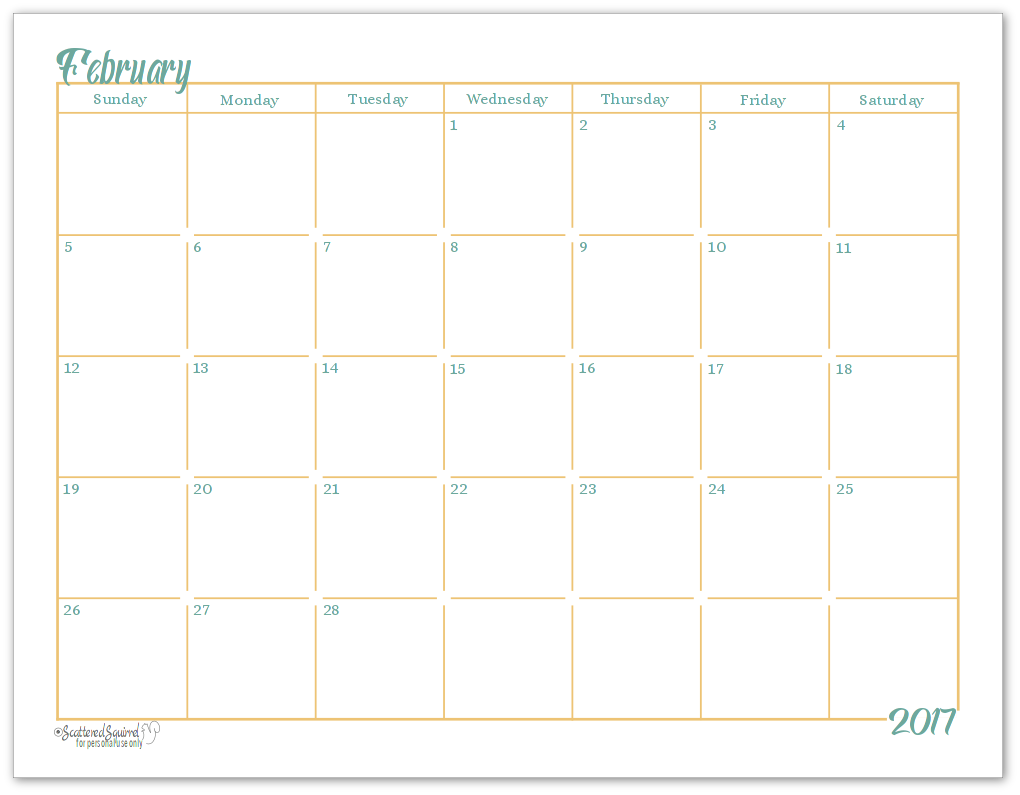 As always, the single page monthly calendars are in landscape format.  These work great to hang on a cork board, the fridge, or even just in you planner.  Depending on how much planning and how much info you keep track of on a monthly calendar, these will probably work great for you monthly planning needs.  They print well double-sided and are super easy to use.
Two Page Per Month Calendar
Again, if you'd like to hop straight to the download, just click the pic above here.
The two-page per month spread is pretty much the same as the single page one, except there is a little more writing room in each of the daily boxes.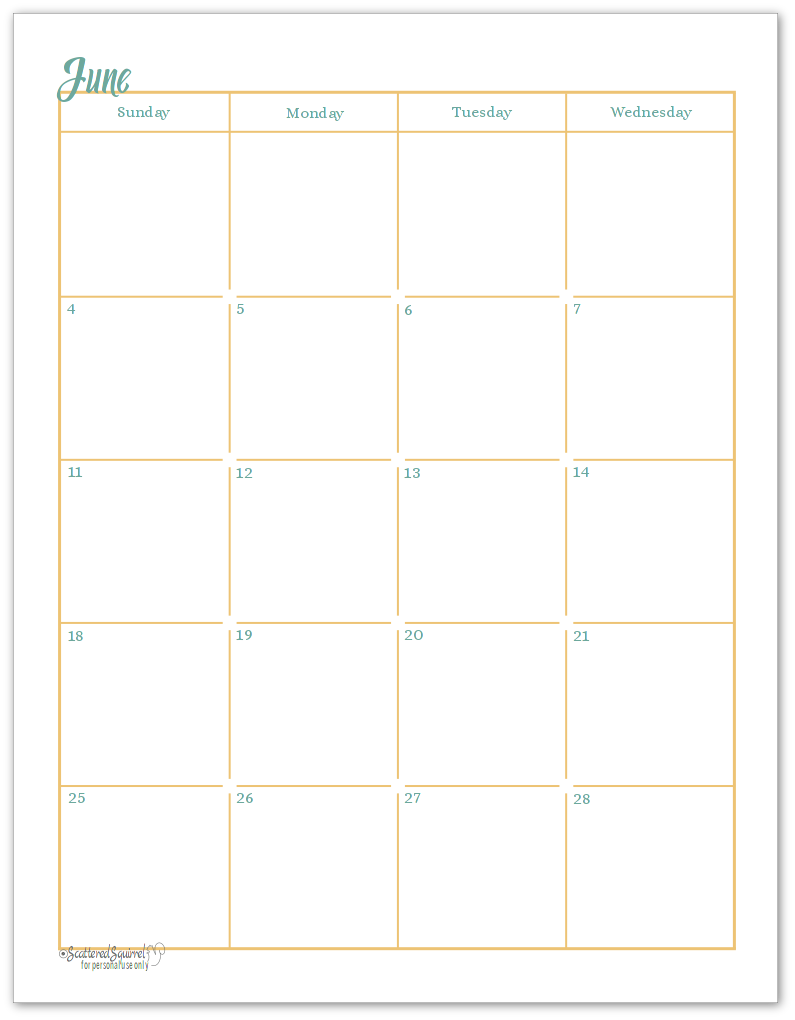 As you can see below, I kept the notes column for any extra planning or note taking that you might need throughout the month.  This layout is usually the one that makes it into my planner.  I use it for planning out blog work, home projects, and a variety of other items.  I like that there is plenty of room to write on each day.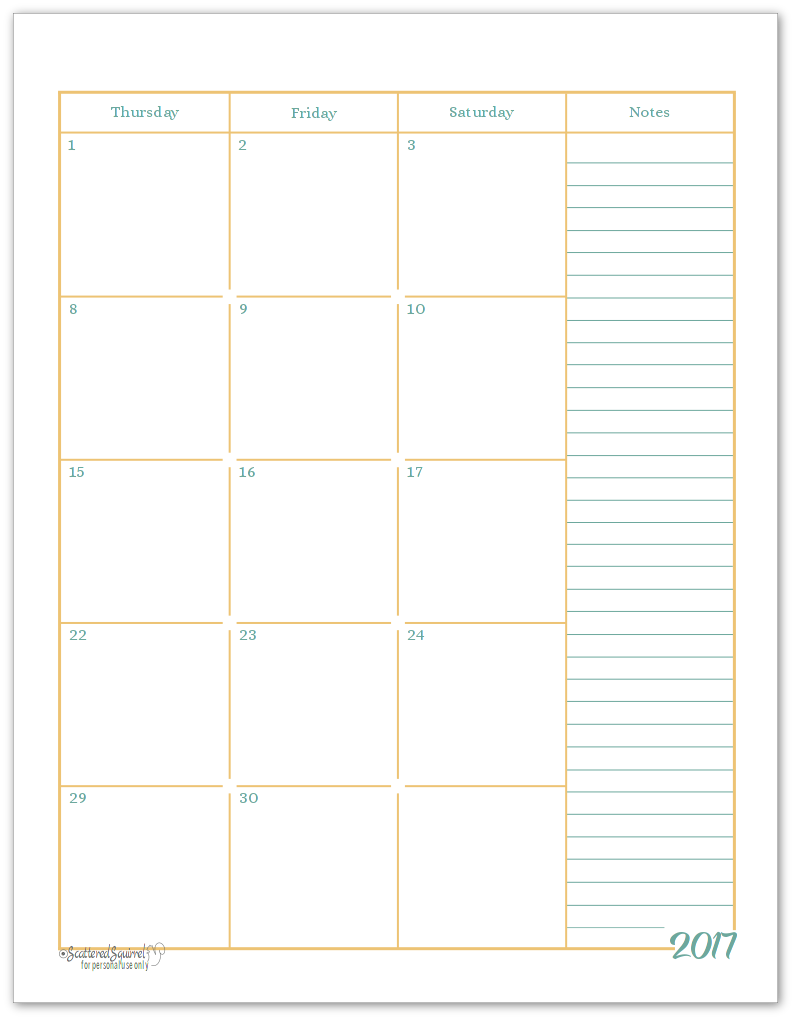 These one do print double-sided as well, but there is a little bit of a trick to it to get them set up so that you can see the whole month when your planner is spread open.  Here are my two methods.
Auto-Duplex Printers
Go to print settings and select the Pages option select pages 2-24.
Hit print.
Go to print settings and select page 1.
Hit print.
That's it!
No Duplex Printers
This one takes a little more fiddling with, but it's still totally doable.
Go to print settings and select the Pages option and select all ODD numbered pages.
Hit print.
Remove January from the pages and set aside
This next step depends on your printer.  Take the printed pages and load them back into your printer so that when it prints, it will print on the blank side.  If you need to, play around with printing a test sheet double-sided first so you know how to load the paper back into the printer to make it print correctly on the other side.
Go back to your printer settings, and select all EVEN numbered pages.
Hit print.
Add January back in and you're done!
So those are the 2017 full-size monthly calendar printables.  I'm pretty sure that when I create their collection page, I'll call it Blue Skies and Sunshine – what do you think?  I know you're probably eager to get downloading your copies, so I won't keep you.  I hope you all are having a wonderful week.
What do you think of the calendars?  Drop me a line in the comments below and share your thoughts.