Two Pages Per Month 2018 Dated Calendars
I know many of you have been waiting for the two page per month dated 2018 calendars, and I'm happy to say they're here!  By far, the two page per month layout is one of my favourite for monthly planning.  The extra room in each dated square allows me to add in extra details and makes it easier to quickly check things at a glance.  Scroll on down and check them out.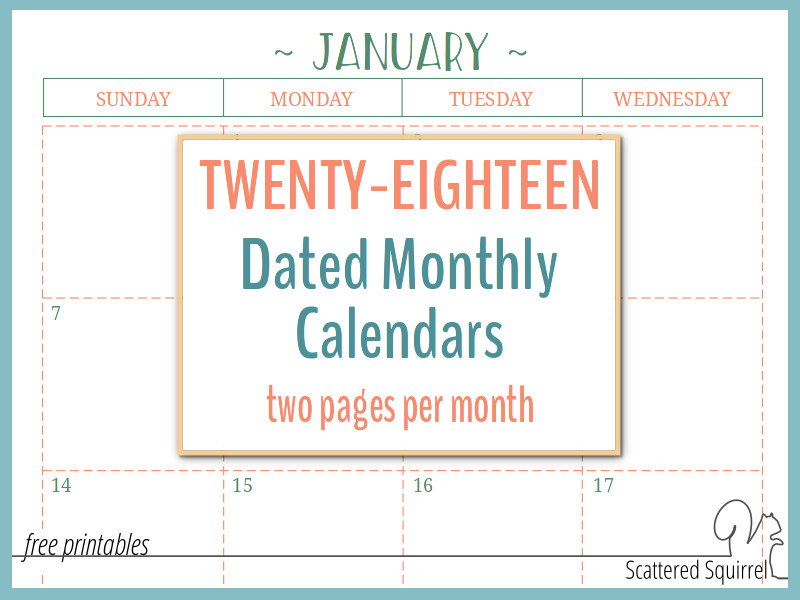 2018 Dated Calendars
Every year more and more requests come in for dated calendars for the following year.  As a planner myself, I understand and appreciate the need to have next year's calendar available early.  While I personally don't need to plan so far in advance, I'm happy that I can make these available for anyone who does.  Today we've got the two page per month calendars to check out.  This is the second to last post for the 2018 dated calendars.  If you missed the first two you can check then out at:
Now on to the new ones.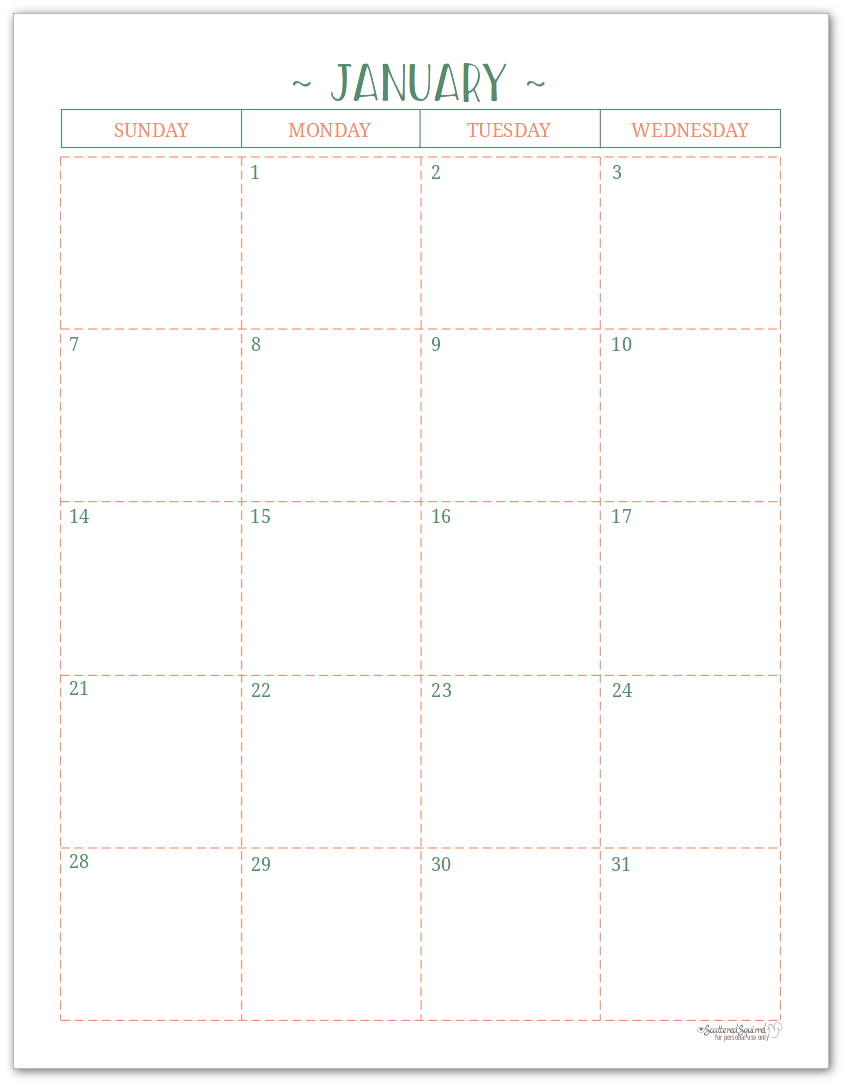 Just like previous years I started the monthly grid on the left page.  Only having four days per page really helps to create more writing room for each dated box.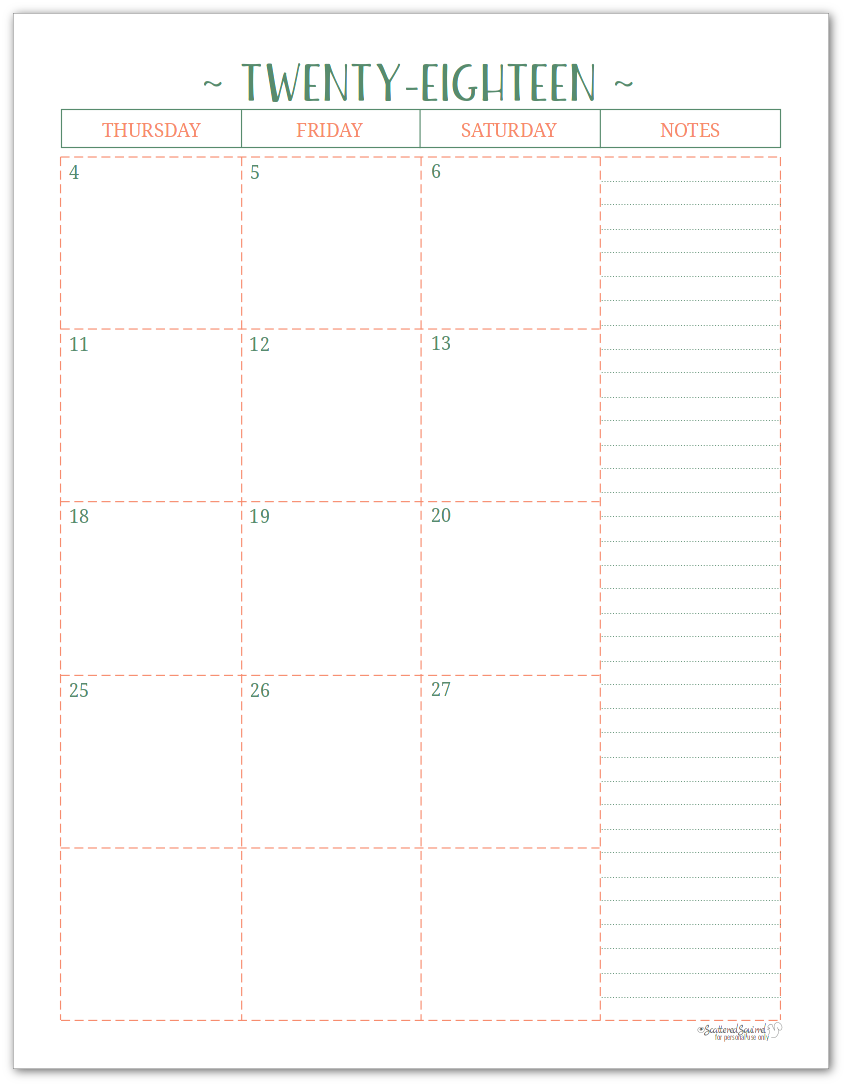 On the right hand page you'll find the remaining days of the week as well as a column for notes.  The notes column is lined, just like the 2017 monthly calendars, because I got so many requests for a lined notes section.  I did try to make the lines a little lighter for those who prefer no lines.  I hope I was able to sort of meet the needs of everyone with those.
To print the fill-size version double-sided choose one of the following:
If your printer duplexes (prints double-sided) go to your Print Settings and find the area where you can select which pages you want to print. Set it to 2-24.  Then print.  Once it's done, print page one.
If your printer doesn't duplex, go to your Print Settings and find the area where you can select which pages you want to print.  Set it to Odd Pages and print.  Remove January from the stack and then flip/rotate your pages so that they'll print on the back.  Then go to your Print Settings and select Even Pages and print.
If you're new to Scattered Squirrel, to snag a copy of any of the printables for yourself, just simply click the pictures of the ones you want and the PDF version will open for you to save.  All of the printables are for personal use only.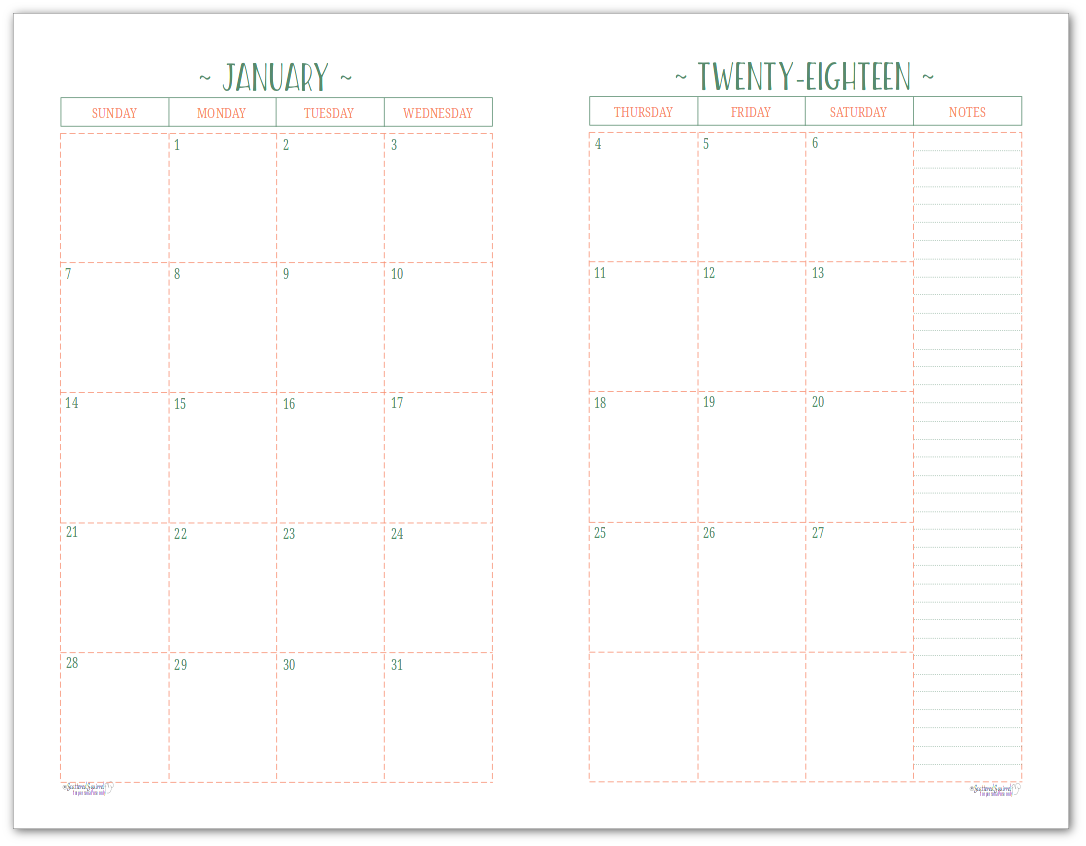 This half-size version is set up just like previous years, so it won't print double-sided.  I typically use the back of these pages as notes/scribble pages.  They're great for jotting down reminders for the following month, or even the following year.  At the end of the year I flip through and see if I made note of anything we might need to do, like book our eye exams or something.
Double-Sided Friendly Version
I'm working on a version of the half-size one that is set up to print double-sided for those who would like that option.  I ran into a few hiccups when trying to make it work right, but I think I finally got it all figured out.  I'm just working on how to simplify the printing and set up instructions.  Look for that version to be coming out in a post with a couple other new calendars later on this week!
Now It's Your Turn?
Which calendar layout is your favourite?  Do you prefer the full or half-size versions?  Or do you like them and use them all for different reasons?  Drop me a line in the comments below and share your thoughts.