Weekly Planners to Match the 2023 Calendars
It's that time of year again. The weather is cooling (or warming depending on what hemisphere you're visiting from) and soon the holiday season will be upon us. The end of the year always has so much going on which is why I'm sharing these weekly planners now.
I took my most popular weekly planners and converted them all to match the Forest Simplicity collection for 2023. Below you'll find five different planner layouts to choose from.
Ready to check them out?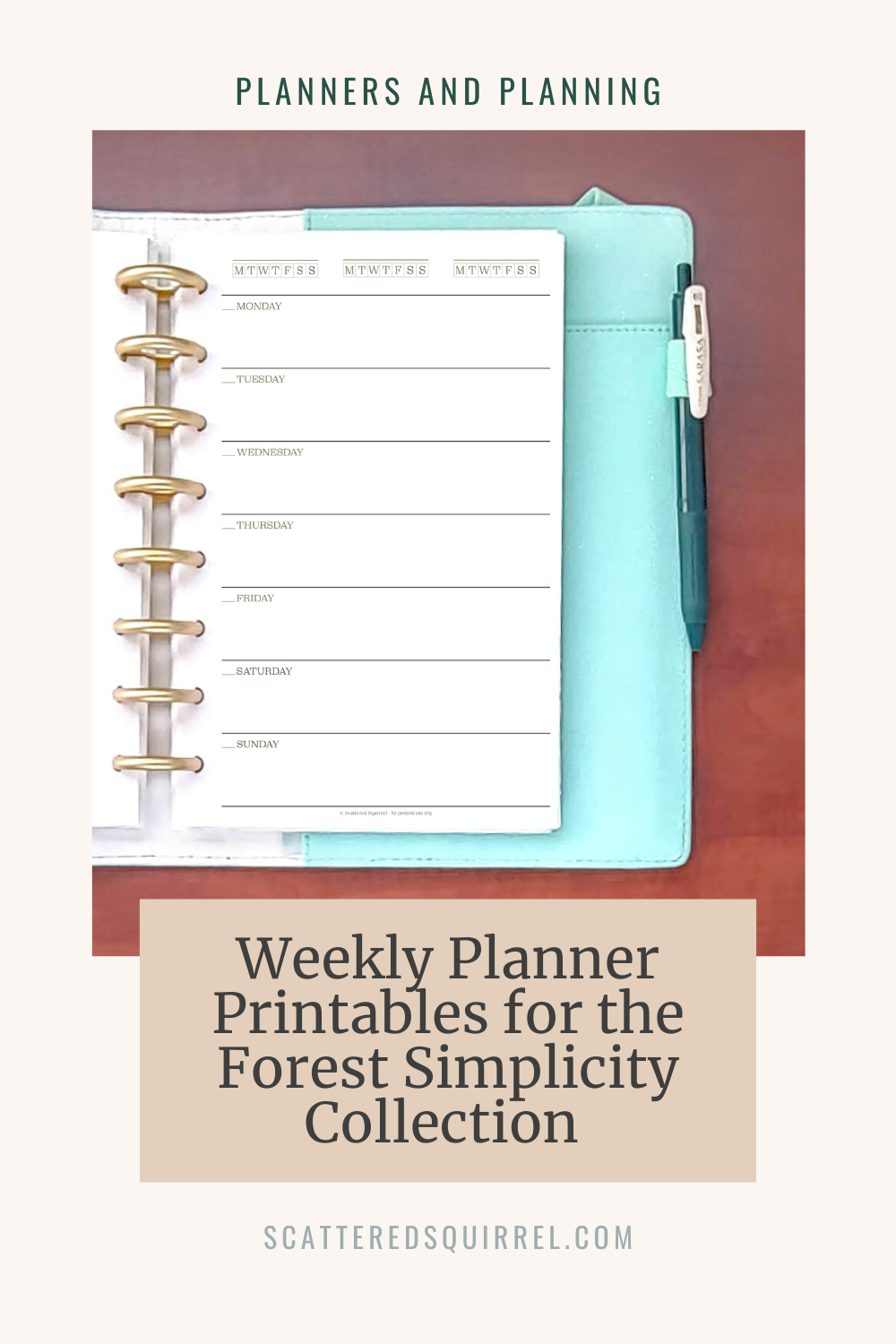 Weekly Planner Printables
Weekly planners are such a powerful planning tool. They allow to see our whole week at once so that we can ensure we're not overcommitting our time. A weekly plan lets us make sure we're making time for what matters most and allows to leave white space in our days so we can embrace the joy of unstructured time.
Whether you need a detailed, hour by hour, plan or just a general overview of your week, one of the weekly planners found below is sure to fit your planning needs. I've organized them by layout to make it easy to find what you're looking for.
Vertical Weekly Layouts
The two pages per week, vertical layout is one of the most popular weekly layouts. They allow plenty of room for scheduling or listing our tasks and are easy to quickly glance at and see what's happening.
I have two different designs for you to choose from. Both the designs come in letter or half letter size and you have a choice of a Monday or Sunday start day.
Let's start with timed vertical week on two pages planner.
These weekly planners are an excellent choice for anyone who needs to schedule their days by time. Or for those who like to time block.
The left hand column offers a place for top priorities of the week, a weekly focus, and then lists or notes. Each daily column start with a space for meal planning followed by timed sections that span from 6 to 10 for a total of 14 hours. Each hourly block has two lines for ample writing room.
Next up, we have the Vertical Two Pages per Week planners.
These weekly pages are great fit for anyone who prefers working from a task list and doesn't need to schedule their day. There's plenty of room for notes and customization to fit your need.
The left column begins with room for your top three priorities or three things you don't want to forget. Then it's just a place for a list or notes and it extends across the bottom of the page under the day columns.

Each day column is broken up into two sections. The top is a checkbox layout to write out the tasks you need to complete each day. Under that is a blank lined section for other planning needs, like appointments or errands and reminders. You could also write in hours and use it as scheduled section if you need.
Underneath the days on the right hand page are two addition planning sections. The first is a simple box divided into seven rows with the initials of they days of the week on the left side. You could use this for whatever you need to. Some ideas include:
meal planning
exercise log
theme days
reminders
housecleaning tasks
goals for each day
The next section is a habit tracker. Write down anything you need to do every day and want to track. Check it off as the week goes on. I find this section helpful when I'm struggling with a routine or creating a new one.
Horizontal Weekly Layouts
Weekly planners in the horizontal orientation are gaining more and more popularity. People like the freedom of planning their days in a more fluid way. Some divide the daily rows into sections to categorize their plans and some use them for memory keeping or journalling.
I like using the single page layout for keeping track of family schedules. I print one for each person and write down what's happening each day for them. Sometimes these change, but I find it really helpful during busy life seasons, to be able to see what each family member typical has on their schedule for the week.
Let's start with the two pages per week layout.
These weekly planners are very simple. Each page is divided into four lined sections, one for each day of the week and a spare for notes, reminders, memory keeping … whatever you might want to use it for.
Next up we have the single page per week horizontal planners.
These planners are also really simple. At the top there are three habit trackers. Underneath the page has been divided into seven rows, one for each day of the week. These are the ones I use for family schedule. I also find them really helpful when I have a busy week in one area of my life.
For example, when I tackle seasonal cleaning tasks my home area gets really busy. Using a separate weekly planner to plan out the tasks for that area is really helpful for me. It allows me to keep my everyday planner less cluttered but still allows me to actually create a plan of attack for the home area.
Last, but certainly not least, we have one of my favourite weekly planners, the weekly overview.
Weekly Overview Layout
Weekly Overview planners are fantastic tools for seeing the big picture of your week. These planner pages are a good fit for anyone. They allow you to highlight the important things happened that week and create a structure lists of tasks, appointments, and errands.
My favourite thing about the Weekly Overview planner is that it works with any other planner. It's fabulous when paired with a daily planner because it allows you see your week at a glance. When paired with a weekly planner it gives you a space for organizing tasks and for noting the big things happening that week.
I like to use one to plan future weeks. As future appointments, events, or reminders pop up I write them down on the weekly overview for that week. When I sit down to make up my plan for the week I reference the overview to see what I already have going on or what I need to make time for.
I'd Love Your Feedback
I'm always curious about which planners people prefer using. Do you prefer a weekly planner? Do any of the ones I've shared fit your planning needs? Drop me a line in the comments below or hop on over the Facebook group and share your thoughts there.
You can join the Facebook group by clicking this link –> The Scatter-Brain's Guide Facebook Group
If you didn't see a weekly layout you like, also feel free to share what you are looking for. I'm always up for making printables, especially if they'll help someone else in some way.

Until Next Time,
Happy Printing!