Academic Planner Printables That Can Be Used For More Than School
We survived the last month of the school year! Why is it the last month always feels almost as long as the whole year? It feels weird to be sharing academic planner printables today when the school year just ended. I know that there are many of you who are already planning for the next school so I didn't want to put sharing these off for too long.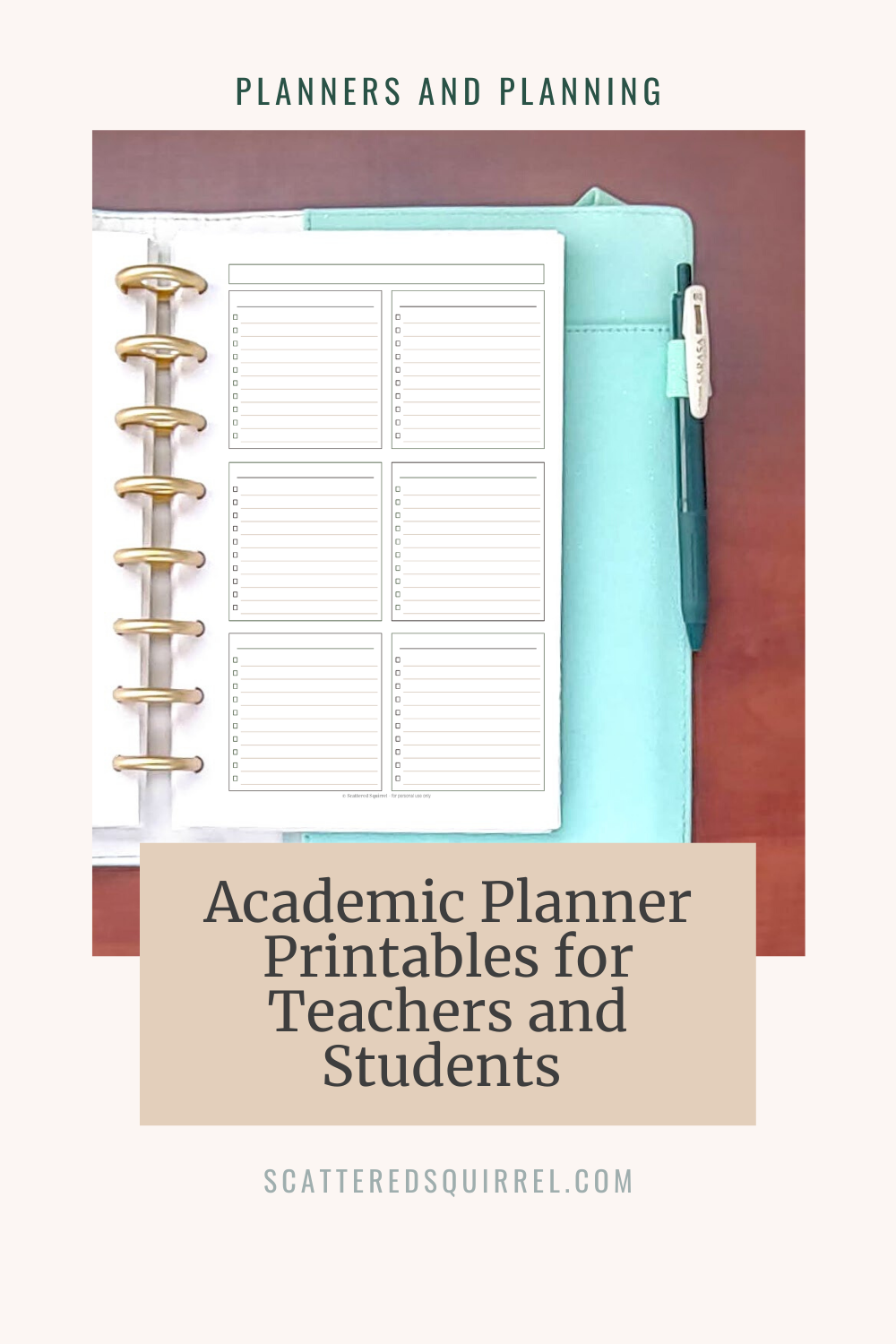 All of the printables in this collection have been shared before in a few of the different planner collection styles. They were all reader requests that came from teachers, students, and parents looking for tools for their kids or for planning their homeschool.
I love being able to share printables that I know will be useful tools for you. I hope that you find something in this collection of academic planners that will fit your needs.
Academic Planner Printables
I'm dividing these printables into two sections – the ones for teachers and the ones for students. This way you can quickly find the ones you need.
Though these planners were designed for teachers and students, ALL of them can used in non-academic ways. As I share the printables with you I'll share some of the ways I'm using them outside of our academic planning.
Ready to check them out?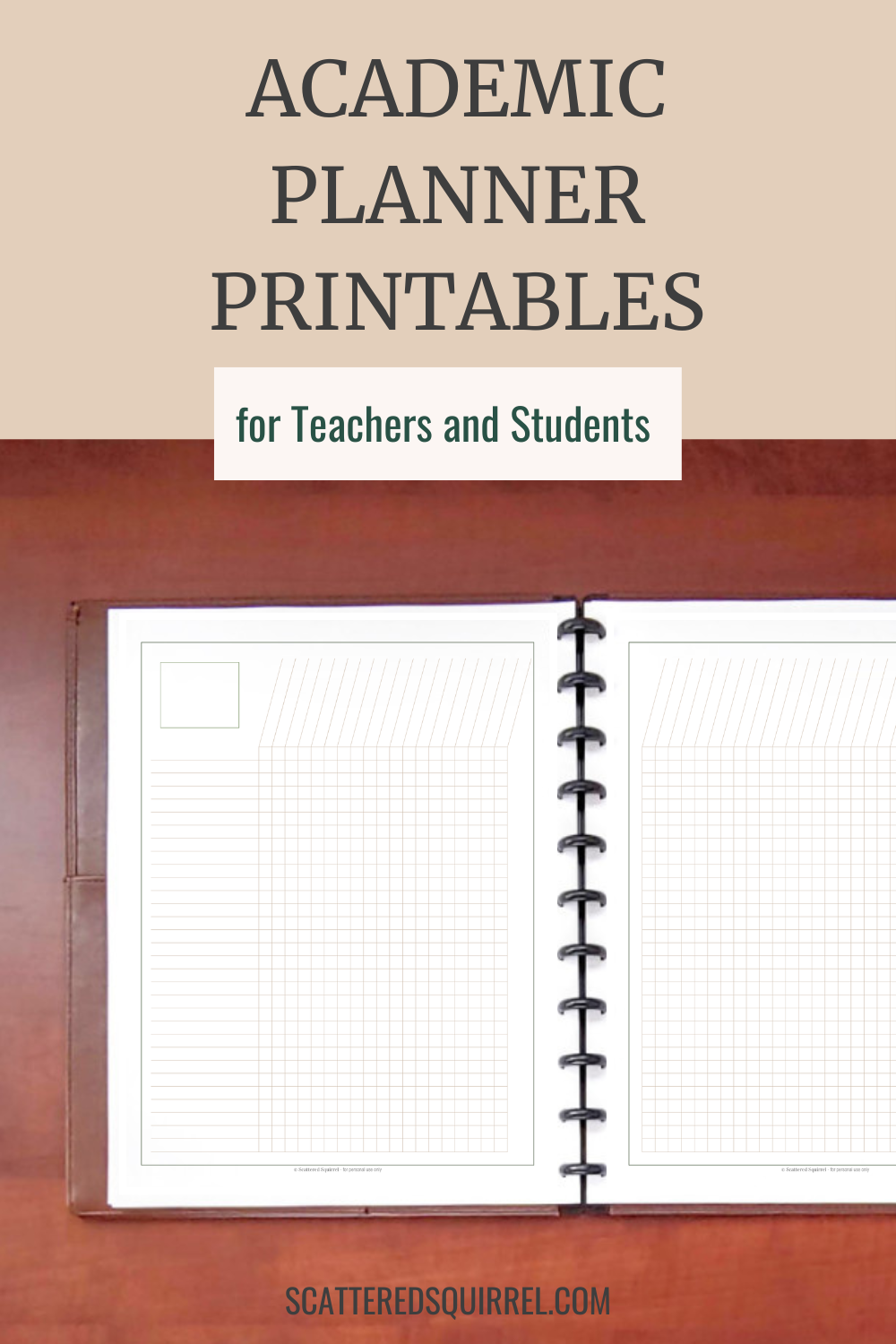 Teacher Planner Printables
There are two different planning printables in this section. The first was requested back in 2019. A teacher wrote me asking for a simple weekly planner to help her plan her school week by subject. That's exactly what I made for her.
Weekly Teacher Planners
They are super simple, five days a week, planners. Each page has four columns that you can title however you need too. Use them for lesson planning, block planning, or whatever other category you need.
Some of the ways I use these are:
to plan our week by family member
as a weekly overview pages paired with another weekly planner
to plan multiple projects
to assign chores/resposibilites to each member of the family
Teacher Checklists
The next teacher requested printables were for checklists. This teacher wanted the ability to have small and large checklists in her planner. So I made single page and two pages versions for her.
First up we have the single page versions.
And here are the two page versions.
These checklists are great for attendance, project tracking, assignment tracking, and any other tracking you can think of. I'm sure there are many other ways teachers make use of checklists like these that I just don't know about.
Some of the ways I use these are:
to keep a running list of printables I want to make and the various steps and stages they go through from first concept to being put into a blog post
to keep a running list of blog post ideas and what step or stage they are in
project planning for home and work and where we're at with them
house cleaning tasks that only need to be done monthly or less frequently
season cleaning tracking
website updates that need to get done and what stage they are in
I think I use more of these checklists in my planner than I do any other planner page other than my weeklies and my notes pages. The options for using these are endless.
Student Planners
This next set of academic planners features two different planners. Each was designed to be flexible to accommodate the different planning needs students might have.
Simple Student Planner
The Simple Student Planner was designed specifically for a student who needed a daily planner that would allow her to plan her days by subject and life categories. She wanted six boxes with checklists for each day and that's exactly what I designed for her.
I have to say that I love this printable. There are so many ways student can make use of it. They could use it as a weekly planner and write down things they need to do for school each weekday and use one box for the weekends. They can use it daily or weekly for each subject. Pair two of them together if they have more than six subjects at at time and use the extra boxes for extra curriculars.
Some of the ways I use this printable are:
long term shopping list divided by room or category
planning multiple projects
breaking down goals, especially short term or smaller goals
making to-do lists by category
organizing shopping lists by store
planning chores for the family
list of things for each family member, sometimes it's things we need to buy other times it's things they need to do
as a daily planner when I have a long to-do list and want to block my day out by category
Simple Daily Schedule
The final printable in the academic planner printables collection is the Simple Daily Schedule. Again, this printable was created for a student. She needed to be able to schedule out her day by time to help her keep track of school, work, and other commitments. She also needed something to help her organize other information that might change day to day or week to week.

We settled on the left hand section being for the schedule, with room for her to write three things she's grateful for. The scheduled section was broken up by hour with two spaces per hour.

The right hand side has four checkbox sections that aren't labeled. This way she could create her lists as she needed and change them daily if she needed too.
They really are a super simple daily planner. Whether you need to use them every day or just on busy days these daily planners are a great tool to keep in your planner.
For the first part of this year, I was using the half-letter size version of these to plan my whole week. I loved that I could create to-do lists that were organized by category and still have my schedule planned out. I still have some stashed at the back of my planner in case I need them for days when we have a lot going on.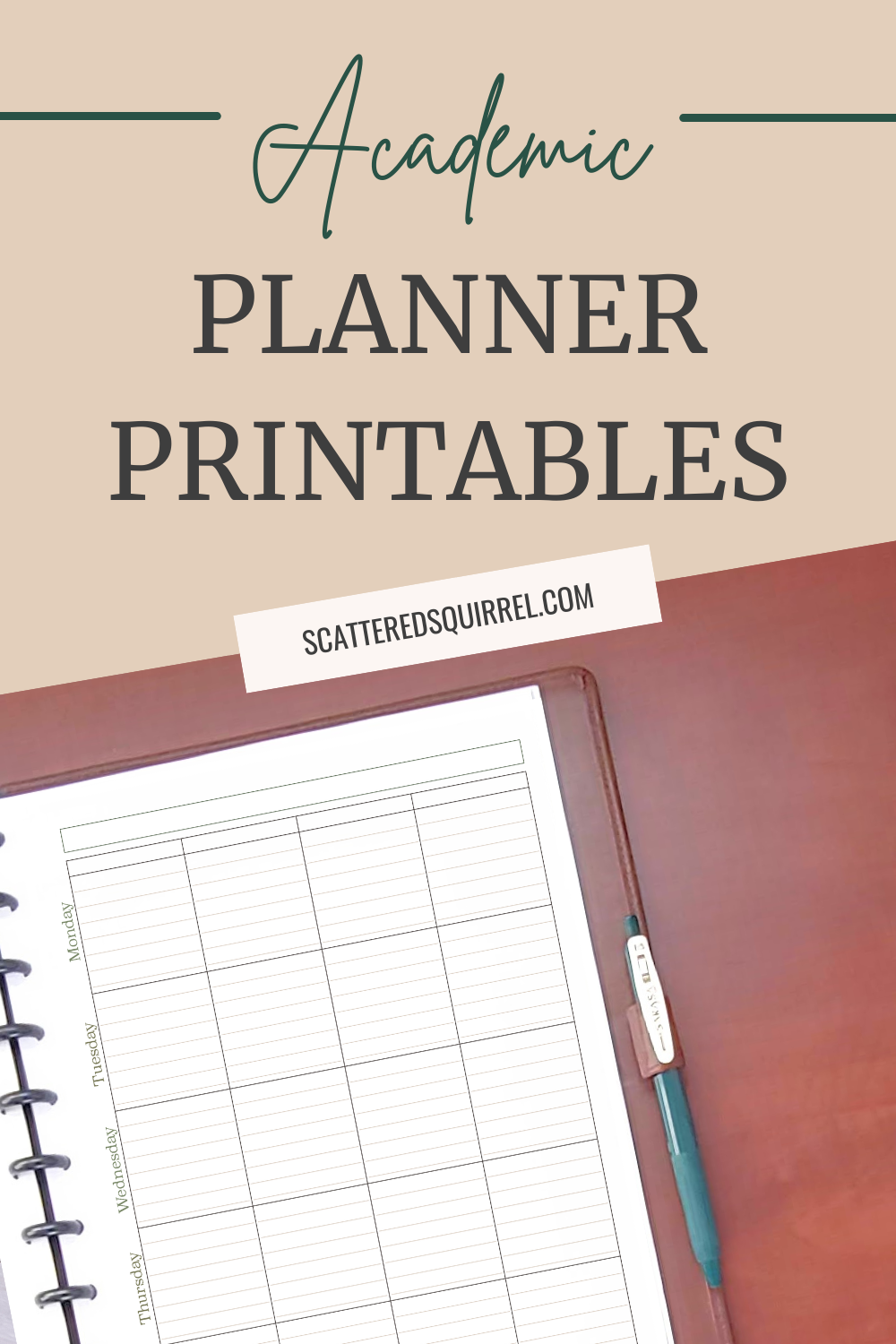 What Would You Add to the Academic Planner Printables?
I love that these printables were requested by teachers and students. Creating planning tools that are designed to fit a particular need is always fun for me. So now I would love to hear from you – are there any academic planner printables that you would like to see available?

I'm never sure what information students and teachers need to have with them, so your input is always welcome. Drop a line in the comments below or hop on over to the Facebook Group and let me know.
Until next time, I hope you're enjoying your summer, or your winter for our friends south of the equator.
And, as always, Happy Printing!