Reader Requested – Vertical, Month Per Page Calendars
Welcome to another edition of Reader Requested, where I take a printable request from one of you and share it here on the blog. Today's request was for vertical, month per page calendars and that's exactly what I've made for you.
This is one of my favourite parts of this series is seeing all the different planning needs you have. Things I may never have thought of or don't use myself.
A vertical, month Per page calendar can be a very versatile planner addition.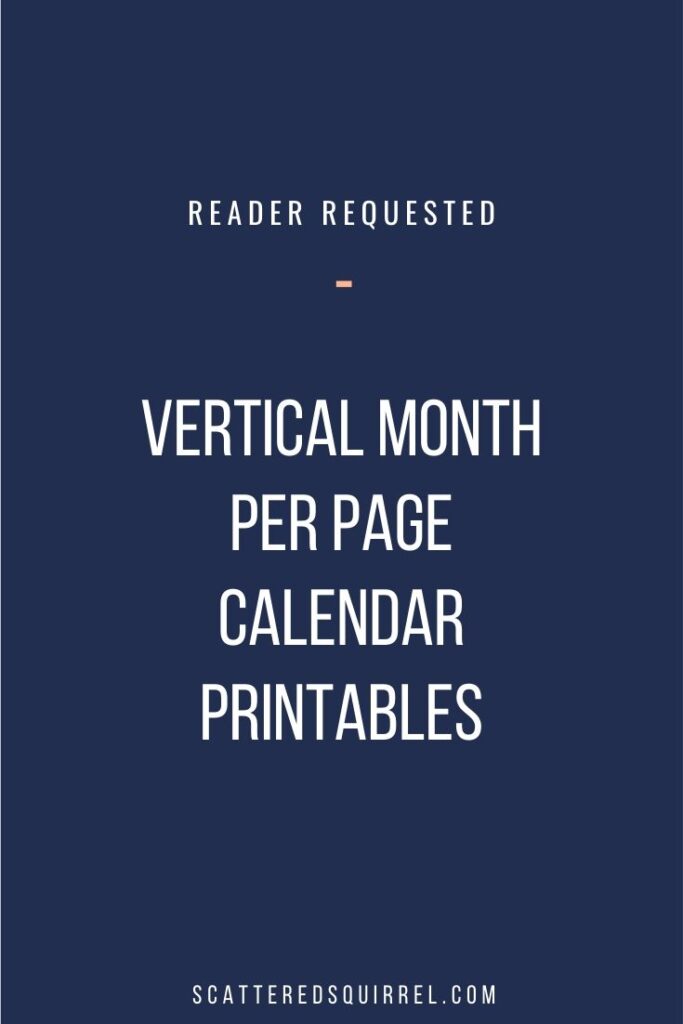 This post contains affiliate links. We may earn a commission for purchases made through these links. See our disclosure policy for more details.
Today's reader request comes from Bev. She requested a full-size, vertical, one month per page calendar, with a Monday start.
Over the years I've received a few requests for a portrait, single-page monthly calendar. Not enough to add them into the dated calendar sets, but enough that when I saw Bev's request I knew it was something some of you might get some use out of.
Vertical Month Per Page Calendars
There really isn't too much to say about these calendars. Bev's request was for a full-size Monday start, but you know me, I wouldn't leave you hanging with just one option.
I made four versions for you to choose from.
full-size Monday Start
half-size Monday Start
full-size Sunday Start
half-size Sunday Start
Each page is just the monthly calendar. There was no room for a notes section or column. If you need room for notes you can easily add a notes page opposite them or use sticky notes.
These calendars are also undated, which means they can be used year after year and for as many different things as you want.
Some other things you could use them for include:
planning your house cleaning schedule
planning projects
meal planning
content planning (if you work online)
marketing planner
health and fitness tracker
whatever else you can think of
All of the calendars are in the Coastal Dreams collection, so they will match all the printables that I made for setting up your 2020 planner.
Ready to check them out?
Full Size
The full-size calendars can be printed single or double-sided. For best double-sided results, print pages 2-12 double-sided and then print page one. This will allow you to see two months at a time when you have your planner open.
Half-Size
Just like the full-size versions, these half-size vertical calendars can be printed either single or double-sided. I formatted them so that when printed double-sided they can either be cut and punched or simply folded in half to create a booklet.
And there you have them. These undated, vertical monthly calendars are waiting to be put to good use in your planners.
As I mentioned above, of my favourite parts of doing these Reader Requested posts is seeing the different printables you need to make your planners or your organizing systems work for you.
I love being able to help you. While I cannot guarantee that I can get to every single reader request that comes in, I try my hardest to get to as many as I can.
If there's a printable you'd love to see offered here, or if there's a printable here you already like but wish it could be tweaked just a little to work better for you, then please click the button below and submit a request.
Now it's Your Turn
I'd love to hear what you think of these printables. Are they a layout you'll use? If you're not using them for your monthly planning what are you using them for? I'd love to hear all about it.
Drop me a line in the comments down below and let's keep the conversation going.

Don't forget, if you share a picture on social media I'd love to see it. Tag me @scatteredsquirrel or use the hashtag #scatteredsquirrelprintables so I can check it out.