Check Out the New Personal Size Daily Planner Printables!
Personal size planners are wonderful for many reasons, portability being right up there at the top.  If you're like me and have larger handwriting, or if you have a lot going on each week, their size can present a few hurdles that need to be overcome.  Namely – having enough space to properly plan your days and weeks.  To help combat that problem I made a couple personal size daily planner printables that can be used in a few different ways to make sure we're making the most of these smaller pages.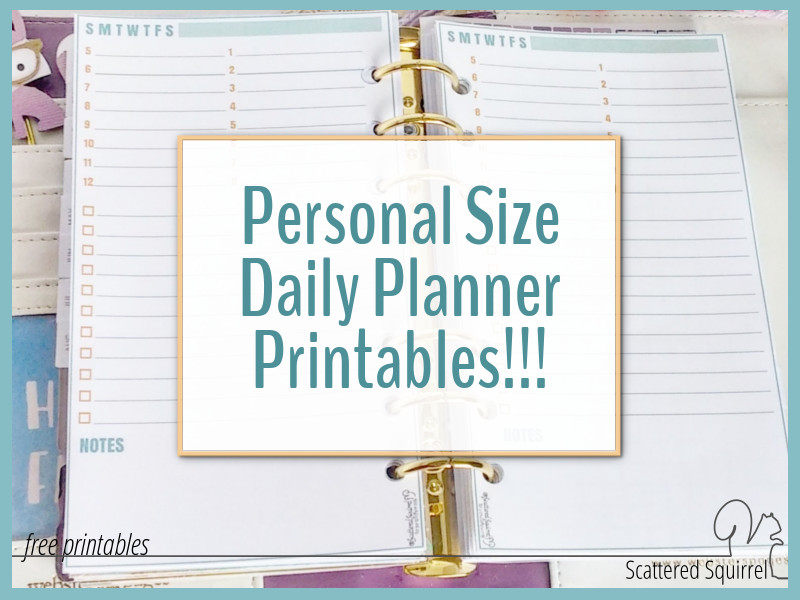 If you normally use an A5 (half-size) or larger style planner, chances are good that a weekly spread works well for you.  Most of them afford enough room to be flexible and versatile.  A weekly spread is one of the most common ones out there because it works well to fit many different needs.  In a personal size planner, though, the weekly spread doesn't leave a lot of planning space.
That's where having daily planner pages on hand can really help.  You can use them when you need them for those extra busy days or use them every day to keep yourself on track.  I tried to think of different ways these might be used when I made them so there are two different layout options available.
Personal Size Daily Planner Printables
Like I mentioned about, space is limited in personal size planners so I gave the layout of these a lot of consideration.  I wanted to create a planner printable that was super functional.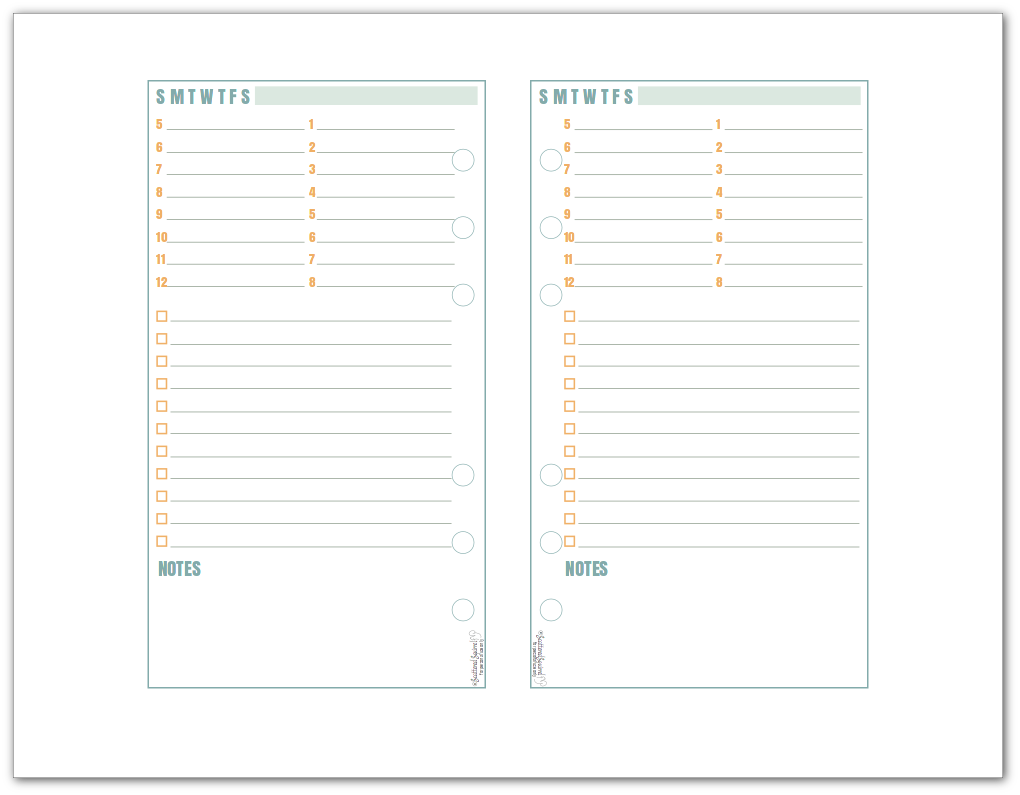 Because space was so tight I opted to skip the usual headers and titles and just keep it simple.  The top of the page has the initials for the days of the week and space to write out the date.  You can use it however you like.  I envisioned circling the day of the week and writing out the actual date in the box when I made it.
Next is the  agenda or schedule area.  This section gave me some grief, in the end, I had to just go with hourly segments.
You know me, I never met a checklist I didn't like.  This section has a lot of versatility to it.   Use it for your to-do list, shopping list, spending tracker, anything really.
And lastly a section for notes.  I purposefully left this area blank for those of you who like to use stickers and stamps to decorate your planners or add in some extra functionality.  There isn't much room, but what is there can be easily customized to what you need.  Or you can just do like I go and jot down any notes or reminders for the following day.
As always to snag a copy for yourself just click the picture and you'll be taken to the PDF file.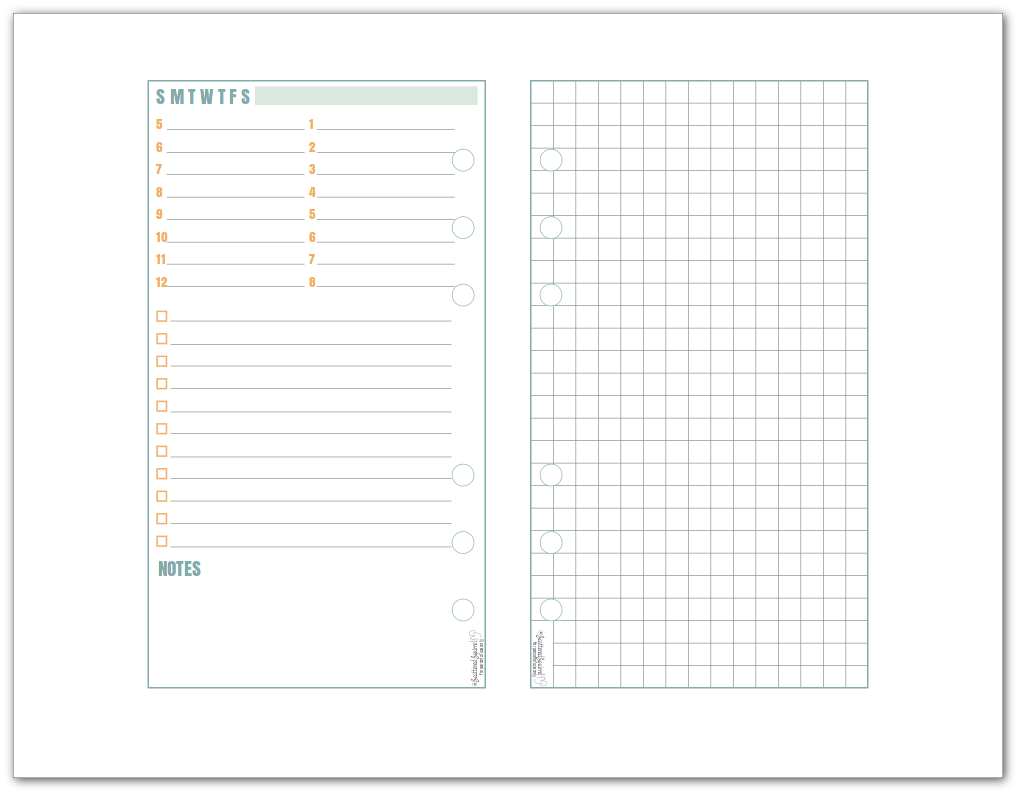 The more I thought about the ways the personal size daily planner printables could be used, the more I realized that there might be some of you who would need more planning room, whether for more notes or details about appointments, or whatever else you might need to keep track of in your planner.  As you can see, this one I paired with graph paper so that you have your structured planner page on one side and your unstructured space on the other.
Printing Instructions
Printing the personal size printables takes a little bit of set up.  For best results:
Make sure you have the paper orientation set to landscape
Select Actual Size or make sure your margins are set to 0 (if you don't they might print too small, and they might be offset if you print double sided)
Always print a test page first before printing multiples.   If if doesn't print right, at least it's only one page ruined. (trust me – I learned that lesson the hard way . . . many times!)
Bonus Printable
I couldn't resist whipping this one up to go with the others.  I know it's not really a daily planner page, but I thought it might be handy for anyone who likes to takes to take notes or keeps extra paper in their planners.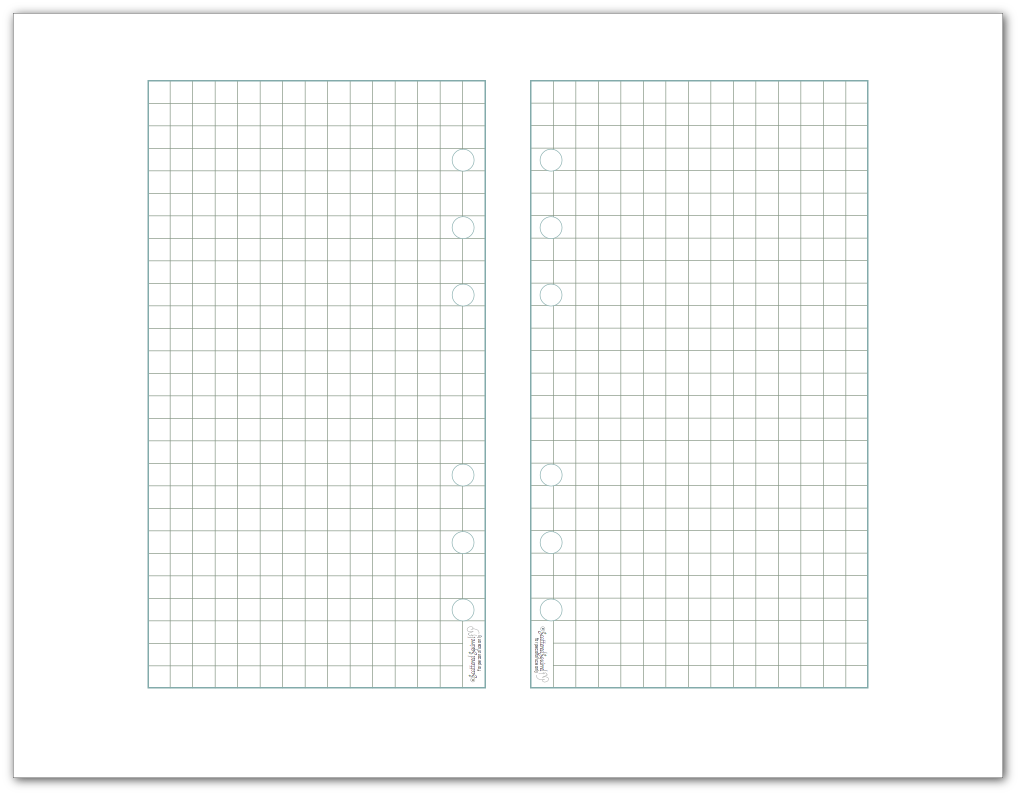 I'd love to hear what you think about the personal size daily planner pages.  Do you think they're something you will use?  Would you like to see the same layout in half and full-size as well?  Drop me a line in the comments below and let us know.