New Personal Size Planner Printables are Here.
I've been working on a secret little project that I've been dying to share with you all – actually, I've been working away on a number of different projects that have kept me hopping behind the scenes.  Today I'm sharing one of those secret projects with you, and I think some of you will really like it.  Are you ready to get personal?  Well scroll on down and check out the newest size addition to the printable library – personal size planner printables.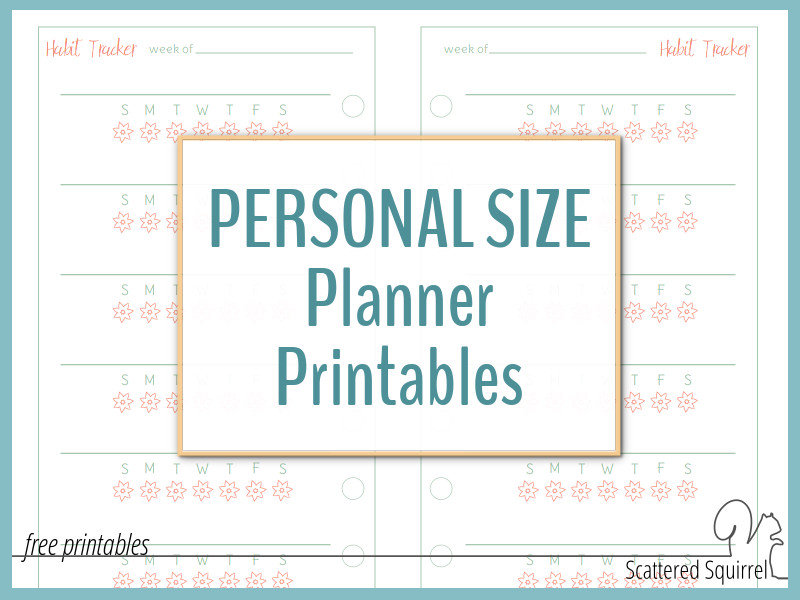 For those of you who have been following me for a while, this might sound a little weird because you know I've never been a fan of the personal size planner.  I found them too small to fit my needs.  But, last year I start receiving more and more requests for personal size planner printables and the more I thought about it the more I really wanted to try my hand at them and see what I could come up with.  So, I bought myself a personal size planner and decided to play around with it for a few weeks to get a really good feel for the size and various functions it could serve.
Low and behold I fell in love with the size and portability.  It really was perfect for personal planning.  I've only created three printable for it so far, but that's a good number to kick off this collection with right?  I didn't want to wait any longer, and so without any further adieu – here they are.
Personal Size Planner Printables
You know I believe that planners should have a function as well as being beautiful so I've been slowly thinking about how I would use this size planner best.  I have a whole list of printables to make for it that I'll probably never use, but to start with I wanted to be able to play with the printables a bit before sharing them, so I only made ones I would use.  They took a little tweaking to accommodate the size and the purpose, but in the end, I'm really happy with how they turned out.  I'm using my personal size planner as well, a personal planner.  It's where I'm keeping track of routines I currently have or am working on, personal goals, my own weekly
I'm using my personal size planner as well, a personal planner.  It's where I'm keeping track of routines I currently have or am working on, personal goals, my own weekly items and appointments, things like that, so the first three printables cater to those needs.
First up is the weekly spread.  I've been using the inserts that came with my planner because they're convenient and there, but I really wanted one that was my own.  I'm loving the lighter colours right now, so I opted to go with a coral and mint colour scheme.  Now, I know that lighter colours don't always print well in black and white, and I know that there are many people out there who prefer to print in black and white, so I actually made two different copies of the same layout.
I'm really trying hard to build good routines and healthy habits this year, so the second printable I made was a weekly habit tracker.  This allows me to work on a few things at a time while tracking whether or not I completed them each day.  Again, I made this one in two colours.
And last but not least I included a daily and weekly housecleaning schedule.  At first, I wasn't sure I needed this one in my planner, but I've been surprised at how helpful it's been when it comes to making sure I'm staying on top of things.  I left it blank on purpose so I can tweak things and change things up as needed.  They boys are both entering new phases of life right now so some of our routines need to change to accommodate that.
Printing Instructions
These are important if you want the pages to be the right size.
When you go to print, check your printer settings.
Make sure page orientation is set to landscape.
Find where your printer margin settings are and turn them all to zero. Otherwise, they'll print smaller than they should be.
As always, to snag a copy of the printables for yourself, simply click the pic of the ones you want.
I'm still kind of surprised by how much I'm enjoying using a personal size planner, but it's kind of nice to have one that it's just for me.  Sometimes it feels more like a journal than a planner.  I've even started using washi tape and sticker to decorate the pages a bit – if you follow on Instagram you've probably noticed that.  Once things calm down a little I'm thinking of doing a video walk through of my planner and how I'm using it.  What do you think?  Is that something you'd be up to watching?
I'd love to hear what you think about the new personal size planner printables.  Do you use a personal size planner?  Are there other planner printables you would like to see in this size?  Let me know in the comments below.