Understated Rainbow Planning Printables for Teachers
It's that time of year again. The days are long and hot. While the kiddos enjoy the break teachers and parents are starting to prepare for the upcoming school year. Whether you're a teacher, a homeschooler, or a student these planning printables for teachers might come in handy for getting a jump start on school year planning.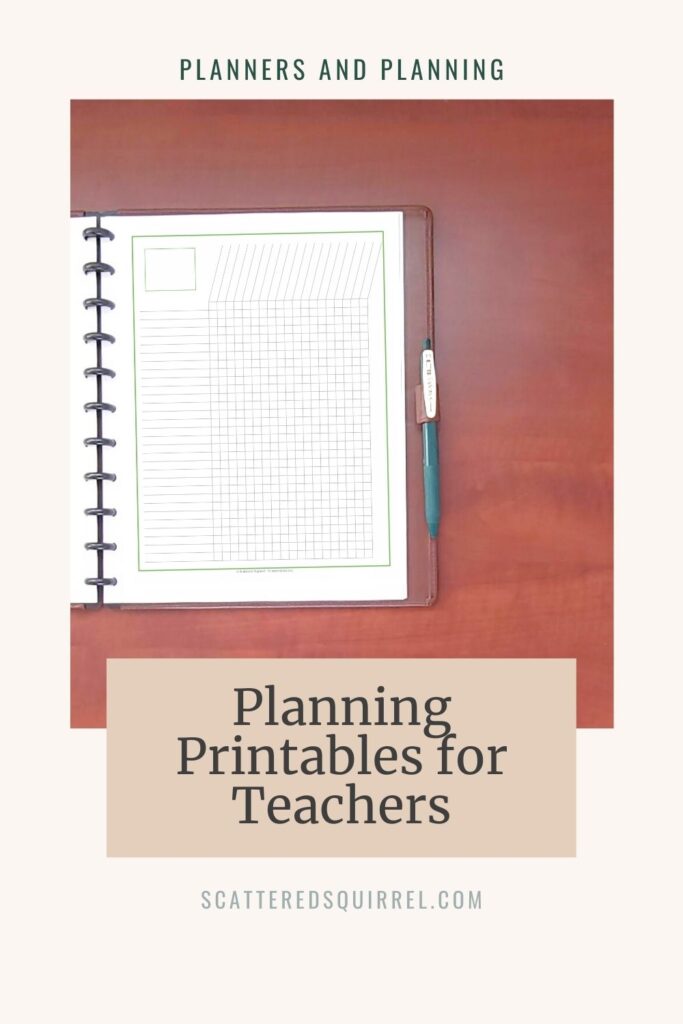 Planning Printables for Teachers
These planning pages were originally designed as a Reader Request. The request came from a number of different teachers looking for a few key planning tools to help them plan and track all the details that come with educating young minds.
I was thrilled to be able to make these for them back then, and I'm just as thrilled to be updating them each year. This year, they've been made to match the Understated Rainbow Collection. You'll find six versions of each printable to match the months in the 2021-2022 Academic Calendars.
I hope you'll find them to be a helpful addition to your planning system this year.
As always, to get a copy of the ones you'd like to use, just simply click the image of the printable and you can download or print right from your browser.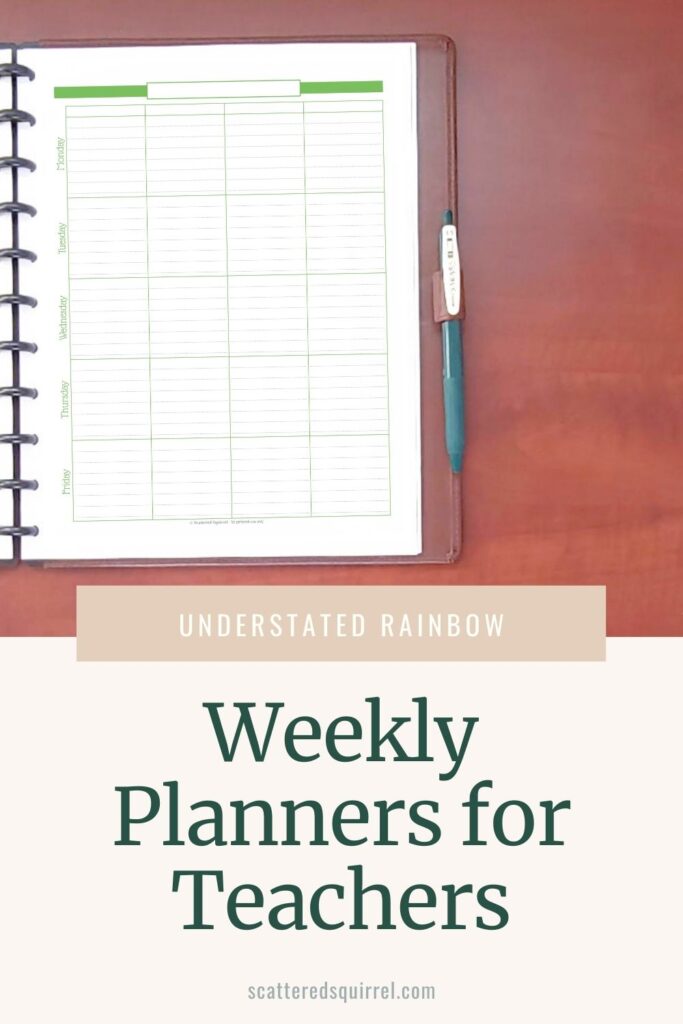 Weekly Planners for Teachers
The weekly planners for teachers are a very simple weekly planner layout. They're a horizontal layout, each day of the week stretching across the page. Each row is then divided into four columns with room for a category title at the top.Because they were designed for the school week, there are no weekend days in this planner.
Originally, the request was for the columns to be for different subjects to help with lesson planning throughout the week. However, since not all teachers teach the same subjects I opted to leave them blank so that they can be utilized how you need them.
The simplicity of this layout also allows this planner to be used as a single page per week or a two pages per week spread. Though it was designed for teachers, homeschoolers and even students could get good use from this.
Ready to check them out?
Full-Size Weekly PLanner for Teachers
These ones are the full-size or letter size versions. As you can see, you can pick and choose the colours you'd like. Each one coordinates with the months in the calendar, but you don't have to use them that way if you don't want too.
Each file has two pages in it to make double-sided printing with duplexers easier. Just make sure to select Long Edge binding in your print options.
Half-Size Weekly Planner FOr Teachers
These are the half-size or half-letter size. Again, they come in all six colours and are wonderfully versatile. Their size makes them great for portability or for tucking into school books if a student is using them.
Just like the others these ones come with two pages per file for easy duplex printing. Select Short Edge Binding for these ones. You can cut them in half to punch and bind or you can just fold them in half to make a booklet.
Though I designed these planner printables for teachers, I have found so many different uses for the weekly teacher planner. I've used it for homeschooling and lesson planning and my son's used it for planning his school week.
These pages also work great for keeping track of what different family members are doing throughout the week or for what's happening in different life categories. And I can attest that it's a wonderful meal planner. I used it to help not just plan our meals, but to plan what I can make or prep ahead of time. If you're interested in seeing how I used it this way, leave a comment below letting me know.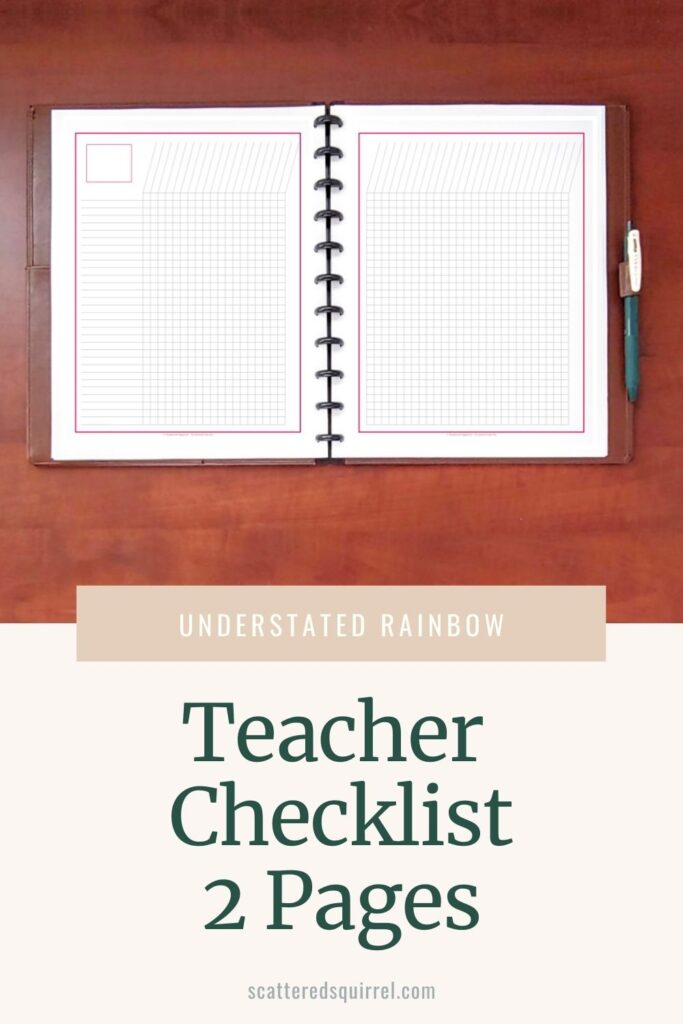 Teacher Checklist on 2 Pages
Checklists are such a versatile planning tool. They can be utilized in many different ways. These ones were designed for teachers who need to track things over the long term, such as grades, attendance, assignments, and so on.
Just like the weekly ones, they come in both full and half-size in all six Understated Rainbow colours.
Full-Size Teacher Checklists on Two Pages
The letter size checklist on two pages offers the most room for tracking. There are a total of 46 checkbox columns across the two pages and 31 rows. Each layout includes a label box at the top left corner of the first page so that you can name the checklist whatever you need to.
Half-Size Teacher Checklist on 2 Pages
The half-size version is just as versatile, though it has less space. Across the two pages in this size, there are 25 checkbox columns and 23 rows. Like the larger version, it also has a label box on the top corner of the left page so that you can label your checklist as needed.
Even though these checklists were designed for teachers, you could easily use them for something outside of education. Tracking goals, habits, household tasks, whatever you can think of.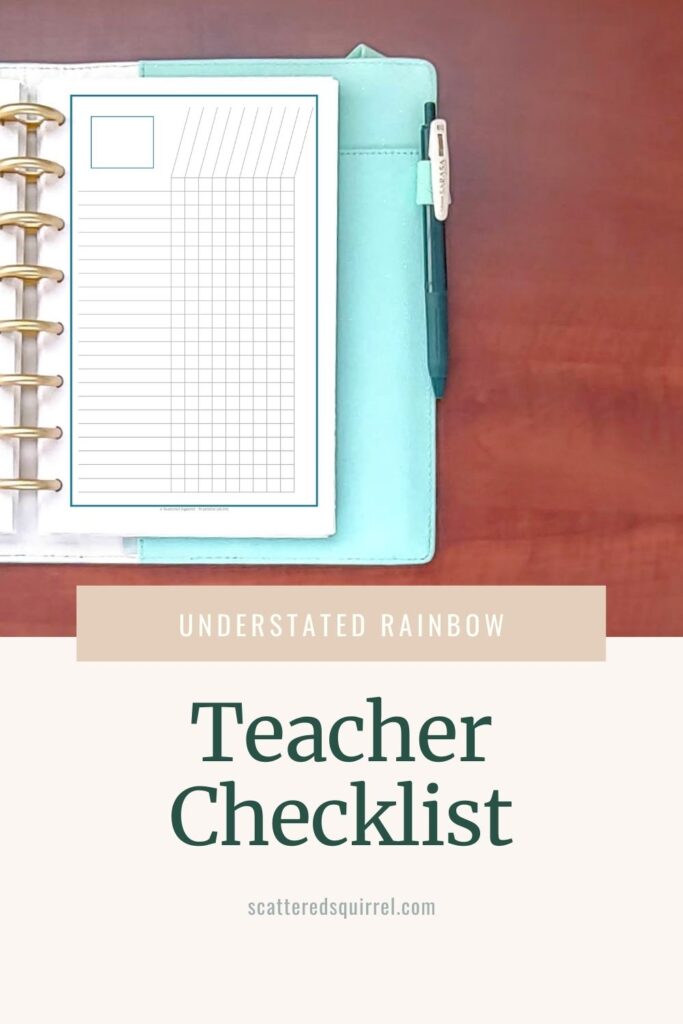 Teacher Checklist
And last, but certainly not least we have the single page checklist. These were designed for those things a teacher might not need to track a lot of. Or for those times when they need to track specific things for individual students.
Full-Size Teacher Checklists
As you can see, these are identical to the first page of the checklist above. The only difference is that there isn't a second page. The letter size features 19 checkbox columns per page and 31 rows. Each file is two pages, as the weekly teacher planners, to help make it easier to print them double-sided.
Half-Size Teacher Checklists
The half-size version is also the same as the two pages checklist, just only one page. It features 9 checkbox columns and 23 rows per page. Just like above, each file is two pages to help make double-sided printing easier. Which means you get four half-letter pages per file.
The one thing I love about the single page checklists is that they work great for creating and tracking workflows or stages in a project. I used one for my son's projects this past school year.
Across the top, I labelled the columns with the typical steps or stages of each project. Things like brainstorming, research, rough draft, first edit, second draft, second edit, final copy, etc… Then as a project or large assignment came up, I would put it on a row. This way we could keep a visual record of what stage he was at for each one.
I used something similar when we last moved. My steps were sort, purge, donations, recycling, garbage, and packed. Each row was a different room or space. I tracked where I was at in each space that way I wasn't duplicating my efforts.
Do You Need Different Planning Printables for Teachers?
As I was working on these printables I found myself wondering if there were other printables that might also be helpful for teachers. Since I'm not a teacher, I couldn't even begin to imagine what other pages might be helpful.
If there is a printable you think would be beneficial for a teacher, please let me know in the comments below. I'll see about getting more made. Or head on over to the Scatter-Brain's Guide Facebook group and chime in there.
I look forward to hearing your thoughts and suggestions.
Until next time,
Happy Printing!