Setting Up My New Planner – A Peek Into My Process
I have a confession to make – my planner stopped working for me.  
It happens.  Life changes or our needs change in some way and what worked before doesn't always continue working for us.  You know what I always say – make your system work for you, not the other way around.  So I've been taking my own advice and test driving some different planner options, and I think I'm getting really close to finding the right system for me.
thought it would fun to give you a little peek inside my process of setting up a new planner as well as sharing the new printables I made to help.
Sometimes setting up a new planner is the only way to create a system that works for you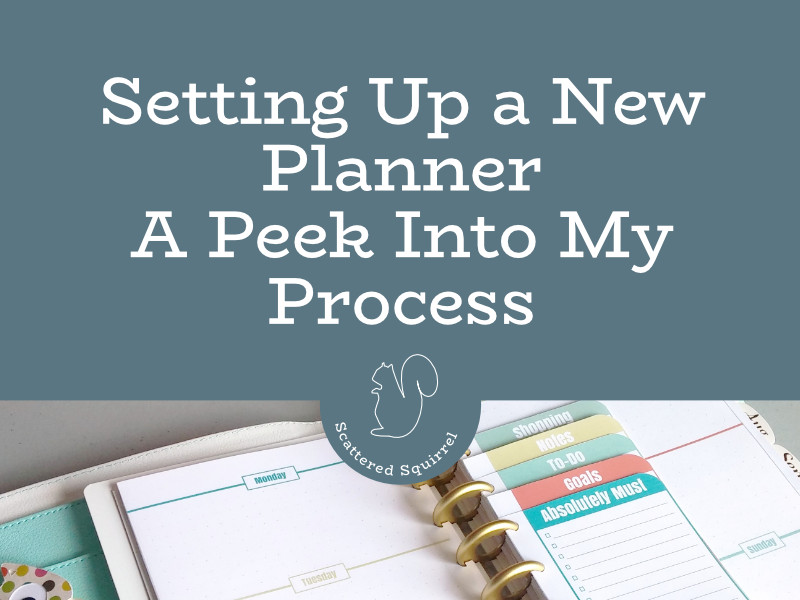 My Process for Setting Up a New Planner
When it comes to setting up a new planner or creating a new planning system I generally follow the same steps.
Step One – Narrow Down the Size and the Style
My first step was to narrow down the size and style that I wanted.
I've been using my own full-size one for some stuff, a Happy Planner for day to day home and work stuff, and I recently added a personal sized ring bound planner to the mix.
I shared the new personal size planner printables I made for it last week.
 After using this combination for a few months I realized a couple of things.
Using different planners for different purposes really works well for me
I wanted my working planner to be portable but not tiny
While I don't mind rings, I prefer the discs for my working planner
After narrowing down my needs, I opted to stick to the Arc Jr or an A5 size planner.  I'm in the middle of converting my old Arc Jr into our Home Management Binder so I was on the hunt for a second one when Shanni from PlannerMania shared the new DiscAgenda from DokiBooks on Periscope.  It was exactly what I was looking for.
Step Two – Test Drive Layouts
Once I chose my size, it was time to figure out how to use it.  Step one here was to play with the pages that came with it.  I like test driving different layouts and you never know until you try right?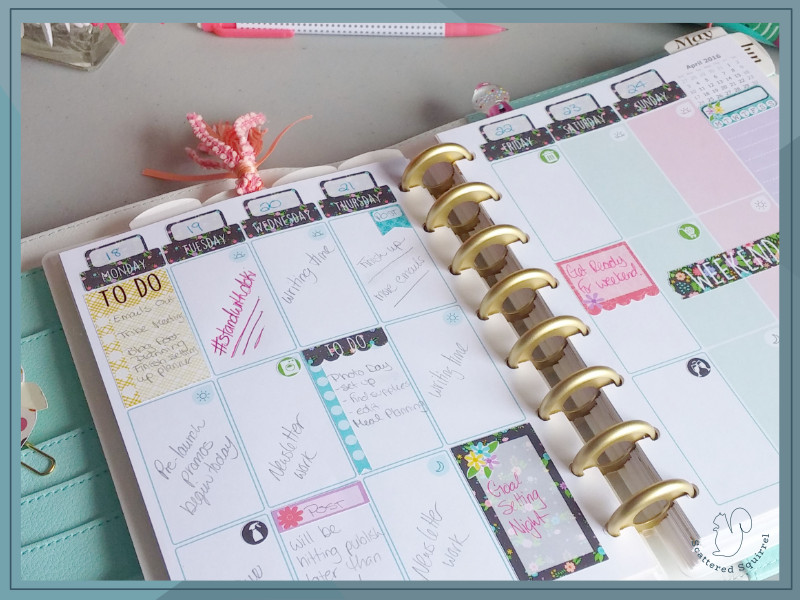 The two-page weekly spread that came with the DiscAgenda is very nice and simple.
In the photo above I've added stickers to the layout both to personalize it and to help me organize my plans.  
While I normally love this layout for a weekly planner I've been finding it a little hard to really plan my days with it, but a daily page is just too much for my needs.  
So I've decided to use the weekly pages that came with the DiscAgenda for my weekly overview and the quick planning of my week, and I made some new weekly planner printables to help me plan my days in a little more detail.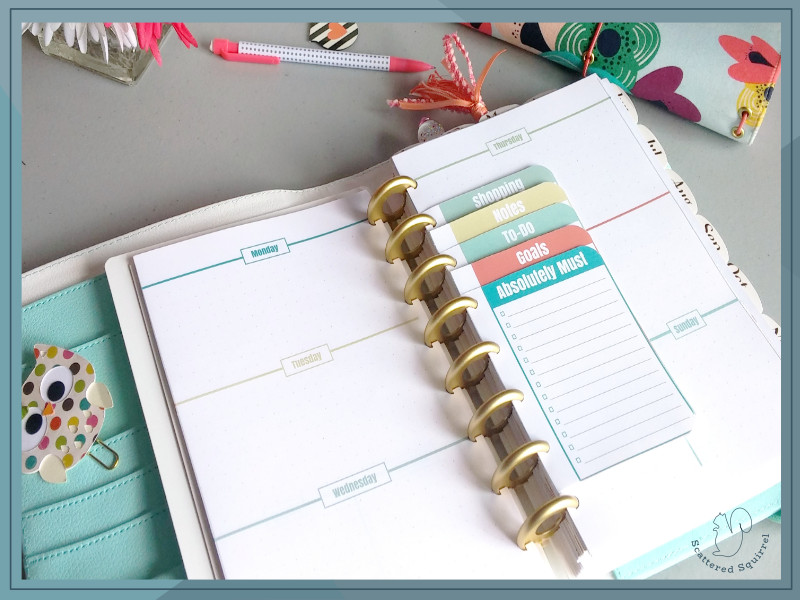 As you can see I've opted to give a horizontal layout a try, and so far I'm really digging it.  Like all my printables I kept it simple with just a day of the week labels and for something different I used a dotted grid instead of lines or leaving it blank.
The dots are hard to see in the picture, but they are there.
How to Use the Weekly Planner Printable
I designed this weekly planner printable to maximize the writing space for each half-size page.  For best results follow these steps:
go into your printer settings and select Actual Size or manually adjust the printing margins to 0.  Some printers, like mine, will still squeak in a little margin because they just aren't built to print right to the edge of the page, but setting them to 0 gets you the closest print.
make sure the paper orientation is set to landscape and paper size is set to US Letter
print
once printed, you can do one of two things:

cut in half and punch on the uncut edge
punch the left and right sides of the page and then cut in half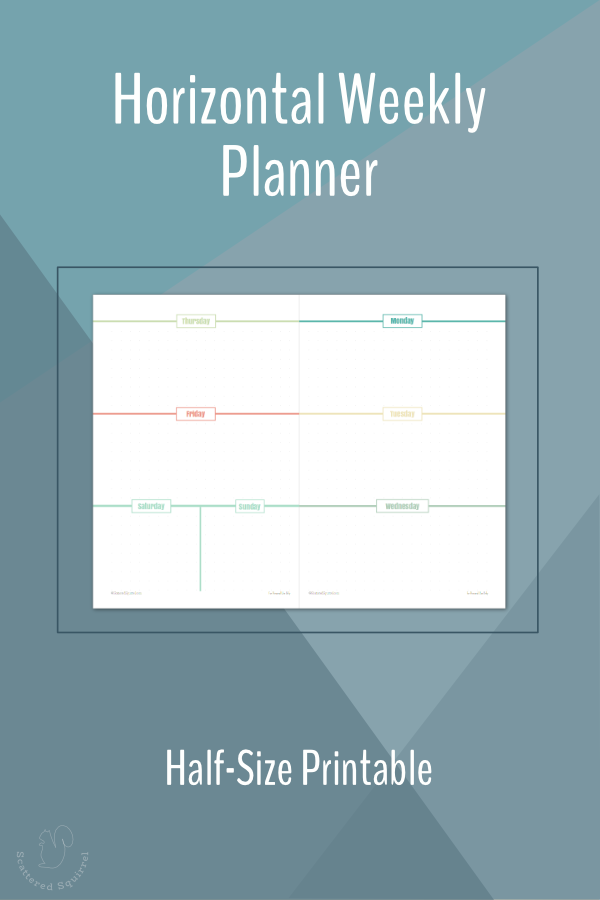 Step Three – Make Room For Growth
The next part of my weekly planning section is the stackable lists you can see on the right-hand side of my planner above.  
These were inspired by my weekly to-do list printables and I knew I wanted to add something like to the mix, but I didn't want another page to worry about. 
I created the lists so that once I cut them out and put them in my planner I could easily flip to the different categories.  They've been great for helping me keeping track of everything.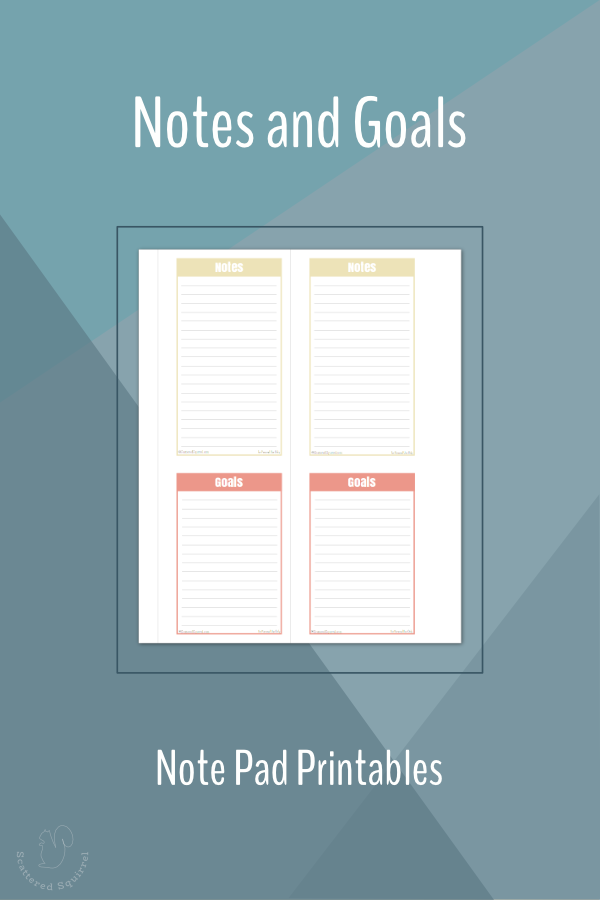 There are five different lists
Absolutely Must – for those things that are a top priority that week.
Goals – to help keep me on track.  You could use this to set weekly goals if you want.
To-Do – just a simple to-do list
Notes – for jotting down reminders
Shopping – for creating shopping lists
One of my favourite things about these printables is that it is really easy to move them from one week to the next.  
If I don't check everything off my to-do list, I can just pull it out and move it to the new week.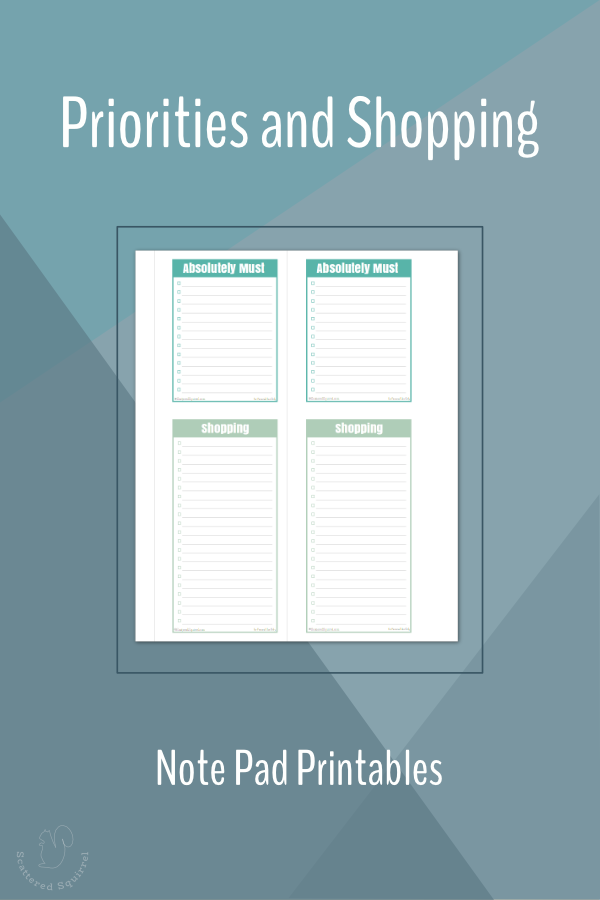 How to Print and Use the Stackable Lists
These are pretty straight-forward.
print
cut along the grey lines
then cut across the top, bottom, and right-hand side – as close to the coloured border as you can or desire
To punch them so they line up like in the photo above you can try two different methods.
Method 1: If your hole punch has a page guide, line up the bottom of the lists with that guide and punch.
Method 2: If your hole punch doesn't have a page guide, stack the cutout lists like you are going to put them into your planner, making sure the bottoms and left-hand sides line up.  Use a binder clip to hold them together, then place in the hole punch and punch where desired.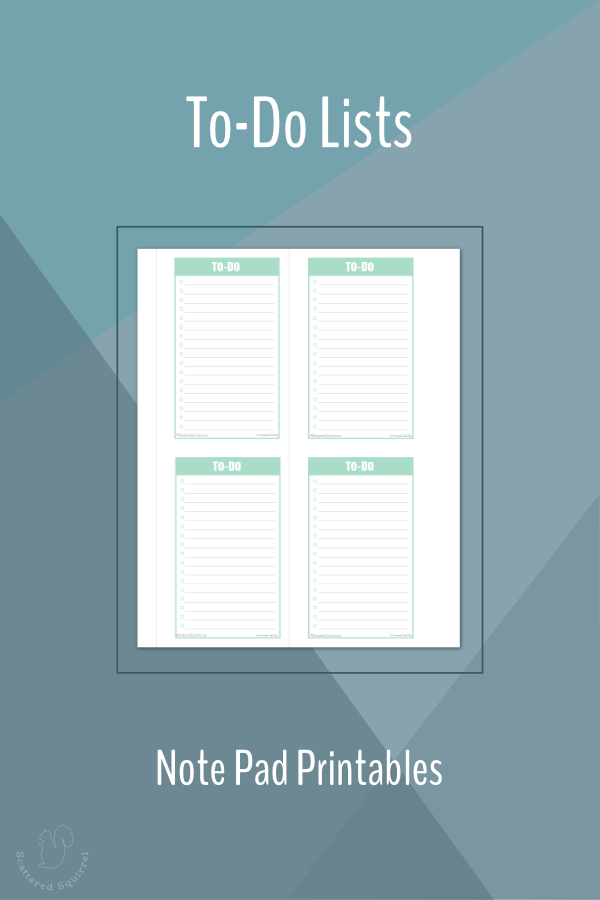 I've only been using the stackable lists and weekly planner pages for a week now, but I'm already really enjoying the flexibility they've given me.  I really like that the lists help add planning power to my weekly layout without cluttering it up, and unlike my other weekly to-do list, there is no wasted space on these ones.  
If I don't need to use one of them one week, I just leave it out and use the following week.
Additionally, I used some of the to-do list ones to create a little pad of to-do lists that sits on my fridge.  Instead of cutting along the grey lines, I just cut out along the outside of all the boxes and use a binder clip to hold them together.  
Now I can also jot down to-do lists for use outside my planner too.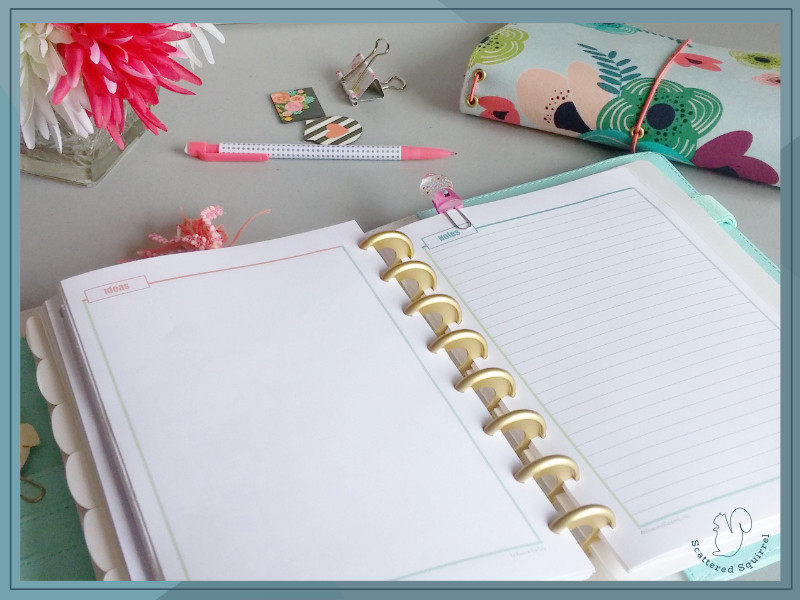 Step Four – Always Add a Note Section
I am a habitual notes taker.  I usually have a number of notebooks on the go at any one time, so creating a section in my planner for notes was a must on my list.  
However, this actually serves two purposes for me right now.  The first being a spot to jot down notes and sketch out ideas as they come to me.  The second is to help me figure out what else I might need to include in this planner.  
I plan to use both these printables to help augment my planning needs for right now.  They're flexible enough that I can create checklists and habit trackers if I need too and they can easily help me with project planning, post planning, and even housework planning.
After a few weeks, I'll have a bitter idea of what else needs to be added to my planner to make it work for me.  
Sometimes I find that by not including too many items right away, I develop a better understanding of what I naturally use a planner for.  From there, if it makes sense, I can create some printables to help fill that planning need.
The Ideas and Notes pages are done in the same layout as the weekly pages.  The instructions for printing and hole punching are the same.
The Ideas page uses the same dotted grid as the weekly.  I opted for this background because I envision this page being used for sketching out ideas and plans, holding a collage of inspiration photos, and being used for on the fly checklists.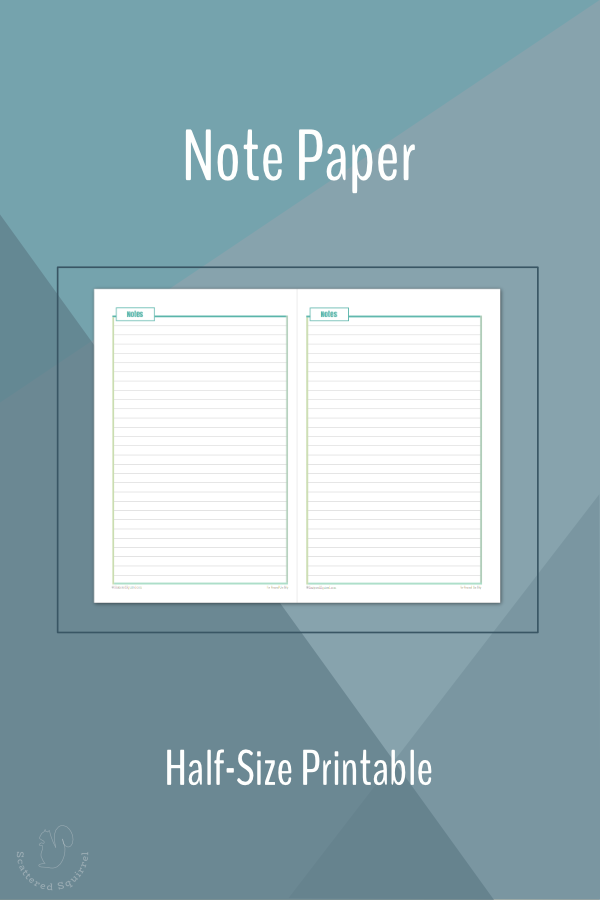 As always, to snag a copy of the printables here on Scattered Squirrel, simply click the pic of the one (or ones) that you would like to download and print.  
The Rest of the Planner Setup Process
Whenever I'm setting up a new planner, there are a few staple items that get included every time.
Monthly Calendars – All my planners have monthly calendars in them so that I can schedule monthly tasks based on what area of my life they fall into.  Generally speaking, most of those items end up either on our family calendar or in my working planner, I find that scheduling things by areas in my life helps to keep my workload balanced.
Daily Planner Pages – I always, ALWAYS, have a few of these pre-printed and stored in the back of my planner, so that on those crazy busy days I can make sure I'm on top of things.
Post-It Notes – I put small stacks of post-it notes, or sticky tabs, in all my planners.  You never know when they might come in handy for leaving yourself a note, or adding to your planning space when needed.
Coloured Pens – I like using different colours for different things.  You can create a colour-code system if that is something that works for you.  I haven't been able to create one that is easy for me to maintain, so right now the colours I use change week to week, sometimes even day today, but I do tend to use one colour for certain tasks and another colour for others so that it's easy to see the different stuff going on.
Washi Tape – Aside from being a pretty way to dress up a planner, washi tape is great for making labels on the fly, and also for sectioning off planner pages to create lists and sections as needed.
Step 5 – Add as You Go
I take my planner setup one step at a time.  I only add things when I know I'll use them, and when I do add something new I add it in on a temporary basis to start.  
If I actually use what I've added then great if I don't use it like I thought I would I don't feel guilty for printing a whole bunch of sheets I now won't use.  
I make use of post-it notes and notes pages to help create temporary sections as needed and I slowly grow it from there.
Like I always say, the system you use needs to work for you.  If you have to work for it, it might be time to look at making some changes.  Especially when it comes to tools that are easily customizable, like our planners.  They're supposed to help make our lives easier not add more to our list of things to do.
Now It's Your Turn
That's as far as I've gotten into my planner setup so far. Over the next little while, I'm sure I'll make many changes to it.
Now it's your turn!  I'd love to hear how you set up your planner, what planner you're using, and what you're using it for.  Have you found the elusive planner peace?