New Horizontal Week on Two Pages Printables
One of my favourite features of creating your planner is all the different layouts you can choose from. There are a lot of two pages per page week printables on the blog, however most of them are vertical. Today I'm changing things up a bit and sharing some new horizontal week on two pages printables.
The horizontal week on two pages layout can be such a versatile layout.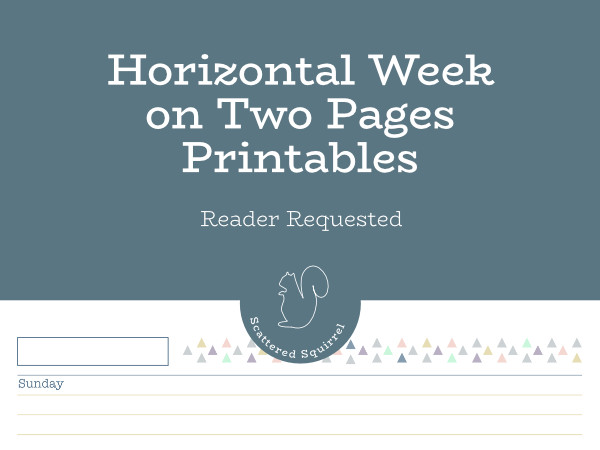 I have been having a lot of fun looking through all your printable requests. I love seeing the different needs and wants that printables can meet. Everything from planners to self-care and beyond are in the list so far. I'm really excited to be able to create the printables that YOU want and need.
Today's printables were requested by Angela who is looking for a half-size, horizontal two pages per week layout that is lined.
I don't have many weekly printables that are a horizontal layout, and with just having shared some weekly planners for teachers, I thought these would be fun to share with all of you.
The Horizontal Week on Two Pages Printables
As I was working on making these printable my mind was whirling with all the different ways these could be used. Obviously they can be used for weekly planning, but there are so many other ways to utilize them.
memory keeping
gratitude journal
food log
mood tracker/journal
quote journal
goal planner/tracker
project planning
health journal or symptom tracker
scripture journal
student planner
meal planning
home management task tracker
seasonal cleaning planner
I'm sure you can think of many more ways to put these to use. I can't wait to print some out and start using them in my planner.
Half-Size Horizontal Week on Two Pages
Normally I kick off sharing the printables with the full-size versions, but since the request was for half-size I thought I'd switch it up a bit.
These new printables were designed to go with the Coastal Dreams collection so they match the new dated calendars, the monthly planning printabless, and the weekly teacher planners.
In addition to choosing from full or half-size, you also get to choose a Sunday or Monday start day.
I kept these weekly planners really simple with just the lined day sections and an unlabeled spot for notes or lists.
The files are double-sided printing friendly which means there are two page in each file. When you are printing them double-sided make sure you select short-edging binding from the options menu on your printer.
Full-Size Horizontal Week on Two Pages
The full-size version is exactly the same as the half-size ones. A simple layout with just a little bit of decoration at the top.
Just like the half-size versions, these ones come in both Sunday and Monday Start days.
These are also double-sided printing friendly, which means there are four pages in each file. If you're printing these ones double-sided be sure you select long edge binding from the options menu on your printer.
Now it's Your Turn!
If there is a printable you've been wanting or needing, click the button below to go fill out the submission form.
I cannot guarantee that I will be able to make all of them, but I will do my best to get to as many as I can.
I can't wait to hear how you're using these. Drop me a line in the comments below and let me know if you'd like to see more horizontal weekly planners offered here on the blog.