New Horizontal Week on Four Pages Planner Printables
While today's horizontal week on four pages printables aren't student or school specific, they were designed with students in mind. Throughout my highschool years, our school always handed out planners to the students at the beginning of the year. While it was a nice gesture, the one thing I remember clearly was always being frustrated at the lack of planning space they gave us.
The weekly printables you'll find below were inspired by those old student planners, with the improvements I wished those planners would have had back then.
Horizontal week on four pages layouts offer so much freedom to plan how you need to.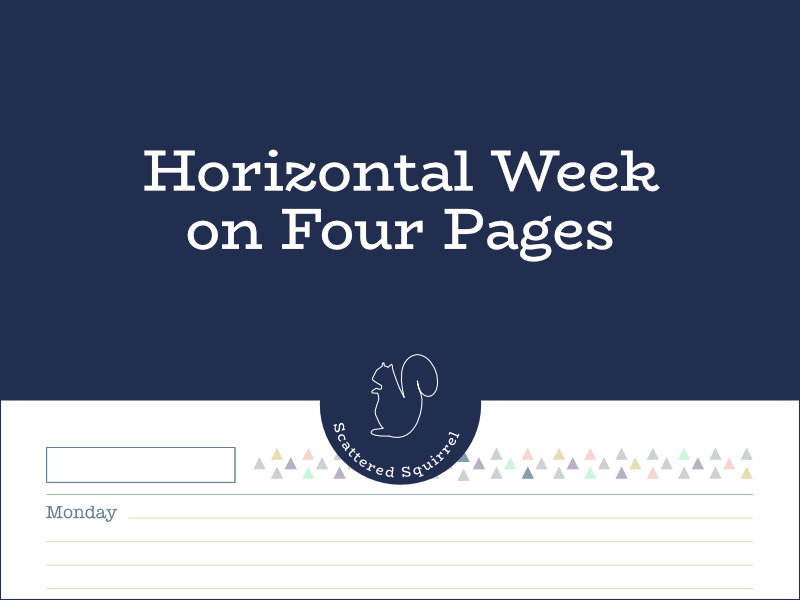 The student planners our school handed out were always full of lots of extra fluff. Math and science formulas we might need, grammar and punctuation cheat sheets, and usually a page or two of school policies. Usually, each week had a fun fact or other random info shared on it taking up valuable planning space.
They were also always a horizontal layout. When you had a really busy week, they never had enough room to write everything down in them. Often the weekend was just one space on the weekly spread. Which wasn't helpful for those of us with busy weekend schedules.
The printables I'm sharing today address all the little things that drove me nuts about those student planners from days gone by.
The Horizontal Week on Four Pages Printables
The first thing I new I wanted to do was keep these simple. Limited fluff and plenty of planning space were my main criteria. Next, I wanted to make sure that there was enough room for planning. Not just writing down assignments, but room for students to actually plan their days.
Following that thought, I knew the weekend needed to be split into two days. Weekends are a time for students to relax, grab an extra shift at work, hang out with their friends, or maybe volunteer somewhere. Whatever they do, they need to be able to have room to plan it.
One thing those old student planners lacked was any room for writing notes or reminders on our weeks. So I made sure to make room for that too. Which is how the idea of doing a week on four pages came about.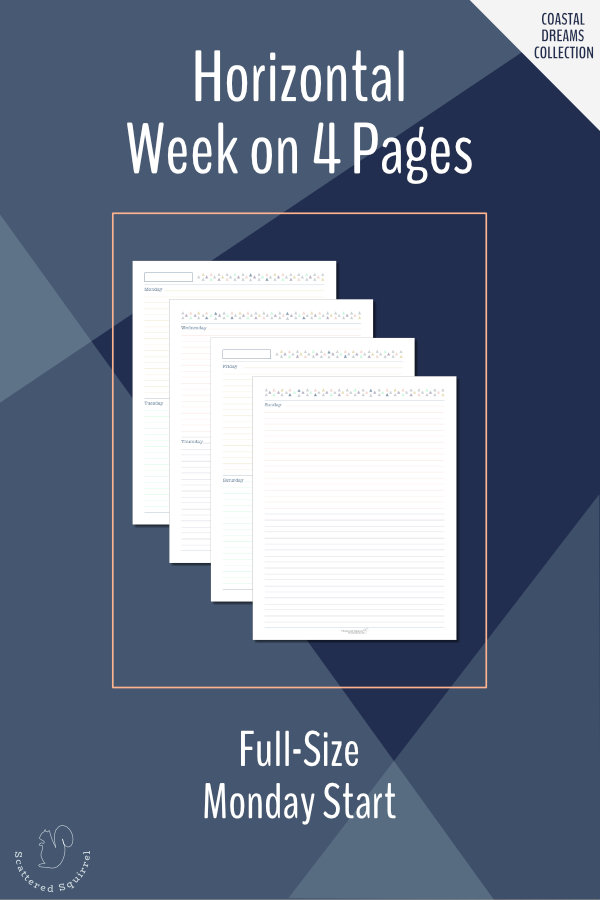 Because I was in the school mindset when I made these, they have a Monday start. Each page has two days on it, except for the last page which has Sunday and the notes section.
The first and third pages have an empty box at the top to record the dates of the week. I did that so you can always see what week it is no matter what page you're on.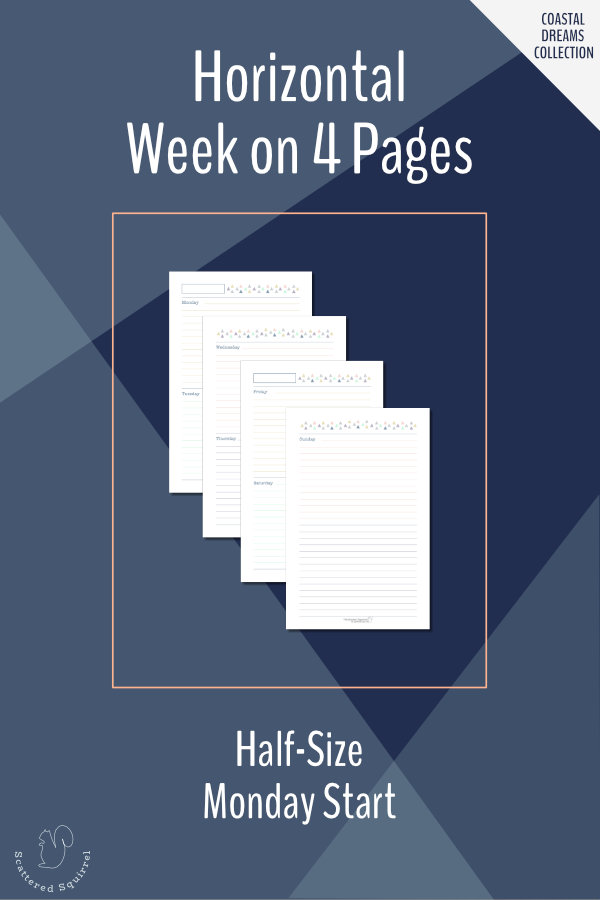 A Note About Printing
When I put together the PDFs for printing I made sure that they were laid out for double-sided printing. This means that the full-size version will look out of order when you open it.
Don't worry, it's supposed to be that way. For those with duplexing printers, you just need to select long edge binding and print. For those who manually flip the pages, print the odd pages, flip, and print the even pages.
Not Just For Students
My inspiration came from the old school planners that I used to use as a student, but that doesn't mean that I designed these planners specifically for students. I made sure to design them so that they could be used by anyone who likes the layout.
Truthfully, these horizontal week on four pages printables could be used in many different ways. I'm thinking I might use the half-size version for a gratitude journal. There's plenty of room to write down at least five things I'm grateful for, and I'll use the extra notes space for something that I'm extra grateful for that week.
I'd love to hear what you think about these. Do you think you'll have a use for them?
If you're looking for more student or school specific planner printables, hop on over to our Back to School page.
Question of the Day!
Did you have school issued planners when you were in school?
What do you remember most about them?
If you didn't, do you kids use planners for their school? What improvements would you make to them if you could?
Drop me a line in the comments down below and let me know!
If this weekly layout doesn't work for you, check out our Weekly Planner Printables page for more options.