New Weekly Planners for Teachers
I'm super excited to be kicking off a new feature here on the blog called Reader Requested. It's where I make and share printables that were requested by a reader. It all starts today with a request for a weekly planner for teachers.
Check out the weekly planners for teachers below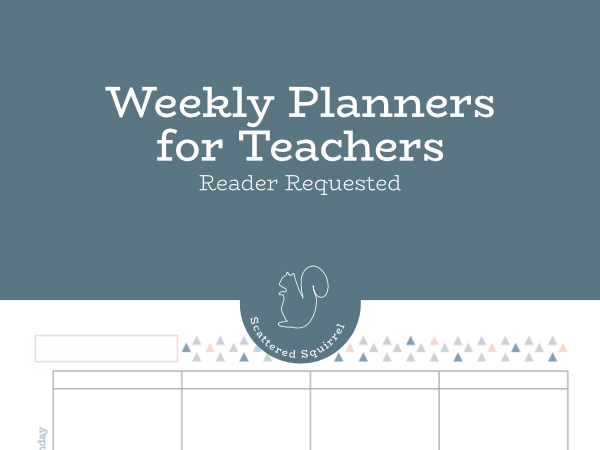 This new series is actually a reboot of an old one. Way back when I used to try to do one of these every month. I don't remember why I stopped this series, but I'm really happy to be bringing it back.
I chose to start with teacher planners because with the current school year winding down or already ended, it seemed like a good time to get these out to you.
Today's printable comes at the request of Heather. She asked for a weekly planner designed for teachers with the days of the week running down the side and columns for different subjects.
That's exactly what I did.
The New Weekly Planners for Teachers
When I sat down to design these printables I realized that I already had a weekly planner printable that was similar to the request. However, I wanted to make something that was a little more tailored to teachers. Something that offered a little more room for writing in each column. To do this, I took out the weekends.
After hours of research, I opted to leave the column titles blank. Because there are so many different subjects, or names for each subject, I wasn't sure which ones to choose. And I really want these printables to be flexible so they fit your needs as best they can.
Ready to check them out?
Full-Size Weekly Teacher Planners
Let's start with the full-size ones shall we. Because I shared the new academic calendars came out only a few months ago, I decided to make these weekly ones to match. You can choose from the four accent colours or use all them and have them match each month.
These weekly planners are double-sided printing friendly. This means that each file has two pages in it.
They can easily be used as a week per page or a week on two pages. This allows for up to eight subjects or categories to be planned each day.
Half-Size Weekly Teacher Planners
The half-size versions are exactly the same as the full-size ones only smaller. You can choose from the same four colours or all of them.
They are double-sided printing friendly, which means that there are two pages in each file. When you print the half-size with a duplex printer be sure to select "short side" binding. This will ensure they print correctly.
Different Ways to Use These Teacher Planners
Because the column headings are blank, these weekly printables offer flexibility in what you plan. Some ways to use them are:
Lesson planning
Planning by blocks each day
Activity planning
Project planning
Even if you're not a teacher there are still ways you can use these such as:
Students can use these to keep track of assignments in each subject each week
Use these to plan out after school activities
Keep track of weekday activities for each person in your family
Assign weekday chores to family members
Track crafts and other projects
Plan different life areas for each week.
Honestly, there are probably many more ways to use these than I have thought of. If you have other ideas, I'd love to hear them. Drop a line in the comments below and let me know.
What About the Weekend?
I designed these printables to work for teachers first. The extra writing room that removing the weekend created was something I felt was worth the trade off. In a pinch, you could turn a column or two into space to plan your weekend.
If you like the layout with the days down the side and columns, but need the weekend, I do have some horizontal weekly to-do list printables that are almost identical in layout to these ones.
Matching Calendars
If you haven't had a chance to check out the dated academic calendars yet, I'll link those posts here for you. You can also find them plus the 2020 calendars on the dated calendars page.
In addition to the dated calendars there are also some monthly planning printables you might find helpful as well.
How to Request a Printable
Before I sign off, I wanted to make sure to tell you how to send in your own request for a printable. You can request changes to existing printables, new colours, new printables, whatever you is you're looking for.
I cannot guarantee that I will be able to get to all the requests, though I will try my hardest to do so.
To send in a request all you have to do is click the button below to fill out the request form. Be sure to carefully read through the instructions on the form before you submit. And there are no limits, so if there are a couple printables you're looking for, please send in more than one request.
Now It's Your Turn
I am so excited to have Reader Requested back. It's a feature series that is near and dear to my heart. I like being able to create printables that fill a need and serve a purpose.
I can't wait to hear your thoughts on the new printables and the new series. Be sure to drop me a line in the comments below and let me know what you think. Will these printables come in handy for you?