Customized and Custom Designed Printables
I am so excited and nervous to be writing this post.  Over the moon with a stomach full of butterflied excited!  I've been busy working on a project that finally starting taking real shape last weekend.  It's been killing me, not saying anything, but I wanted to wait until everything was in place before I spilled the beans.  And you know what?  Everything is ready!!!  So it's time to let you all in on the secret – I'm happy to announce that I am now offering Customized and Custom Designed Printables!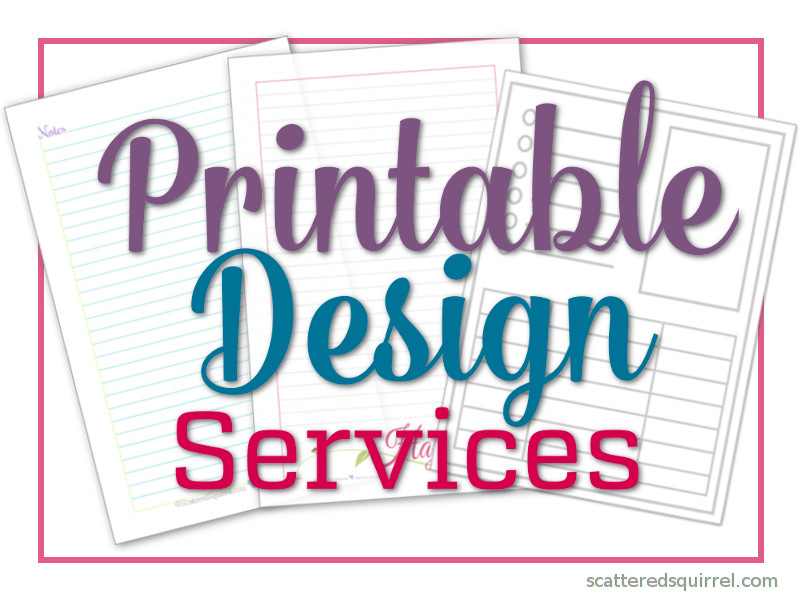 Back when I chose the word 'adventure' for my word of the year, I had NO idea that this was going to be one of them.  The seed for the idea was planted a while ago, but it was kind of scary and intimidating, and I sort of shoved it into the back of mind where it could wait until the right time. As with most things in life, there is never a right time.  This month I decided that it was time to stop waiting and start doing.  With the summer months approaching, it's the perfect time to launch something like this.  I have two whole months where our schedules are lighter to get my bearings.
Customized and Custom Designed Printables
As you know, I love making printables.   Right now there are over 200 printables that are currently offered freely here on Scattered Squirrel.  That's a ton of printables and I keep adding to them as new ideas pop into my head or when you send in a request for something new.  Now, I'm adding on a new layer to those one with my Customized Printables.

Customized Printables
You find a printable here on Scattered Squirrel, and you really like it but…. the colours aren't you!  Or maybe you'd like it better if the titles were changed or a few tweaks were made to better fit your needs.  Or you're thinking you want to make a planner for a friend for a birthday or holiday (my Dad did this for my Mom this year and she LOVED her planner) and you'd like to have something personalized to suit them.
That's what this new service is all about.  Little tweaks and changes made to existing printables so that they fit YOUR tastes and needs better.  This service provides
customized colours
customized titles and other text
minor change to the layout
personalization to any of the printables
I won't bore you with all the details now, but if you'd like to know more, and find out how it works – hop on over to the Customize Printables Page and check it out.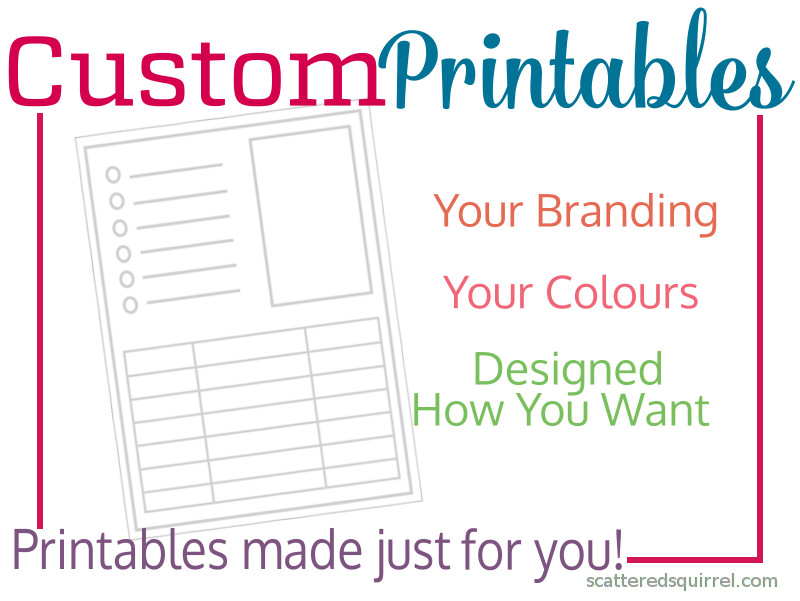 Custom Designed Printables
This part of my new adventure is for those looking for something designed completely for them.  A product they can take away with them and do what they want with it.  Bloggers, business owners, consultants…. anyone who is looking for something tailor to match their brand and meet their needs.  It's a total, from the ground up printable design service.  At the end of this process, you're left with a printable that is all your own.
You can
share or sell them on your blog/website
include them in an e-book
use them as part of your e-course
sell them in an e-store
use them in your coaching service
use them with another product, (maybe you make planner covers and want inserts to go with them?)
use them to organize your own business.
For example, a friend of mine asked me to make her a few printables that she could use to make an appointment book and customer files for her dog grooming business.  She wanted space for specific information for each appointment slot in her appointment book, and she wanted something that would allow her to have important information about each client at her finger tips.  So I worked with her to come up with something that fit what she wanted.
There are so many different ways this service could be used – again, I won't go into too much detail because I've already covered all of it on the Custom Designed Printable Page
What About the Free Printables?
I know this question is going to come up, so I'll answer it now. The free printables are here to stay, not only that – I have a ton more I can't wait to share with all of you.  I love creating and sharing the printables, these two new things are just an addition not a substitution.  As this little blog of mine grows, so do my dreams for it and myself, but sharing printables and taking requests will always be a part of that.  They are not going anywhere!  🙂
---
This my friends, is the project I've been working on for the last little while.  Fine tuning the details, creating the pages, and getting everything all set up has been an adventure all its own.  I don't where this new adventure is going to lead me, but I do know that the free printables, the blog posts, and the reader requests will continue.  I love being here, chatting with you, sharing with you, and making printables for you.  This new service is just an extension of that.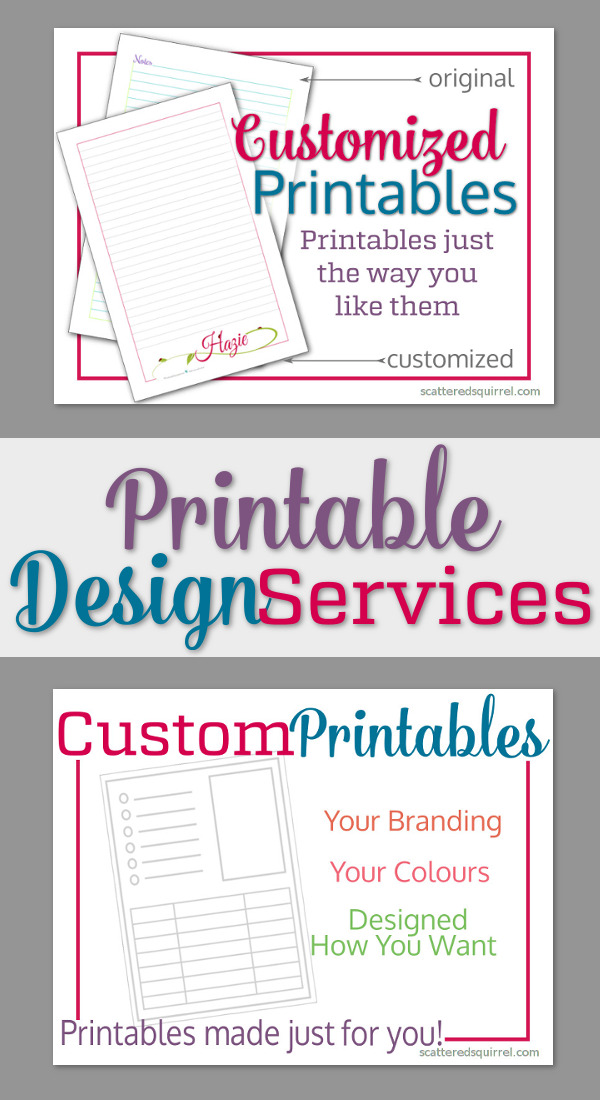 Inquiring minds want to know – what do you think?
~Happy Weekend~