Stay On Top of the Details with Monthly Planning Printables
Where did the month go? How is it already a new month already? It can't possibly be the end of the month can it?
I swear I find myself asking those questions every other month if not more often. If you find yourself there too, you're not alone. And if you find yourself staring at the calendar and your unfinished to-do list, you're not alone either.
That's the main reason I made the monthly planning printables I'm sharing with you today.
The monthly planning printables offer a way to stay on top of your goals and to-dos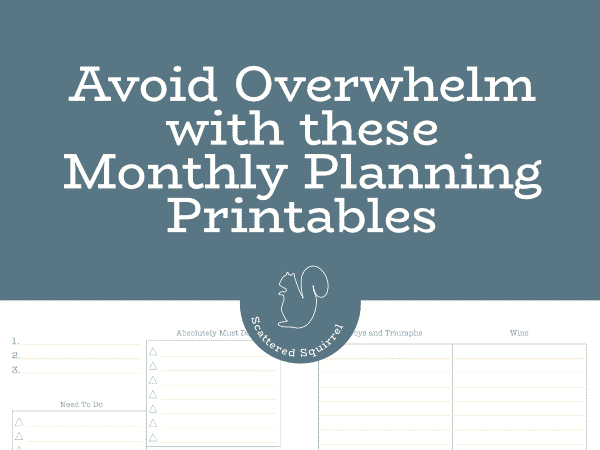 This post contains affiliate links. We may earn a commission for purchases made through these links. See our disclosure policy for more details.
I like to think of monthly planning as the foundation to my planning system. It's where all the big things go. Appointments, meetings, projects, no school days, vacation days … all the things I need to know are happening. Seeing those allows me to plan our days and weeks accordingly.
It's not always feasible or practical to put everything you want or need to do on your monthly calendar. Having a way to plan tasks for the month that work with your monthly calendar is a great way boost productivity.
That's where the new monthly planning printables will come in really handy. They add extra planning space to your monthly calendars. This allows you to stay on top of the details without feeling overwhelmed.
The Monthly Planning Printables
I spent a lot of time thinking about the purpose of these planners. I wanted to them to be highly functional but also to encourage realistic expectations for the month.
They needed to be more than just another to-do list and more like a system in their own way. One that will help focus on goals for the month and show allow for improvements in the future.
Monthly Planning Sections
The first is the planning section.
An area structured to help you focus, not just on the things you need or want to do, but to also help you prioritize those tasks. That way you know what you need to focus on to start with.
Over planning your month is really easy because it feels like there is so much time to get stuff done. This section is designed to help keep expectations realistic.
The second section is for reflection.
A place to document your wins, favourite memories of the month, or just your thoughts and feelings on how the month went. It's also a place to look at what didn't work and make a plan for how to change it next month to do better.
I think it's important to take a look at both our highs and our lows and figure out how to change or adjust things to do better next time. This is how we build systems, habits, and routines that work for us.
Sizes and Layouts
In addition to the function of these planning pages I also wanted to make them work with all the different calendars I offer. I wanted to make sure you could easily use them, regardless of which monthly calendar you use.
Choose the size and layout that you like best, or that matches the size and layout of your calendar and check out the printing instructions below.
How to Print the Monthly Planning Printables
These are the monthly planning pages that I designed to match the new dated calendars. You don't have to use them with the calendars, but they make a great team.
Printing these planning pages is actually really simple.
If you're printing them on the back of your dated calendars, print your calendar first. Then flip or rotate your printed calendars (depending on your printer) and then print these ones on the backs.
Choose Your Size and Layout
Each of these printable sets were designed to pair up with a dated calendar which means that each one is slightly different but the main parts have stayed the same.
Choose the one that works best for you.
I hope you enjoy using these monthly planning printables. I know they are a little different from my previous monthly planners, but I hope that they'll be helpful for you.
If you prefer the old monthly planners, don't worry, I have already planned to make an updated version of those to match the new calendar designs. Those will be coming out later this year.
I'd love to hear your thoughts on these new planning pages. Feel free to drop me a line in the comments below and let me know what you think