Home Organizing Planner and Some Free Printables
Happy Monday everyone!  I know this post is coming out late, I've been fighting with my computer today.  For whatever reason it seems to want to take it's sweet time doing anything.  It's been rather painful trying to get anything done.  But using a little pertinacity I was able to get everything finished in time to post this today.  I haven't actually fully completed any organizing projects to share yet.  I spread myself a little thin between a few different projects, but that doesn't mean I haven't been working away at some and planning others. To help with the planning and maintaining stage, I've decided to finally create a planner I've been toying with making for a while now; a Home Organizing Planner.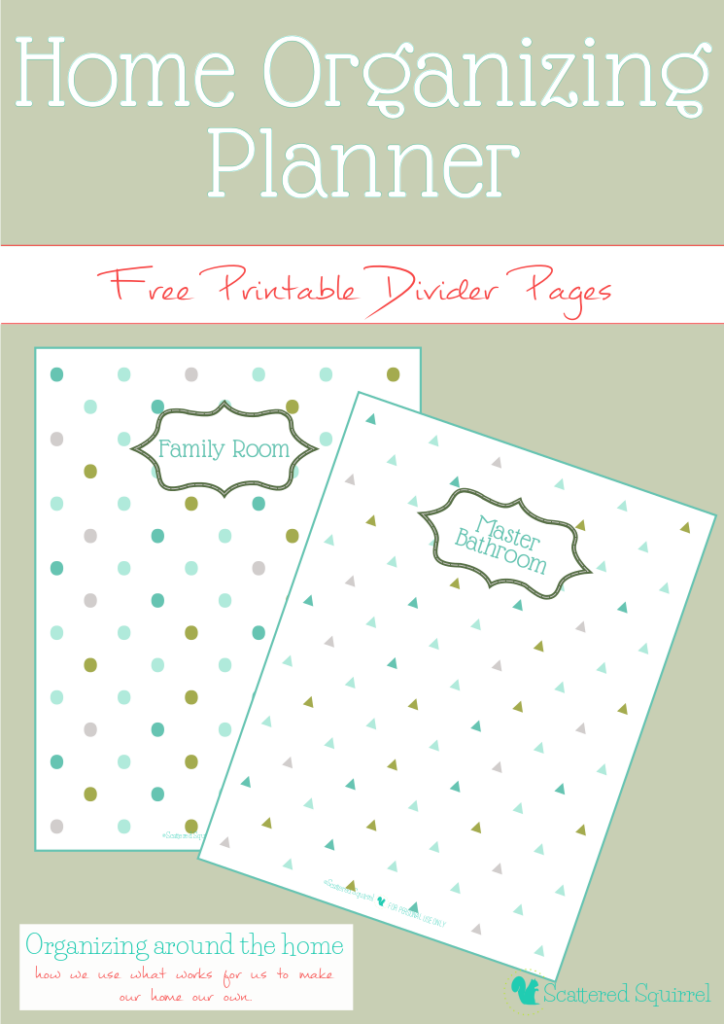 As I mentioned the other week, I'm working on getting our home organized.  I have tons of notes jotted down here and there.  Some are in my HMB, others are on scraps of paper sitting in a pile on my desk from my last organizing attempt in my office.  Looking at all these notes in all these different places made me realize that I need somewhere to put them.  Now I could just make a section in my HMB, and call it done, but that didn't really appeal to me.  Maybe I'm just a crazy, maybe I have a slight addiction to planners (ok a large one) but I really like the idea of having all my organizing notes in one place.  So this planner is going to be the place where I keep all those notes I jot down about ideas, baskets/bin sizes and styles, lists of things we need, ect….
I've been toying with this idea for a long time now, and I finally decided to jump in and do it.  I figure, even if no-one else wants to make one, I'm sure some of the printables will come in handy for other things, because you all know I can't say something like "I'm making a new planner" without making printables to go along with the idea!
The first step to making any planner (after the idea stage) is always to gather your supplies.  Here are the supplies I'm using.
Binder for now.  I have an ARC punch and some spare discs, so I might switch later on, but I think a binder will work well for this planner.
Page Protectors
Post-It or Avery stick on tabs to make dividers
Pens in various color (I just like color)
Paper both printer and lined (or graph)
Printer Ink (Sadly, I'm lacking any color ink for my inkjet, so I'll be using our black and white laser to start)
Hole Punch
Printables
Once you have the supplies of your choice, it's time to have some fun with the printables.  Today I'm sharing the divider pages.  There is one for each room, that I could think might be needed, as well as one blank one for you to fill in for those odd ball rooms.  I put them all into one file, so you might have to play around with your printer setting to print the right ones.  Let me know if choosing individuals would work better for you.  Because there were so many printables, I thought this way might work better.
I did have a little trouble with one part, I couldn't decide which background I liked best, so I decided to go ahead and share both of them.
Like I mentioned above, all the PDFS for each background are combined into one file, and they each include the following:
Basement
Bathroom
Bedroom
Blank
Craft Room
Dining Room
Entryway
Family Room
Garage
Guest Room
Half Bath
Kitchen
Living Room
Laundry
Master Bath
Master Bedroom
Mudroom
Office
Outdoors
Playroom
To print only the dividers you want or need, go into your print options and select 'print pages' then include the page numbers for the ones you want.
Once you have the dividers you want printed out, pop them into page protectors and add sticky tabs if you want.  They help make it easier to find what you're looking for.  Right now, behind each divider I'm going to be putting a couple sheets of lined paper to use for jotting down notes until I have the other printables finished.
Am I the only one who takes/makes notes about their home?  Is anyone going to be making a home organizing planner with me, or do you all think I've lost my mind?
I hope you all are having a great start to the week.  I'll see you all on Wednesday when I will finally, (hopefully, fingers crossed) have the living room finished and photographed!  Until then….
Happy Organizing!