Printable of the Month: May
*** This offer is now over, check the Printable of the Month tab for the newest one ***
Happy Friday! I don't know about you but I lost a week. Somewhere between enjoying the warm weather and fighting with my card reader I lost the whole week. Sadly it looks like my memory card is to blame not my card reader which means the before pictures I took for the last few projects are trapped with no way to get them off, yet…. I haven't given up on it though I will find a way to get them. In the mean time I've been working on more printables for my Home Organizer, and so far I'm pretty happy with how those shaping up. I'm sharing the next one today as this month's printable.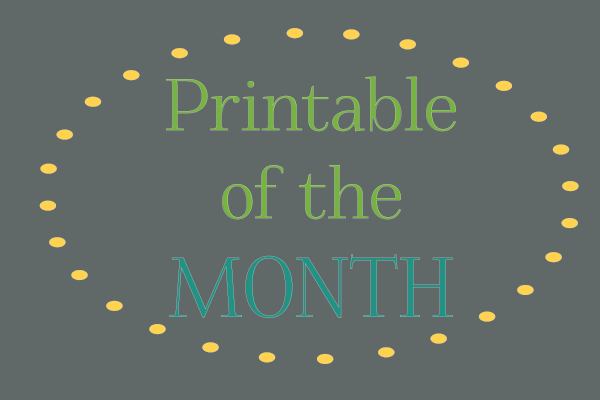 All good planners need a cover page. For me the cover page is essential. It tells me what the planner/notebook/binder is for, and saves me from opening up a bunch of different ones to find the one I need. Making them cute also helps. This month I thought it would be fun to have the cover page as the Printable of the Month. I like being able to have a little personalization to my planners, and it also helps define the planner as mine and not for others in the house to be raiding for paper or what have you. I opted to keep the backgrounds the same as the ones I used for the divider pages earlier this week, in fact I didn't tweak much just made the label box a little larger and chose a different font for the cover. All in all I'm really happy with how they turned out. If only I could pick which background I like best I would be set.
You can scroll down to the bottom of this post for the form to fill out to get your own personalized cover page. If you would rather not fill out the form, or if you would prefer to just have a basic cover page, then I've got you covered too! Simply click on either (or both if you want) of the ones below.
The personalized options for these printables are available until June 1st, 2014, and the generic ones will remain on the blog as part of the printables collection for the rest of time. 😉 I'm super excited to get more of this planner put together. The more I think about it, the more ideas I get for what to include in it. I'm really looking forward to having all our organizing ideas and plans for the future all in one place.
Oh, before I forget, if you put in a request for last month's printable and haven't received yours yet, don't worry. I will have the rest of those coming out later today and what ones I don't get sent out today will be on their way to you tomorrow!
I hope you'll join me next week when I FINALLY start sharing some of our organizing projects. If I can't get the before photos off the memory card I'll see if I can find some from general life photos or what not, or skip the before shots all together I guess. Thankfully it was only two rooms, and a few projects. I guess it could have been worse, always look on the bright side right?
Do you have an organizing projects on the go? Got any plans for this weekend?
Happy Printing!