My Favourite Picks from the Ultimate Homemaking Bundle
The Ultimate Homemaking bundle is one that I wait all year for. The team at Ultimate Bundles always curates such a wonderful collection of different resources that touch on so many great topics related to home making.
Every year a few of ebooks, courses, and printables jump out at me, so I thought I'd take a little time to share with you what I'm really loving in this year's bundle.
What am I loving most from this year's ultimate homemaking bundle? Keep scrolling to find out!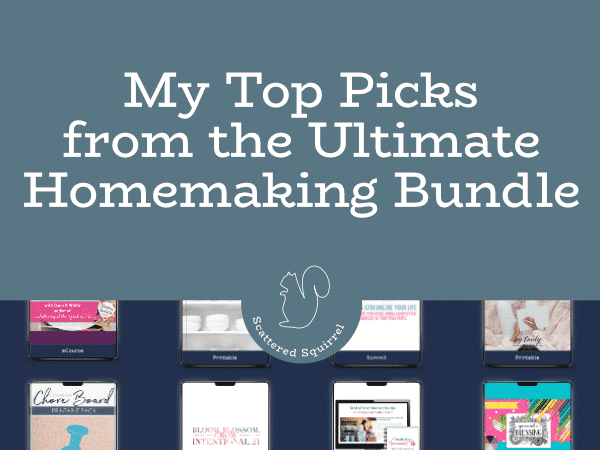 This post contains affiliate links. We may earn a commission for purchases made through these links. See our disclosure policy for more details.
One of the things I love most about this bundle is that they cover a wide variety of topics. The touch on all the things that go into creating and maintaining a home you and your family love, as well as some other helpful categories.
Topics like self-care, parenting, marriage, and even work from home. I love that they recognize that homemaking is more than just cleaning, organizing, cooking, and decorating. It's one of the reasons why I love this bundle so much.
A Quick Note About Bundle Sales
Bundle sales can feel really overwhelming. They are full of a ton of different resources and it's not uncommon to feel like you won't really use all the items in the bundle. I talk a little bit more about why I love bundle sales and how I shop them in another post. You can click the link below to learn more.
Check out the post The Brilliance of Bundle Sales
The main thing to remember when looking at bundles like these is that you don't have to use everything in the bundle. You'll still save a ton even if you only want a few. (Some of the resources and bonuses alone cost more than the bundle).
That's how I always approach it. I look for what I really want or need at the time the sale goes live. You have a whole year to download everything, so you can always go back and grab more later
My Top Picks from This Year's Homemaking Bundle
There are so many good choices in this bundle. I actually think I'll probably make my way through the whole thing over the next few months, but today I'm sharing the eight that I cannot wait to dive into.
To make it easier for you to find them in the bundle, I've separated them by category. First up is the Home Management category.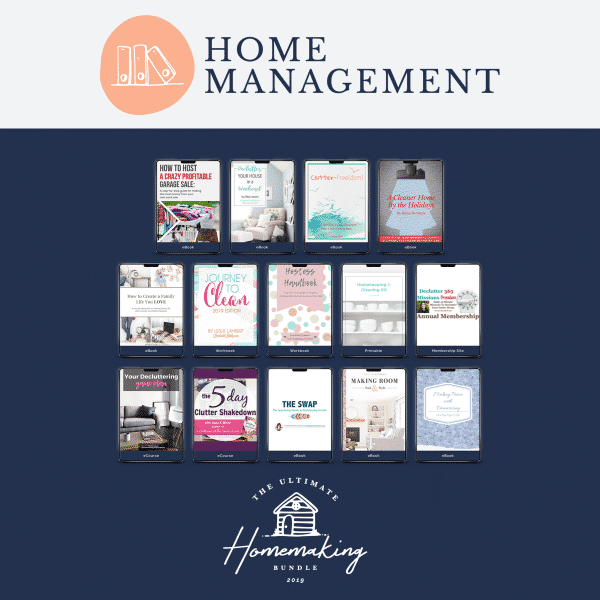 Home Management
Between working from home and home schooling I spend a LOT of time at home. You'd think that would make managing and maintaining our home easier, but it presents its own fair share of challenges.
I'm always on the look out for books and courses that will help motivate me to get back on track or maintain our systems. My top picks from this category are both super focused on the areas I feel need the most on going maintenance.
The 5 Day Clutter Shakedown
The 5 Day Clutter Shakedown is an course created by one of my favourite decluttering and organizing gurus, Dana K White from A Slob Comes Clean. Though the name says 5 days, you can take as long as you want with this one.
Dana's decluttering strategy is designed so that you see progress right away. I don't know about you, but sometimes the thought of the mess that organizing creates is just too much for me. I have enough mess to deal with some days. Dana's way of tackling decluttering and organizing doesn't make a mess.
I love that this is a course and not an ebook. I find that with courses there is a little more accountability and encouragement, which help me to keep moving forward.
Homekeeping and Cleaning Kit
The Homekeeping and Cleaning Kit is a printable designed by Becky Rapinchuk from Clean Mama. Her system for home care and cleaning is designed to be simple and easy to follow.
While I have a variety of cleaning checklists here on the blog, Becky's include her system to take the thinking out of housework.
There's not thinking or planning needed, just check the sheet to see what you're supposed to be working on that day and go do it. Simple, effective, and so handy for my poor scattered brain that is trying to keep track of so many other things.
For Kids
I love that there is a section of resources focused on kids. While this section is full of some amazing content, one stood out the most to me.
Chore Board Printable Pack
The Chore Board Printable Pack by Jessica Evans from Follow My Arrow is just the answer to my on going problem of not sharing the housework load with the whole family.
I love that I can just print what I need to set up a chore system for the kids (well the kid, since my oldest is now an adult) and I don't have to think about it too much. It gets us up and running with a chore system without a ton of effort on my part.
Creativity and Decor
Oh this section captured my heart! I'm horrible at decorating my home. There are so many options out there that I think I end up with decorator paralysis. However, as tempting as it was to include ALL the items from this category in my lists I narrowed it down to one.
How to Pick the Perfect Color Palette: For Adult Coloring, Art Projects, Graphic Design, and More
This is another course and it was designed by JoDitt Williams and is hosted over on Skillshare. Though it was designed for adults who like to color, there are so many good tidbits of information in this course that can be used in so many other areas.
Colour is one area that I have no trouble with when I'm working on printables, but when it comes to how to make it work in my home I get stuck. I'm really hoping this course will help me feel more comfortable working with colour in my home, because I am honestly getting a little tired of playing it safe with neutrals all the time,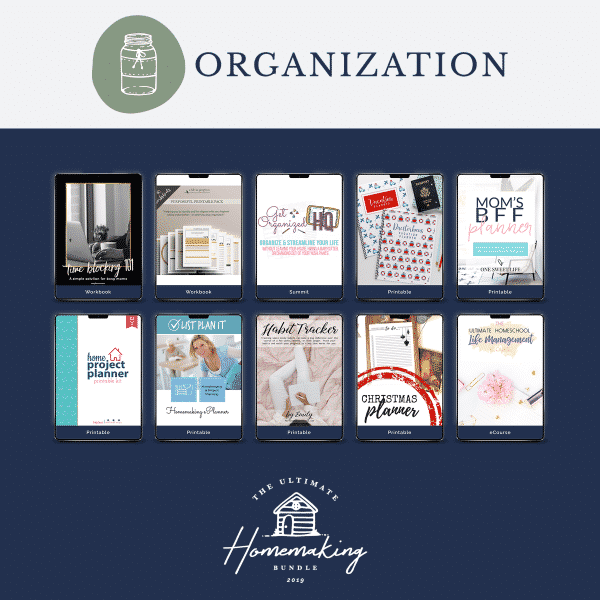 Organization
Oh boy! This category was the biggest draw for me with this bundle. Every year they fill it full of so many organizing goodies. Again, I had a hard time narrowing it down to my top picks but there were two that really jumped out at me.
Get Organized HQ: 2018 Virtual Summit
The Get Organized Summit by Laura Smith from I Heart Planners was fantastic! Everyone I know who attended the virtual event loved every minute of it. If I was only going to pick one organizing resource from this whole bundle, THIS is the one!
The summit covers everything you could possibly need or want to know about organizing. Its full of motivation and nitty-gritty how-tos. Whether you're just getting started with getting organized or are a seasoned pro, there is something for everyone in this one.
Habit Tracker Bundle Printable
I am a big believer that building healthy habits is super important for creating and maintaining systems that keep our homes and lives running smoothly. That's why I was really drawn to this Habit Tracker Bundle Printable by Emily Bredeson from Morning Motivated Mom.
The idea of having everything I need to develop and track my habits in one easy to access printable bundle is awesome! Again, like the Homekeeping one, it just takes the guess work out what I need to do next.
Self-Care
Last, but certainly not least, is the Self-Care category. Self-care is often the first thing I knock of my to-do list when I'm short on time. I'm slowly trying to change that habit, and because of that I'm always on the lookout for ideas or ways to incorporate self-care into my daily routines.
The one thing I've learned about self-care this year, is that it needs to be intentional. So I'm hoping that these two resources will help me works towards not just being intentional with my self, but the rest of my life as well.
Create Your Intentional Life Masterclass
This actually sounded a little intimidating to me but it also intrigued me. Created by Brittany Ann of Equipping Godly Women, this course is was created to help participants figure out what matters most in their lives. Then take that and intentionally incorporate it into daily life to create a life that you love.
There is a workbook that accompanies the five video lesson which I always find helpful for getting the most out of a course. I'm waiting until our school year is over before I start this one because I want to really dive as deep as I can. Summer break can't come fast enough for me this year
Intentional 21
Intentional 21 is workbook/guided journal created by Satya T Nelms from Satya Nelms. The purpose of the journal is to get you thinking and reflecting on the things that are important to you. This is just what I need to fill the time between now and when the school year is done.
I love to journal, though I rarely make time for it, so in a way this one sort of fills two needs. I'm interested to see what the end result is. My hope is I'll have a better understanding of myself at the end.

Why I Love Bundles
Those are my top eight picks from the whole bundle. There are 104 products total in the bundle, but these are the ones that jumped out at me.
The ones I cannot wait to dive into.
The ones that answer a question or fit a need I currently have.
I'm sure that I'll probably work my way through most of this bundle, but I'll be starting with these ones. And even if I only use these eight, I'm still getting a pretty nice deal.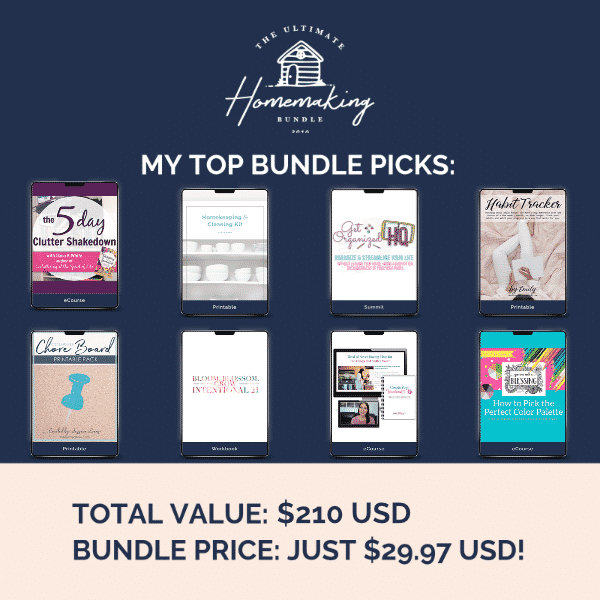 This is one of the reasons why I love bundle sales like these so much!
You do not have to want or need all the resources to still save. To take a peek at these and the other resources in the bundle by clicking on one of the Learn More buttons in this post.
Scroll down the sales page until you find the product images. If you hover over an image a text box will appear. At the bottom of the box will be the normal cost of the item.
Make a note of the price of the items or items that catch your eye. If they're more than the cost of the bundle, you know you'll be saving by buying now.
This is how I decided if a bundle is worth purchasing or not. I haven't yet regretted investing in the bundles I've bought. I find them a great way to stock up on ebooks and courses that will teach me something new or help strengthen skills.
I hope you enjoyed a peek at my favourite products from this year's Ultimate Homemaking Bundle. The sale runs until the end of the day on May 6th, 2019 if you're interested.

Have you checked out the bundle? I'd love to hear what your favourites from it are. Drop me a line in the comments below and fill me in.