Structured To-Do Lists to Help You Organize Your Day, Week, and Month!
To-do lists are a fabulous way to keep track of all the things we need to do. But sometimes, they can be overwhelming or feel chaotic if we have too many different kinds of tasks mixed together. That's where structured to-do lists come in handy.
The to-do list printables I'm sharing today are designed to help us organize our tasks so we can plan our time accordingly. Whether it's a busy day, week, or month, I've got you covered.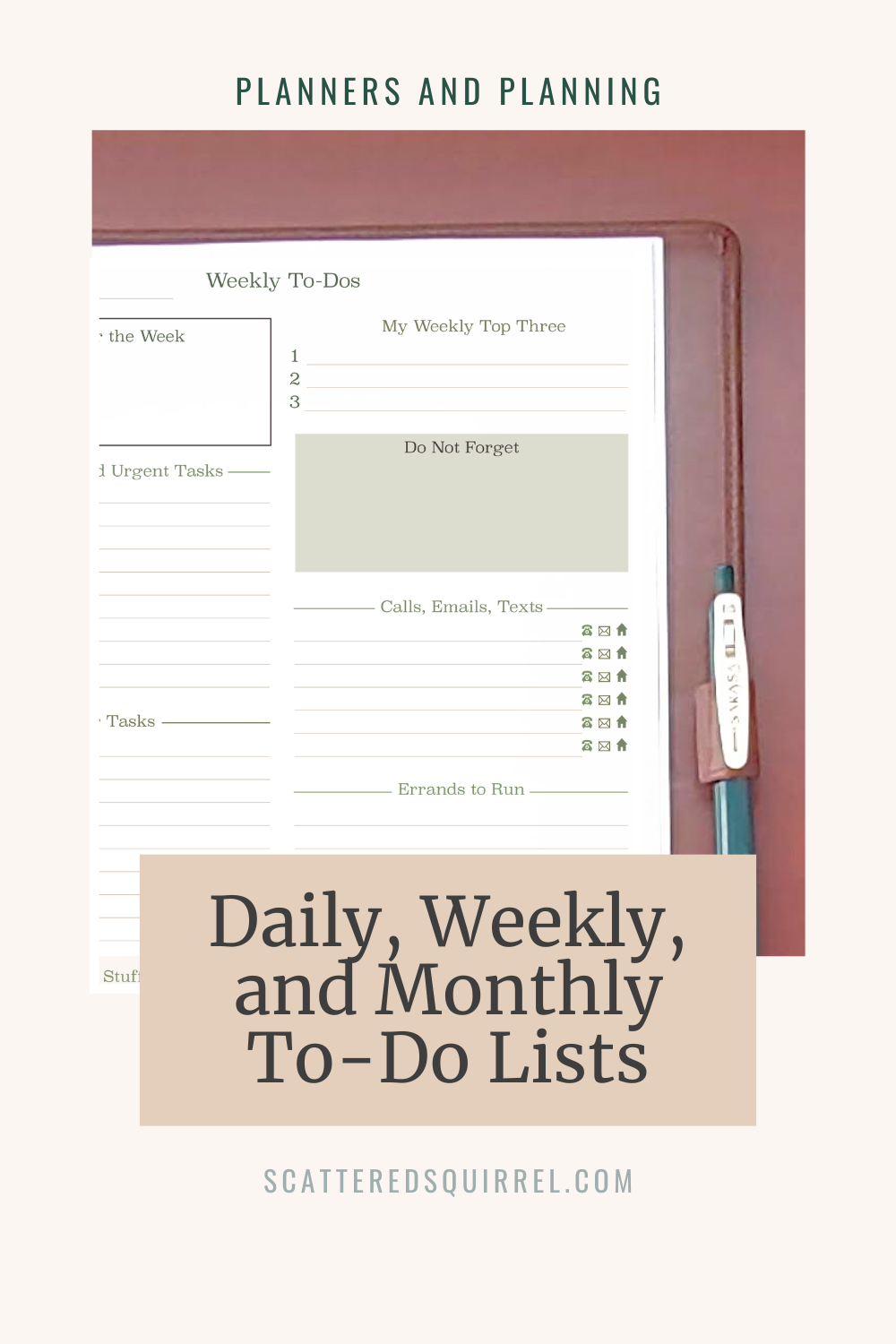 Structured To-Do Lists
I shared the first versions of these structured to-do lists waaaaay back in 2014. It was the weekly to-do list and it was created at the request of one you. Over the years it's evolved and I added in the daily to-dos, then the monthly version. These to-do lists are fabulous for creating an organized and categorized to do list for a day, week, or month.
Ready to check them out?
Daily, Weekly, and Monthly To-Do Lists
The first thing you should know is that there is only one difference between these three printables – the title. The structure and the sections are all the same. And now that I'm typing those words I realize that I could probably have just made one and called it a to-do list. But there's something nice about being able to see it's for a day, week, or month. At least I think so.
They come in both letter and half size, so I'll share them side by side in the daily, weekly, monthly order to keep it simple.
One of the things I really like about these structured to-do list is being able to categorize and prioritize tasks and errands.
Prioritizing our tasks allows us to make sure we're focusing on our time where we really need it. It can be really easy to put off an important task by tackling all the non-important stuff first. Then we feel behind or are staring at looming deadline and feel overwhelmed or rushed into getting it done.
Knowing which tasks need to come first not only allows us to plan time for them, but on the flip side, it lets us know which tasks are not as important. Those are the tasks that we can put off if we run out of time or energy to do them.
Being able to categorize your tasks allows you to plan your time accordingly. For example – if you know you have a lot of phone calls make or emails to send, you can block a chunk of time one day to knock them all out at once. You can plan your errands all for one day or for when you're already out like on your way home from work or school.
Do You Use Structured To-Do Lists?
Do you have your own way of organizing your to-do list or do you prefer to use an unorganized list? Are these to-do list printables something you would use? Drop me a line in the comments below or hop on over to the Facebook Group and let me know.
You can join the Facebook group by clicking this link –> The Scatter-Brain's Guide Facebook Group
Personally, I like to keep a few of these in the back of my planner so I can pull them out when I need them. I find the monthly to-do lists really helpful as a collecting point for future errands, appointments, and seasonal tasks around the home.
Whether you choose to use these printables or not, I'd still love to hear your thoughts.

Until Next Time,

Happy Printing!