Yearly and Monthly Planners for the Forest Simplicity Collection
Do you like being able to map out milestones for the year ahead? Or plan goals and projects on a monthly basis? You're in luck. Today I'm sharing the new yearly and monthly planners for 2023.

These planners will allow you to make note of special dates and events, map out holidays and vacations, and so much more. Ready to take a look?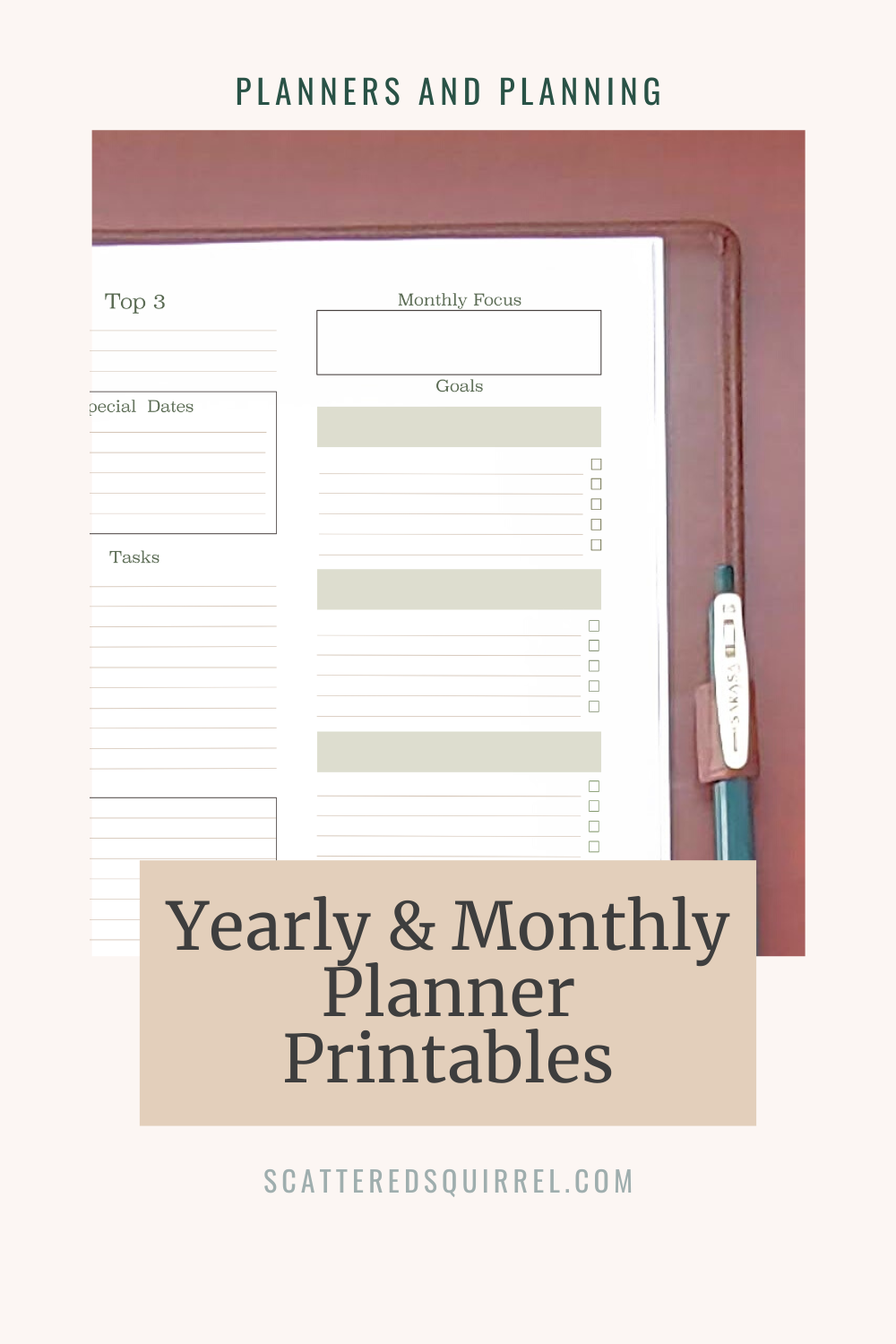 Yearly and Monthly Planners for 2023
I remember the first time I was asked to make a yearly planner printable. At the time, I wasn't sure how many people would get use from it. Boy, was I pleasantly surprised when so many of you told me how much you liked it. How useful it was for you to have a page to see an overview of your year.

You liked it so much that I'm still making that page, eight years later. It's called the Yearly Planner, and it turns out that it was just the beginning. Aside from the standard Special Dates there's now a Yearly Overview and I'm open to new ideas for other monthly or yearly planner printables. If you have any suggestions, please feel free to leave them in the comments.

But enough of my ramblings … let's get to the planners.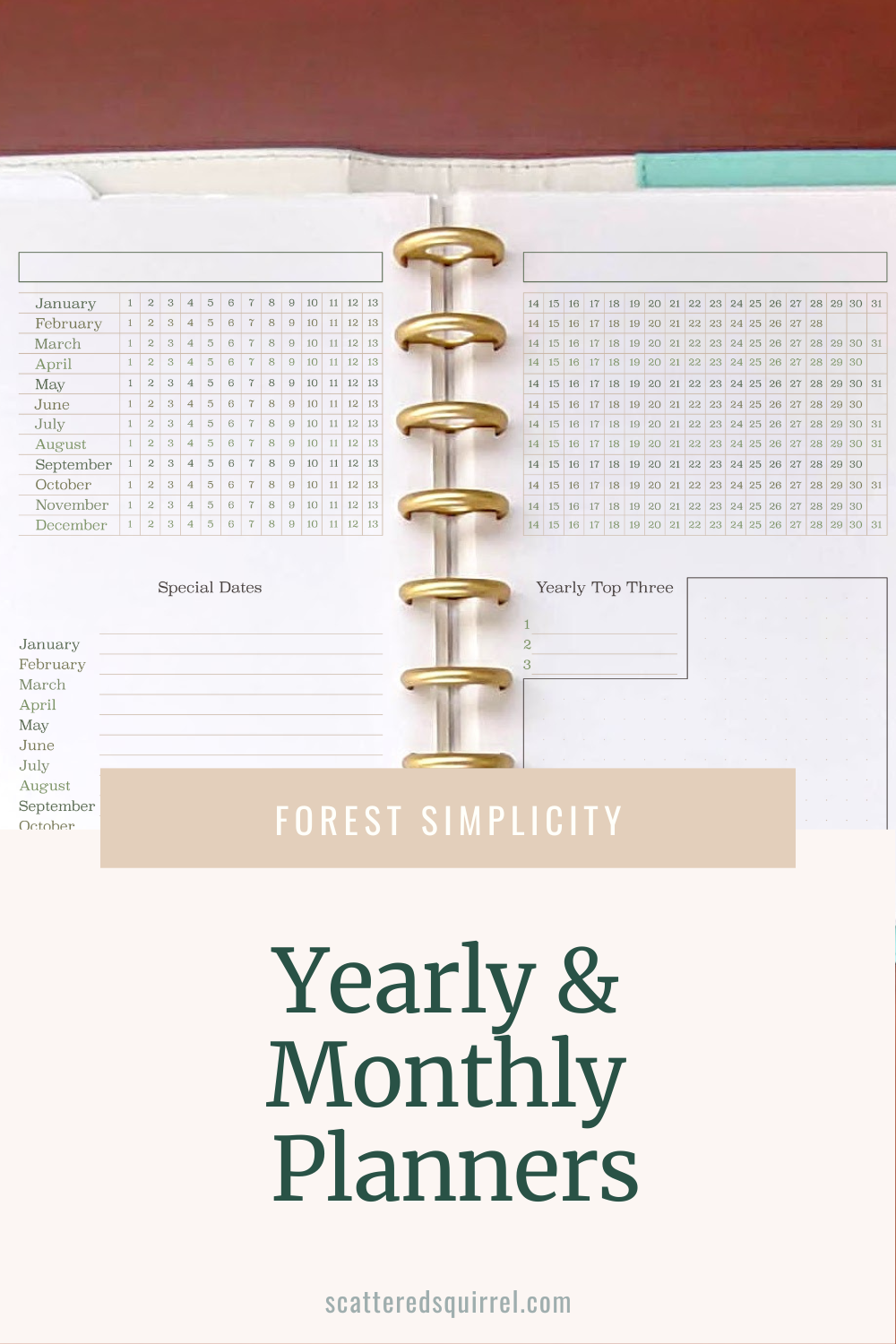 Year Planners
One thing to keep in mind when looking at yearly planners is that I designed them to be versatile. Each one has a structure but the different uses can almost endless.
Special Dates
First up we have the Special Dates pages. They were designed record birthdays, special events, and important dates for each month to help make monthly planning a little easier. This year I turned this into a two page spread after many requests for more writing room for each month.
While this planner was designed with a specific purpose in mind I know many people use these pages in different ways. Some use them for goal setting or for planning larger projects. A friend of mine uses hers to plan when her home and garden maintenance stuff gets done. And one woman shared with me that she uses one just to track all her various appointments related to her chronic illness.
Yearly Planner
Next we have the Yearly Planner. This one was designed so that you could map out days off, special dates, vacations, etc… and set your top three priorities for the year.
Some other ways people have shared they've used this one are:
yearly long goal tracker
long term project planner
yearly habit tracker
Yearly Overview
The last yearly planner we have to look to look at is the Yearly Overview. This planner was created to give you a space to plan each month. Write in the top three things happening that month as well as notes section for reminders. It gives you a whole yearly overview at a glance.
Again, there are plenty of other ways this planner layout can be used. I use one the way it was intended and a second one as a monthly tracker for my top three tasks. (Check out the From Scattered to Sane series for more information on my Top Three task system) And I use a third for tracking homeschool throughout the year. Mostly for noting what courses my son is working on in which month and major deadlines he needs to meet.
Others I know use these for overviews of their yearly goals, sort of like an at-a-glance page so they can see what's coming up for their goals throughout the year. Another great use is for work related items like conferences, monthly projects or meetings, etc…
Now that we've take a look at the yearly planners, let's move on to the monthly planners.
Monthly Planners
While yearly planners are wonderful tools for getting a look at the broad strokes of your year, monthly planners help narrow the focus a little more. They give you an overview of what's happening each month.
I designed my monthly planners to be a combination of reminders, task lists and goal setting for the month. This year, by popular request, I've added to the monthly planners turning them into a planning and review set.
The monthly review page is super simple, giving room to highlight your wins, look at obstacles that may have come up, and plan for how to handle them in the future.
Just the yearly planners, there are plenty of other ways to make use of these monthly planners. I actually like using the goal setting section more for projects or planning for events that month. A friend of mine uses one for each family member so she can see what everyone has going on in the month.
For the review page you could use it as a memory keeper, for additional notes and reminders, or to structure a larger, categorized to-do list for the month. I can't wait to see how you use this.
Tell What You Think
That concludes the collection of yearly and monthly planners. Are these pages you use every year or want to start using? Will they be a useful tool for you? Do you use them in different ways? I'd love to hear all about it.
Drop me a line in the comments and let me know. Or come on over and join us in the Facebook group and share your thoughts there.
You can join the Facebook group by clicking this link –> The Scatter-Brain's Guide Facebook Group
And don't forget that I would love your suggestions for any other yearly or monthly planners that you'd like to see. Is there a monthly page you'd love to have? Something specific you need to plan each year that could use its own page?
Until Next Time –
Happy Printing!