All the Basics for Setting Up Your 2018 Planner
Setting up a new planner for a new year is a simple joy that I treasure every January.  Everything feels all fresh and new and it's the perfect time to get back to basics. It's also the time where I update a number of the printables to match the current year's calendar.
Usually I share these a few at a time over the course of a few weeks.  This year though, I decided to share them all at once in one massive post.  The printables I'm sharing today are what I think of as foundation planner printables.  They're all the basics you need to set up your 2018 Planner.
All the Basics for Setting Up Your 2018 Planner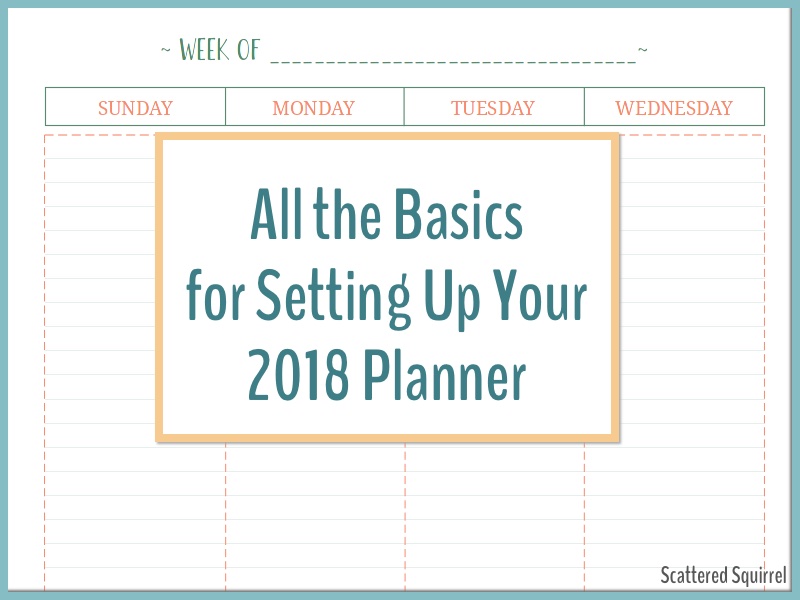 The wonderful thing about planners, especially DIY planners, is that they can be used in so many different ways for so many different reasons.  You can make them as basic or as complex as you need or want.
At the start of the new year, one of the things I really like to do is scale my planners back to just the basics.  After I've cleared them out, I print out the pages I need for at least the first three months of the year, and then I can add back in any sections that worked well for me the previous year.
No matter what I add to them later, all my planners start with the printables you'll find below.
The Foundations of my 2018 Planner
Every planner I use has at least one dated calendar in it, even if it's just the year on a page calendar.  Though I shared them earlier last year, I'm including them in this post to make it super easy for you to grab the one (or ones) you need.
A monthly calendar is a great way to forward plan (plan for events/appointments in the future) and to see an overview of what is going on in your life each month.  I firmly believe that everyone should use a monthly calendar of some kind, at the very least.  It gives you a good foundation, and if you don't really have to plan too much day by day, it might even be all you need.
For more information about the 2018 Calendars check out the posts linked below.

Monthly Planning Pages
A few years ago I started using a monthly planning page, along with my monthly calendars.  Each month has its own page with space to choose a focus for the month, choose your top three tasks and note any special dates.
There's also a space for housekeeping tasks, this is where I like to note any seasonal tasks that need my attention. I also included a space to plan three goals for the month and a notes section for those little reminders or things that always seem to pop up.
I find these monthly pages to be a huge help in keeping my planning focused on what I need and want to do.  I refer to them every Sunday when I sit down to plan out my weeks so I can make sure I'm staying on top of things.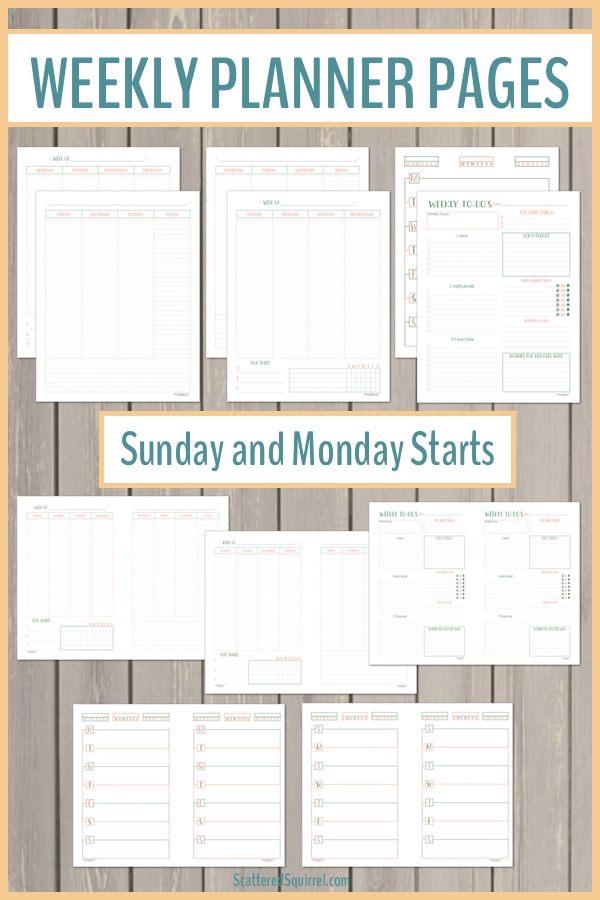 Weekly Planning Pages
The next pages I add to all my planners are weekly planning pages.  I find having a weekly planner of some sort in my planner to be invaluable.  Seeing my week all at once allows me to be intentional with when I plan certain things.
Because weekly planner printables are some of the most popular printables on the site, I made sure to include both a week on two pages and a single page per week version for the 2018 planner.
I typically plan my week on Sunday so my weekly planner pages start on Monday, but I've received so many requests for Sunday start weekly layouts that I couldn't resist make two versions of all the weekly planners you'll find below.
Week on Two Pages Printables
These ones are a little different from my old week on two pages layout.  I shortened the day columns and moved the top three to the bottom.  I added in a habit tracker and made some extra room for the notes section.
Both of those last additions were highly requested last year and what better time to try them out than for a new year.
I'm using these ones in my work planner to test them out, and so far I'm really liking how they're working out.
Single Page Per Week Printables
I'm currently using this one in my personal or life planner.  I printed note pages on the back side so that my weeks are technically two pages.  The single page weekly on the left and a notes page on the right.
This is the planner where I keep track of everything not work related and it helps to have room to create lists and reminders.  Some weeks I won't use the notepaper at all, but other weeks it ends up full.  I've included three different kinds of note pages as a bonus at the bottom of this post.
Weekly To-Do List Printables
The weekly to-do lists continue to be a popular printable so I wanted to make sure that there was a version that matched the 2018 planner colours.
These pages can be really handy for those who need to structure their to-do list a little bit.  Whenever I have really busy weeks, I pull one of these out from the back of my planner and use it help me figure out what needs to get to done first.
Like the monthly planner, I find it helps me plan my week with intention and purpose.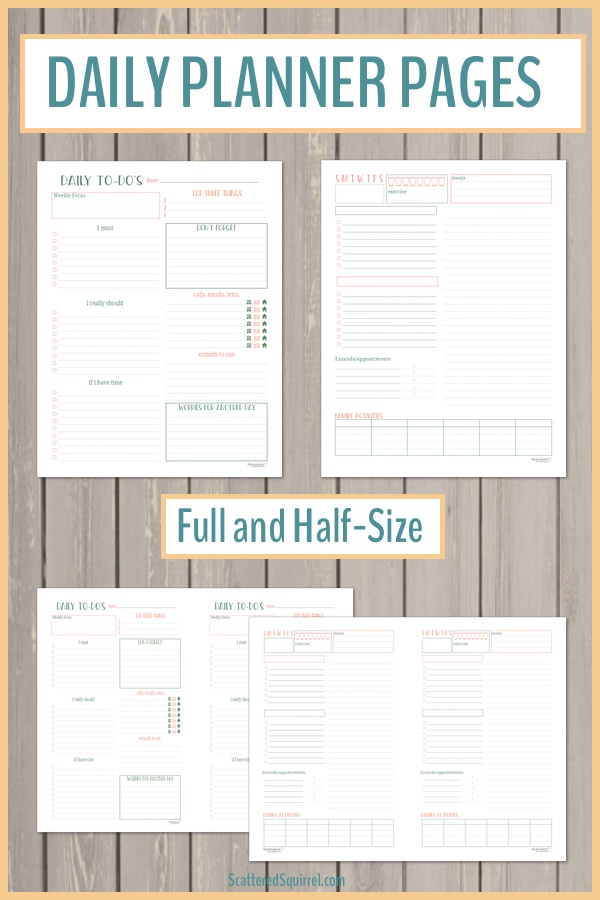 All the Basics for Setting Up Your 2018 Planner
Daily Planning Pages
Though not as popular as weekly pages, daily planning pages can be a great addition to any planner.  Even if you don't use or need a day per page, you can keep a few on hand for those super busy days.  Or, if you're trying to build a new routine, use daily pages to really map out that routine day by day.
I tend to keep a few of these in the back of my planner to pull out when I need them.  I chose to update the two most popular daily planning pages, but if you need a different one, please let me know.  I can certainly update a few more.
Daily Planner and Task List
If you used the older version of this printable, you might notice I replaced the labelled checklists with empty boxes.  Everyone has their own way of using these sections, and having them labelled was restrictive.  This way you can change up what you use those two sections for each day.
I like to keep a few of these in the back of my planner for super busy days.  I tend to use the right-hand note section as a place to schedule things in by the hour.  I just write the times down the side.  The family activities section has come in really handy with homeschool and super busy days where everyone is doing something different.
Daily To-Do's
Just like the weekly to-do's these daily ones can come in really handy.  You might not need one every day, but on days when you're feeling overwhelmed, they can really help clarify what your priorities are.
I tend to keep a few of these in the back of my planner too, just in case they're needed.  I would say that I use these more than I use the other daily pages, as I find myself reaching for them for work as well as for life in general.
Bonus Note Pages to Match the 2018 Planner
I truly believe that all planners need note paper of some kind in them.  You never know when you're going to need to write down an idea, a reminder, or even a note to someone.
They're great for tucking into your weeks if there is information you need to remember that week.  They're also handy for when you're stuck in a waiting room and need something to occupy the kiddos, or just feel like doodling.
I probably print more note paper in a year than I do planner pages.  That's why, for the 2018 planner, I made sure to make three different styled pages to match the colours.
Lined Note Paper
Dot Grid Note Paper
Grid Note Paper
As always, to grab a copy of any of the printables seen in this post or on the site, click the picture of the ones you would like.  The PDF will open or a dialogue box will open, depending on the settings of your web browser.
Though the printables I included in this post are the ones I consider to be the basics or the foundations of a planning system, I'm always open to suggestions and ideas.  If there is a printable you would like to see updated to match the other 2018 planner printables, please drop me a line in the comments below, email or get in touch via Facebook or Instagram.  I'll make sure to add it to the list of ones to have ready for the next post.
Now it's Your Turn
I'd love to hear what you're using for a planning system this year!  Do you DIY your planner each year?  Do you use printables to supplement a store-bought planner?  Or are you using something else?  Drop me a line in the comments below and let me know.
Until next time, happy planning!