Single Page, Dated 2019 Calendars, with Sunday and Monday Starts!
Whew!  For a moment there I was worried that these would never be finished.  It's been a roller-coaster of an adventure creating these, but the new calendars are FINALLY ready!  I'm kicking off the release of the dated 2019 calendars with the single page per month editions.  In years past I've always started with a year on a page calendars, but I couldn't wait to share these ones with you.  I'm so excited for you to see them.  I hope you enjoy them as much as I enjoyed making them!  Ready to check them out?
The first round of the dated 2019 calendars.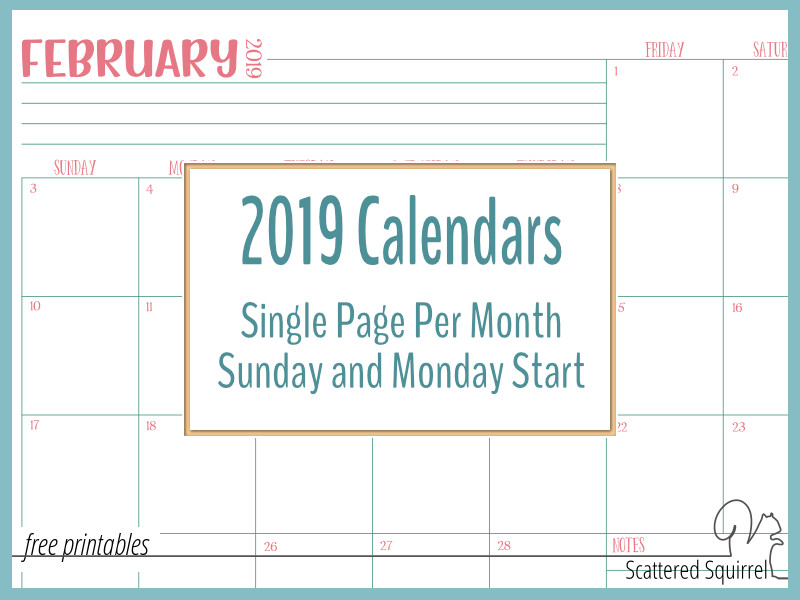 As I mentioned above, there was quite the journey to get these finished up.  I used as much information as I could from the Readers' Choice survey, read and organized all the comments and feedback, and tried to use as many of your suggestions as I could to help create the new calendars.  Some of the more popular requests were:
bright colours
bold colours
easy to read, but fun fonts
more note space
larger day boxes
one colour per month
Monday start
I spent the last few weeks trying to come up with something that would check as many of those request boxes as possible.
On top of all that fun stuff, there was quite a bit of hair pulling and, being totally honest, more than few tears of frustration.  I'm using new design software which took a little getting used to, but in the end made making the calendar a much smoother and quicker process.  There were quite a few behind the scenes glitches and issues that happened, including the software I use to combine the PDFs into one file, garbling them all up.  It was starting to feel like I would never get these ready for you.  But, ready they are and I'm thrilled with how they all turned out and I hope you are too!
Single Page Per Month 2019 Calendars
I always start with colours, as I find the colours help set the tone for the fonts and other design elements.  Whenever I think of bold and bright colours, I tend to think of warm sunny places, leafy rainforests, and beautiful, tropical birds.  So I took my inspiration from tropical plants and places.  If you follow me on Facebook or Instagram you may have seen the sneak peek graphic I shared a little while ago.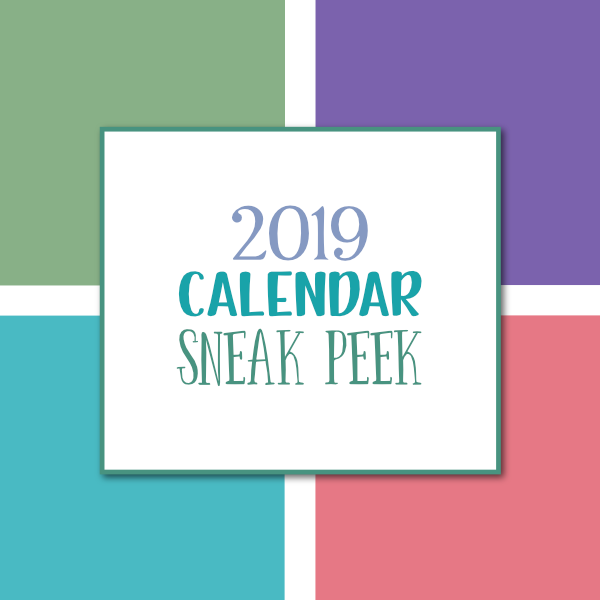 For 2019 I really wanted to keep the vibe fun and lighthearted but still retain all the function that I try to pack into my calendars.  I think the colours and the fonts do a good job of creating the vibe.
Next on my list was addressing the need for more note space, especially on the single page calendars and to try to figure out if I could make the day boxes any larger than I usually do.  Which I did, but it meant changing how I usually approach making the calendars.  I was able to create a notes section on every month (some months even have two) and by adjusting where the monthly titles went and adjusting it month by month, I was able to make the day boxes a smidge bigger.  They're as big as I can make them and still have them fit on a letter size page.
What do you think?  Do they check all the boxes?
Grab Your Single Page Dated 2019 Calendar
As always, I made sure to make both full and half-size versions as you will see below.  This year I also made a Monday start version of each!
There you have it!  The 2019 single page per month calendars are here.
The two page per month calendars will be coming out later on this week, and I'll be sharing the yearly calendars plus some yearly planners on the weekend!  Now that I've (fingers crossed and knock on wood) worked out all the kinks in the process things should go much more smoothly as I put the finishing touches on those ones.
Now It's Your Turn
I really hope you like the new calendars!  It was so much fun trying to pull all your suggestions together into one design.   I'd love to hear your thought about the new designs for the 2019 calendars.  Drop me a line in the comments below and let me know what you think.