2016 Year on Page Printable Calendars are Here!
Hi everyone! I hope you all had a wonderful Easter weekend. We had a very laid back weekend, enjoying our last few days of Spring Break. I'm not ready for the morning rush to start again, but the boys are both looking forward to getting back to school. Since I've been busy with our spring cleaning I haven't had many organizing projects to share. That should be changing soon, but in the mean time, I have been working on another project and I'm getting close to being finished. I was going to wait and share everything all at once, but I just couldn't resist giving you all a taste of what's to come. So, I'm hopping in today to share the first of the 2016 Calendar printables!!!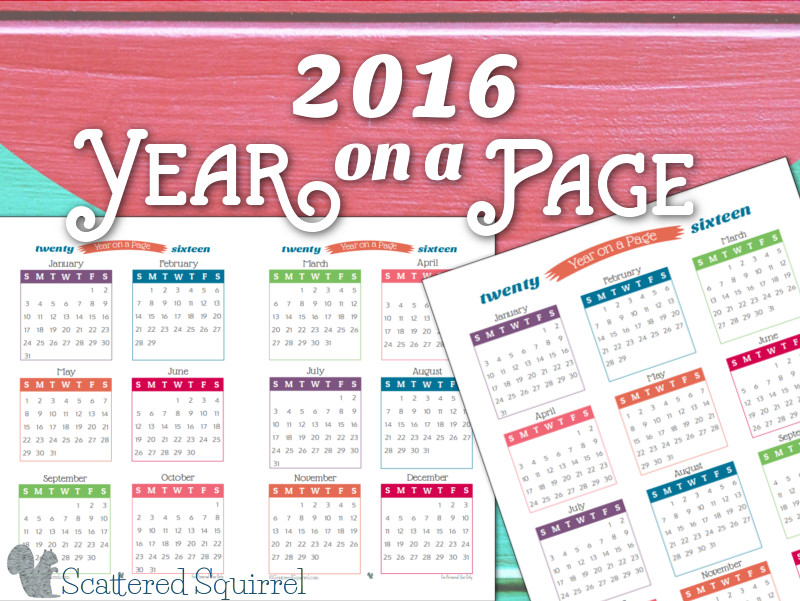 Think of these ones as a preview for what's to come. Though I'm not sure how much of a preview it really is, but you get to check out the colours that I'll be using on the monthly calendar printables. (I'm hoping to have those finished to share later on this week, or early next week.) Before I get to the good stuff, there are a couple of things I want to mention.
I will not be making a version in the green, purple, blue colour combo. To all of you who like your planners to match, I am very sorry. A new calendar year is a great time for me to play around with new colours and ideas. As much I would love to make a version to match, that's a LOT of extra printables to make. (12 months x 5 layout x 2 formats = 120 calendar pages) I know it's not ideal, but I do have blank versions in the green, purple, blue color combo.
The new colours are a little more vibrant and a little more saturated than last years. They print really well in grey scale so I won't be making a black and white version right away, instead I will wait to hear what you all think.
I have not figured out the solution to printing the 2 page per month half-size ones back to back. I am still playing around with it. I will share my normal version with the rest of the 2016 calendars, but will share the updated one as soon as it's figured out.
And now, let's get to the good stuff.
2016 Year on a Page Calendars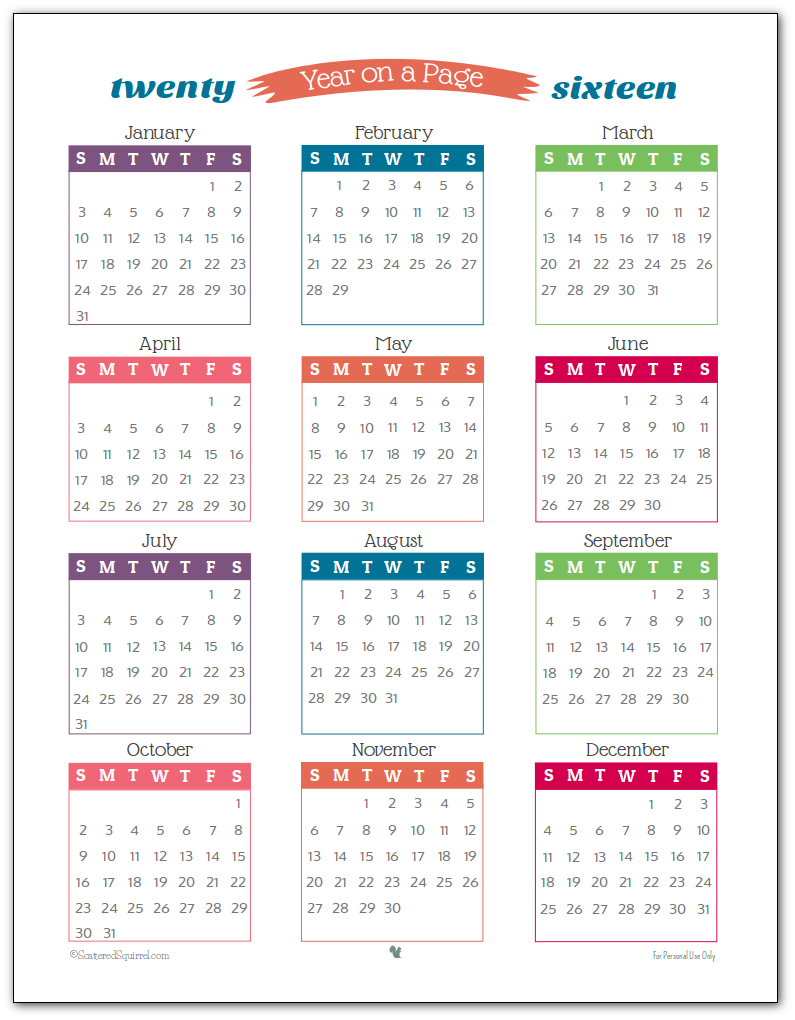 Here's the full size version!  What do you think of the colours?  It's still early enough in the design process that I can switch come out.  April and October were yellow this morning, but it hurt my eyes and printed really light in grey scale so I swapped it out.   And of course, as always, simply click the pic to snag a copy of your own.
Grab a Copy of the Half-SIze Version Here
I didn't forget the half-size version! I did make some changes to it though. I got so many requests to have the half-size version designed this way that I felt I had to give it a try. This layout is great for those who like to have their whole year open to them on one page. Let me know what you think.
If you need more options for your 2016 calendar here is a fantastic collection of free calendar printables for 2016.
---
I know it's not a long post today. I just wanted to pop in and share these, and say hi. I'm hopping off to go enjoy our last family day of spring break! I hope you all are having a wonderful day. Enjoy the calendars!!! I can't wait to share the monthly calendar printables with you all later this week!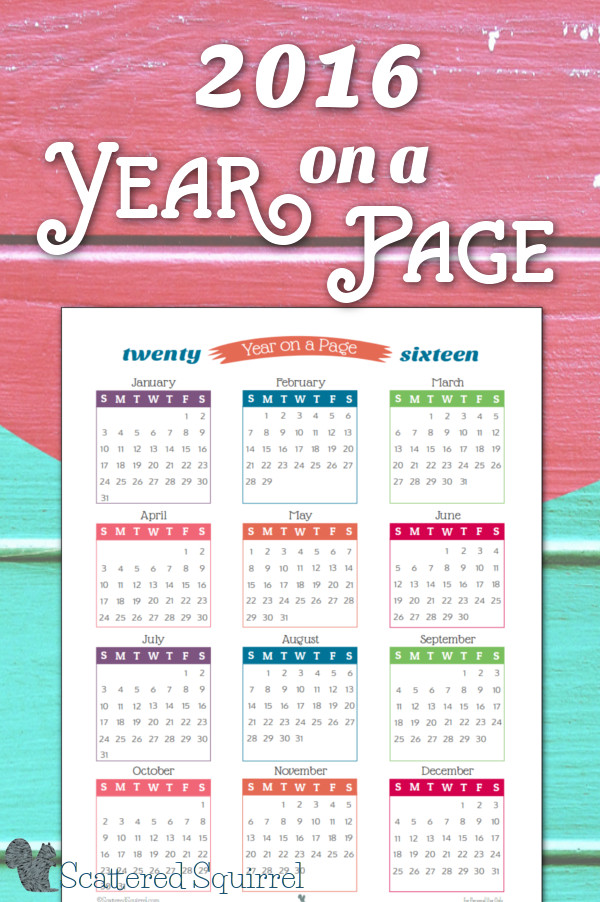 What do you think of the new colours? Anyone else excited for the 2016 monthly calendars to be coming out soon?
~Happy Printing!~