Four Daily Planners to Help Your Days Run Smoothly
When it comes to choosing a planner, often daily planners get passed over in favour of a weekly layout. I get it! Whether it's personal preference or need based a weekly planner tends to be more appealing. But I believe there's room for daily planner in all planning systems.
Despite the name, a daily layout doesn't need to be used every day. Keeping a few on hand for those extra busy times can be a real help. That's why I'm sharing four different daily planning printables with you today. So you can pick and choose the one/ones that will work best for you.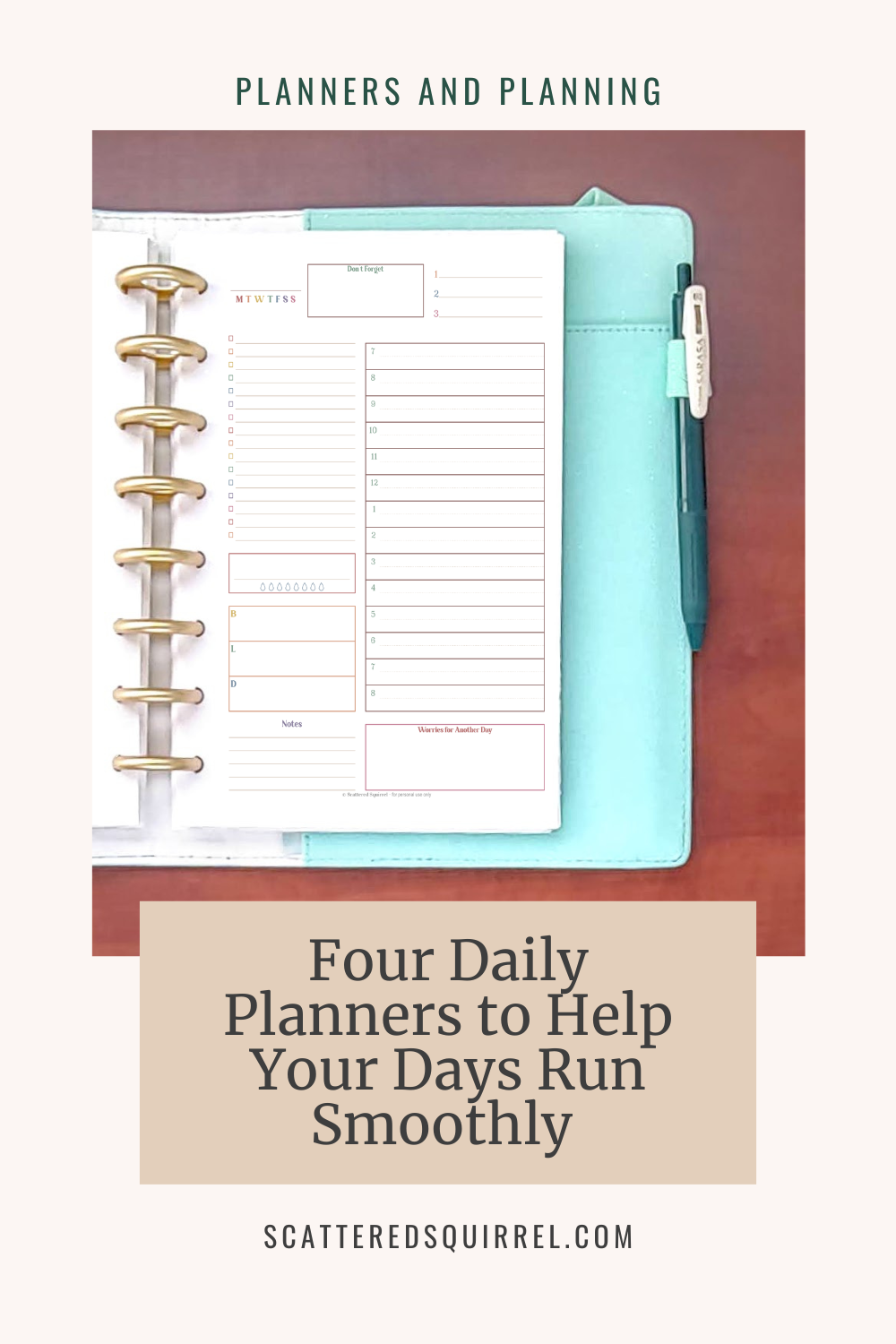 Daily Planners Can Help Your Days Run Smoothly
Planning your days in detail can not only help your days run smoothly, but it allows you to maximize efficiency while still keeping time for the things that matter most to you. It allows to organize your time in different ways.
Just like how different weekly layouts appeal to different people, so to do different daily ones. That's why I have four that I'm sharing with you today. My hope is that one of them will fit your planning needs.
If weekly planning is your jam, I don't want to mess with your flow. I , myself, prefer a weekly layout when I'm planning. But that doesn't mean that we can't benefit from making use of a daily planner when needed. Keeping a few tucked into the back of your planner, to pull out on extra busy days (or weeks) can be a powerful way to take control of your time.
Ready to check them out?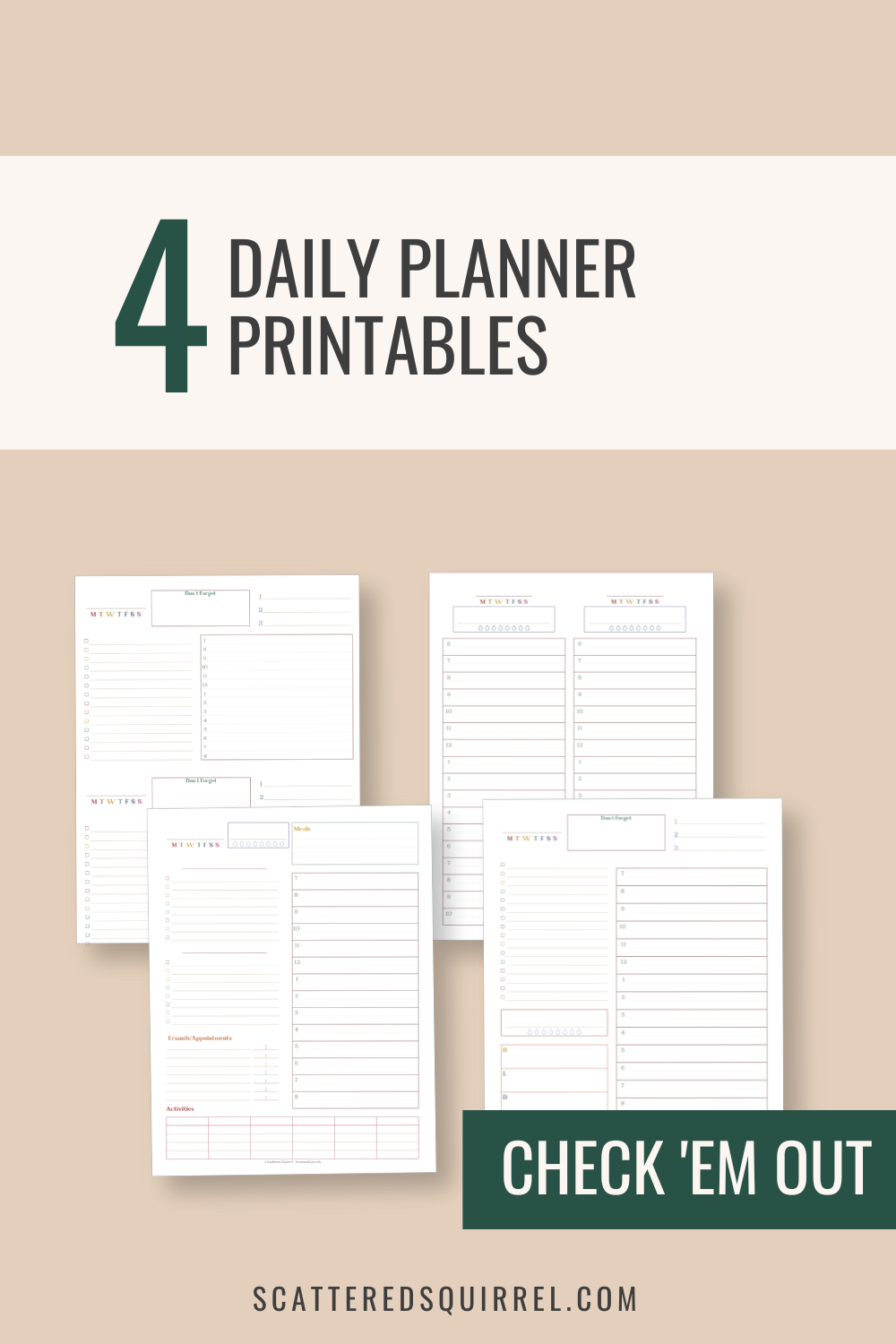 The Four Daily PLanner Printables
The planner printables I'm sharing today are all designed to help you plan your days in the way that works best for you. Two are super simple layouts and two are a little more detailed. The goal was to try to accommodate different planning styles without having make a hundred different planners.
Let's kick things off with the one I call the Daily Planner.
As always, each of the planners comes in letter and half letter size. The half letter will fit most A5 planners.
Daily Planners
This planner offers tons of structure. Allowing you to plan your day in detail.
Starting at the top you have three sections. On the left is a place to mark the date. In the middle is room for reminders for the day. Rounding out the top section is a place for your top three.
The rest of the planner is divided in two columns. The left begins with a tasks list, followed by a water tracker with room to note fitness stuff. Below that is a mini meal planner/food log followed by a notes section.
The right hand column is an hourly schedule with two lines per house. Under that is a section called "Worries for Another Day" which is where you can note things you need to do or remember later.
Two Days per Page, Daily Planners
This next day planner is a simplified version of the one above. Instead of one day per page, this one has room for two days on each page.
Like the daily planner, you have a top section with space for the date, reminders, and top three. Then each day has the two columns. The left is a tasks list and the right is schedule section.
This planner is great for those who need to see their tasks/to-do list but also like to schedule their day.
Daily Tasks List
The daily tasks list planner is a great tool for those who like to organize their to-do list by categories. It's also great for those who like to batch schedule their day.
Across the top there's place for the date. Then a fitness/activity log and water tracker is in the middle a box for meal planning/food logging rounds out the top.

The middle section is two columns. On the left the column is divided into three sections. Two check list areas to create categorized lists and a spot for recording errands/appointments. The right column is a schedule section divided into hourly increments.
Across the bottom is a table of four rows and six columns. The title row is empty allowing you to customize this section however you need too. Originally it was designed to allow for list daily activities by person in the family, but I'm sure there are many other uses for this area.
Daily Schedule with Two Days per Page
Last but not least we have the daily schedule planner. Again, this is a 2 days per page planner layout. Instead of diving the page in half horizontally, this planner is vertical.
Each day has room at the top for the date, a box for logging activity/fitness stuff, and tracking water. Then the rest of the day is a scheduled section. It's divided by hourly increments with two lines per hours.
This planner is a wonderful fit for anyone who just needs a simple schedule each day.
Before You Go
And that concludes the daily planners in the Summer Garden collection. If there's one you'd love use, but don't see here, be sure to drop me a line in comments and I'll add it to my list of ones to make.
I'd love to know – are you a weekly or a daily planner? Do you use both? Let me know in the comments, or better yet, hop on over to the Facebook group and share there. We would love to have you join us.
You can join the Facebook group by clicking this link –> The Scatter-Brain's Guide Facebook Group
Until Next Time,
Happy Printing