Five Different Weekly Planners to Help You Customize Your Planner
One of the most popular types of planning, is weekly planning. Planning your whole week at once allows you to see an overview of your time and allows you to make informed decisions about what commitments you can yes or no too. That's why today I'm sharing not one, but FIVE different weekly planners to help you customize your planner.
Whether weekly planning is already your jam or you want to check it out and see if it's for you, there is sure to be at least one weekly printable here that fit your planning needs. How about we jump on down and check them out?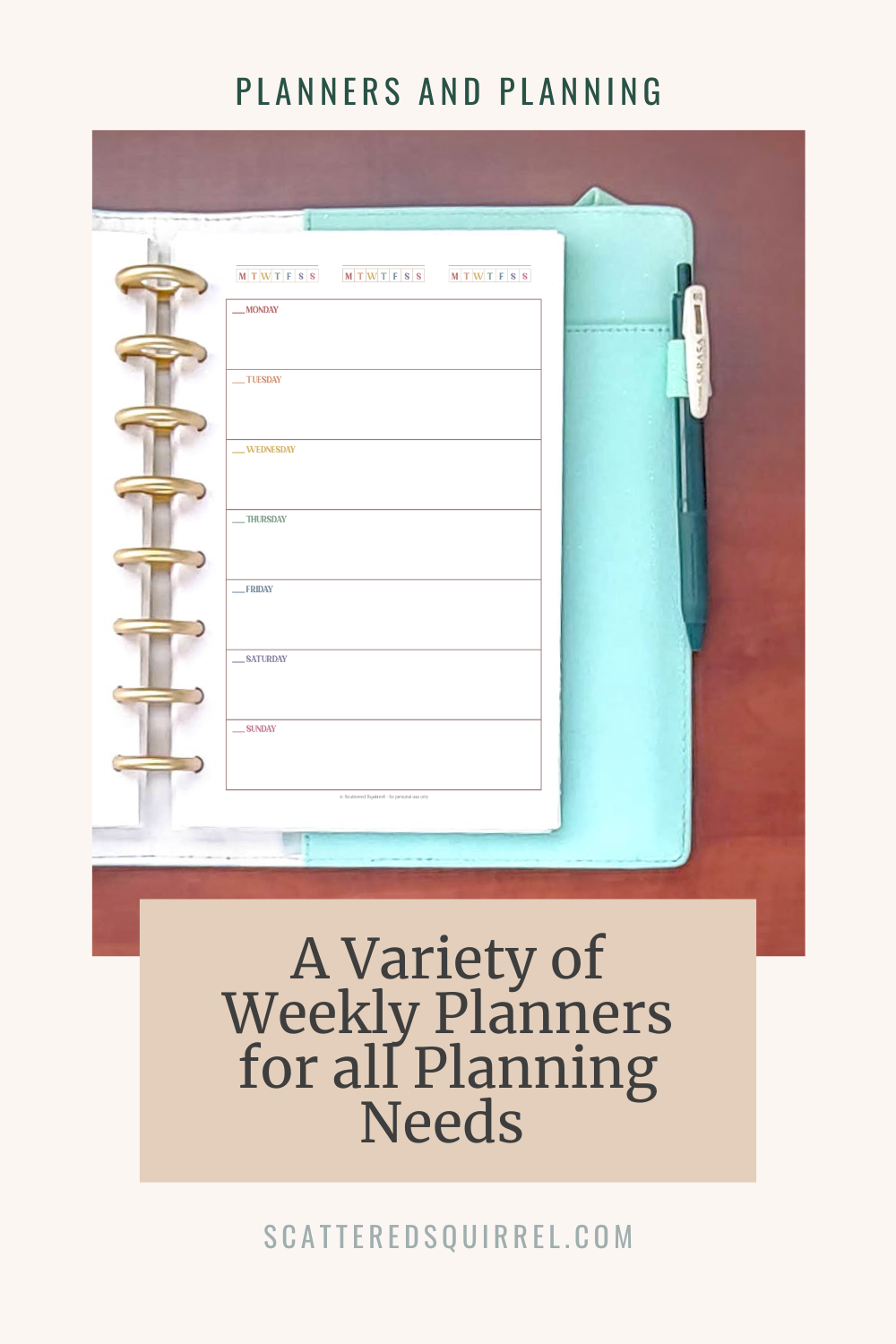 The Five Different Weekly Planners in the Summer Garden Collection
One of my favourite things about weekly planners, is how versatile they can be. There are so many different combinations, different layouts, etc… that you're sure to find at least one that will work for you.
In this year's collection I have five weekly planners. Each planner comes with your choice of a Sunday or Monday start day. And as always, you have your choice of letter or half-letter size.
While I cannot make dozens of different weekly layouts, if there's a layout you'd really like to see offered, you can always leave me a note in the comments section. I can't promise to add it to the collection, but I can promise to add it to my list of possible printables to make.
And now, let's check out those weekly planners.
Weekly Overview Planner
First up, we have the weekly overview planner. This is a single page per week planner that is divided into two columns. The first has a box for each day of the week running top to bottom. This is a wonderful place to note date specific appointments, errands, tasks, and reminders.
The second column featured categorized lists that allow to organize your to-do's by where you need to go, anyone you might need to meet with, things you need to do that week and any reminders you need to note.
The weekly overview is a wonderful planner for those who prefer to use a to-do list, but still need a little bit of room to schedule things out.
Horizontal, Single Page per Week Planner
Next up we have the first of the horizontal layouts. This single page per week planner features three weekly habit trackers across the top of the page follow by rows for each day of the week.
The horizontal layout is wonderful for those who like plan left to right instead of up to down. You can divide each day into sections if you want or simply leave it as is.
I know this layout is appealing to some journallers who like to use it for memory keeping. And it would be ideal for someone who needs to plan their week, but doesn't need a ton of space for planning.
Horizontal, Two Pages per Week Planner
The second planner I have with a horizontal layout is a two 2 pages per week planner. The first pages features the first four days of the week. The second has the last three with a notes section at the bottom.
Across the top of each page you'll find three weekly habit trackers. This planner is a great fit for those who need or just like to have extra planning room for each day. Again you can divide the days into sections if you'd like or just write in them as they are.
Vertical, Timed, Two Pages per Week Planner
Now we're moving into the vertical layouts. First we have the timed vertical, two pages per week planner. This one starts with a notes column that has room for your top three and your weekly focus. The rest of the columns are for the days of the week.
Each day column starts with a spot to note your meal plan for the day or to track what you're eating. The remainder of the column is divided into 17 hourly sections. Each section is divided into two for planning in 30 minute sections.
A planner like this one is wonderful for someone who likes to time block, has many appointments, or just enjoys scheduling out their day. It's also a wonderful tool for those who are looking to do a time audit.
Vertical, Two Pages per Week Planner
The last weekly planner that I am sharing today is just a vertical, two pages per week layout. This planner is simple in design. It starts with a column for noting your top three, weekly focus, and notes.
The daily columns are only two thirds of the page long. Each one is divided into two sections. The top is a checklist section the bottom is a lined section to use how you like.
The bottom third of the first page is lined for notes or whatever else you might want to use it for. On the second page, that area is filled with a place for a meal plan or other weekly planning (like a home chore or activity) and a weekly habit tracker.
This planner would be a good fit for anyone who wants or needs to work from a to-do list each day. It's also great for those who might need to blend home and work planning, or who just need a little structure without being too confined.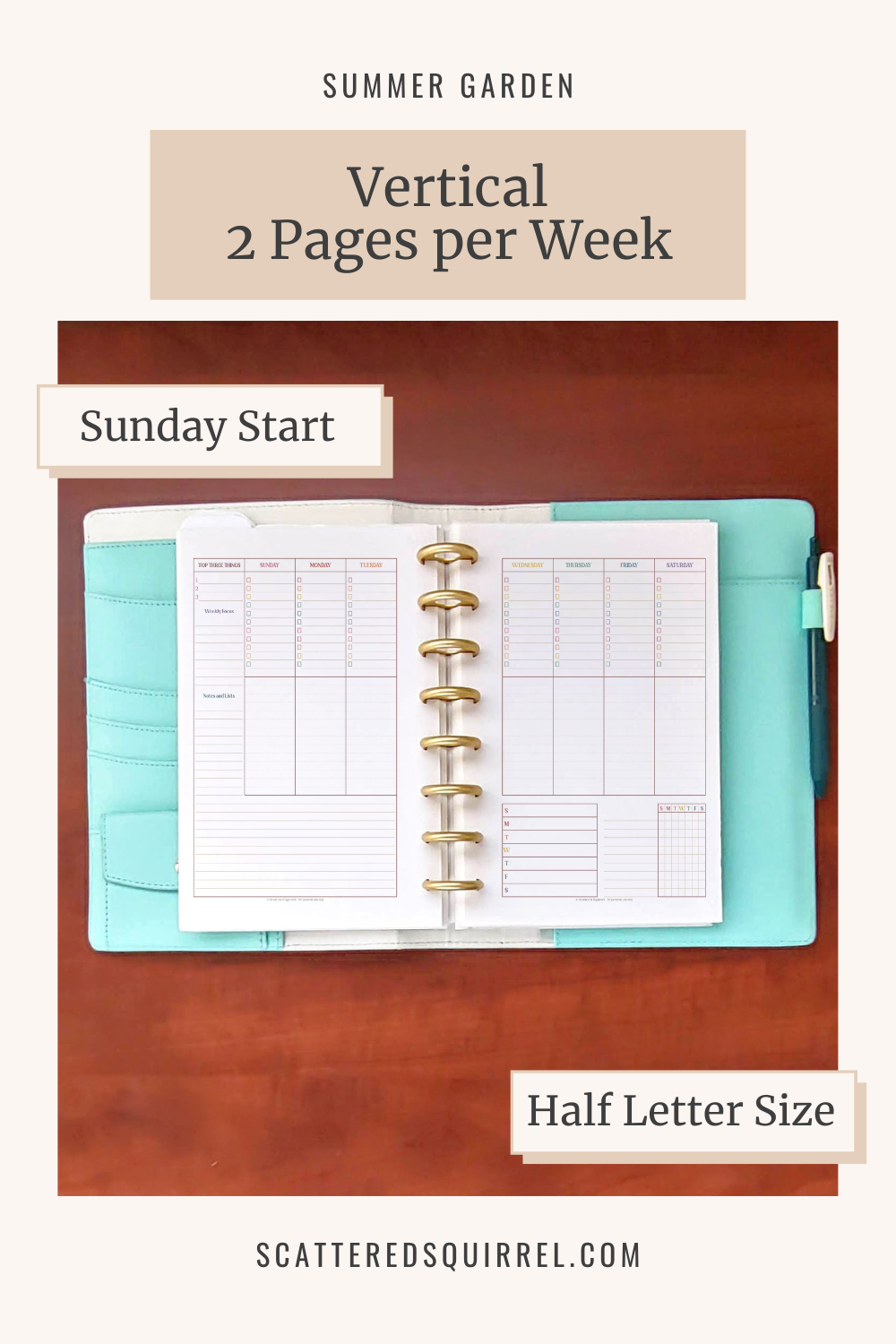 Click here to download the half letter size, Sunday start, Vertical, Two Pages per Week Planner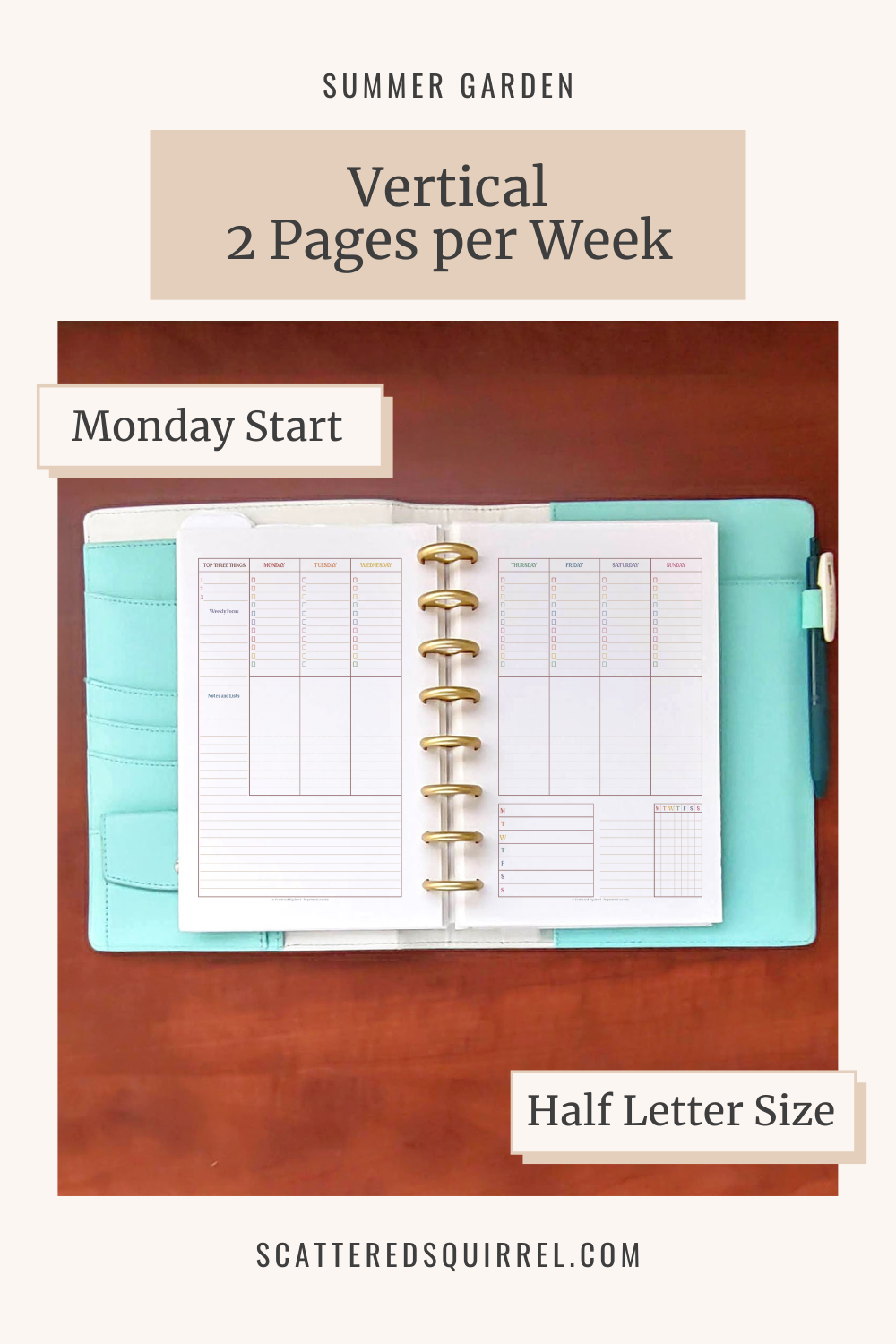 Click here to download the half letter size, Monday start, Vertical, Two Pages per Week Planner
Before You Go
We have to come to the end of all the different weekly planners, for now anyway. I'm always happy to try to add more to the collection, especially if I know they're going to get some use. So if there was a layout you were hoping for but don't see here, let me know in the comments, or better yet, hop on over to the Facebook group and share there. We would love to have you join us.
You can join the Facebook group by clicking this link –> The Scatter-Brain's Guide Facebook Group
Speaking of the Facebook group, not only is it a great place to connect with other scattered squirrels, I sometimes share printables over there that don't get shared here. There may be another weekly planner being shared over there soon. (but shhhh … you didn't hear that from me)
Until Next Time,
Happy Printing