The 2024 Calendar Printables are Here!!!
School has started and summer is winding down as we get ready to welcome in the autumn. And believe it or not, the new year will be here before we know it! Don't worry, I've got you covered. In today's post I'm sharing 8 different 2024 calendars for you to choose from.
Getting a jump start on setting up your 2024 planner will make the end of the year a little less stressful. It'll be ready and waiting for you was the busyness of the holiday season wanes and you're ready to start planning for the year ahead.
Keep on scrolling to check out the calendars and don't forget to follow the link at the end to pick the rest of your planning pages.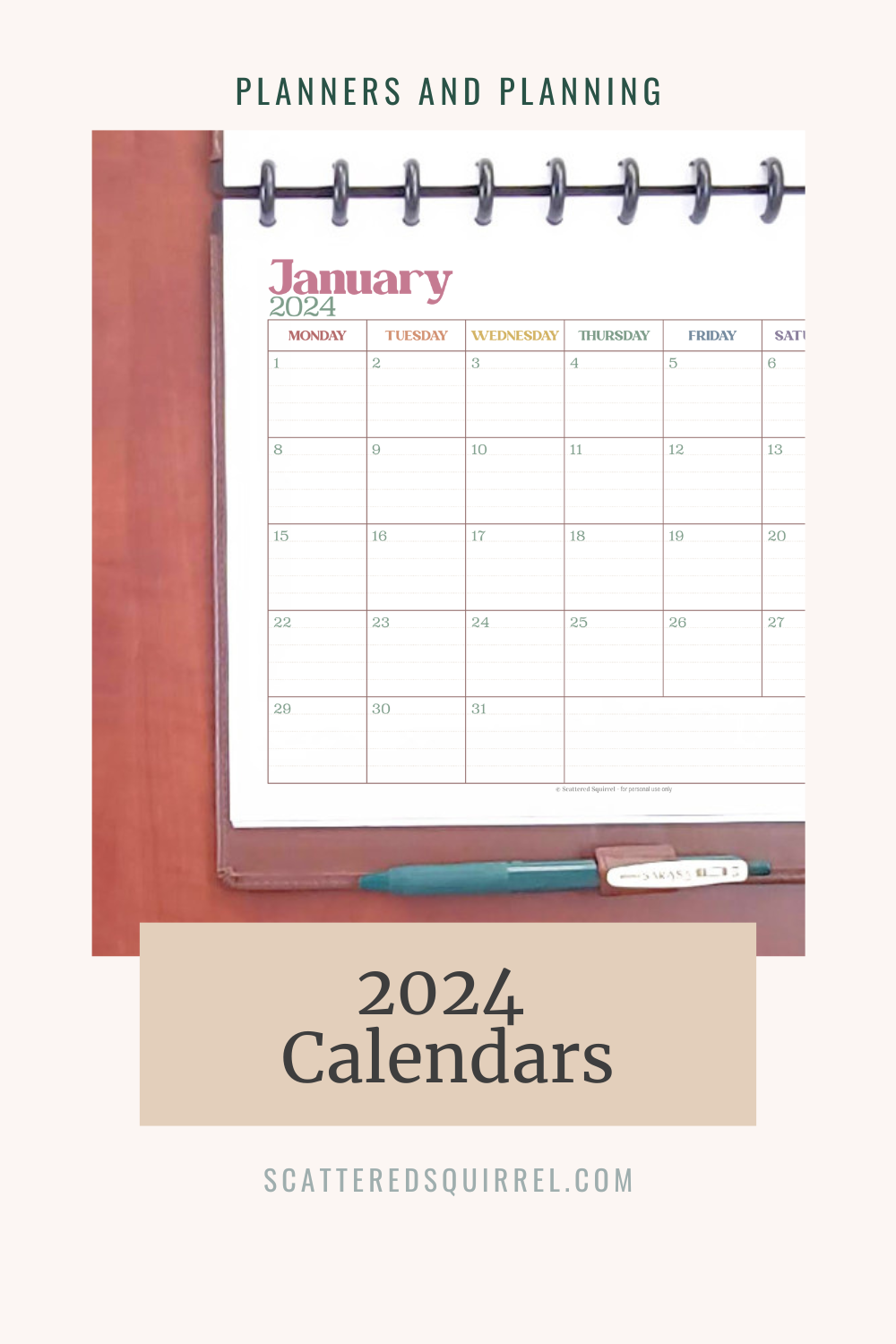 Introducing the 2024 Calendars
This year's collection is called Summer Garden and it feels very fitting to be venturing into rainbow territory again. This year there's a different twist to it. I kept all the colours in the mid-tone range – not too bright but not too muted. The fonts are mix of classic serif and a retro inspired script.

All in all, my goal was something cheerful and fresh without being too cutesy or hard on the eyes, and I think I hit it pretty close to my mark. I hope you enjoy the new design.
Now enough of my rambling – let's check out the 2024 calendars.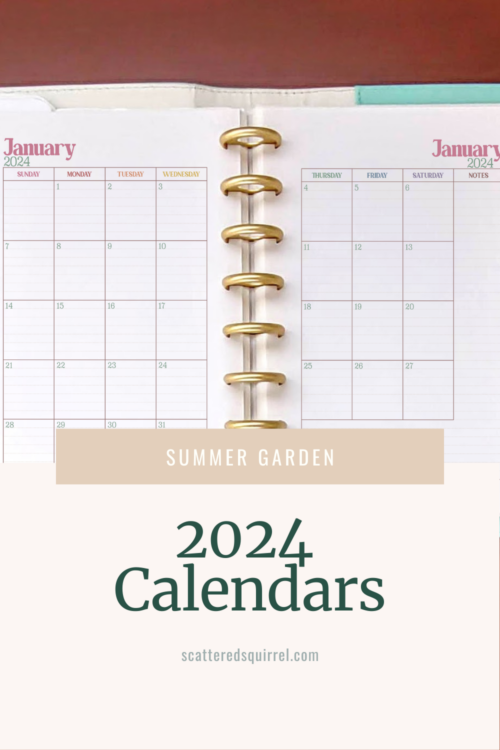 Two Pages Per Month 2024 Calendars
First up we have the ever popular two pages per month layout. This layout offers the most planning room, regardless of what size you use. With the month spread out over two pages you have large date boxes that allow more room for planning.
As you'll see, you have your choice of Sunday or Monday start days as well as half or full letter size. It's worth noting that the half letter calendars will fit most standard A5 planners or mini binders.
If you choose the half letter, be sure to check out the printing instructions found just under the single page per month versions.
Single Page per Month 2024 Calendars
Can I let you in on a little secret? Every year I print at least one, usually three or four, copies of these calendars. The single page per month in landscape orientation makes them perfect for hanging on the fridge for a meal plan or tucking into my planner for tracking financial items.
The ways to use a calendar like this are almost endless. And as a bonus, I've been told the half letter size one fit nicely in a locker, making them great for students or for being used at the gym.
I may love a two page monthly in my planner, but I would be lost with a single page one.
Just like the two pages per month options, you have your choice of half or full letter size, with a Sunday or Monday start day.
You'll find the printing instructions for both these and the two pages per month half-size calendars right below.
Printing Instructions for the Half Letter Size 2024 Calendars
Printing the half letter size calendars can feel a little confusing, especially when you look at the file and see the calendars out of order. But if you follow the instructions below it's super simple.
Wether you choose the two-pages per month or the single page per month, the instructions are the same.. If you have any questions, drop them in the comment section and I'll be happy to answer them.
For those who want to print them double-sided.
Open the file in your PDF reader.
Select Two-Sided or Double Sided if you have a duplexer, or select Odd Pages if you manually flip.
If your printer has a duplexer, be sure that Short-Edge binding or Flip on Short Edge is selected.
Print.
If you need to manually flip your pages, do that now and the print Even Pages.
Cut in half and punch as normal OR fold in half to create a booklet.
For those that want to print them single-sided, you just need to press print. Cut and punch as normal.
Don't Go Yet!
Not only does this conclude the 2024 calendar, but it's also the conclusion of the Summer Garden Collection. If you missed any of the previous posts check out the Blog page to see them all.
Also, for those who like to print in greyscale – I've test printed the calendars and they print very nicely in greyscale. They are easy to read and not too light.
And now for the fun part – I would love to know what you think. Do you like lined calendars? Is there something you would change? Drop me a line in the comments below, or come on over the Facebook group and share your thoughts.
You can join the Facebook group by clicking this link –> The Scatter-Brain's Guide Facebook Group
Until Next Time,
Happy Printing!