Welcome to 31 Days 31 Printables!
The title gives it all away doesn't it?  No more suspense, just BAM!  There is it is!  Last year was my first time participating in the Nester's 31 Days challenge, and I wrote about 31 Days to a Clean and Organized Kitchen.  It was intense and amazing, and awesome and tiring, and I can't wait to do it all again this year.  Instead of an organizing project, I thought I'd have a little fun with the printables, and 31 Days 31 Printables was born!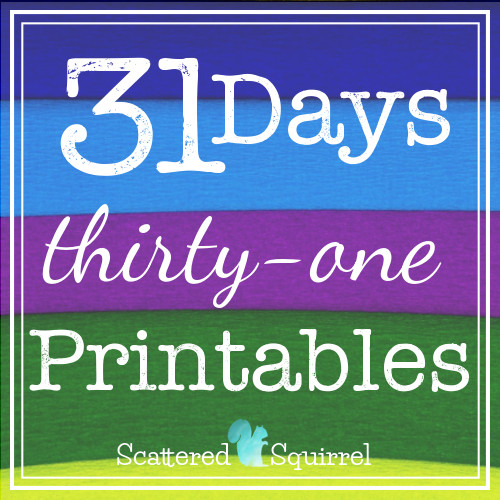 31 Days 31 Printables
Each and every day, for the whole month of October I will be sharing a new, updated or revised printable.  My first focus is implementing some of the most asked for tweak and changes.  If, by chance,  I run out of those then I'll work on some of the updates I've been itching to do.  After two and half years of blogging, creating and sharing printables and all the other good stuff, there are a number of printables I would love to back and tweak just a little so they fit in with the rest.  If possible I hope to add some new ones to this ever growing library of free printables, but I make no promises on this one, I think I'm going to have my hands full with the first two.
The fun begins tomorrow!  I hope to see you there. 🙂
---
What changes or tweaks would you like to see made to your favourite printable?  Now is the perfect time to weigh in.