Organize Your To-Do List with Master To-Do List Printables
I love lists! I make no secret of that fact. I find them oddly soothing and a little comforting. I think it's because lists allow us to take all those things that are floating around in our head and put them into som semblance of order. Or maybe it's because getting those tasks, ideas, and thoughts out of our head and onto paper frees up thinking space. Whatever the reason, I think lists are awesome. It's also one of the reasons I'm sharing these Master To-Do List printables today.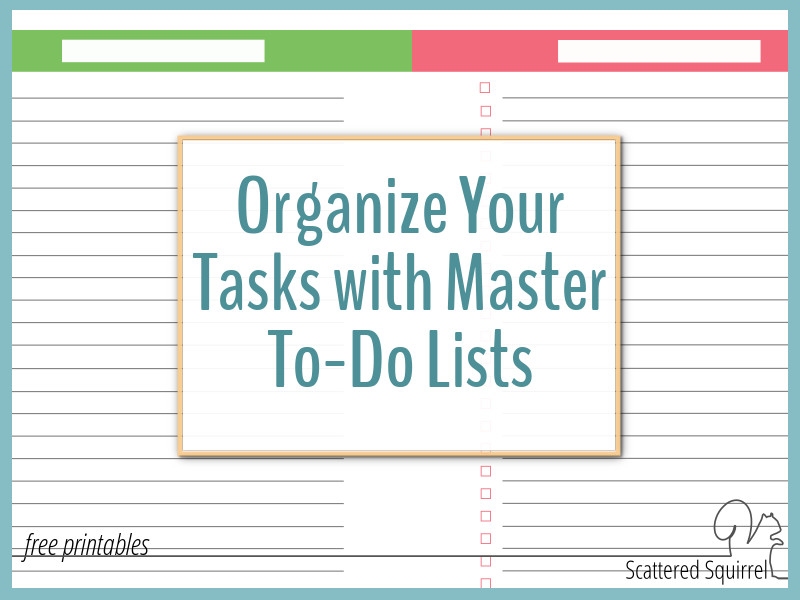 During the From Scattered to Sane series I dedicated a whole post to the master to do list and talked about how I use one to help tame my scattered brain. It's sounds like such a simple thing – write down everything floating around in your head – and it is a simple thing. It's an easy task to tackle, and all you really need is some paper and something to write with. I like to take my main list and divide the items on it into categories which is where my master to-do list printables come in. They help make sure I'm not forgetting things, but more importantly, they take that big long list and break it down into manageable tasks.
Master To-Do List Printables
When I made the first master to-do list printables, I only made them full-size. Because they were part of the From Scattered to Sane series I wanted them to fit with the other printables. After a number of people started asking if I was going to make them in half-size I decided it was time to jump on in and get that done. Ready to check them out?
Half-Size
I made a few changes to the layout. Instead of two lists per page, I opted for just one. Because of the page size, I opted to keep it like this so maximize the writing space. Just like their larger counterparts, I kept the title areas blank so you can use these to create lists for anything really.
As with all our printables, to grab a copy for yourself, click the pic of the one or ones you'd like and a download window will open for you.
Personal Size
After working on the ones above I got to thinking about some of the lists I have and how I use them. Many of my ongoing lists are ones that I like to keep with me when we head out shopping. Things the boys need. Things we need. Errands that need to get done. Stores I'd like to check out. The list of lists could go on and on. I use a personal size planner cover
I use a personal size planner cover for my wallet and I know that many people prefer to use personal size planners for most of their planning, so I thought it would be a good idea to offer these as an option for anyone who would like them.
Whether you're a list lover like me or are just in need of some list paper for to help keep you organized, these master to-do lists printables should do the trick for you. Personally, I'm going to print out a few personal size ones to keep in my wallet and a few of the half-size ones to put in my new planner. I'd love to
I'd love to hear what you think about the to-do list printables. Drop me a line in the comments below and tell me what you think.