Black and White Weekly Planner Printables
One of the most frequent printable requests I get is for black and white versions of printables already on the blog.  If you're one of the people who've sent me a request, I want you to know that I have been listening.
I've just been trying to figure out the best way to deliver them to you.  After careful consideration, I decided to throw caution to the wind and just simply start.  And that's how this series was born, and I'm kicking it off with some black and white weekly planner printables.
The black and white weekly planner printables offer a simple and refreshing way to plan your week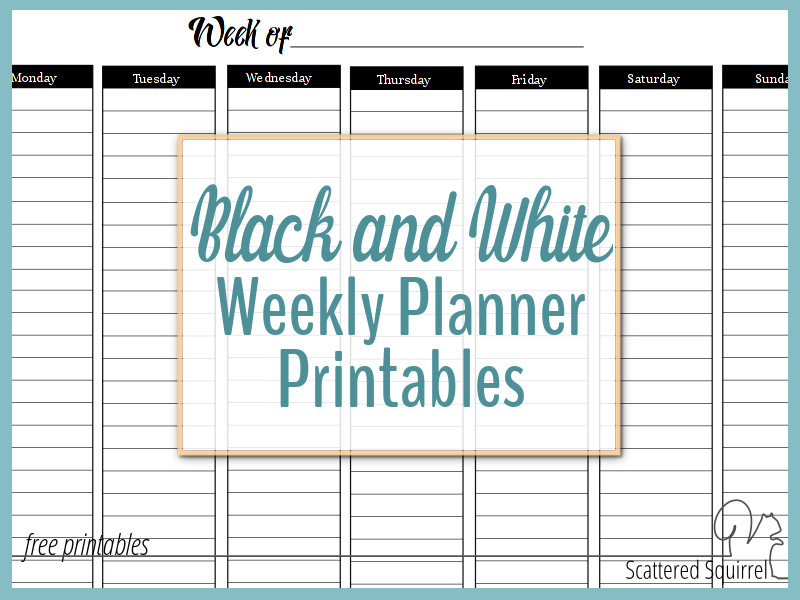 I'm calling this series the Choose Your Own Black and White Printables series.  You can hop on over to the page for all the details, but I'll sum it real quick before we jump to the printables.
I am inviting you to help choose which printables get converted to black and white.  I want to make sure that I'm spending my time changing the ones that YOU want, not the ones I think you want.
There is a form over of the page that you can fill out and please feel free to fill it out many times as you would like.
Black and White Weekly Planner Printables
I have to admit, despite the fact that I love playing with colours, there is a certain beauty to basic black and white.  When I printed a few of these out I found myself wishing I hadn't printed a whole year of planner pages already.
None of the weekly pages in this post are new – they're all simply black and white versions of pre-existing printables.  (don't worry, I have some new printables coming out very, very soon)
Single Page Weekly Planners
Single page weekly planners can be a lot of fun to use, especially for those who prefer to work from a to-do list rather than planning out each day in advance.  If you pair one of these with a notes page opposite it in your planner you get the best of both worlds – a place to plan your week and schedule things in, and a place to keep your to-do list for the week.
First up we have the Sunday start, horizontal weekly planners.  My favourite part of these pages is still the habit trackers at the top, I find them so useful for trying to build or strengthen my routines.
If you're new to Scattered Squirrel, to snag a copy of any of the printables for yourself, just simply click the pictures of the ones you want and the PDF version will open for you to save.  All of the printables are for personal use only. 
Next, we have the same printable, just with a Monday start.
These ones are the weekly overviews.  They give you a place to schedule your week on one side and keep track of your to-do's and other things on the other.
Rounding out the single page weekly planners are these two weekly layouts with times.   They're great for those who like to time block, have a lot of appointments, or just like planning their days with a little more structure.
Two Page Weekly Planners
This next batch is a small one.  Just two to choose from.
Both of these weekly planners have a place to jot down your top three priorities for the week, what you need to focus on, plus your meals for the week.  I made sure to combine each of these pairs into their own set, so you only need the one file.  It also makes printing a little easier.
That's it for this week.  Be sure to check back next Thursday for the half-size weekly planners.  And don't forget to hop over to the Black and White Printables page and let me know what other printables you'd like to see make it into the black and white collection.
And if, black and white is not your thing, you can find all the colour options over on the Weekly Planner Printables page or on the Free Printables Index page.
These black and white weekly planner printables are stealing my heart.   I honestly didn't expect to like them as much as do.  I'd love to hear your thoughts.  Drop me a line in the comments below and let me know what you think.