Plan Your Year with These Yearly and Monthly Planner Sets
Are you a forward planner? Would you like to be able to plot out your year so you can make time for the things that matter most to you? Well, today I'm hoping to help you do just that with the help of some yearly and monthly planners sets.
Your planners should bring order and clarity to your life, keeping you focused, organized, and helping you to accomplish the things you want to do. With the help of a yearly and monthly planner set you can plan your year so you don't have to try to remember everything. No more scrambling to remember important dates or feeling overwhelmed by a chaotic schedule.

Keep on scrolling to check them out!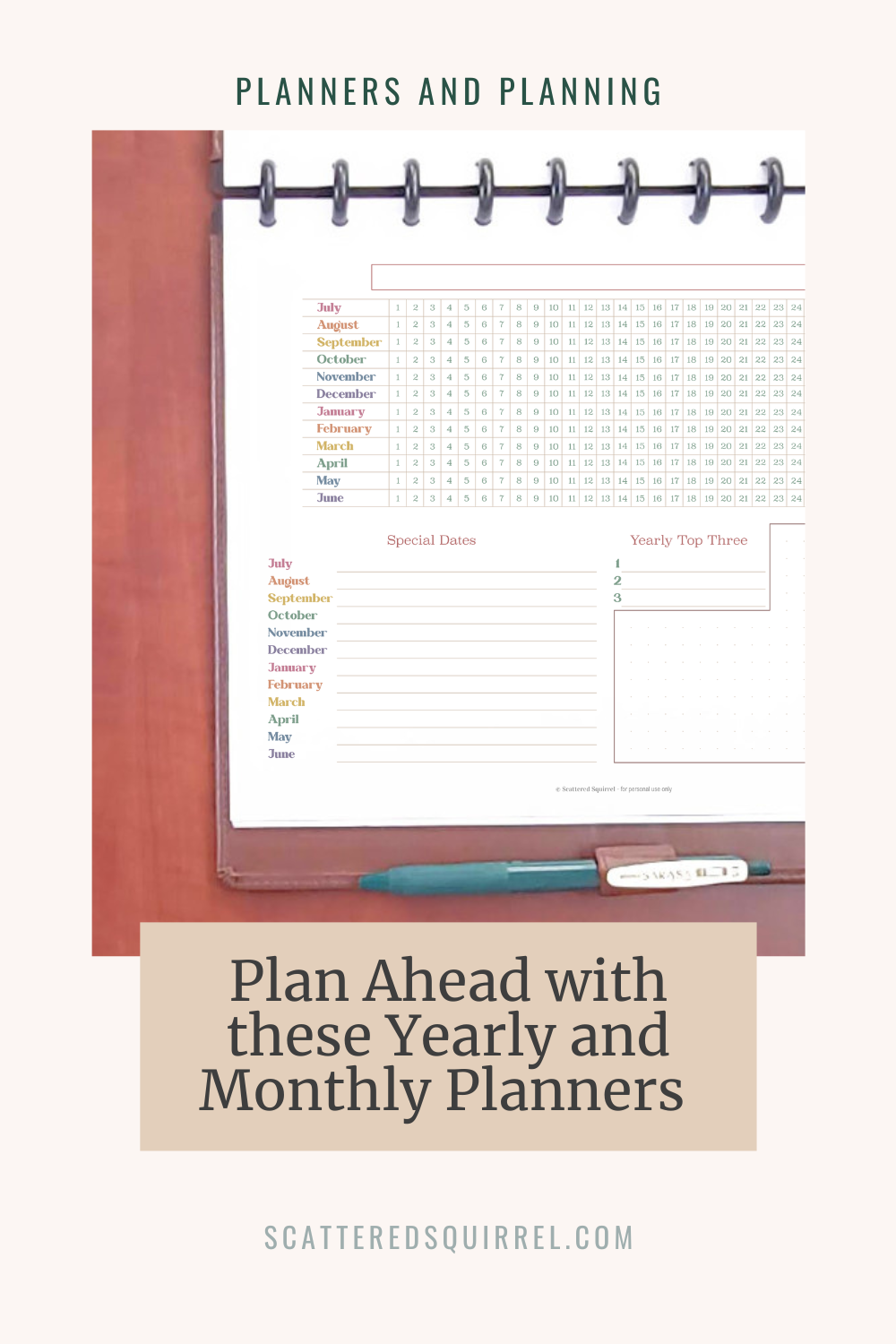 Getting a jump start on planning things out for your year is a great way to set yourself up for success. I hope that you find the right yearly and monthly planner sets in this post to be a help.
Planning ahead helps us lay out a foundation for how our year is going to go. Knowing what's happening each month throughout the year allows us to plan projects, goals, even home tasks based on when we'll have the time. Or when we won't.
Some of the benefits to long term or forward planning are that we have a chance to see what's coming up and prepare in advance for it. It also allows us to choose what we would like to do throughout the year and acts as a guidepost for our decision making all year long. Knowing what lies ahead allows to prepare, evaluate, and allot our time accordingly.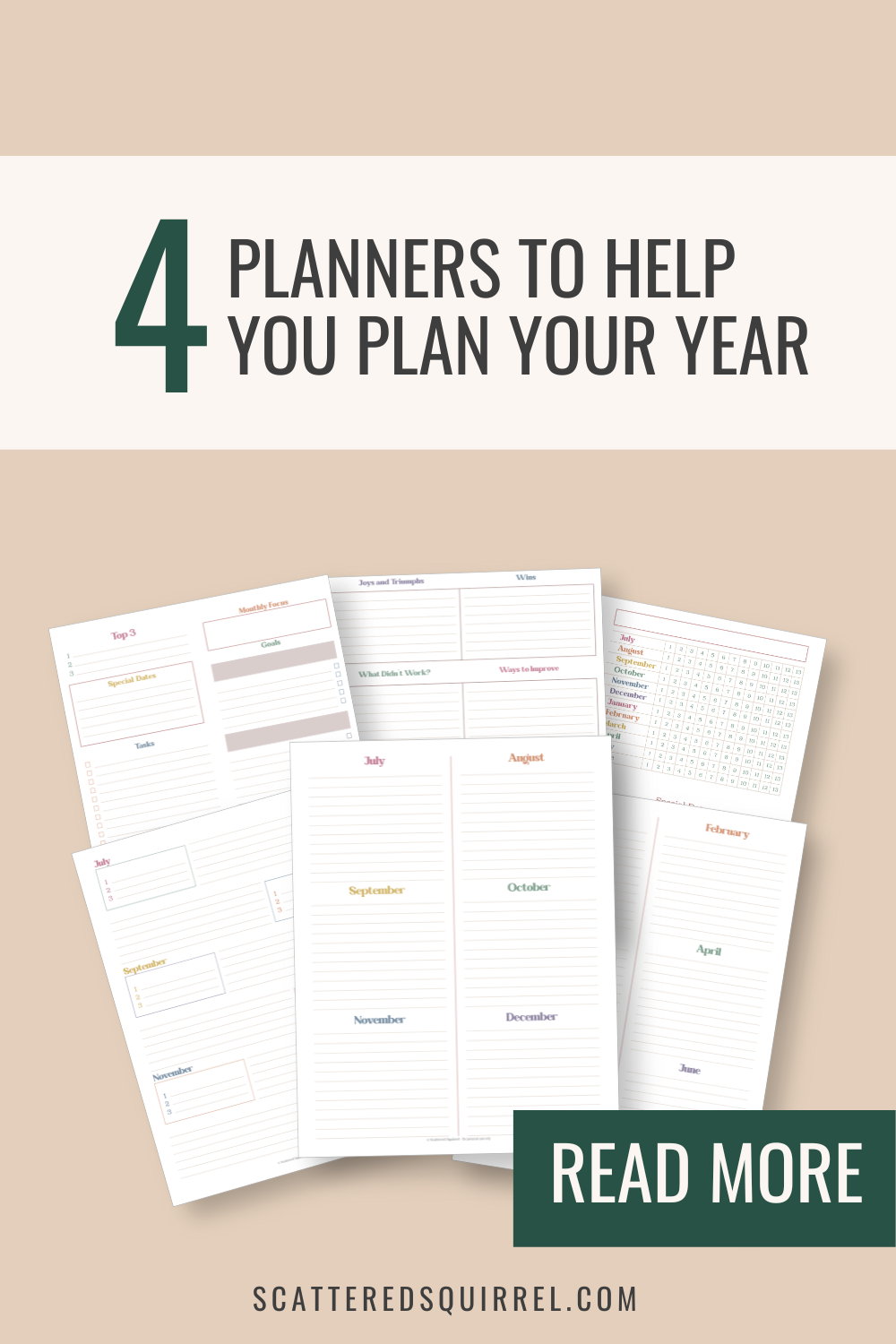 Yearly and Monthly Planner Sets
The yearly planner sets in this post will allow you to quickly set up your year. These aren't for detailed plans, they're more for mapping out guide posts for your year. Noting special dates, blocking off days for vacations or projects, and setting priorities for each month, rather than creating a detailed plan of everything you want or need to do in the next 365 days.
The monthly planner set will allow to narrow your focus and get a little more detailed with your plans on a monthly basis. Pair this with a weekly or daily planner for fine tuned, detailed planning and you're all set to stay on track for the whole year.
Ready to take a look at the printables?
Special Dates Printable Set
While this set was created to be a place to note special or important dates for each month, there are many ways to utilize this yearly planner. Personally, I keep a few copies of this printable on hand in my planners. Some I use year after year and some I use for a year and then recycle.
Here are some ways you can use this printable:
to note special or important dates
to track and plan for medical appointments or treatments
to plan projects
to plan travel times (great for those who travel regularly)
to plan home care or maintenance tasks
to keep track of all special school days
as a future log (like in a bullet journal)
planning batch cooking
garden/yard planning
There are many ways to use this planner, don't let the title limit you.
Yearly Planner
The yearly planner is a very simple, flexible planner. It's sort of like a year at glance for your plans. As a planner page it offers structure but also versatility. Whether you choose to use it for planning or tracking, it's sure to fit a variety of needs.
There's space to highlight or block off chunks of days, which is great for vacation time, project planning, tracking health stuff, or you could even use this space as a habit tracker. Below you'll find room for noting special or important dates and then a spot to set your top three priorities for the year and room for notes or goal planning.
Yearly Overview
Out of all the yearly planner sets, this one is my favourite. I print three each year. One I use for planning home stuff, one for family and life stuff, and one for personal. Like the other planners in this post, it offers structure and versatility.
This planner divides the year into months across two pages. Each month has room for your top three priorities and then a space for notes. Typically, I use the top three section for the three things I need to get done.
For example, I'll note things like descaling the coffee maker or booking medical appointments into that box. I do it at the beginning of the year so that when it comes time to plan my month, I already know the major things happening in each area. This allows me to plan my month accordingly.
Monthly Planner and Review
Lastly we have the monthly planner and review set. The monthly planner portion offers plenty of room to note your priorities, set a focus for the month, set some goals, track special days, tasks, and even make some notes.
The review portion allows you to highlight the best parts of your month while also looking at what didn't go so well. In addition to reflecting, it offers you room to make plans for how to avoid those pitfalls in the future. There's room at the bottom to make notes, journal, memory keep, or use how you like.
That concludes the yearly and monthly planner sets collection. If you'd like a calendar to match these, be sure to check out the Dated Academic Calendars for 2023-2024.
Before You Go
One of my favourite things about sharing these printables with you is getting your feedback. I'm always looking for ways to make them better, so please feel free to leave me a note in the comment with any suggestions you might have.

Or come on over to The Scatter-Brain's Guide Facebook group, and strike up a conversation there. It's free to join and we'd love to have you join us.
You can join the Facebook group by clicking this link –> The Scatter-Brain's Guide Facebook Group

Until Next Time,
Happy Printing