Essential Planner Printables for Teachers and Students
Hey there! Can you believe the new school year is just around the corner? Pretty soon we'll be inundated with new schedules, lesson plans, class projects, school sports, and more. Whether you're a teacher or a student there's a lot to keep track of. Get a jumpstart on your school year planning with these planner printables for teachers and students.
Let's dive in and discover how these handy tools can make planning a breeze.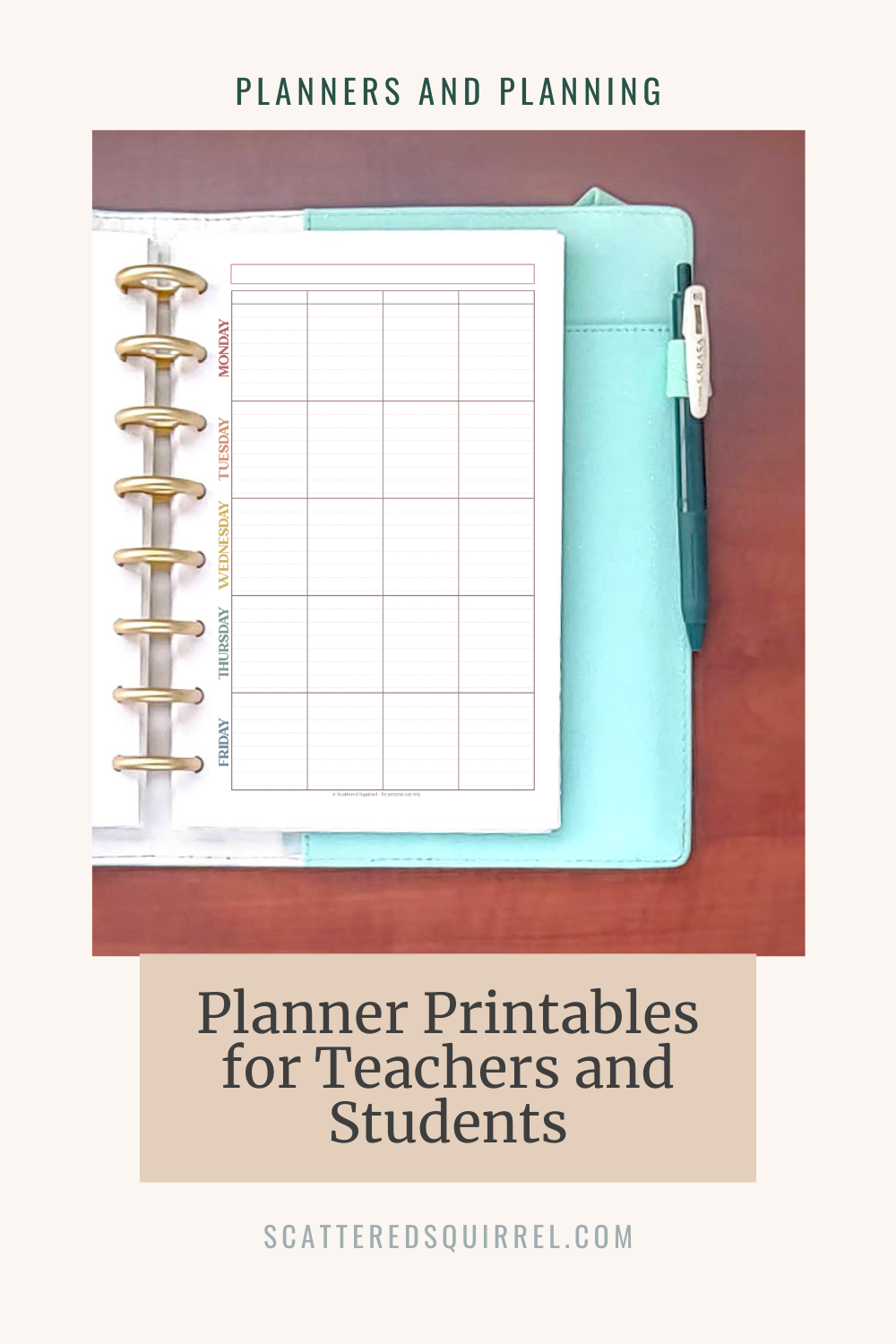 Planner Printables for Teachers and Students
It's that wonderful time of year, where school supplies start showing up everywhere. New notebooks, pens, sticky notes, and all the other goodies one needs for a new school year. It's also a kind of chaotic time of year too.
The end of summer brings with it a return to routine. With that return comes the need and desire to structure time, plan lessons or homework, and track assignments, tests, studying, and all sorts of other good things.

The planner printables in this post were all designed for teachers and students. In fact, each of them is a result of a request that came in from a teacher or a student. My hope is that you'll find something here to fit your planning needs for the school year.
And even if you're not a teacher or a student, you might find ways to use these outside of the academic arena. And don't forget to check out the Free Printable Academic Calendars for 23-24. The printables in this post were designed to match them.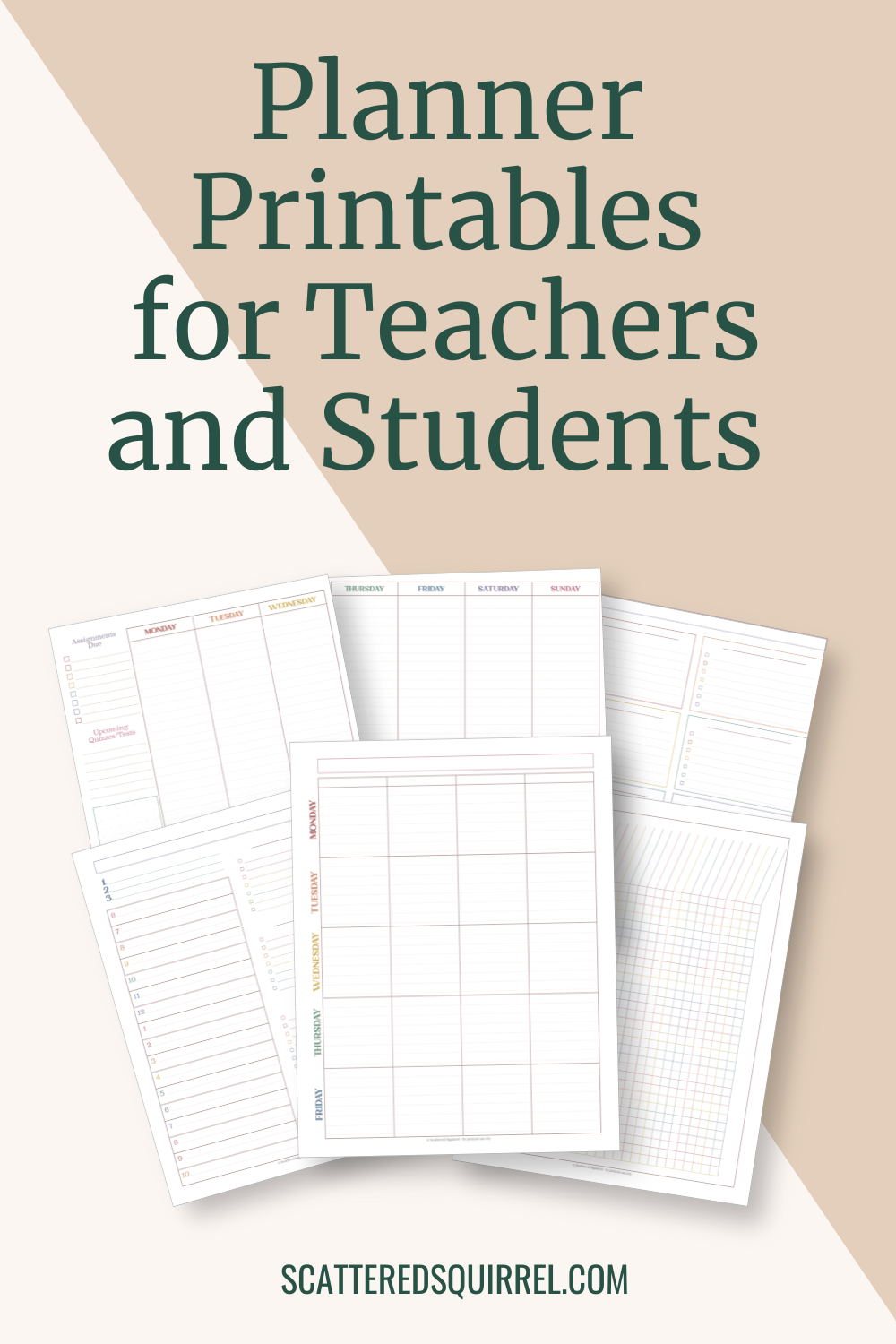 Planner Printables for Teachers
As I mentioned above, these planner printables were designed at the request of teachers. Honestly, I look forward to making these every year. Teaching is a tough job and it seems like it gets tougher each year. I hope that the teachers who find these find them a useful addition to their planning system.
Let's check them out.
Weekly Planner for Teachers
The first of the planner printables for teachers is the weekly planner. This planner was designed to optimizing planning for school week as best as I could.
Each week is divided into five daily rows. Those rows are then divided into four columns. The columns are unlabeled so that you can customize this planner to fit your needs. You can also pair two pages together to create a two page weekly planner with 8 columns per day.
Checklist Printables for Teachers
These checklist were also requested by a teacher. She specifically asked for both layouts so that she could use them for different things. I'm not a teacher so I'm not sure what all one might need to track with these, but a few things I could think of are:
attendance
project completion
reading log
work flows
monthly book reports
classroom routines
I'm sure there are plenty here that I haven't thought of.
Food for thought : I use a version of these for workflows in my work planner. They're super helpful when I'm batch working. I can see what stage printables, posts, and repetitive projects are at quickly.
There are two versions of the checklist. The first is a two page checklist and the second is a single page version.
And because there are always those times when you need a little less room, there are also single page checklists.
Planner Printables for Students
The life of a student seems to grow more complicated the older they get. On top of attending classes and doing the work required at the school, students often have to juggle hours of homework each week in addition to making time to study.
Many students also participate in extracurricular activities, have jobs, and/or responsibilities around the home. Having the right tools to keep track of everything, help set students up for success
The following printables were requested by students who needed tools to help they stay on track.
Daily Planners for Students
There are two daily planner printables for students in this collection. The first is designed to allow a combination of scheduled planning with categorized to-do lists or reminders. It's a simple layout which allows the focus to be on the plans.
The second was designed to plan by category. There are eight boxes which can be used for each subject of the day as well any other things a student might need to plan outside of school. In addition to be useful as a daily planner, this particular one could also be used single page weekly planner.
Weekly Planners for Students
Lastly, we have the student weekly planner. This one came in as a request a few years ago and somehow fell by the wayside. So it's been a while since I made a new version.
This two page weekly layout features a column for specific notes. Tracking things like assignments that are due, as well as upcoming tests or quizzes so that you can prepare ahead of time. The daily columns are long enough that you can schedule by hour, class, or however you like.

They come with you choice of a Sunday or Monday start, so you can plan your week in a way that works best for you.
Though these ones were designed for a student, these planner printables would work well for teachers too.
Before You Go
This concludes the currently collection of planner printables for teachers and students. I hope that you like them and, more importantly, that you find some to be useful for you.
If you didn't see something that will work for you, get in touch. I'm alway happy to try to fill requests.
Before you do, don't forget to grab your Academic Calendar for 2023-2024 and, if you'd like, come join us in The Scatter-Brain's Guide Facebook group and share your thoughts there with fellow Squirrlies.
You can join the Facebook group by clicking this link –> The Scatter-Brain's Guide Facebook Group

Until Next Time,
Happy Printing