Plan Ahead with Yearly Planning Printables
Yearly planning is a great way to set the tone for your year. By taking the time to think ahead and make note of the events you know the year will bring, you're creating a foundation for the year to come. The yearly planning printables that I'm sharing today are versatile planning tools that can be used in a variety of ways.
I hope that you find at least one that will be useful for you when it comes to planning 2021.
Yearly planning printables offer a great opportunity to structure your year and plan ahead.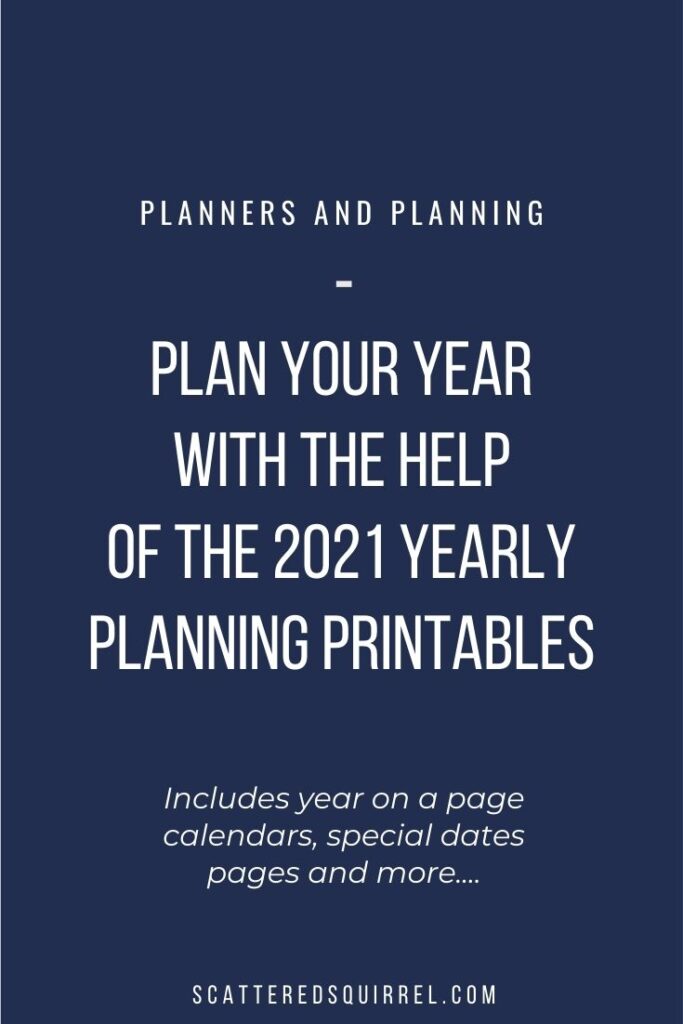 I think it's safe to say that no-one planned for 2020 to turn out the way it did. I don't know about you, but I'm really looking forward to the new year. It feels like 2020 was a year to pause and consider. It was a year that challenged us to change and adapt to new situations. Now that we've had time to pause, my hope is that 2021 will be a year to move forward.
The Yearly Planning Printables
For the first time in a long time, I'm looking forward to sitting down with these yearly planning printables and actually taking time to structure the new year. While I don't know what my goals might be, I do know that I want to create a loose plan for home care, family fun, and some personal time. And I think these printables will be just the thing to help me achieve that.
Year on a Page Printables
I'm kicking off this set with the year on a page printables. I find that these pages come in handy for so many different things. Some of the ways I plan to use these this year include:
tracking my husband works day
planning vacation time
a year long habit tracker for some personal habits I want to create
highlighting school vacation times and non-school days
plotting project timelines
There are so many ways you can use these pages. If you want to share how you use them, drop us a line in the comment section at the end of this post. I'd love to hear how you use them.
To get a copy of the one you need, just click on one of the images above.
Special Dates Printables
The next addition to the yearly planning printables are the special dates pages. These are a great place to track birthdays, anniversaries, annual medical visits, etc… If you don't need to track special dates you could use them for other things.
A friend of mine uses a few of these pages to record what books she wants to read each month, what movies are coming to her favourite streaming services, and even what new recipes she tries each month.
To get a copy of the one you need, just click on one of the images above.
Yearly Overview Printables
These are one of my favourite pages in the yearly planning set. I'm a big believer in being realistic with my time and the goals I set and I find these pages to be a big help with that. They are designed to allow you to choose your top three priorities for each month of the year. And then there's room for other things you might want to do or for reminders or notes.
As with the other yearly planning printables, you can use these ones in many different ways. Make them work for you in a way you need.
To get a copy of the one you need, just click on one of the images above.
Yearly Planner Printable
The last page of this set is the Yearly Planner. This page is sort of a combination of the other printables. It was designed to allow you to sort of see your whole year at a glance.
There's a daily tracker at the top that can be used like the year on a page. A place to mark your dates for each month. There's even a spot for planning your top three goals for the year.
Again, there are so many different ways you can make use of this planner page. And if you use it and want to share how you use it, please feel free to chime in in the comments below. I always love hearing from you.
To get a copy of the one you need, just click on one of the images above.
That concludes the yearly planning printables set. Whether you use them all or just one or two, I hope that you find them as helpful for looking ahead as I have.
I know that 2020 has been a rough and challenging year. My hope for you is that 2021 brings you joy, wonder, happiness, and comfort.
Happy Planning!
Come Join the FaceBook Group
We'd love to have you come join us in the Scatter-Brain's Guide Facebook group. Sometimes, it's nice to know we're not alone, even when we're just planning. Being able to chat and share ideas is a great way to have a little fun.
Come and Join The Scatter-Brain's Guide Facebook Group
And no worries if Facebook groups aren't your thing, you can always jump into the comments at the bottom of any post if you prefer.