Academic and 2019 Year on a Page Calendar Printables
The final round of dated calendars is finally ready!  These year on a page calendars  put up quite the resistance to being shared.  It felt like if it could go wrong it did!  I saved over the original files a few times, and had to redo them.  Then the printable graphics had the wrong printable image on them, and I had to redo them multiple times, and so many other little details that just went a little wonky.  Topping it all off, I wanted to make this post double the fun by sharing both the academic and the 2019 year on a page calendar printables in the same post.  Double the fun also meant double the trouble – but they're here, and the pictures are all correct and I can't wait to share them all with you!!
Year on a Page Calendars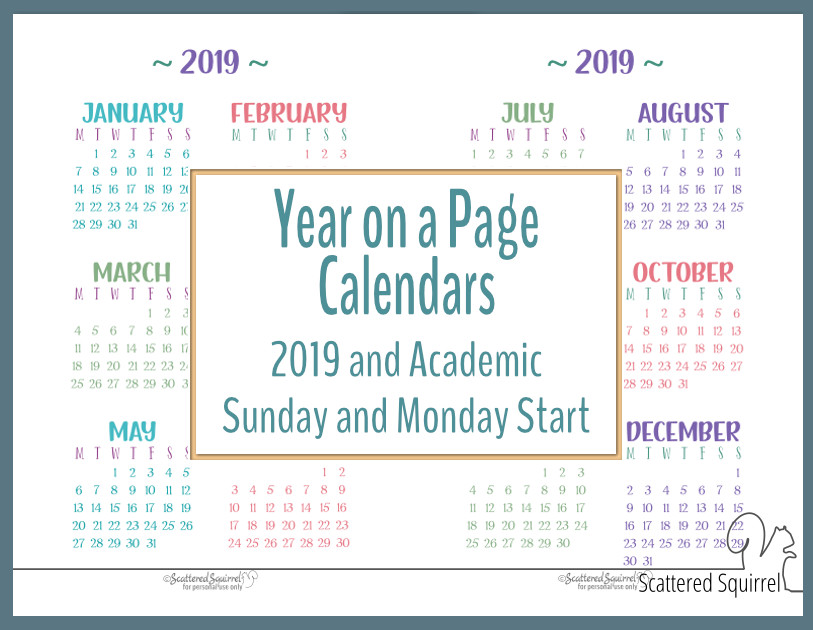 Before I jumped into the deep end of planning, I used to think that the year on a page calendars were just for looking ahead.  You know, for checking things like what day of the week special dates and holidays fell on.  I didn't really use them for much else.  More over, I didn't think there was really much else to use them for.
Now, I use them for so many different things:
planning holidays
tacking my husbands days off
habit tracking for various things
planning projects
and I'm sure there are many more things that they could be used for.  I know some people cut the months out and glue or tape them into their bullet journals, and others use them as bookmarks in their weekly and/or daily sections in their planners.
The versatility of a year on page calendar is one of the many reasons why I share new ones every year.
2019 Year on a Page Calendar Printables
This year I'm offering both a Sunday and Monday start day options for the year on a page calendars.  It made sense to make sure that the yearly calendar options matched the monthly.  I know that many people prefer to have a Monday start to their calendars and I'm really happy I can offer that.
Full-Size
Half-Size
2018/19 Academic Year on a Page
I'm also excited to be offering academic calendars for the 2018/19 school year.  I made sure to make a year on a page version of these ones too because I know they come in really handy for tracking things during the school year.  You can use them to highlight school breaks, exam dates, sports and extra curricular events and practices, and so many other things.
These ones have the same options as the 2019 year on a page calendar ones: full and half-size and, of course, your choice of a Sunday or Monday start day.
Full-Size
Half-Size
This concludes both the 2019 and the 2-18/19 Academic calendar collections.  I have to say, I've never been so excited to share the dated calendars as I have been this year.  I've also never been so happy to be finished designing a printable set before.  Don't get me wrong, I LOVE making printables to share with you. It was just a lot of calendars to make all at once and I'm really looking forward to working on some new, non-calendar, printables to share with all of.
Now It's Your Turn!
Do you use a year on a page calendar?  If so, what do you use it for?  Drop me a line in the comments down below and let me know.
Also, if you have any suggestions or requests for what you would like to see included in the up coming student planner set, please let me know in the comments down below or send me an email if you'd rather.  Either way, I'd love to hear from you.
Pin it for Later
Pinterest is on of my favourite ways of saving things I'll need at a later date!  Just click the Pinterest button on the photos to pin them to one of your boards for later.